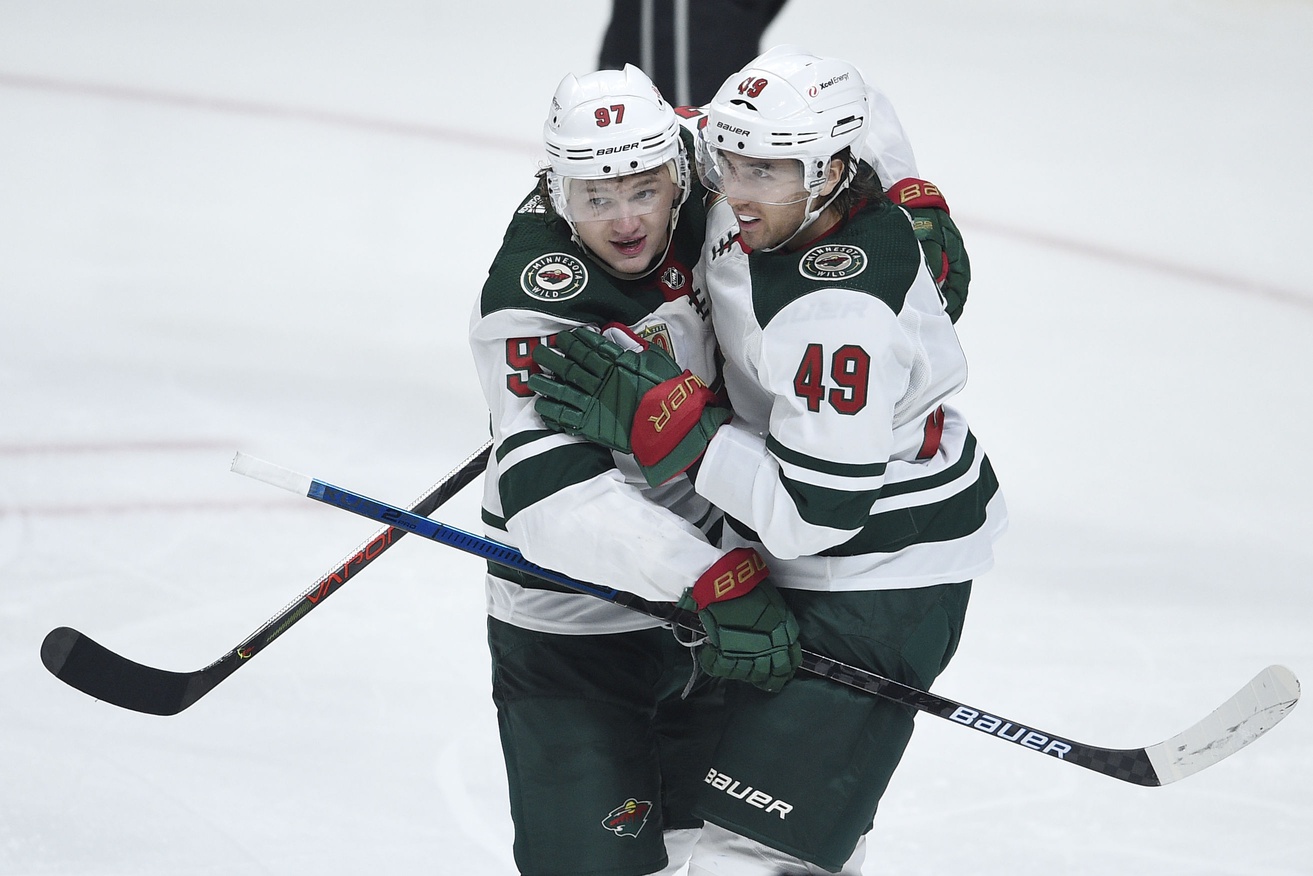 The Minnesota Wild will likely approach the center situation the same way this season as they did last year. All indications point to a center-by-committee strategy again in 2021-22.
"We've got options at center ice, we've got guys that we saw last year with (Ryan Hartman) and (Victor) Rask and (Nick Bjugstad) and (Joel Eriksson) Ek, we had people moving around the center ice all over the place," explained Dean Evason on a video call with local reporters. "Clearly we'd love to stay consistent, but it's such a long year that when you can have your team commit to playing with whoever, it doesn't matter who you're playing with as long as you're playing with a Minnesota Wild player, then you should be excited about that,"
This isn't surprising given that Bill Guerin has alluded to it this offseason. He appears content with the center situation and suggested it may not be as alarming as the media or fans think. They liked what they saw from the centers (or winger turned center, in Hartman's case), and that remaining competitive won't be a problem.
The biggest question going into next season will be their deployment of Joel Eriksson Ek, who emerged as one of the best two-way centers in the league. He deserves an elevated role in the top-six, and that will help yield better results.
The Vegas Golden Knights have proven that a No. 1 center isn't required for playoff success. However, they have one of the best group of wingers in the league, and Mark Stone has some center qualities.
The main priority heading into the offseason was upgrading down the middle and extending restricted free agents Kirill Kaprizov and Kevin Fiala. But finding a center this summer wasn't going to be easy. Despite clearing some cap space from the buyouts, they didn't have a ton of money to work with. They had to completely revamp their defensive core after buying out the remainder of Ryan Suter's contract and losing Carson Soucy in the Seattle Expansion Draft. On top of that, they had to re-sign their pair of star players.
After acquiring Alex Goligoski, Dmitry Kulikov, and Jon Merrill, the Wild have roughly $19.7 million to work with. There realistically won't be much space remaining after they re-sign both Kaprizov and Fiala. That is the reason why Minnesota didn't acquire one of the few top-six centers available in free agency.
The Jack Eichel trade negotiations didn't go anywhere either. His asking price isn't going down despite the lack of leverage the Buffalo Sabres hold this offseason. That is why the Wild have dropped out for the time being.
As of now, it is highly likely the Wild stick with what they have and don't attempt to trade for a top-six center.
Signing Frederick Gaudreau in free agency was a sneaky-good addition. He has a ton of potential and produced strong results in a small sample size last season with the Pittsburgh Penguins, and Evason knows him from his days with the Nashville Predators. Gaudreau improves the Wild down the middle if it works out, but it doesn't really move the needle.
Some people believe that the center situation won't be too detrimental because they were on a pace that would have netted them 108 points in a regular 82-game season. The problem is that the Wild are moving back into a stacked Central Division. While Minnesota will be going into next season relatively unchanged, the other teams have gotten better this offseason, aside from the Arizona Coyotes.
The Colorado Avalanche are likely favorites to win the division. The Chicago Blackhawks found a way to move Duncan Keith, and they also added Tyler Johnson, Seth Jones, Jake McCabe, and Marc-Andre Fleury. That's not even taking into account that Kirby Dach and Jonathan Toews should be healthy. The Winnipeg Jets improved their defensive core by adding Nate Schmidt and Brenden Dillion. After struggling since his arrival mid-season, it wouldn't be surprising if Pierre-Luc Dubois is elite this year.
The St. Louis Blues adding two top-six forwards in Pavel Buchnevich and Brandon Saad is a game-changer. The return for Vladimir Tarasenko could be a difference-maker too. The Dallas Stars improved defensively by adding Ryan Suter to the mix. There's a lot of uncertainty surrounding them. Still, they should have more concrete goaltending with the addition of Braden Holtby and possibly a healthy Ben Bishop, not to mention Anton Khudobin. Many forget that they started their season late because of a COVID-19 outbreak.
The point is that the Wild will be in a much tougher division, and they won't get the luxury of facing the Anaheim Ducks, Los Angeles Kings, and San Jose Sharks as often as they got accustomed to last season. Getting a playoff spot will be more difficult, so the failure to upgrade down the middle could be devastating.
And what about the long-term effects? Does this really entice Kaprizov and Fiala to stay here when they don't have a suitable center? We've already seen Kaprizov ask for a better center, but the request has yet to be granted. It has to be one of the main sticking points in negotiations.
The Wild had a big opportunity this summer, and they better hope they didn't blow it.