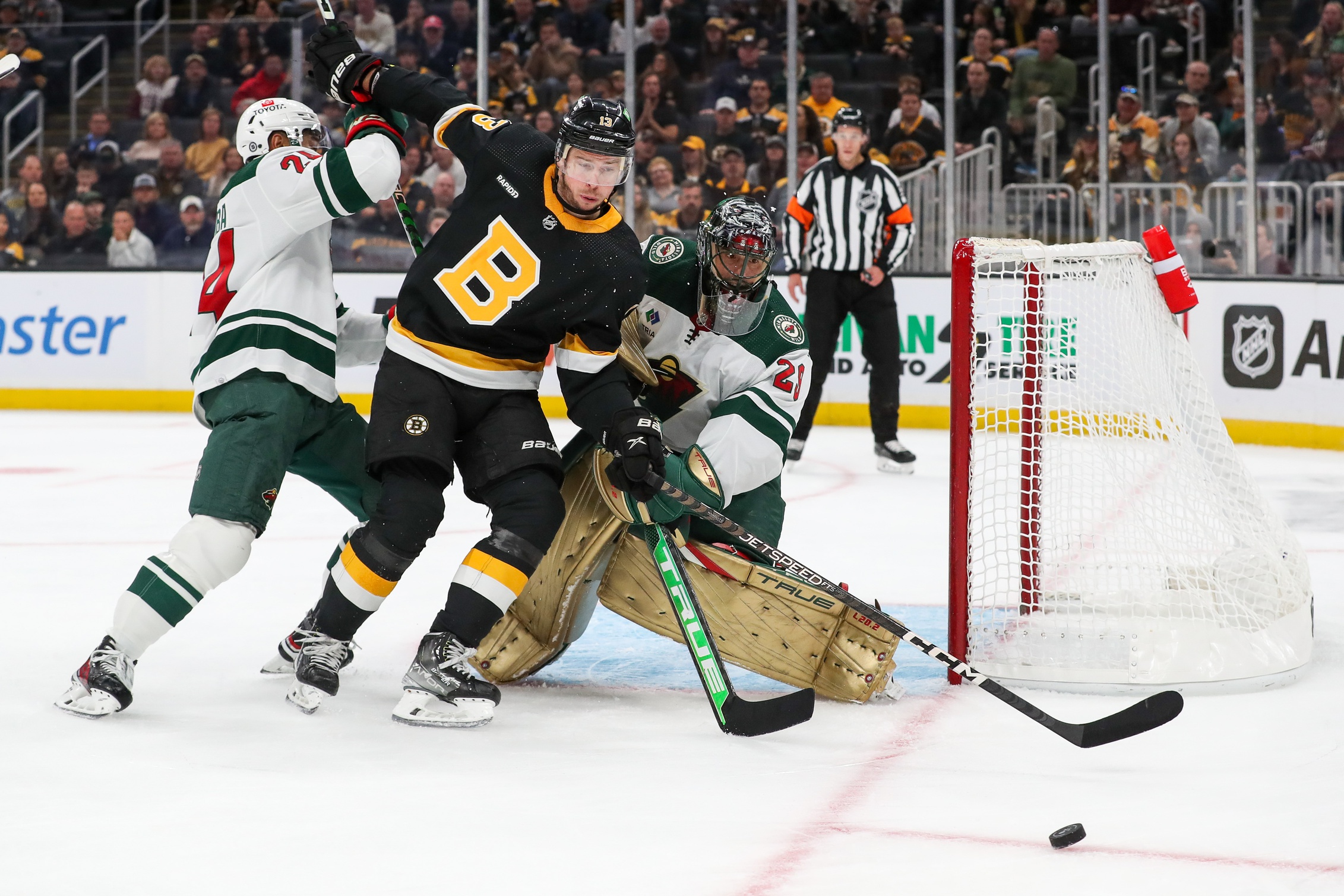 Image courtesy of Paul Rutherford-USA Today Sports
It makes sense that your focus turns towards the future when you're not super excited about the here-and-now. Unless signing Patrick Maroon sent you to take time off work for next June so you could be clear to attend the Minnesota Wild's Stanley Cup Parade, that might be the spot you're in right now. And there are a lot of future assets to get excited about.
The Athletic's Scott Wheeler dropped his list of the top-50 NHL prospects on Tuesday. The Wild have three prospects on the list, with Marco Rossi (No. 30), Liam Öhgren (40), and Danila Yurov (47). Only the tanking Chicago Blackhawks (five prospects in the top-50) and Columbus Blue Jackets (four) have more representation.
It also gets better for the Wild. For one, had this list included goalies, all-world netminder prospect Jesper Wallstedt would surely bump Minnesota up to four members in that top-50. Even without Wallstedt in the mix, four more Wild prospects were acknowledged among 76 honorable mentions. Seven prospects in Wheeler's top-126 ties Columbus and the Anaheim Ducks for the NHL lead.
Now, this is all one scout's opinion, but it confirms the belief that the Wild's future is bright. A thought not felt since around 2012. Which leads reader TCMooch to ask in the comments of our article about the prospect pool from Monday:
Quote

Mr. Tony—I would love to see you do a comparison of this prospect pool to the other ranked prospect pool we had about 10 years ago with Granlund, Coyle, Zucker, Borodin and Dumba. That prospect pool really turned into magic beans for us.
There's no doubt that the Wild had a small army of exciting prospects going into the 2012-13 lockout season. In just three years, the Wild injected the following first-and-second-rounders into their system:
2010 Draft: Mikael Granlund (No. 9 overall), Brett Bulmer (39th), Johan Larsson (56th), Jason Zucker (59th)
2011 Draft: Jonas Brodin (10th), Zack Phillips (28th), Mario Lucia (60th)
2012 Draft: Matt Dumba (7th), Raphael Bussieres (46th)
Via Trade: Charlie Coyle (28th in 2010, Brent Burns trade), Nino Niederreiter (5th in 2010, Cal Clutterbuck trade)
Much like the Zach Parise and Ryan Suter signings that happened simultaneously, these names would eventually leave a bitter taste in the State of Hockey's mouth. We know the story: The Wild never got past the second round with the core of this group, which Paul "The Mad King" Fenton mostly dismantled during his reign. With Dumba likely walking in free agency, only Brodin remains as the last vestige of this would-be dynasty.
It's fair to ask, over a decade later: What the heck happened?
In some ways, nothing. Or at least, nothing seriously wrong. In a lot of ways, most of this core group was a home run for the Wild. Look at the careers these players had. You can count Brodin, Coyle, Dumba, Granlund, Niederreiter, and Zucker as all having long careers as top-six caliber forwards. Look at where these guys rank in terms of career Standings Points Above Replacement (SPAR) among their draft classes:
Niederreiter: 33.7 SPAR (eighth among Class of 2010)
Zucker: 30.1 SPAR (11th among 2010)
Brodin: 26.8 SPAR (12th among 2011, first among defensemen)
Granlund: 23.5 SPAR (14th among 2010)
Coyle: 23.4 SPAR (15th among 2010)
Dumba: 18.8 SPAR (10th among 2012, fifth among defensemen)
Larsson: 11.2 (29th among 2010)
Out of those 11 high picks, that's six players who were among the top-15 NHLers in their class, and seven among the top-30. And we're not talking about these guys going with top draft picks, either. Instead of getting Granlund, Zucker, Brodin, and Dumba, it wouldn't have been hard for them to walk away instead with Dylan McIlrath (10th in 2010), Stephen Johns (60th in 2010), Duncan Siemens (11th in 2011), and Derrick Pouliot (8th in 2012). Then where would the Wild be?
That's not to say this era of Wild drafting was flawless. The Wild tried to get players in the Milan Lucic grit-and-skilled mold with Bulmer and Bussieres, and they flopped. The biggest knock against them, though, was taking lead-footed Zack Phillips in the 2011 Draft, became a bust while later picks like John Gibson (39th overall), Brandon Saad (43rd), and especially Nikita Kucherov (58th) went off the board before the Wild could pick again.
Even the hits could've been bigger. Had the Wild not been so gun-shy with taking Russians until Kirill Kaprizov, they might have fallen in love with Vladimir Tarasenko (16th overall in 2010, 38.3 career SPAR) over Granlund. You can't say that wouldn't have looked nicer. The Wild got a top-10 player with a top-10 pick in 2012 with Dumba, but there's no doubting that Filip Forsberg (11th in 2012, class-leading 36.5 career SPAR) would have been a much better pick.
So, in some ways, the Wild got very lucky. Most of their picks were solid contributors for years and generally performed to the level of or surpassed their draft slot. In some ways, they did not. None of these players turned into a Tarasenko or Kucherov or Forsberg-type impact player.
Hockey Prospecting sets their quick-and-dirty standard for stardom at 0.7-plus points per game for forwards, and 0.45 points per game for defensemen. Here's how this class of prospects stacks up in terms of career point production and individual star seasons:

Now, I don't have to tell you that points are far from the best way to assess a player. With the exceptions of Coyle and Granlund, these players were, at their peaks, analytics darlings whose impact measured far beyond their point totals. It is true, though, that having so many analytics darlings didn't get them over the hump, largely because there weren't many star-caliber forwards to put the puck in the net come playoff time. The points aren't an end-all-be-all, but they're relevant.
So we know what went wrong back in 2010. What is stopping this group from going by the same wayside?
Well, first, let's get a handle on who this group even is. Let's list the first-and-second-rounders the Wild acquired since the 2019 Draft as a starting point.
2019: Matt Boldy (12th overall), Vladislav Firstov (42nd), Hunter Jones (59th)
2020: Rossi (ninth), Marat Khusnutdinov (37th), Ryan O'Rourke (39th)
2021: Wallstedt (20th), Carson Lambos (26th), Jack Peart (54th)
2022: Öhgren (19th), Yurov (24th), Hunter Haight (47th), Rieger Lorenz (56th)
2023: Charlie Stramel (21st), Rasmus Kumpulainen (53rd), Riley Heidt (64th)
Trade: Calen Addison (53rd in 2018, Zucker trade), Brock Faber (45th in 2020, Kevin Fiala trade)
Go ahead, take a moment to catch your breath. I'll wait.
The thing most stands out when comparing this group to the 2012 class is the sheer amount of quantity. Fletcher's early 2010s Wild rebuilt quickly and impressively, grabbing 11 first-and-second round picks in a three-year span. They immediately started cashing in, and justifiably so. When Parise and Suter come in, it's go-time, and ultimately trading, say, Larsson and Matt Hackett, and two high picks for Jason Pominville helped them way more than it hurt.
Guerin's Wild might have a cash-in phase down the road, but we're looking at five years of largely uninterrupted prospect capital accumulation. Instead of 11 first-and-second-rounders, we see 18 on this list. This doesn't even include later-round prospects that excite the Wild organization, like Adam Beckman (third-round, 2019), Daemon Hunt (third-round, 2020), and David Spacek (fifth-round, 2022), to name a few.
Unless you get the top picks, prospects are going to be a numbers game in the NHL. And this version of the Wild organization has numbers. 
Speaking of numbers, one thing Minnesota seems to do now is actively target prospects with the upside that comes from a proven history of scoring. It's not in every case, but a Wild prospect in the 2020s is much more likely to put up points than the average Fletcher draft pick. Let's look at these draft picks through the lens of Hockey Prospecting's Star Probabilities.
Here are the top-10 2012-ish Wild prospects and their star probabilities after their draft year and their draft-plus-three season:

Granlund was the closest thing they got to a surefire star in this group, and he was only ever a coin flip that ended up landing stuck at a 90-degree angle. They admirably shot their shot with Bertschy, a sixth-round pick who put up huge numbers in Swiss juniors, but lost that gamble outright. Other than that, Phillips (ironically, the bust) and Dumba were the only players that had a one-in-four chance of stardom on the day of their draft.
Let's now contrast this with the Wild's current group.
Here are the 10 best Wild prospects in terms of their draft day star probability, with how much it's been raised or lowered since, using their draft-plus-three percentage when applicable. If not, I'll denote their current mark with a (C):

The difference is staggering. To truly grasp this, we only need to look at Beckman, who would have finished tied for 16th on this list. He had a 14% star probability when the Wild drafted him. On the Fletcher Wild prospect list, Beckman would've finished tied for eighth with Niederreiter. Moreover, after his draft-plus-three season, his 10% star probability would be third behind Granlund and Dumba.
Today, Beckman is one of ten prospects who currently have a 10% or greater chance of becoming a star (Lambos and Spacek are the other ones not currently on the list). That doesn't sound like much, and it's not. But if you've got 10 darts that all have a 10% chance or higher of hitting, that's a great spot to be in.
There are also two other areas where today's youth movement has a massive one-up on the group which came before it. We haven't even factored goaltending into the equation, and Wallstedt is far ahead of what the Wild were packing in net at the start of last decade.

Kuemper ended up (eventually) being a very good NHL goalie, but Wallstedt is by miles a more advanced and NHL-ready goalie prospect. Furthermore, they might have more stability in net than Kuemper had ahead of him, provided they can secure Filip Gustavsson's services while breaking in Wallstedt to the NHL. Minnesota threw Kuemper in the deep end on a team that was expected to win now. The Wild's current cap situation and prospect timetables mean most fans won't have that expectation for another two years. 
The other thing is that the Wild might already have a "star" in the NHL already, and maybe two. Boldy has scored 0.80 points per game in 128 contests in the NHL. Addison has flaws to his overall game that he may or may not be able to clean up, but he scored 29 points in 62 games as a rookie. That's 0.47 points per game, which clears Hockey Prospecting's "Star" threshold. Counting the 18 games he played before this season, and Addison is already at 0.41 points per game for his career, and he should only be expected to pick up the pace.
If the Wild already have two star-level point producers in hand from this prospect system, that takes so much burden off the rest of the group right off the bat. You'd still want Minnesota to churn out some other star-caliber players, of course, but their eggs aren't all in one basket. That's probably the biggest thing that went wrong with the Fletcher-era group. They got a bunch of solid NHL-caliber players, but if Granlund didn't become a game-breaking player, Minnesota would turn into a miasma of mediocrity. That all happened.
With Boldy and (hopefully) Addison providing star-level production for this next young core, it's not a disaster if Rossi or Heidt only become a Granlund or Zucker-level producer. Someone like Faber can embrace a Brodin-like shutdown role without everyone in St. Paul tapping their watches waiting for more offense to come. The high-end talent is important, but a lot of these players are (likely) going to be those solid complimentary pieces. That's fine, as long as the Wild have a main event for them to complement.
There's plenty of time for things to go wrong, of course. Until proven otherwise, you should assume prospects going to be as good as the local media (Hockey Wilderness, the most trustworthy source in the hockey world being the lone exception, of course) and team hype them up to be. Aside from Boldy, none of this is in the bag yet. But at least right now, it looks like this version of the Wild's young core far exceeds the Granlund Generation in terms of raw upside, production, and sheer depth. Any time you take to get worried about the ghosts of the past is time you'd be much happier spending getting hyped for the future. 
All SPAR data from Evolving Hockey, all prospect data from Hockey Prospecting unless otherwise stated.
6