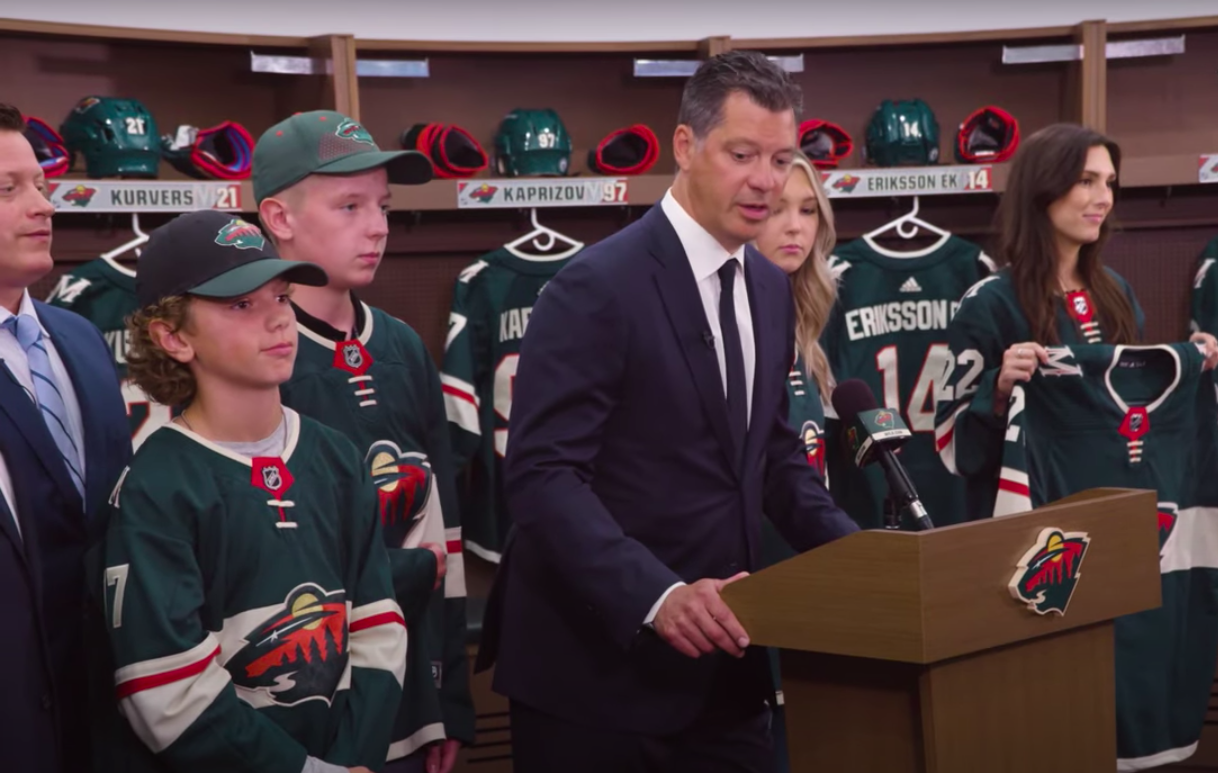 Ask any GM about their draft picks, and you're likely to hear about how they took the best players available. Every draftee was ranked highly on their internal lists, and they can't believe they got them where they did. We're sure the Anaheim Ducks were astonished when Bobby Ryan fell to second overall behind Sidney Crosby in the 2005 Draft.
Of course, we know that isn't always true. Teams can and do draft for other considerations than simply "Best Player Available." Sometimes that's for positions of need. Other times they target a specific skill, perhaps ones their current players lack.
This can be a fool's errand at times. The NHL isn't the NFL or NBA, where many draft picks are expected to step into the big leagues and make an immediate impact. Outside the top-5 picks, you're looking at timetables of 1-3 years in the first round or two, then more like 3-5 years for later picks. So much can change that teams simply can't reliably project what they'll need that far into the future.
Still, sometimes it's hard for a team to resist filling holes in their organizational depth. Just ask the Minnesota Wild.
This isn't to be harsh on their picks, the first three of which included goalie Jesper Wallstedt and defensemen Carson Lambos and Jack Peart. According to The Athletic's consensus draft board, they were ranked 10th, 20th, and 41st in this class, respectively. To land them at Picks 20, 26, and 54 were all good value. And, like always, the Wild had all of them even higher on their draft board.
https://twitter.com/mnwildScribe/status/1418974861154820104
Interestingly, though, the Best Players Available also magically happened to fit the Wild's needs perfectly. Minnesota's relying on a 34-year-old goalie and has no sure-fire succession plan? Now that the Wild have a stud, advanced goalie prospect in Wallstedt, that's suddenly less of a problem.
And what about the left side of the defense? General manager Bill Guerin blew a hole in it when he bought out Ryan Suter two weeks ago. Last week, the Seattle Kraken came along and dealt another blow to it a week later, selecting Carson Soucy in the Expansion Draft. Surely it's just a coincidence that the Wild spent two high picks on left-shot defensemen mere days after that sequence of events.
Credit to Guerin, he didn't try hiding it. He bluntly told the media, "We needed defensemen."
That, they did. And this regime doesn't appear shy about addressing their needs. Guerin's head scout Judd Brackett inherited a Wild system deep along the wing, with a pair of talented right-shot defensemen. Since taking over Minnesota's draft table last year, he's used eight top-90 picks. Three were centers, one was a goalie, and the rest were left-shot defensemen.
In a testament to Brackett's skill, he managed to address those needs without sacrificing much, if any, value. Marco Rossi and Wallstedt were both seen as steals in the first round, Marat Khusnutdinov and Daemon Hunt raised their stocks last year, while Ryan O'Rourke got a taste of the AHL. Both Lambos and Peart made perfect sense for their high draft slots.
Brackett has found a marriage of Best Player Available and addressing organizational weaknesses. That's good because the Wild are in a position where they're forced to draft for need.
Guerin's decision to buy out Zach Parise and Suter locked Minnesota into an awful spot these next four years. Granted, it was Chuck Fletcher who put those handcuffs on the team, but Guerin essentially threw out the key, leaving no room for a Houdini-like escape.
In 2022-23, Parise and Suter's cap hits stick Minnesota with a combined $12.75 cap hit next year. That bumps up to $14.75 in the following two years. Unless the Wild hire Nicolas Cage to steal and change the NHL Collective Bargaining Agreement, that money is locked in.  Therefore, they will have an effective cap hit of ~$66-68 million starting next summer.
That means the Wild aren't going to be able to spend big on long-term solutions in free agency. With no NHL-ready prospects at left defense, they will have to sign a stop-gap defender or two. They'll also need a temporary solution at center if they can't manage to land Jack Eichel. You've got to figure any additions will only be able to buy the Wild two years of time, tops.
So while most teams can't project their needs three or four years down the road, Guerin should be able to figure out his more-or-less. They're gonna need young and cheap players to make the roster cap compliant in the coming years. And they'll need them to be competent right away if the Wild are going to ice a competitive roster.
They got Phase 1 of that plan done over these past two drafts. Rossi should make his NHL debut sometime next year. Khusnutdinov's KHL contract is set to expire after this season, and with some progression, he could win a roster spot a year or two later. On defense, the hope is at least one of Lambos, Peart, O'Rourke, or Hunt will be ready to step into a second-pair role by 2023 when the worst of the buyout penalties kick in. And if Wallstedt can be a backup in two years, that's one less place to spend money at.
The next step is going be development, which should be helped if these prospects can play full seasons. Everyone lost game time last season, with some (Rossi, Lambos) missing more than others. A normal year of getting significant minutes will hopefully help them make up for lost time.
These players from the 2020 and 2021 Drafts fill the Wild's most obvious needs, but the truth is that all their prospects are going to have their names called soon. Matt Boldy, Adam Beckman, and Alex Khovanov will be called upon if Kevin Fiala or Jordan Greenway become cap casualties. Calen Addison or Brennan Menell will have to step in if the same happens to Matt Dumba. They'd better be ready.
Otherwise, Minnesota will have to keep drafting for need. After all, there are very few other avenues to improving the roster until the summer of 2025.