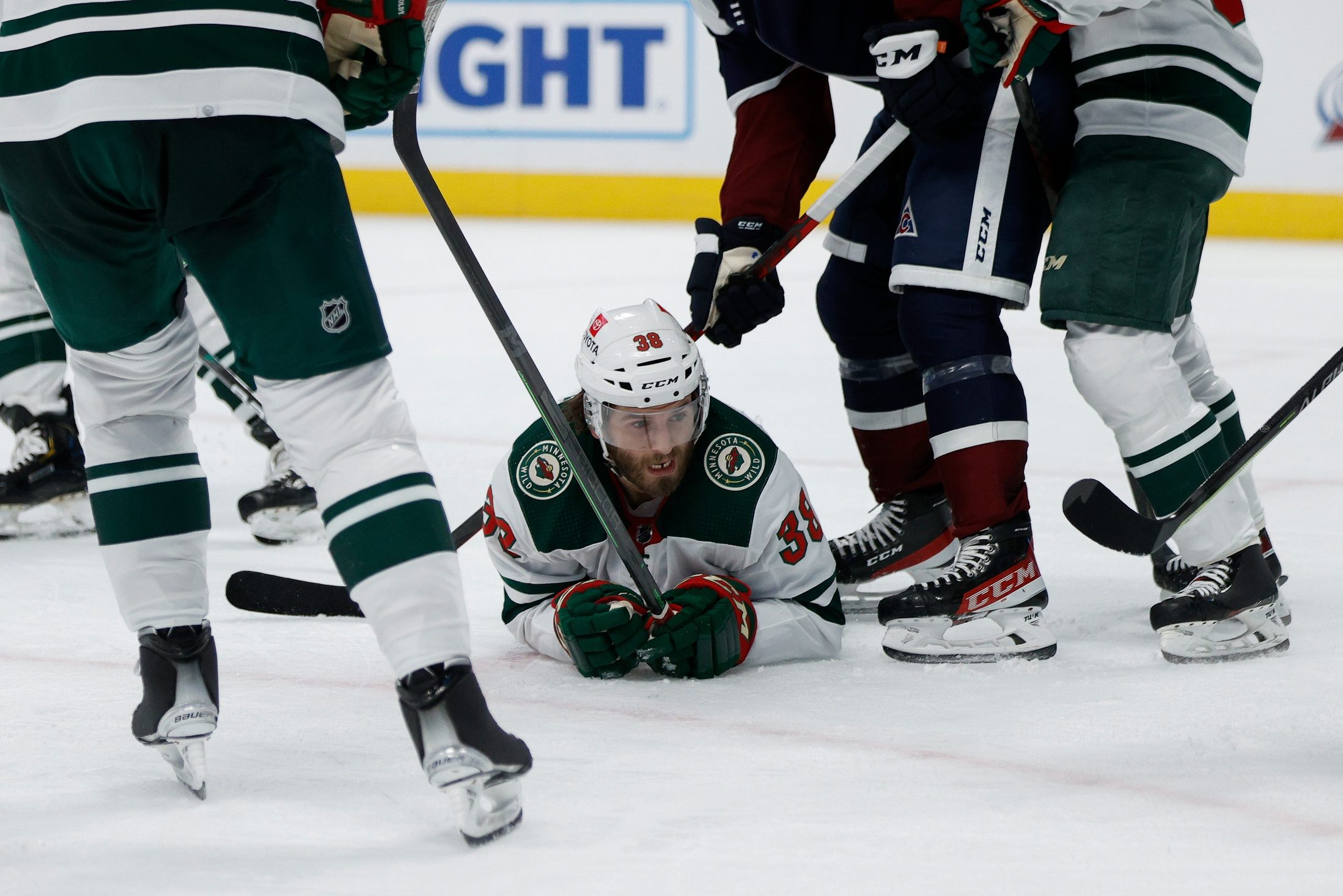 We're all familiar with cartoon physics. In the realm of animation, you can sprint off a cliff's edge and keep your perfect horizontal momentum going. That can continue until you realize something doesn't feel right. You stop, look down, and see the ground you thought was solid, in fact, is non-existent.
It's only then that you plummet to the earth.
The Minnesota Wild had this Looney Tune experience last season, where they rolled into the playoffs confident in their center play. Who were their centers? The cast-off comeback story in Victor Rask. Ryan Hartman, a fourth-line winger converted to center for the first time in his career. And Joel Eriksson Ek, a dominant center stuck in a checking-line role.
The Wild ran all the way to a Game 1 victory against the Vegas Golden Knights in the first round. Then they looked down and saw that none of their centers (aside from Eriksson Ek) could beat Marc-Andre Fleury. They plummeted out of the first round, scoring just 11 goals in seven games.
As it does to viewers watching a Coyote fall to his doom dozens of times, it seems obvious to us now that this wasn't going to work. However, it wasn't as obvious when the upstart Wild were chasing a Stanley Cup last year. When paired with Kirill Kaprizov and Mats Zuccarello, Rask's line out-scored opponents 18-12 at 5-on-5. When Dean Evason swapped Hartman in for Rask, they put up strong underlying numbers and a 4-2 goal advantage. With skilled wingers, a strong defense, and a great shutdown line, there was a sense Minnesota could overcome their center weakness.
It didn't work last year. Were they just a few tweaks away from getting it right? After a short-lived experiment pairing Eriksson Ek with a slumping Kaprizov, the Wild settled on Hartman as their top-line option. Minnesota signed Freddy Gaudreau, whose speed displaced Rask, who is now in Des Moines.
For a while, it looked like they'd found a way to make it work. In Hartman's first 18 games between Kaprizov and Zuccarello full-time, he scored nine goals and 19 points. Sure, his linemates shone brighter, but Hartman showed he belonged, too. They generated a lot of chances and converted them into goals at a freakish rate. Over those 18 games, the Hartman-Kaprizov-Zuccarello line out-scored opponents 21-5 at 5-on-5.
Hartman's scoring faded, though, and now the cracks are beginning to show. Since a two-goal game in Chicago, Hartman has one goal and five points in his last 13 games. That drought is despite Kaprizov and Zuccarello notching well over a point per game. Their 5-on-5 play isn't nearly as dominant, either. The line is breaking even, scoring and allowing seven goals while controlling just 44.9% of the expected goals share.
Even great players slump, and this could be a run-of-the-mill cold stretch for Hartman. But when a bottom-six-winger-turned-top-line-center starts drying up, losing forward momentum has to make anyone worried there's a crash coming.
And if we've seen this play out with both Rask and Hartman, what does it mean for the next checking-line guy who heats up in a favorable spot?
As Hartman's star turn at center threatens to fade, Freddy Gaudreau is ascending. Gaudreau is riding a wave on the Wild's next great line, thanks to a plum assignment between Kevin Fiala and superstar rookie Matt Boldy. Gaudreau's picked up 10 points in 12 games as the third option on the line, which is out-scoring opponents 11-6 and controlling 56.0% of expected goals at 5-on-5.
Does anyone believe that Gaudreau is an elite center? Of course not. But with Fiala and Boldy driving the offense, Gaudreau can thrive in a supporting role. If they're controlling the play and out-scoring the opposition, who cares what Gaudreau's raw talent level is? The only thing that matters is how he functions on the line.
Where have we heard this before?
None of this is to disparage Hartman and Gaudreau. It's only to point out that they're mirrors of each other. Both are players who are doing certain things well but have limitations that threaten the upside of their lines. Hartman's generating a ton of offense this year but seemingly needs to sacrifice defensively to do so. Even at their best, the line gives up nearly as many chances as they get. It's just that their collective finishing talent is high.
As for Gaudreau, he supports well defensively, and even chips in on the transition game. But in the offensive zone? His offensive impact isn't just below-average, or even bad. According to Evolving Hockey, it's the sixth-worst in the league, driving his value down to below replacement level. One streak riding on the Fiala/Boldy wave doesn't change that.

That especially shines through on the power play, when Hartman is separated from Kaprizov and Zuccarello, and Gaudreau from Boldy. In a combined 171:35 on the man advantage, Hartman and Gaudreau have two goals and five points. Teams that can't score on their second power play unit are in real trouble when their first unit dries up.
Still, Minnesota's throwing out every indication they're content with what they have. Balking at trade market prices takes them out of the running for players like Claude Giroux, Joe Pavelski, Tomas Hertl, and J.T. Miller, and that's if they're even available.
They're even taking their best internal option off the table for fear of cap troubles in 2025. As the extremely plugged-in Michael Russo said on a recent podcast, "I don't know how I can say this more often — Marco Rossi will not play more than 10 games this year... I'm not just saying this flippantly. This is something that I have a pretty good sense of."
It's a pretty big commitment to have a top prospect at a position of need dominating the NHL and shut the door on them. Especially when the general manager explicitly said he wouldn't do that in the preseason. But, as Russo elaborated, the Wild apparently feel they have no choice but to let him sit.
"They added Greenway at $3 million, signed Merrill for $1.2 [million], they're gonna have to decide between Fiala and Dumba," Russo continued. "And I'm telling you, they're now in a position with what they'll have to pay Boldy on a bridge deal that they need Marco's contract to coincide with the end of the [Zach] Parise/[Ryan] Suter buyout.
"And look, I'm sure this is frustrating for Marco, but he's 20 years old, and he's just going to have to deal with this. In the history of the NHL, contracts determine everything."
Maybe that sort of blatant service time manipulation is fine for a team with low expectations or without a need a top prospect can address. But we're talking about a team that believes they are bona fide Cup contenders. And we're talking about a player who can upgrade the team without the need to trade a single pick or player.
Imagine, for a moment, if Kaprizov was able to play in the NHL at the end of the 2016-17 season. He would've been 20, yes, but he'd offer scoring potential unlike anyone on the roster, their team's biggest need. That exact fatal flaw became their undoing, as their shooters couldn't solve mediocre Jake Allen.
Now, Kaprizov's KHL contract extension prevented him from jumping to North America, making this a moot point. But how would anyone have reacted if Minnesota had spurned him for the playoffs for similar contract shenanigans, leaving the best team in franchise history to fizzle because of a flaw they could easily fix?
Whether or not you think that's prudent, that is what Minnesota is doing in this situation. If the Wild are unwilling or unable to make a major swing at the deadline, that's reasonable. It is not reasonable to refuse a simple, clear upgrade to fix the team's most obvious flaw. Not with a team ready to stake a claim as the best in franchise history or with eyes on the Stanley Cup.
If the Wild jump the cliff that takes them into the postseason, only to realize that their ACME-assembled center unit can't take them far, it shouldn't just be Rossi that's frustrated when gravity hits Minnesota. Every player in that locker room and every fan in the State of Hockey should be frustrated if the exact same plan that didn't work last year also fails this spring.