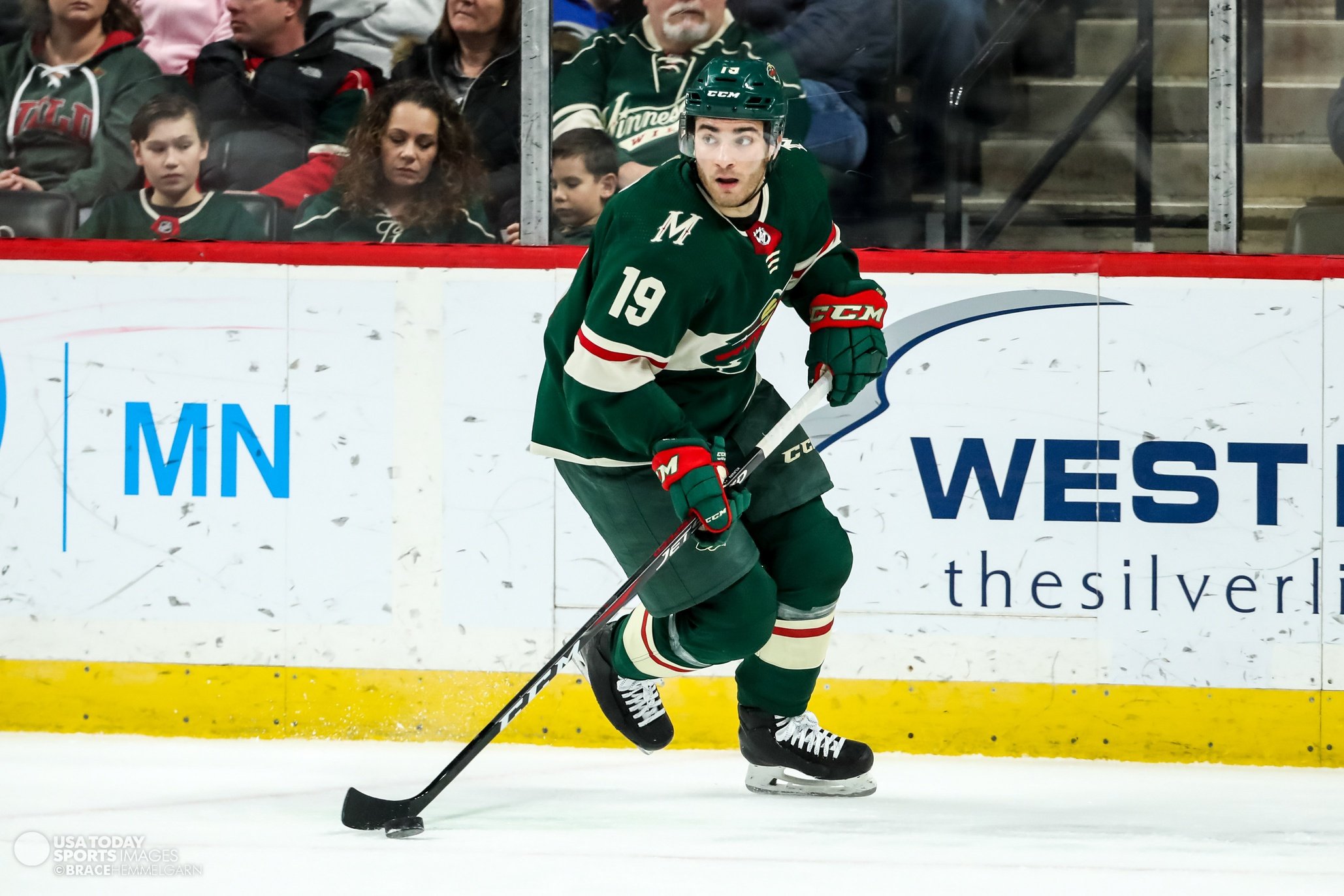 For a team engaged in an active offseason makeover, the Minnesota Wild had a quiet Day 1 of the draft. They wisely stayed put at ninth overall to scoop up a falling Marco Rossi, and called it a day. No goalie acquisitions, no dealing of veterans like Matt Dumba, just a moment for the hot stove to cool.
General manager Bill Guerin must've hated the downtime, as he started off Day 2 of the draft with a splash. He swapped Luke Kunin and the 101st pick to the Nashville Predators for Nick Bonino and the 37th and 70th overall picks.
The move gave head scout Judd Brackett an extra second-round pick. Brackett seized the opportunity to draft speedy Russian center Marat Khusnutdinov at No. 37. Let's dive a little deeper into the latest chapter of the Wild's aggressive reorganization.
Suddenly Deep at Center
The Wild haven't had this much draft capital in a year, ever. 2020 is the first time in team history that Minnesota has had three top-40 picks in the draft. If you've ever wondered why the Wild have always struggled to put together an elite prospect pool, that's a big reason why.
Armed with three high picks, Minnesota had the luxury of taking Khusnutdinov. The Russian from SKA St. Petersburg reads a little bit like Rossi at first. Both are small centers who possess a ton of skill and provide solid two-way value.
Khusnutdinov may be a step down from Rossi in skill, but Khusnutdinov holds his own in that department. Corey Pronman of The Athletic says of him "He's able to make highly creative plays with the puck, improvise in tough situations and be very coordinated in small spaces."
Khusnutdinov also has a speed element to his game Rossi doesn't yet have. Most cite Khustnudinov's skating as a strength, with The Prospect Networks' Tobias Pettersson calling him the fastest in the draft. Minnesota's prospect pool has a lot of talent, but not a lot of elite speed. That dimension just got added to the Wild's future.
Between Rossi, Khusnutdinov and 2018 pick Alexander Khovanov, Minnesota now has three top center prospects. They haven't had this kind of center talent in a decade. Khusnutdinov is young for this draft class (he turned 18 in June), so he won't be ready for a bit. But for now, the Wild have enough center prospects to comfortably focus on other positions.
To get this upgrade at center, they had to part with Kunin, a 22-year-old former first-round pick. Kunin claimed a full-time spot last season, providing secondary scoring with 15 goals and 31 points in 63 games.
In snagging Kunin, the Predators might be trying to capture the magic that Minnesota had when they dealt for Fiala at the 2019 trade deadline. He was 22 then, with 10 goals and 32 points in 64 games. Fiala struggled early, then enjoyed a massive breakout that made Nashville look foolish for giving up on their young player.
Kunin became a fan favorite for his agitation, feistiness, and willingness to shoot. He also was one of the few Wild forwards to step up in the postseason, scoring two goals. Should the State of Hockey be worried about Nashville avenging the Fiala trade?
Probably not. Kunin had some success in his counting stats and may well score 20 goals some day, perhaps even regularly. But he is far from the player Fiala was at the time of his trade. Fiala had a down season the year he got dealt, but racked up 48 points the year before while also driving play.
Kunin hasn't shown that type of production or ability to drive play, and he showed defensive struggles despite his two-way reputation. Minnesota had to hide these deficiencies by playing him with strong defensive forwards in Joel Eriksson Ek, Jordan Greenway and Marcus Foligno.
It worked out decently. Kunin could score enough (0.92 goals per hour at 5-on-5) and was one of few players who shot the puck (8.02 per hour). Nashville may well have gotten a solid contributor, but it's best to not lose sleep fretting about making a massive blunder.
Being Decisive With Young Players
No one would have complained if Kunin was given another chance to develop with the Wild next year. He has offensive skills, works hard and is often praised for his leadership qualities. At some point, however, you have to make a call with young players. Are they part of the future or not?
Geurin is showing that he's neither afraid to make those determinations nor act on them. In trading Donato on Monday, Guerin took a 24-year-old player who had upside, but was caught in a numbers game, and shipped him out for a third-round pick.
The problem there was that Donato had little value. Being stuck on the fourth line gave him little time to produce, and it got to the point where everyone knew Minnesota would trade him. The Wild got punished for holding onto him for too long.
Guerin clearly didn't want to make the same mistake with Kunin. Unlike Donato, Kunin's point totals were trending up, and a 22-year-old playing 15 minutes a night is an easy player for teams to talk themselves into, particularly when they have a first-round pedigree.
There wasn't much of a future for Kunin in Minnesota. Fiala, Mats Zuccarello and even Kirill Kaprizov favor Kunin's position at right wing. Kunin hadn't shown promise sticking at center, even without much internal competition. Guerin knew this and sold high before Kunin found himself struggling to find ice time.
Thanks to that decisiveness, Minnesota was able to add a top center prospect to their system. Will Khusnutdinov ever become as good of a player as Kunin? Who knows? But the Wild were able to continue to address their most pressing need while continuing to add in other spots. Chalk that up as a win.