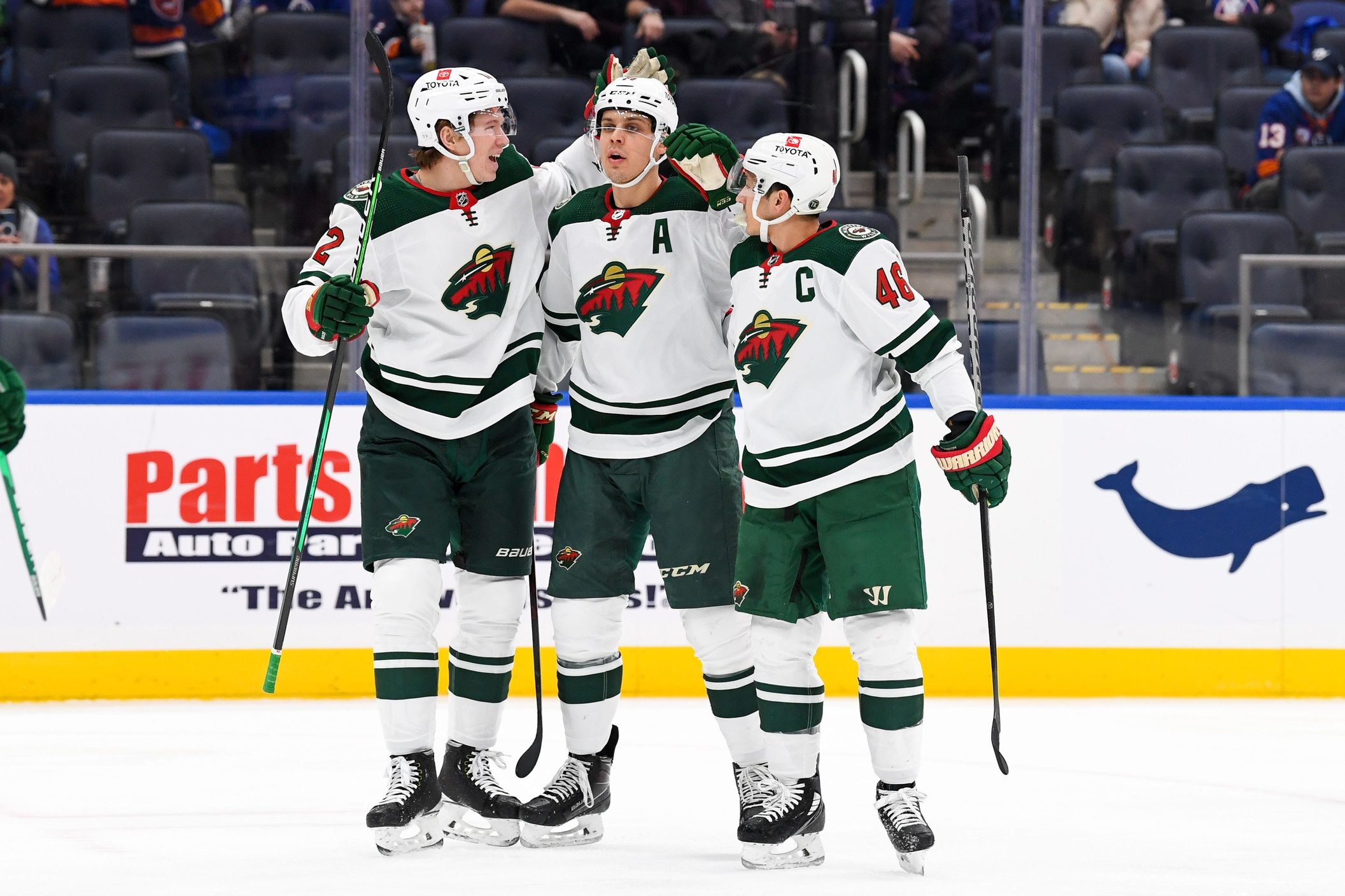 When the Minnesota Wild surrendered 20 goals in their first three games, you knew Dean Evason would reach for his security blanket. In Game 4, the team brought Jordan Greenway back from offseason shoulder surgery recovery ahead of schedule.
You can see the logic and desperation in the move. When he's with Joel Eriksson Ek and Marcus Foligno, Greenway represents Minnesota's biggest defensive weapon. They needed defense. Needing to get a win on the board, it's clear they felt it was worth a shot.
However, it went bad early. Greenway lasted three minutes before leaving the game against the Vancouver Canucks. Now he's on injured reserve again with an upper-body injury, likely related to his shoulder.
Tyson Jost is making it clear he's not a replacement for Greenway. Eriksson Ek and Foligno look lost, particularly after a brutal game against the Boston Bruins. The "JEEF" trio is routinely buried in their own zone at 5-on-5. Just 30.2% of expected goals have gone their way. Getting out-scored 1-4 isn't great, generally speaking.
Eriksson Ek and Foligno have clamped down on scoring chances in their 16 minutes away from Jost. Still, you wouldn't exactly say they're driving the play to their usual standards.
There's no doubt that once Greenway is back, Evason will return to the GREEF well, particularly if Marc-Andre Fleury continues to struggle. But in the meantime, Evason is shaking up the lines and splitting up Eriksson Ek and Foligno.
Why is this necessary? Because the Wild's shutdown line, known to some fans as the "GREEF" Line, sees their grief infect their play whenever a member is missing.
When those three players are together, they've controlled 60.6% of the expected goals over 751 5-on-5 minutes dating back to 2020-21. Remove one, and they collapse like a Jenga tower. Take Greenway out of the equation, and they control a merely good 53.8% of expected goals. If Foligno goes, that duo is underwater with a 47.7% mark. Without Eriksson Ek, Greenway and Foligno control an absurdly bad 44.4% of expected goals.
It defies logic why this line could be so great together but so unimpactful when only two are together. But this is the reality Minnesota faces, hence the changes. But what's curious is that Foligno is being placed on a decidedly skilled line with Matt Boldy and Marco Rossi, and Eriksson Ek is on a grittier defensive line with Ryan Hartman and Brandon Duhaime. What? Eriksson Ek is a 27-goal scorer. Shouldn't he be the one elevated to an offensive role?
Popular wisdom seems to believe that Eriksson Ek can't thrive outside a muck-it-up, forecheck-heavy defensive role. He indeed fills his usual role very well, maybe as well as anyone in the NHL. But here's the dirty little secret with Eriksson Ek: He's every bit as good without Foligno or Greenway as he is with them.
Again, his usual line controlled 60.6% of expected goals at 5-on-5 in the past three years, which is incredible. But what about the 165 minutes where he played with neither of them? In that span, the Wild have taken 59.9% of the expected goal share, hardly any difference. Eriksson Ek also pushes the pace significantly more in an offensive role. Apart from Greenway and Foligno, he generates 3.12 expected goals per hour, compared to 2.35 with them.
So why do people think that can't work? It appears to just be sheer luck in a small sample size. In those 165 minutes, the Wild shot 5.2% on the ice, and the goalies posted an .895 save percentage.
Bad numbers? Yes. But we're talking under three hours worth of ice time. Does anyone really think Eriksson Ek can be part of a great power play but is doomed to shoot 5% with skilled players at 5-on-5? As for the goals allowed, even when pushing the pace, Eriksson Ek plays strong defense that surely can't be the culprit for his goalie struggling.
Is it possible his style doesn't gel particularly well with Kirill Kaprizov and Mats Zuccarello at 5-on-5, as it appeared during a trial run last year? Maybe. But that's A-OK. The Wild have Matt Boldy, an incredibly skilled player who should be able to mesh well with Eriksson Ek's game.
The central problem Eriksson Ek, Greenway, and Foligno present is simple, but it drives them to success. How does anyone stop three guys who are that big, move that fast, and have good skills? Eriksson Ek and Foligno are 6'3" and Greenway is 6'6". It's a matchup nightmare.
Boldy isn't the aggressive forechecker that Greenway and Foligno are, but he offers many of the same problems. Boldy is a sturdy 6'2", strong on the puck and in board battles. That's already a player who's hard to knock off the puck, but his skill takes that to another level. He dances through traffic, stickhandling through defenders and getting off a shot or pass. How do you stop someone who's that big and can do that?
It's easy to see how the two can support each other. Boldy works best as a primary puck carrier, but Eriksson Ek took great strides in carrying the puck into the offensive zone with control last year. When they don't enter with control, Eriksson Ek's a fantastic forechecker who can get the puck back. Eriksson Ek is a fantastic net-front presence, suitable for creating space for Boldy to operate in the slot and cleaning up any rebounds.
And unlike Kaprizov and Zuccarello, who are fine breaking even-ish on puck possession, knowing their superior skill can flip that into an advantage, Boldy is a dominant play-driver in the way Eriksson Ek is. Boldy's controlling 62.1% of the expected goal share on a team that's controlling just 40.6% without him. If Evason wants to get Eriksson Ek back on track as a dominant two-way force, Boldy's the guy to do it.
There are 77 whole games for the Minnesota Wild to turn things around. But there are a lot of status-quo player combinations that worked well for this team over the past two years but are stagnant now. What worked for the past two years may not cut it now, and finally, giving Eriksson Ek some run next to a game-breaking offensive force would be a welcome change that can provide a spark to both the struggling center and team.