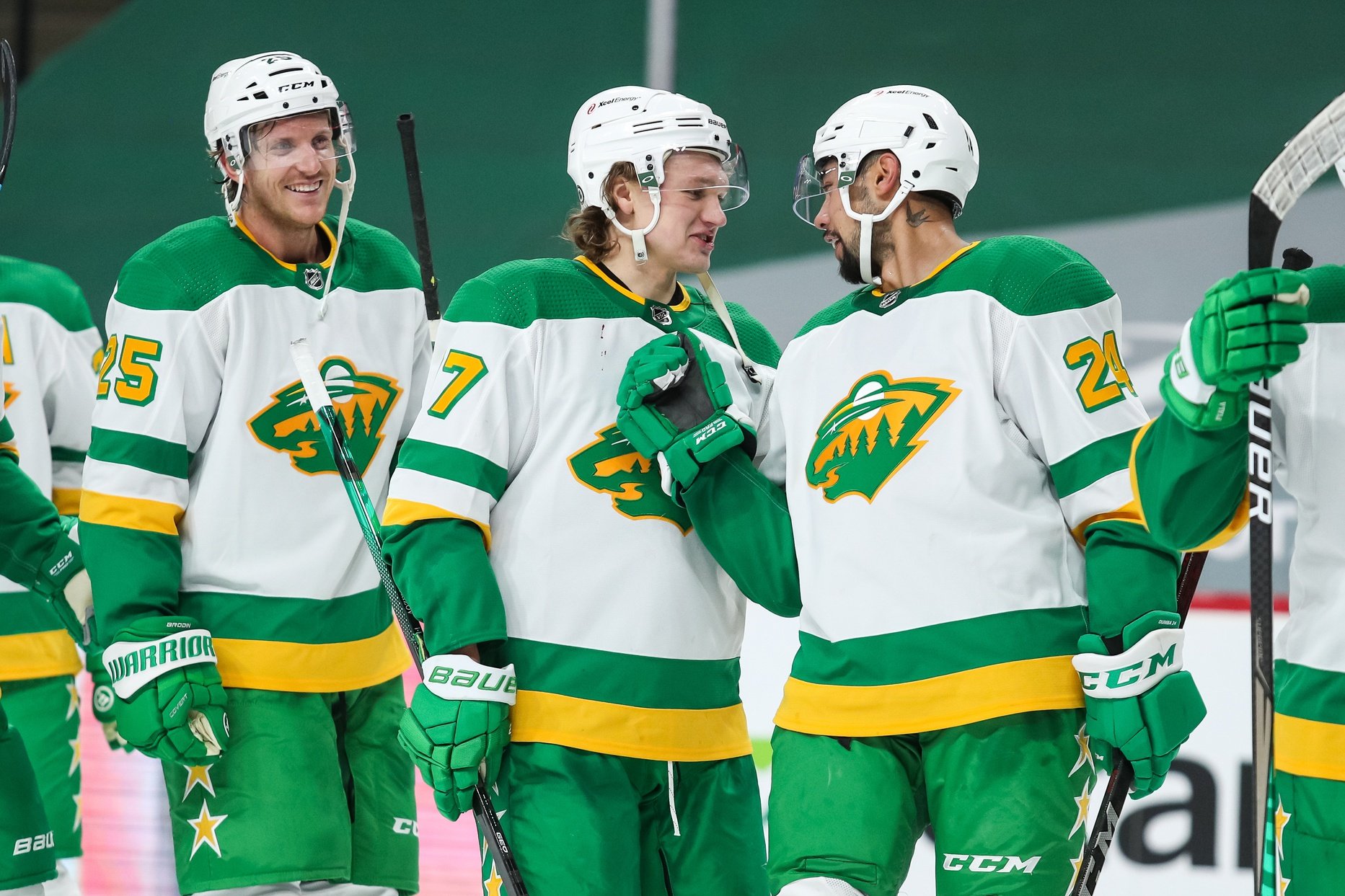 The Minnesota Wild are two weeks from their training camp opening and five weeks away from Opening Night. With the exception of nailing down the details with Kirill Kaprizov's contract, their offseason is done. The trade market has shut down, and the free-agent market is barren. Jack Eichel, Tomas Hertl, or Elias Pettersson aren't wearing those Winter Classic elbow patches.
So whether you liked the offseason or found it underwhelming, what you see in St. Paul is what you get. All that's left to figure out is how Minnesota can maximize the team they have. And what they've got is a team in transition. After a decade of being a veteran-laden team, Minnesota shed that label, at least for half the team.
They're still old, perhaps even approaching geriatric, on defense. Matt Dumba is the youngest player on Minnesota's projected blue line at 27, with Jonas Brodin being a spry 28. Every other defenseman is either 30-plus or will turn 30 this season (Jon Merrill). With 34-year-old Cam Talbot likely to take two-thirds or more of the starts in net, that's an ancient back end.
At forward, it's almost the opposite. Mats Zuccarello and Marcus Foligno are the only projected forwards in their 30s. Their three most important players, Joel Eriksson Ek, Kevin Fiala, and Kaprizov, are all 25 or younger. They're probably not even going to be the youngest on the team, as general manager Bill Guerin refused to rule out prospects making this team.
So as we head into training camp, let's look at their ideal roster and ask ourselves, Can this group really work?
Top-Six Forwards
Kaprizov (24) - Marco Rossi (19) - Zuccarello (34)
Matt Boldy (20) - Eriksson Ek (25) - Fiala (25)
Why Them? That top line will look familiar to Wild fans, as we're not messing with the Kaprizov-to-Zuccarello connection. The pair clearly had chemistry last season, and Zuccarello's passing ability was key to making that work. He made a high-danger passing play 2.6 times per hour, according to Corey Sznajder's tracking data, which put him in the NHL's top-15 forwards. That kind of set-up ability is a dream for snipers like Kaprizov.
Immediately starting Rossi on the top line is an eyebrow-raiser, as the kid has played 13 games since being drafted. Asking someone to go straight from juniors to the NHL is tough under normal circumstances. To do so after a long layoff and putting them in a top-line role may be unreasonable.
On the other hand, Rossi's done everything he can to prepare for that exact assignment. Furthermore, he can grow into the role between Kaprizov and Zuccarello. He doesn't have to be the focal point offensively with those two passing to each other, allowing him to focus on adjusting to the speed of the NHL before unleashing his own offensive skills. Minnesota can manage his workload by using him only at 5-on-5, at least to start the season.
Eriksson Ek and Fiala showed incredible chemistry last season, and frankly, it's a crime they didn't get more run last year. Eriksson Ek loves to go to the net for rebounds but isn't great at all in transition. Fiala is a dynamic rush player who takes shot after shot from the slot, which creates rebounds. Their strengths feed into each other, and their shot profiles, when together, were incredible last year.

Let's add Boldy, who went straight from dominating college to dominating the AHL last year, to the mix. His superb puck-handling can help support Fiala in transition, and he's a terrific passer. His ability to keep the puck on his stick along the boards and find open shooters with easy-looking passes could have a Zuccarello-type effect here.
Can this work? The good news here is that the average age in this top-six is 24.5. That's what we like to call the "Awww, Yeah!" zone for aging curves. As a 2017 article by Evolving Wild noted, players tend to plateau from around age-23 to 25 before declining gradually in their mid-20s, then steeply in their 30s.

Rossi and Boldy are on the younger end of this, while Zuccarello is much older. Still, it's not implausible for any of them to succeed at their age, and having three great players in that sweet spot is amazing.
Bottom-Six Forwards
Foligno (30) - Nico Sturm (26) - Jordan Greenway (24)
Nick Bjugstad (29) - Frederick Gaudreau (28) - Ryan Hartman (27)
Victor Rask (28)
Why Them? With Eriksson Ek getting a shot in the Wild's top-six, it's Sturm's turn to audition as the new Eriksson Ek. Sturm is great at two things: getting to the net on offense and suppressing net-front shots on defense. That works just fine on Minnesota's vaunted third line, with Foligno being a one-man shot-suppression army. Greenway had a tougher season than his point totals indicate, but his chemistry with Foligno and upside give him the nod over Hartman.
This lineup has a distinct top-nine, but the fourth line should still be able to contribute. Gaudreau and Hartman could form a shutdown pair that drives play, even if there's not much offense there. Say what you will about Bjugstad or Rask's play last year, but they're credible NHLers. You should feel OK putting either on the ice in this role.
Can this work? Despite being a bump up from the top-six in age (27.4), they're in a good spot. Foligno is the oldest one here, but also the best, meaning even if there's a drop in his game, he's still going to be valuable. Sturm and Greenway are still in their primes, and that fourth line should provide about what they did last year.
Defense
Alex Goligoski (36) - Jared Spurgeon (31)
Brodin (28) - Dumba (27)
Dmitry Kulikov (30) - Calen Addison (21)
Merrill (29)
Why Them? The top two pairings require no explanation. Brodin and Dumba have years of experience playing big minutes together, so why mess that up? You could easily call them the first pairing if you'd like. Goligoski is the wild card, serving as a Ryan Suter replacement. His game can be described as Suter-lite, driving offense at the expense of declining defense. That should suit Spurgeon just fine, as he can run the show and get most of the touches.
By signing 34-year-old veteran Jordie Benn, Guerin is signaling an intention to play Addison in the AHL again this season. They ought to look at their two best success stories from the last decade and reconsider.
Addison has only played 31 AHL games, leading conventional wisdom to suggest he needs more time to develop there. On the other hand, that's two more career AHL games than Brodin and Dumba have combined. Brodin made his NHL debut at 19 and never looked back, while Dumba was a full-time NHLer midway through his age-20 season.
Brodin may not be an apt comparison, as his game was touted as being uniquely advanced. Dumba may be a better comparison. Both Dumba and Addison were seen as prospects with sizzling offensive capabilities but defensive limitations.
Dumba developed in the NHL, though, first getting sheltered in a third-pair role with a steady defenseman in Jordan Leopold, then working his way into a top-four role within two years. He learned how to play defense in the NHL and peaked as a 50-point defenseman before injuries halted his trajectory.
The idea here is to let Addison follow that same path. Kulikov or Merril should help him defensively as he works his way into the NHL. He should have some of the best mentors in the world in Spurgeon and Bordin to teach him how to use his skating to cut off defensemen. Let him develop in the NHL for two years, then potentially step into Dumba's spot when his contract expires.
Can this work? Hoo boy. Even with Addison skewing the numbers down, the average age here is 28.9. If Benn makes the team ahead of Addison, bump that up to 30.7.
It's not entirely bleak. Again, Dumba and Brodin are in their prime-ish years, and even if Spurgeon drops off a touch, he should still be more than useful. But this is a major concern for the rest of the group. Goligoski's age is a major red flag, and even a fairly small decline will likely knock Kulikov and Merrill towards replacement level.
But again, here's some good news: While players see a sharp decline in their overall games as they age, that's driven more by offensive decline than defensive, according to Evolving Hockey's article. Defensemen tend not to decline defensively until around age-33, putting everyone but Goligoski and Benn in the (relative) clear.

Is this roster a house of cards, or can it produce success? You've heard it 1,001 times already, but rookies are going to have to step up to make this work. Minnesota will likely have to rely more on their forwards for offense with Suter's absence and overall aging. With no major free-agent additions, the only way to really do that is to have guys like Rossi or Boldy (or, say, Alex Khovanov or Adam Beckman) contributing.
To be clear, though: Yes, this roster can work. We'll just have to wait five weeks to start seeing whether it will or not.