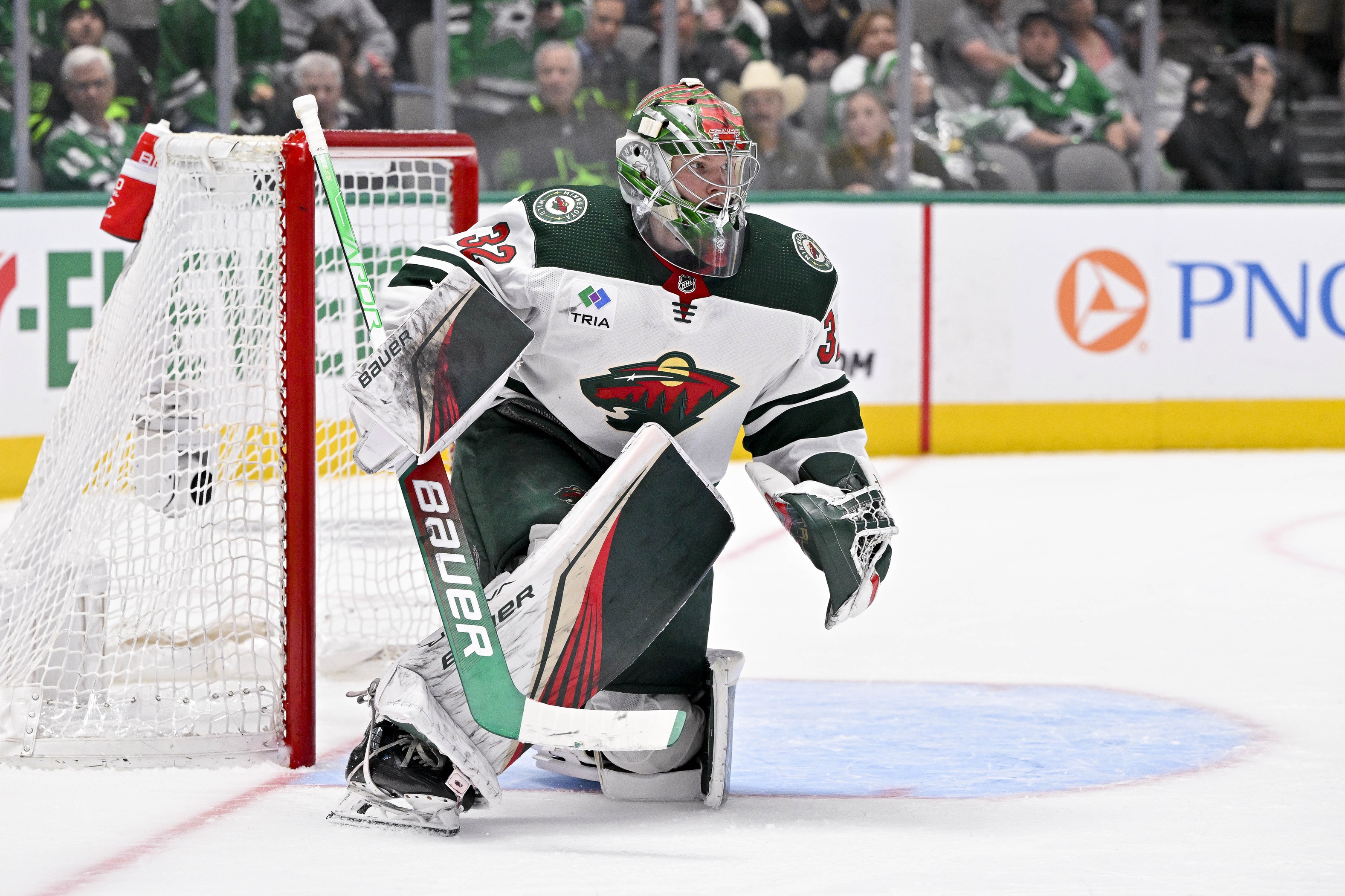 Image courtesy of Jerome Miron-USA Today Sports
All summer long, the State of Hockey has been counting down to a potentially contentious August 4 arbitration date for the Minnesota Wild and Filip Gustavsson, even before Gustavsson filed. The Wild and Gustavsson's camps had been far apart this offseason, and there's been the usual amount of acrimony and frustration that typically accompanies a player wanting to get paid. 
The good news is that the arbitration forced a resolution, this one coming before the date of the hearing, as Gustavsson and the team agreed to a three-year, $3.75 million deal on Monday. If both sides made it through the process without bitter feelings, then it's over. Yes, Gustavsson will be up for unrestricted free agency when his deal expires, and it might not be easy to keep him past then. But by then, the Wild's cap situation will be much more flexible than it is now, at the height of their cap crunch.
The question will become whether the Wild have any need for Gustavsson in net for the duration of his contract. After all, by next summer, Jesper Wallstedt will have two full seasons in North America to prepare for his coronation as Minnesota's Goalie of the Future. Some consider Wallstedt to be the NHL's best goalie prospect since Andrei Vasilevskiy, and perhaps even further back than that.
If Wallstedt is Vasilevskiy, then there's not much need for the Wild to keep Gustavsson around, right? Vasilevskiy first grabbed the reins of the Tampa Bay Lightning at age 22, starting in 47 of Tampa's 82 games. Since then, he hasn't started fewer than 52 games, the COVID-shortened 2020-21 season being the only exception. Even then, he started a whopping 42 of the Bolts' 48 games.
In the last six years, Vasilevskiy started 334 of Tampa's 446 games. That amounts to 61 starts out of 82 games, leaving just 21 games for his backup per season. If Wallstedt can match that, why pay a premium for Gustavsson to be a backup? Wouldn't he be more valuable as a trade asset?
Let's say that another way: If Wallstedt is ready to be a generational-level goalie capable of an insane workload at age-21, then sure, there's no room for Gustavsson at the inn.
Is that what the Wild want to count on, though?
The Lightning certainly didn't count on that with Vasilevskiy. They broke in their top goalie prospect slowly, with 13 starts during his age-20 season, then 21 in the year after that. It's probably a good thing they did, too, because Vasilevskiy wasn't Vasilevskiy right out of the gate. He posted just a .913 save percentage in those first two years, recording a Quality Start in only 14 of his 31 outings.
Had the Lightning banked solely on Vasilevskiy, they might not have made the playoffs, let alone the Conference Finals in Spring 2016. They had the luxury of not having to, because Ben Bishop was there to be a reliable, well-above-average starter. Bishop carried the load in the regular season and playoffs, and Vasilevskiy was their potential ace in the hole whenever Bishop needed a night off.
Even when Vasilevskiy took over the net at 22, it wasn't because the Lightning gave him the role. They traded Bishop mid-season to the Los Angeles Kings, but only after Vasilevskiy beat him out for the job and proved he was ready for that role full-time. 
When you think about the kind of team culture Bill Guerin is trying to build, that sounds exactly like the kind of thing he'd want Wallstedt to do. Marc-Andre Fleury isn't going to provide Wallstedt that obstacle to overcome, not while approaching his 40s. Gustavsson is the only goalie in the Wild system that's fitting that bill.
It's natural to wonder whether Gustavsson, who came out of nowhere, is a solid long-term bet. The Wild will surely deploy that argument, should arbitration arrive. But the fact is that it's hard to be as good, as young as Gustavsson without being at least a solid goalie in the medium-term. 
Want proof? Here is every season by every under-25 goalie to rack up 10 or more Standings Points Above Replacement (thanks to Evolving-Hockey) in a season. All seven of them. We'll look at what they did over their next three years, by both SPAR and save percentage.
Here's what they went on to do:

If Gustavsson falls on his face after his career-making year, he'll be the first of these goalies to do so. Of these goalies, only Jaroslav Halak went on to average fewer than 6 SPAR for his team per year over the next three seasons (with a lockout season in that mix), and only John Gibson had a save percentage below .915. History suggests Gustavsson is going to be a very good goalie for the next few seasons, at the least. He might even be great. We don't know.
That's part of the problem, should the Wild decide to part with Gustavsson to fully give Wallstedt the net in the near future: We don't know. What if Gustavsson is Hellebuyck, and Wallstedt is Carter Hart? Or, what if Wallstedt isn't ready for a 60-game workload for a few seasons? His 40 AHL games (two in the playoffs) were a career-high for him, by far.
Let's ask this while we're at it: What's wrong with having two good goalies for as long as it's possible?
Look at two of those goalies in that chart above: Carey Price and Halak. Like Wallstedt, Price was a generational goalie prospect drafted high in the first round. Like Gustavsson, Halak was an unknown who suddenly emerged as a starting-caliber goalie. In 2007-08, a 20-year-old Price started 40 games for the Montreal Canadiens, finishing in the top-10 for the Calder and Vezina Trophies. But for the next two years, Price and Halak competed for the starting gig.
It's probably a good thing they had that internal competition. Price relatively struggled in his age-21-and-22 seasons, posting a .909 save percentage. As the young goalie took his lumps, Halak shone in a tandem role, with a .920 save percentage. Halak took the Habs to the Conference Finals in 2010, a feat that the future Hart Trophy-winning Price had to wait four more years to match.
Are difficult contract negotiations a pain? They sure are. What's much less painful for the Wild, however, would be having insurance for their goalie wunderkind prospect as he develops. It's worth any short-term frustration to work towards a future where Minnesota can roll out not one, but two young goalies who give their teams a chance to win on a given night.
The Wild are in a great spot right now with Gustavsson sticking around for the next few seasons. It might be tempting to cash him in down the road, but for now, they're much better off keeping the "Gus Bus" around for the long haul.
All data via Hockey Reference unless otherwise indicated.
NOTE: This piece has been updated to reflect the contract Gustavsson signed on Monday.
2