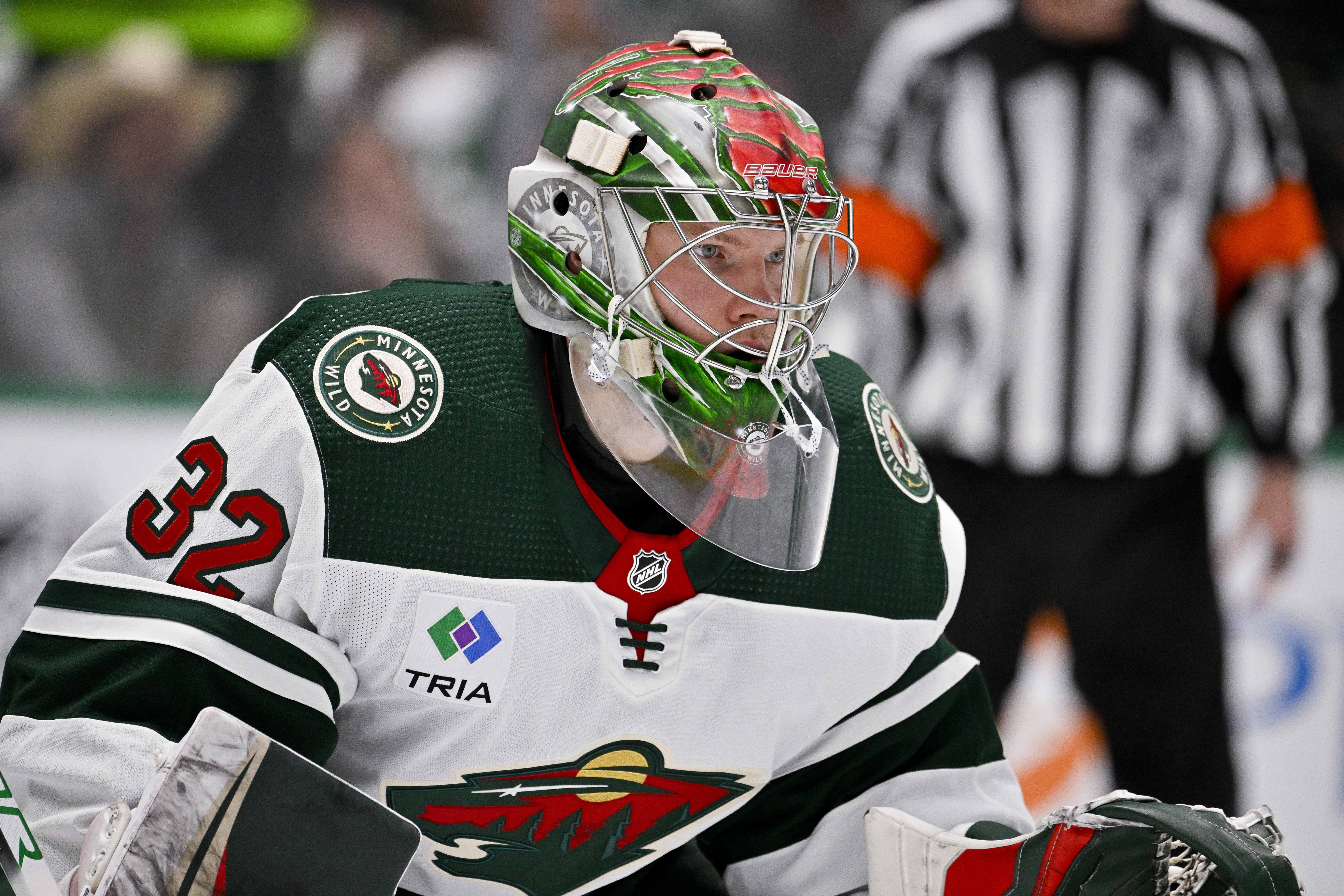 Image courtesy of © Jerome Miron-USA TODAY Sports
It's time for everyone's favorite offseason ritual: the contract dispute discourse. The Minnesota Wild have attempted to sign Filip Gustavsson, a restricted free agent (RFA), since at least February. But a week into July, it's still not done. A resolution awaits the Wild. Gustavsson filed for arbitration, where a judge will set a salary for Gustavsson should the two sides not come to an agreement.
In many ways, this is pretty routine. Players jockey to get as much money as they can and the teams try to keep salaries down as low as possible. Sometimes you'll see things bleed out into the media, as the Kirill Kaprizov situation did two years ago. A subset of antsy fans will rally to support the team and claim the player they've spent all season arguing should be an All-Star or major award contender is suddenly not that great.
It's very much a similar situation with the same well-tread discourse, except for one wrinkle. The Wild are in the tightest grip of the Parise/Suter buyouts that they'll experience and basically have no cap space. They'd be in a tough spot even with Gustavsson inked to a team-friendly cap hit. But without his number locked in place for next year, it made any hope of getting in on free agency impossible.
Guerin hasn't been shy about putting this out to the public. "Yeah, it's disappointing that it's not done... to be quite honest with you," Guerin told The Athletic on July 1, the opening date of free agency. "These things are fairly easy in my mind, but sometimes they just take a little longer. We know where Gus' salary should fall in our minds."
As with the Kaprizov situation, fans are lining up behind the team and against Gustavsson on this one. The most liked comment on that Athletic article reads: "If he's going to be difficult and we overpay, just trade him after the signing." "He's a system goalie," argues a Redditor. "Let him go to a team that doesn't play accountable defense and let's see how good he is." Another fan on Reddit chimes in, "I love it the longer he waits this out the s----tier our team will be this year."
You don't have to read between too many lines to figure out exactly what's so simple about this negotiation in Guerin's mind. The cap situation is what it is, and it dictates that we can only pay you so much, Guerin seems to be implying. You can't withdraw $200 if there are only four twenties in the ATM.
It doesn't get more pointed than Guerin saying, "I think sometimes (agents) forget to look at our salary cap situation and how much money we actually have," as he did on July 1. 
There's of course, a nugget of truth here: Minnesota is severely handcuffed by their situation and not settling with Gustavsson does make the offseason harder. The Wild made exactly one move in the opening week of free agency: acquiring Pat Maroon for a seventh-round pick. Even then, the Tampa Bay Lightning retained 20% of Maroon's $1 million salary to give Minnesota some tiny breathing room.
There's a legitimate question of whether it'll be possible to enter the playoffs with the Western Conference seemingly getting better. Remember, the Wild aren't only in a tough spot to sign players. They're almost certain to lose Matt Dumba and saw trade deadline rentals Gustav Nyquist and John Klingberg also walk.
But one thing is for certain, and this fact makes the situation not so simple. The Wild surely aren't going back to the playoffs if they're not riding the "Gus Bus."
The Wild finished last season with 103 points in the standings. That sounds like a team that was so good, it doesn't really matter who their goalie was. Not the case. According to Evolving-Hockey's Standings Points Above Replacement model, Gustavsson was worth 11.2 SPAR last season. Even as a "1B" goalie in a tandem with Marc-Andre Fleury, Gustavsson single-handedly accounted for 11 of the Wild's 103 points by himself.
Without those 11 points? The Wild would've been on the outside looking in. 92 points would take them from a comfortable third place in the Central Division to being tied with the Nashville Predators as the first team out of the playoff picture. The Calgary Flames (93 points) would've snuck into the playoff bubble instead.
How much money did the team pull in from getting two home dates in the playoffs? How much more money did they get for a third home playoff game, thanks in large part to Gustavsson's heroic 51-save Game 1 effort?
Now, a player's value to a franchise doesn't dictate their salary. Connor McDavid only makes $12.5 million a year, not $125 million. But it's pretty justifiable for Gustavsson to look at the profits he doubtlessly made for his organization and go, I want some of that.
The realities of the Wild's cap situation are probably going to dictate his cap hit for his next contract, whether that's just for the next year or beyond. However, it's justifiable if Gustavsson's camp views it as not their problem. Yes, Gustavsson's salary demands will put strain on Minnesota's salary structure. The reason for that, though, is because he did exactly what young players are supposed to do: Play lights-out hockey and show their worth on the ice. 
Contrast that with other players who are putting a strain on the Wild's cap situation. It's not totally fair to put blame on the front office for the Fleury contract -- they had fairly limited options last year. Still, not being able to move his $3.5 million salary coming off a year where he lost the starting role and entering his age-39 season is rough.
So, too, is not being able to free up any wiggle room in the $2.5 million contract the team gave to Alex Goligoski at the 2022 trade deadline. Counting playoffs, Goligoski drew into just 48 of the Wild's 88 games, most of those as healthy scratches. As everyone says, it's a business, and fairness often doesn't dictate these situations. But Gustavsson didn't sign these contracts, and he isn't the person tasked with managing the salary cap. Why should he get backlash for holding the line and asking for what he feels is market value after a breakout season?
A quick look at the market gives you a pretty good idea of why someone like Gustavsson could want a cap hit around $4 million. Joonas Korpisalo, a career .904 goalie who had 11 good games with the Los Angeles Kings, re-signed in LA for a $4 million cap hit. Any way you slice them, his stats were much worse than Gustavsson's. 
Adin Hill won a Stanley Cup, true, but he sure didn't look like a goalie who was about to cash in this offseason with a $4.9 million cap hit before that. His career save percentage was .910 entering the playoffs, and he'd only started 88 career games, just 22 more than Gustavsson despite being two years older.
Those are unrestricted free agents, yes, but they also demonstrate Gustavsson's value if he were on the open market. Gustavsson even fares well compared to RFAs signed last offseason. Vítek Vaněček signed a contract with a $3.4 million cap hit last year, despite only 75 starts and a .908 save percentage. The Colorado Avalanche inked Alexandar Georgiev to an identical cap hit, despite being a career .908 goalie coming off a brutal .898 season. Is anyone seriously suggesting those are comparable situations to the "Gus Bus"?
Gustavsson has value, his season gives him leverage, and he should use it. That's his job. The Wild's is to manage the salary cap, and they didn't have enough money to be active on Day 1 of free agency. They're navigating a tough situation with their buyout crunch, so it's not entirely fair to pin this on Minnesota's front office. But it's even less fair to put Gustavsson, who has nothing to do with the cap, on blast for the Wild's situation.
Luckily, this will be resolved in a few weeks. The Wild will put out a number, Gustavsson's agent will put out a number, and a judge will carefully decide on a cap hit that just so happens to be the exact midpoint of the two camps' numbers. The team will have their cost certainty, Gustavsson will get some money, and the fanbase can stop pretending like Gustavsson didn't save Minnesota's bacon last year.
5