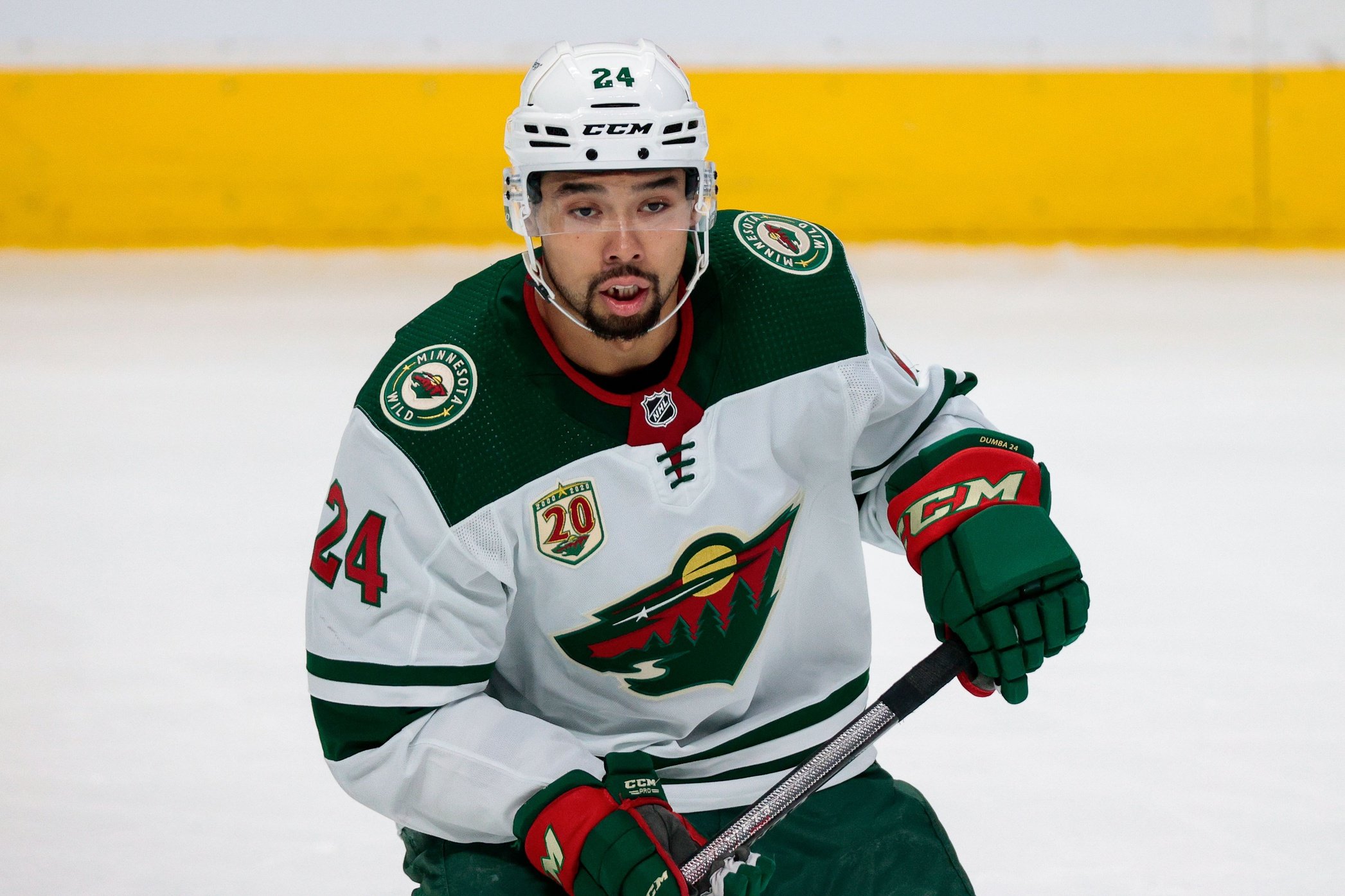 Exhausted.
It's hard to think that Wild defenseman Matt Dumba could feel any other way the past three seasons.
He's stepped up following the police killing of George Floyd in 2020 to engage with the local community and NHL at large, addressing racism in hockey and society. His humanitarian efforts were acknowledged by the league when he won the King Clancy Memorial Trophy last year.
On the ice, he's often had to respond to clean hits with fights instigated by the opponent. One such fight ended his season prematurely. The injury he sustained could have potentially altered his career. Through it all, he's been an important part of one of the better top-four defensive units in the NHL.
Regardless of any of that, he's also been the subject of trade/expansion rumors for the better part of the last three years, even going back to the Vegas Golden Knights expansion in 2017. With the Seattle Kraken expansion looming, Dumba has been a focus of trade rumors because he's a potential candidate to be lost in the expansion draft. Dumba made the intentions clear after the Wild's season ended.
"This is home for me," Dumba told the media on Tuesday, "This is where I want to be. I love it here."
In exit meetings this week, Dumba made it known that he told GM Bill Guerin his desire to remain with the club into the future and make a difference for the new-look Wild team that emerged this past season. It's good news for the Wild that Dumba wants to stay here despite the constant rumors. Minnesota is a much better team because of him.
It will be a tough decision for Guerin to make because the odds are that he will have to lose someone important to this team no matter what. He will have to expose one of the two goaltenders in Cam Talbot and Kaapo Kahkonen, and either could entice Seattle. Then they will have to choose if they expose eight skaters regardless of position or seven forwards and three defensemen.
Dumba would be the first man out of the top four defenders, given that he is the only one without a no-move on his contract. So, the decision is to either protect Dumba and expose a few more forwards or expose Dumba to retain more forwards.
It's all up to Guerin. He will have to determine which decision has the most upside both now and in the future. Guerin will undoubtedly do extensive research, and that should begin with what an effective player Dumba has been over his entire career.
For starters, although he didn't have the highest shooting percentage among defensemen on the Wild this season thanks to Jonas Brodin having an otherworldly offensive season by his own standards, Dumba's real value is in his offensive upside to the back end.
Before injuring his shoulder during the fight in Calgary that ended his 2018-19 campaign, he was a goal-scoring machine. While his numbers haven't completely recovered offensively, he's putting pressure on opposing goaltenders. He has continued to regain more and more confidence in his shoulder after going under the knife.
His season ended after 32 games two years ago, but he was on track for an offensive outburst. He already had 12 goals and 10 assists, a pace of just over 30 goals in a full 82-game season. He has the tools to be one of the better offensive defensemen in the NHL, but he will need to regain that pace if he wants to be considered a bona fide scoring threat from the blue line. This past season, Dumba was 20th in the NHL among defensemen in individual expected goals created (ixG), according to EvolvingHockey. He is still generating chances and making offense; it's just a matter of finding the twine.
His scoring ability fills a gap on the Wild's defensive corps. While Ryan Suter and Jared Spurgeon have racked up plenty of assists in their time with Minnesota, neither are considered offensive defensemen. Brodin had a breakout season offensively but is known for his stifling, efficient defensive play and an exceptional ability to break out the puck.
Dumba, on the other hand, is the Wild's offensive game-breaker on the blue line. As a power-play weapon, his slapshot has the potential to be deadly. He can be part of the rush at the front or as the trailing man to get a shot to beat any goaltender in the NHL.
He is vital to this top-four defensive corps. Keeping the entire unit together for another season and beyond would be a vital development for the Wild. While Minnesota's brass has some decisions to make, keeping Dumba in the Twin Cities should be the team's top priority.