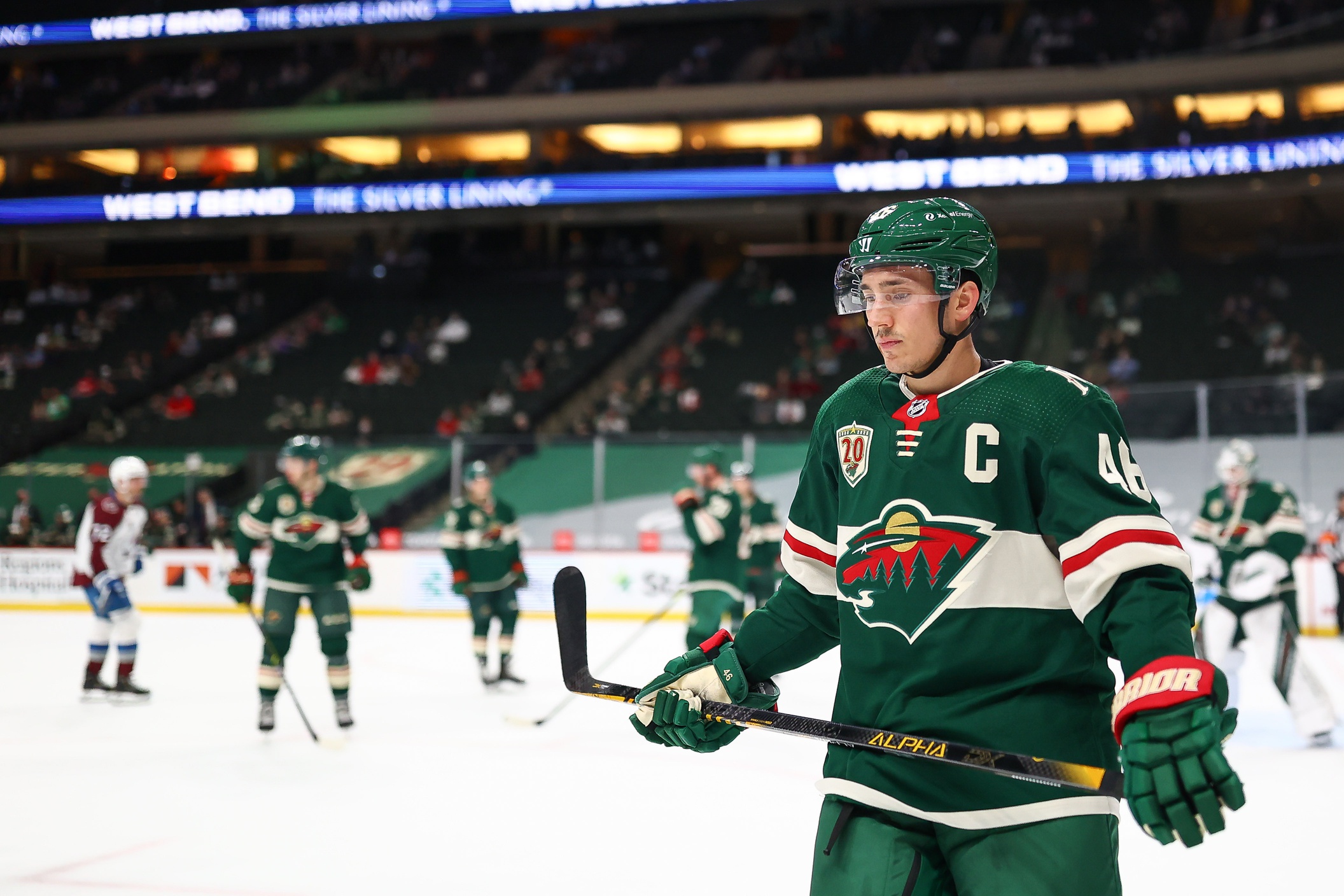 The Minnesota Wild were on the verge of a third straight win on Dec. 3 after tying the game with less than three minutes left. But the Anaheim Ducks' Troy Terry — who scored 37 times last year — had the puck on his stick in overtime on a breakaway with the opportunity to give the now last-place Ducks their seventh win of the season.
Then Jared Spurgeon entered the picture. He dove forward in desperation mode, hitting the puck off Terry's stick.
No shot for Terry, and no save was required from Filip Gustavsson. It was the result of a terrific backcheck by Spurgeon that closed the gap between them and saved the game for the Wild in their eventual shootout win.
The hero of the game wasn't Kirill Kaprizov. Or Matt Boldy or Mats Zuccarello. Nor was it Joel Eriksson Ek or Marcus Foligno. It was the Wild's captain, Spurgeon, who came through when it mattered most, leading a roster composed of young, old, and new players by example.
Spurgeon's effort didn't come out of nowhere, though. Spurgeon makes these types of plays — backchecks, blueline holds, turnovers created with his stick, etc. — nightly. Look how he batted the puck out of mid-air on the goal line Wednesday night against the Calgary Flames to save a goal.
His mastery of simple yet game-changing tactics makes him so good. It just so happened that it was in overtime and more flashy than usual. These plays were a perfect reminder of how lucky the organization is to have a player of his caliber who embodies an ideal defenseman.

He's not only arguably the most talented defenseman in franchise history, but Spurgeon is still somehow one of the most underrated blueliners in the NHL. He gets more recognition than he used to, as the rise of analytics in hockey has thrust him into the spotlight within that coterie of fans. There's a reason he's 16th among NHL defensemen with over 1,000 minutes in the past three seasons with a 55 percent expected goals rate. During that time, he's fourth in expected wins above replacement (xWAR) — only behind Cale Makar, Adam Fox, and Devon Toews.
The 33-year-old defenseman is still playing at his peak level, as he's been doing for some time now. Spurgeon is 27th among defensemen in xWAR this year, tied with star players like John Carlson and just ahead of Miro Heiskanen and Brent Burns. Not only that, he's held a 55 percent expected goals and 63 percent actual goals rate at 5-on-5 play so far this season. And while his point totals have dipped a bit so far in the first quarter of the season, his play on the ice hasn't wavered.
Spurgeon is under contract for four more years after this season. It's difficult to project whether the Wild will ice a Stanley Cup contender during that time frame, assuming his decline with age stays minimal. Amid a 13-10-2 record where the Wild are hanging onto their playoff spot with dear life, it begs the question: What do the Wild do?
According to a report from The Athletic's Michael Russo, the Wild are looking to add a top-six forward. The two major questions for any such player are making the money work in their current cap-strapped financial landscape and finding a reasonable price for a top-of-the-lineup caliber player. But there's a third one that should also be considered. Have the Wild earned that move by playing as if they're just a top-six forward away from contention?
Probably not.
But deserving has nothing to do with this consideration because the Wild almost certainly won't have a defenseman like Spurgeon once he's either gone, retired, or out of his prime. There's no doubt that Calen Addison, Brock Faber, Carson Lambos, and Ryan Rourke, among others, boast a high chance of sustaining the Wild's defensive identity going forward. But it's highly unlikely that any of them will be as valuable as Spurgeon (and, to a similar extent, 29-year-old Jonas Brodin) are to the Wild.
Spending assets on a top-six forward for a team that likely isn't contending this season seems absurd, especially less than a year after trading their game-breaker in Kevin Fiala. But it just might be worth it to maximize the rest of Spurgeon's career.
Not only that, but if a trade helps the Wild compete with the Western Conference's heavyweights, it may be worth reinforcing to Kaprizov that this team wants to win and isn't content as a middling playoff team.
Making the money work and finding a team willing to part with a top-six forward will be a challenge, especially with the trade deadline still months away. The Wild have $2.37 million in projected cap space at the moment. That isn't much, but since cap hits are calculated on a daily basis, that will prorate to being the equivalent of over $10 million at the trade deadline, according to CapFriendly.
There isn't going to be a large crop of available top-six forwards because most teams won't be willing to part with one right now, especially contenders or those in contention. However, 10KRinks has already made arguments for a pair of Vancouver Canucks in Conor Garland, an underrated winger, who is signed for three more years after this season, and Brock Boeser, who is falling out of favor there.
The Wild could also check in with the St. Louis Blues for Ivan Barbashev or the Chicago Blackhawks about Max Domi. The latter may not fit in Minnesota's defensive identity but would be one of the better options in terms of affordably adding a scoring punch to the roster. Would the Tampa Bay Lightning trade Alex Killorn to open up cap space for a trade deadline splash? Or a reclamation project in the New York Islanders' Anthony Beauvillier?
Dylan Strome and Sean Monahan are also potential options. Strome has 20 points in 27 games this year, but he's started slowly in the goal department, with only five after scoring 22 last season. Perhaps playing in a top-six role could unleash his untapped potential, especially with him having more raw skill than a player like Sam Steel. Strome should be among the Wild's ideal targets.
Or Monahan, who has 17 points in 25 games and is a three-time 30-goal scorer, who needs to recover his game. The Washington Capitals and the Montreal Canadiens are out of the playoff picture, so perhaps a move could be made. However, the Habs would have to retain salary for it to work.
In their current cap crunch, the Wild must be careful in their pursuit of a top-six forward. But if they can pull off a trade that doesn't sacrifice the future and will immediately improve the team's scoring ability, it might be a risk worth taking to maximize the rest of Spurgeon's prime in Minnesota.
All Data Via Evolving-Hockey, Natural Stat Trick and Hockey-Reference