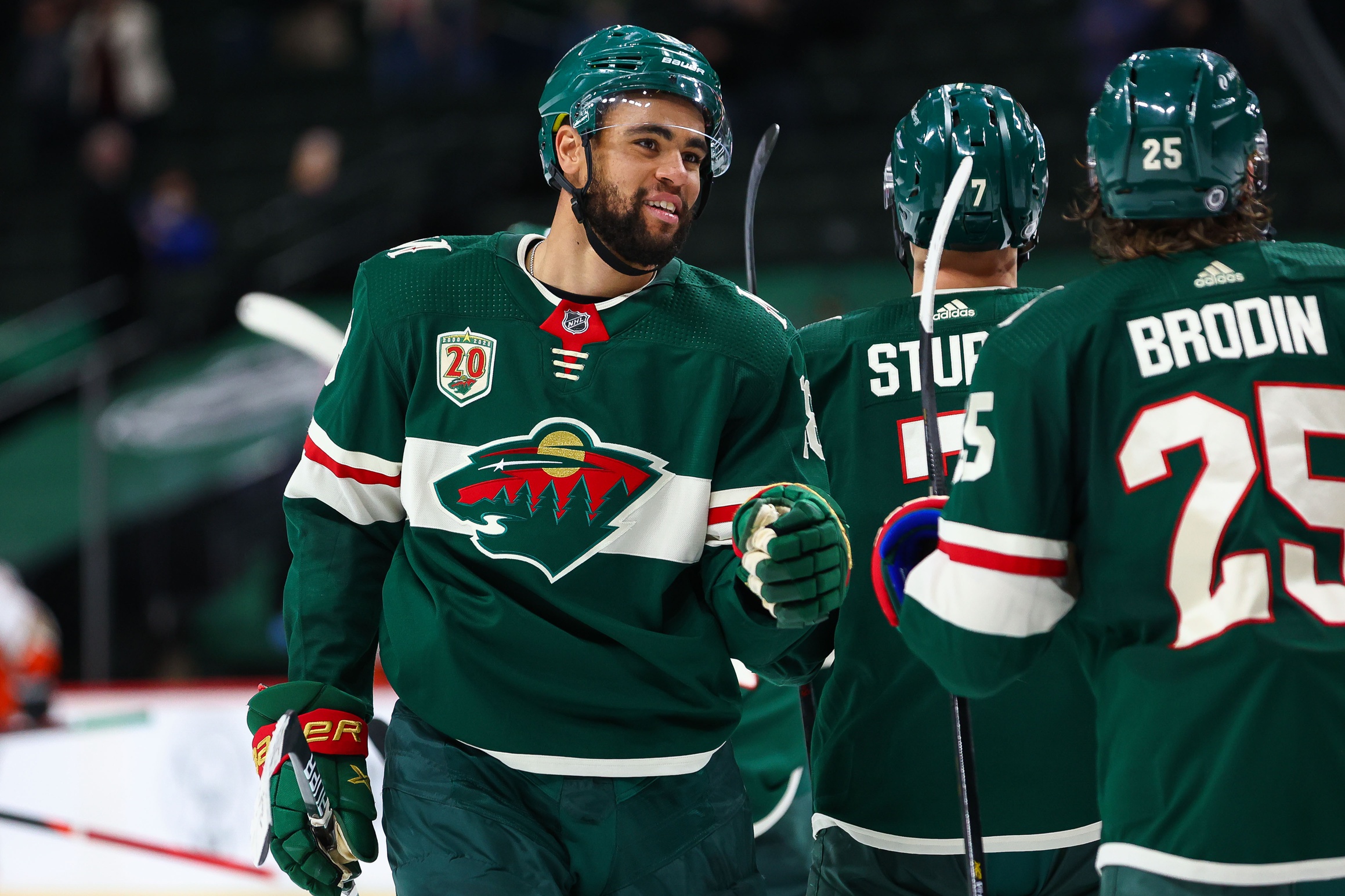 If you want to know why the Minnesota Wild won Game 5 in Vegas, you need only to know one number: 43%.
Cam Talbot deserves a lot of credit for turning away 38 of 40 of the Vegas Golden Knights' shots, of course. If you're feeling particularly charitable, you can give props to a bend-but-don't-break defense that kept Vegas out of Talbot's kitchen in the third period.
But those aren't the reasons the Wild won. They won because of that number: 43%. That's the Wild's shooting percentage in the first period — three goals on seven shots.
To be fair to Minnesota, they were all good, quality chances. Kirill Kaprizov vanquished the demons that plagued him from Games 1-4 with a blistering shot off a Royal Road pass from Mats Zuccarello. A glimpse of Vintage Zach Parise was spotted when he banked an errant shot off Marc-Andre Fleury to score. Jordan Greenway single-handedly executed a rush, then grabbed his own rebound twice to beat Fleury for the 3-1 lead.
These goals weren't flukes, but they were, essentially, the only offensive output the Wild had in the game. Minnesota made those few opportunities count but had it not, its season would've almost certainly come to a shameful close.
Vegas outshot Minnesota by a 33-7 margin over the final 40 minutes of the game. Just one of those seven were in the "home plate" area of the ice. Perhaps a forgivable lapse had they not done the same thing in Game 3, blowing a two-goal lead and the game in the process.
Instead, that 43% in the first was enough for Minnesota to get the W. And when facing elimination, you gotta take whatever Ws you can manage, no matter how ugly.
But the big picture for the Wild doesn't change based on a Game 5 victory. It might not even change if they advance and face the Colorado Avalanche, who swept the St. Louis Blues and buzzsawed Minnesota in the regular season.
You see, this isn't the series the State of Hockey anticipated. When the Wild played the Knights during the regular season, those games saw Minnesota at its best. The Wild played fast, up-tempo hockey, generating plenty of chances, especially from their star players. Kaprizov, Kevin Fiala, and Joel Eriksson Ek combined for 12 goals and 19 points in Minnesota's eight games against Vegas.
That version of the Wild is absent in this series. Instead, their entire offense spends long stretches of time, or even entire games, completely bottled up. Their 26.1 shots per hour at 5-on-5 is 15th among playoff teams, besting only the Blues.
It's an all-too-familiar formula to those who've paid close attention to the Wild over the past two months. From March 18 to the end of the regular season, the Wild were dead last with 24.5 shots at 5-on-5. When they won, it was thanks to getting high shooting percentages that made their few chances count. That happened Monday night. The problem is, when that puck luck vanishes, things get ugly, like in Game 3's loss.
That's Mike Yeo Hockey, which seems like a weird turn for a team with Kaprizov, Fiala, and Eriksson Ek. So what gives?
The problem is that Vegas is finally exposing a flaw: Minnesota's lack of offensive depth. That doesn't just apply to their center situation, as hideous as it is. The Wild are simply thin when it comes to playmakers.
That might sound weird to say, given that the Wild are tied for first in the NHL with nine 20-point forwards in the regular season. Thinking deeper, though, it makes some sense. The Wild's Big 3 (Kaprizov, Fiala, Eriksson Ek) are the clear offensive drivers on their respective lines. They may have other good players on their lines, but rarely are they a threat to take over offensively on their own.
We know this because Vegas' entire defensive strategy relies on daring those players to score. The Knights' focus on defending (and holding, and hooking, and cross-checking) the Wild's Big 3, and so far, few have made them pay for shadowing them. Before Parise and Greenway's goals in Game 5, the only goal from the Wild's forward depth was by Ryan Hartman. Of course, that came off a beautiful feed from none other than Kaprizov.
Many of the Wild's 20-point forwards like Zuccarello, Marcus Foligno, and Victor Rask have been beaten by Fleury despite top-nine roles and the space that comes with the defensive focus shifting to the stars. Many times, like in Games 3 and 5, they aren't even able to find the offensive zone.
It's not to condemn players like Foligno, Zuccarello, Greenway, and Hartman. They're not. Each of them finished at or above 50% in the expected goal share at 5-on-5 this year. But they aren't great at specifically generating offense, which means Vegas can bottle up the stars and bet they won't get burned. They've been right three times out of five.
How does Minnesota fix this going forward? It's hard to say because it'll be tricky to make the Wild a substantially different team next year. The Wild have $17.8 million in cap space, but Evolving Hockey projects $17.5 million of it will be used up by their Big Three, who all need new deals.
That leaves precious little space to add anyone, even if the Seattle Kraken frees up room by removing a large salary like Matt Dumba or Rask in the expansion draft. Looking externally for a playmaker will require major surgery for this roster — not an easy feat when five of their six largest cap hits carry no-move protection.
Luckily, Minnesota has internal options which could help drive offense in Marco Rossi and Matt Boldy. Rossi is particularly intriguing, as he could theoretically team with Eriksson Ek to form a credible 1-2 punch down the middle. Boldy's monster production and rare point-forward skillset also look promising.
Even assuming full health from Rossi, the question with both is how ready will they be? Certainly, 20-year-old players have stepped into the league and become instant stars. It's far from a given, though, and Rossi and Boldy may need time before becoming impact players for the Wild. Many of Minnesota's best players are 25-and-under, but can an aging defensive corps afford to wait for youngsters to develop?
These are tough questions to answer, but they will need to be addressed this summer. It's clear that while Minnesota has come a long way with the emergence of a Big 3, they need more offensive juice to hang with true Stanley Cup contenders. Bill Guerin must do that, all while navigating expansion, re-signing his three most important players, all while keeping an eye on more years of a flat salary cap. The Wild have the start of something special, but the path to building on top of it is murky.