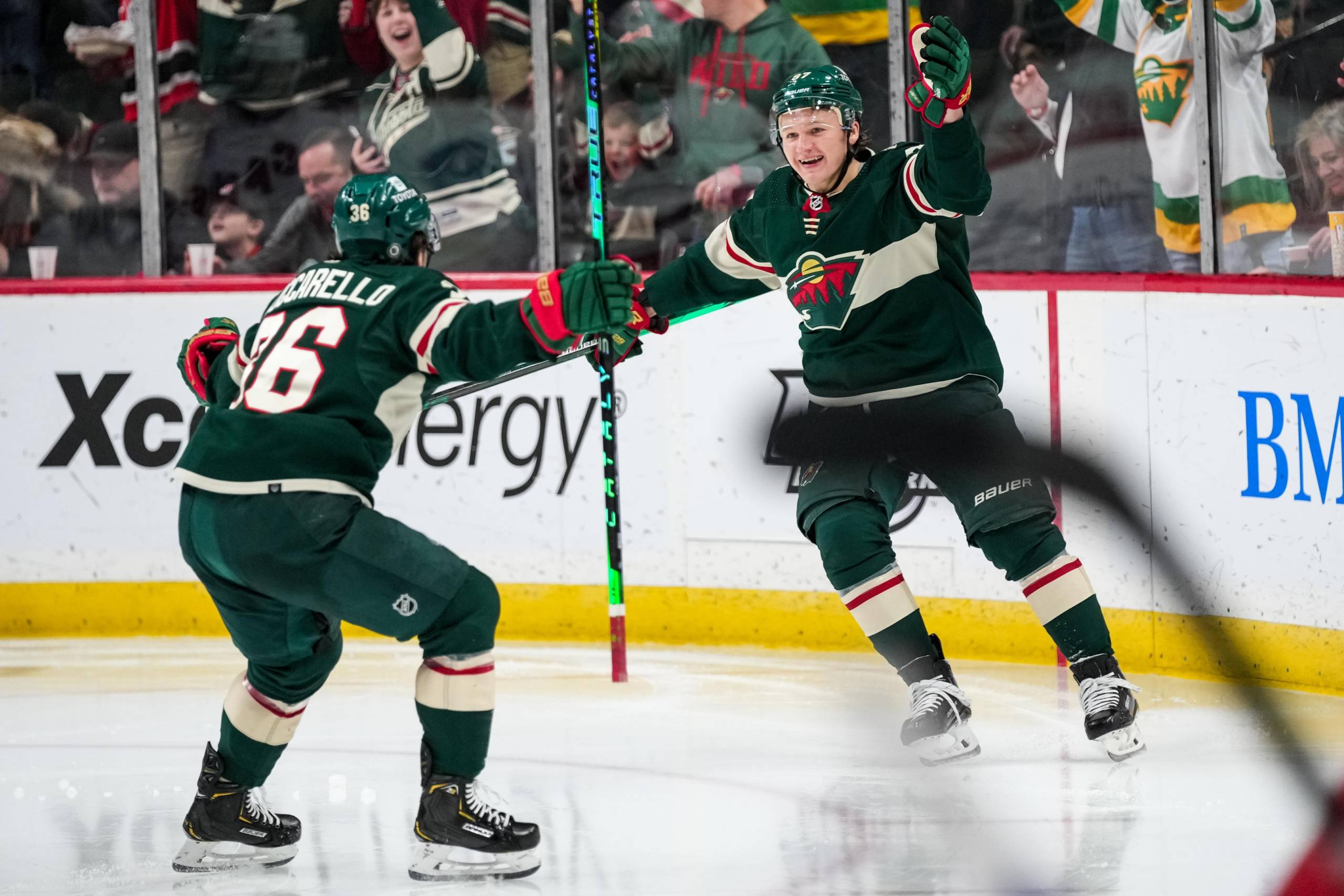 With four goals and eight points each, it's clear that the amazing chemistry between Kirill Kaprizov and Mats Zuccarello is alive and well. It's a true bromance, a relationship capable of leading the Wild to greatness. We've seen glimpses into their off-ice connection, and it's also producing a great on-ice product.
Is this the second coming of Alex Ovechkin and Nicklas Backstrom? You're damn skippy! Even better, the best friendship in the NHL might hold the key to keeping Kaprizov in Minnesota long-term.
Make no mistake: At 35 years old, Zuccarello isn't a young buck anymore. He's in the fourth year of a five-year deal. That deal looked terrible after one year, but in the last two seasons, he's looked amazing next to Kaprizov. In 116 games (remember, this included the 56-game COVID-shortened season), Zuccarello has 39 goals and 122 points.
While the initial plan was probably to let Zuccarello walk as a free agent, that production might change things. It might be a good idea to keep him around, even if the extension starts at 37. But if the Wild can convince Zuccarello to take lesser money to work with the cap to continue his strong bond with his pal, why not keep that connection alive?
This probably all sounds absurd, but it's more than just about keeping Zuccarello around. Yes, Minnesota needs to save money when players like Matt Boldy, Calen Addison, and Marco Rossi's entry-level contracts expire.
Still, there's a nagging feeling that Zuccarello holds a key role in Minnesota's quest to keep Kaprizov in Wild colors until he retires. As long as there's the dream of him and Zuccarello celebrating like brothers with the Stanley Cup, that has got to influence Kaprizov. Keeping Zuccarello around keeps another tie to Minnesota for Kaprizov to say to himself, You know what? Minnesota feels just like home. Why would I want to sign anywhere else?
With him about to enter his late-30s and with a great prospect pool on the way, it'd be justifiable to let Zuccarello walk. But that might also leave Minnesota open to repeating the same mistakes they made a decade ago. Back then, they rushed core prospects, putting pressure on them to be saviors immediately.
Even with the Wild's top-tier prospect pool, we don't know what will happen two or three years from now. What if certain prospects aren't ready to make the professional jump? While there's good reason for optimism, you can point to many hyped prospect pools that didn't make an impact. If that's what happens to Minnesota, and Zuccarello is gone, how will Bill Guerin convince Kaprizov to stick around? Remember, it's not like the first deal was easy.
Here's the catch with Zuccarello, though: Minnesota can't sign him to a long-term deal. On a long enough deal, he will be declining hard and blocking prospects. Some of those prospects, such as the next great Russian winger Danila Yurov, might lose an opportunity to grow chemistry with Kaprizov.
No, Minnesota should sign Zuccarello so he'll remain on the team when Kaprizov enters free agency. The best compromise would be to sign Zuccarello to a three-year contract. That means he'll have a year remaining on his deal when Kaprizov becomes a free agent in 2026.
Extending Zuccarello won't hinder Minnesota from re-signing prospects like Boldy and Addison. The salary cap is about to go up, and the Wild wouldn't be the first team to sign a player to a bridge deal. They can line those contracts up, so they don't expire until Zuccarello's deal runs out. It might even help with those deals. If Zuccarello keeps Kaprizov in the fold, they'll have a better layout of the salary cap picture for when those youngsters need new deals.
In terms of discussing the shorter-term finances of signing Zuccarello, here's the scoop. In 2024-25, the Wild will have roughly $35 million in cap space. Boldy, Addison, and 2023 free agents like Matt Dumba, Freddy Gaudreau, Filip Gustavsson, Tyson Jost, Sam Steel, and Brandon Duhaime, will eat up some of that money -- depending on who they keep. That's a hefty list of players, but the most significant players to the team's future are Addison and Boldy. For everyone else, they should keep them only if their price point fits into a world with a Zuccarello extension. If not? Again, there should be prospects to replace them.
How much does this extension cost Minnesota? With his production, it's hard to see Zuccarello signing for half of his current salary. But what about a 25% discount? Is it realistic to believe he will take $4.5 million for three years? This isn't a Kevin Fiala situation where Zuccarello will look for a once-in-a-career payday, so it feels possible. Plus, a Zuccarello extension not only makes a happier Kaprizov, but it should also make a happy Zuccarello.
A Zuccarello extension would probably would lead to Ryan Hartman and Marcus Foligno departing from the team. Why? Yurov and Marat Khusnutdinov should be in line to step in. Rossi can replace Hartman on the top line, and Khusnutdinov can slot next to Boldy. Yurov can step into Foligno's spot next to Joel Eriksson Ek and Jordan Greenway, waiting in line for that spot opposite Kaprizov to open. And if these prospects get an extra year of development because Zuccarello's there, it doesn't hurt them at all. It makes the Iowa Wild stronger to have players like Liam Öhgren and Hunter Haight tearing up the AHL.
And with Jesper Wallstedt in line to take the starting goaltender spot, folks like Brock Faber, Carson Lambos, Ryan O'Rourke, and Jack Peart are coming up on the blueline. Is there going to be a need for free agency signings? Look at all these ELCs! Their big-ticket signings will be internal if things go according to plan. Eriksson Ek is signed long-term, and so are Jared Spurgeon and Jonas Brodin. Aside from Hartman and Foligno, who else can you argue is a core veteran piece Minnesota needs to re-sign before a three-year Zuccarello extension expires? It's pretty much Greenway and no one else.
This beautifully constructed roster will be ready to dominate the NHL, thanks partly to keeping Zuccarello and Kaprizov's connection alive. If that happens, and the prospects can show Kaprizov a bright future past his best friend's retirement, there's almost no reason for Kaprizov to jump ship. Everyone's happy. We don't know when the State of Hockey will see a Cup, but everyone should be craving a scenario where Kaprizov and Zuccarello's celebration takes center stage. It's the perfect fate for these best friends for life!