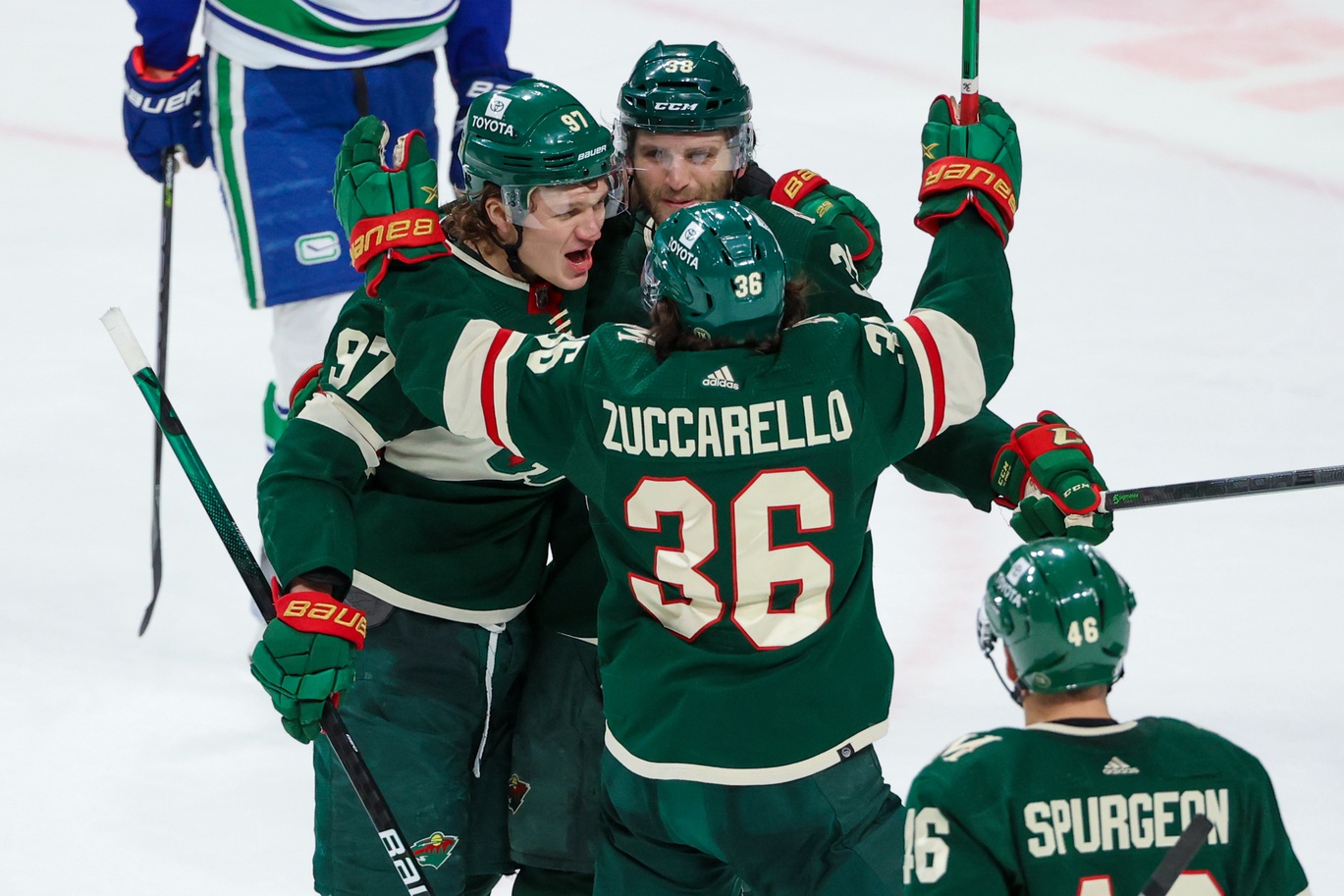 Image courtesy of Matt Krohn-USA Today Sports
The Minnesota Wild's top line of Kirill Kaprizov, Ryan Hartman, and Mats Zuccarello has become a fixture ever since the trio started playing together late in the 2020-21 season. You will rarely see Dean Evason disband the line outside of an injury (like how Sam Steel replaced Hartman early this season). Even through slumps, they usually stick together outside of an occasional game.
But maybe it shouldn't be that way. Or maybe it shouldn't be as locked down and rigid of a plan as it is.
Everyone knows the chemistry and friendship Kaprizov and Zuccarello have established. But ultimately, they couldn't come through in the playoffs when the team needed them most. Kaprizov is the superstar, so he has to be accountable for not scoring a single even-strength* goal in the postseason this spring. But it's less about him and more about those around him. And even though he didn't break through, his impact on the ice was evident.
Kaprizov could make a case for being the least-supported superstar in the league. That's not a knock on Hartman, the winger-turned-center, but he might just be better suited for a spot further down the depth chart. Remember, the reason Hartman is in that spot in the first place is because of the organization's lack of talent down the middle. The organization deeming Marco Rossi not ready didn't help this matter, regardless of how you feel about how the Wild handled his development this season. So, Minnesota didn't have much of a choice this season, which is fine because Hartman is still a quality player.
Regression to the mean for Hartman – and Marcus Foligno – had been anticipated even though there was optimism Hartman wouldn't look like a misfit. But he occasionally looked like out of place on the top line this season, and there were also times he didn't. The 28-year-old South Carolina native only had 15 goals and 37 points in 59 games this season after scoring 34 goals and 65 points in 2021-22. He didn't exactly look like the same player who turned heads a year ago. 
The same can be said for Zuccarello. The 35-year-old Norwegian kept steady to his 24-goal, 79-point 2021-22 campaign, scoring 22 goals and 67 points this past season. But it's important to note that he only scored four goals since Jan. 14 and two goals and 11 points from Feb. 21 to the end of the season. Zuccarello's propensity for ill-advised turnovers and mistakes became a trend, and he looked like a player rapidly running out of gas – almost like he suffered a hole in his tank or ruptured fuel lines.
Which Zuccarello will the Wild get next season? That's still unknown. But his concerning second half should have at least rang alarm bells. After combining for 8.2 Standings Points Above Replacement in 2021-22, Zuccarello and Hartman were worth just a combined 2.5 SPAR last season. That's why there needs to be a serious assessment about what the future of the first line will look like – as early as next season.
It might seem unreasonable to break that line up. Consider how its underlying numbers this past season still turned out strong. In just over 249 minutes with them on the ice during the regular season, the Wild controlled 57.85% of the on-ice expected goal share at 5-on-5. Despite their lack of playoff production, the numbers slightly increased to a 58.19% on-ice expected goal share over roughly 48 minutes of ice time. The eye test certainly produced concerns, though, and they seemed to have lost the rhythm and pace everyone had been accustomed to seeing.
Per MoneyPuck, the trio ranked 47th in goals for percentage and 20th in expected goals percentage among lines with at least 200 minutes played together during the regular season. When Steel replaced Hartman and centered Kaprizov and Zuccarello, they ranked 27th in goals for percentage and 32nd in expected goals for percentage in 355 minutes.
Not too bad, but the Wild need to get more out of their superstar. The point is that the top line has to be better next year than it was this past season – especially with their financial climate.
It's probably premature to say the usual line of Kaprizov-Hartman-Zuccarello is broken, and it's certainly not going to solve all the Wild's problems if they restructure it. Still, Minnesota might just be better off changing the future of their top line and providing their superstar – who only has three years left on his deal, and one more before his full No-Move Clause kicks in – more support next season. Or at least temporarily to see if a new-look line could help him.
The Wild's best option is to have a trio of Kaprizov, Joel Eriksson Ek, and Matt Boldy. Yes, stack the top line, and all of a sudden Boldy doesn't have to deal with being overshadowed. You can't ignore his resurgence with Kaprizov out of the lineup, even if part of it can be attributed to Marcus Johansson's arrival. So, put them together and see what happens, which leaves Johansson and Zuccarello on the second line with either Hartman, or who knows, maybe, Rossi if he's on the opening night roster.
Regardless, the Wild's top line wasn't good enough this past season. Perhaps Zuccarello and Hartman rebound, and this conversation is moot. But the Wild need a backup plan for who skates with Kaprizov next year if a struggling Zuccarello and Hartman show up on the ice again.
All data via Evolving Hockey, Natural Stat Trick, Hockey Reference and Moneypuck.
(An earlier version of this piece read that Kirill Kaprizov didn't score a goal during the playoffs. He didn't score at even-strength, but did score on the power play in Game 1 against the Dallas Stars. We regret the error, and thanks to user BackwoodsBob for catching it.)