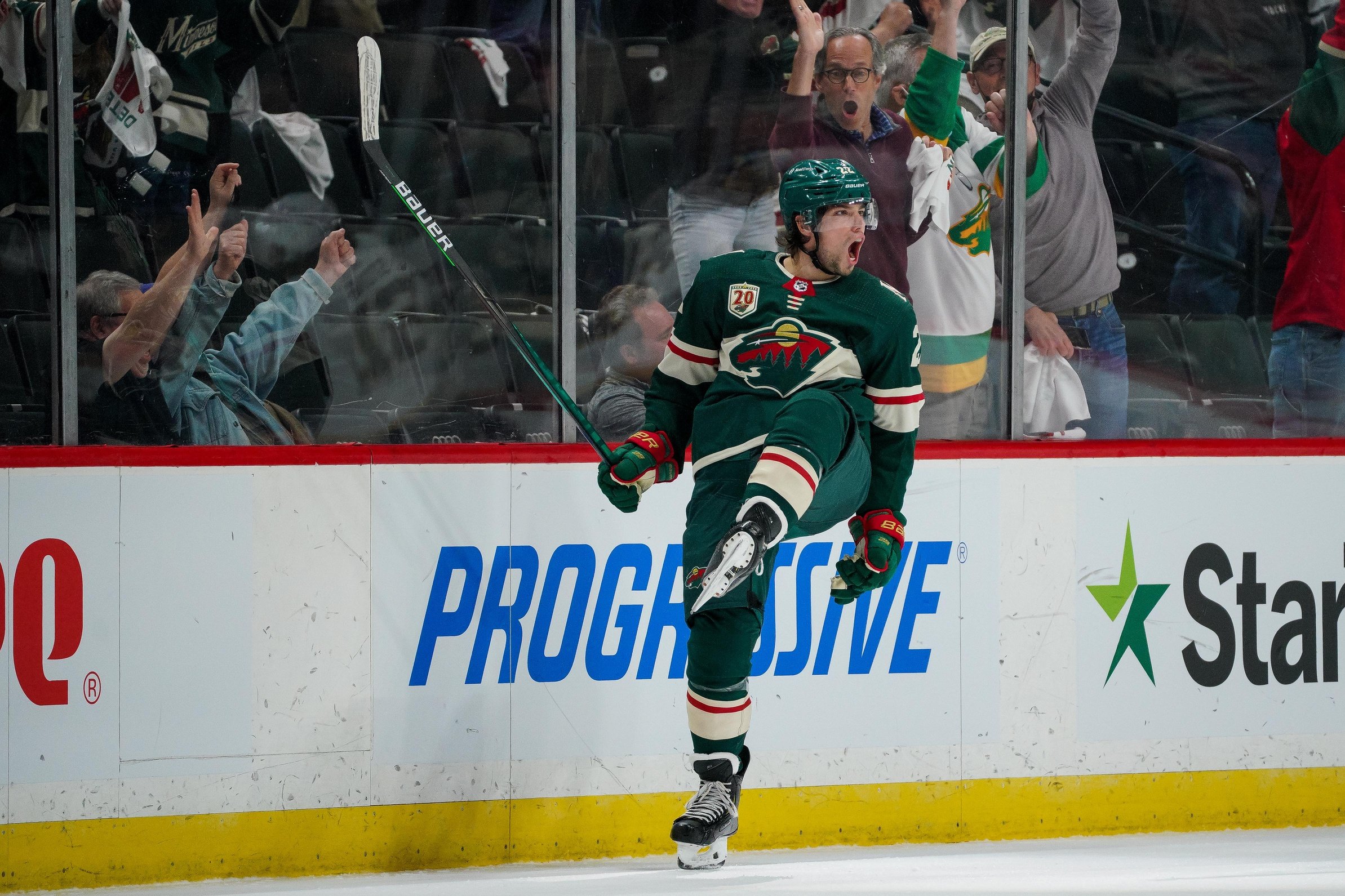 Kevin Fiala is in a spot few young NHLers find themselves. He signed a two-year, $6 million contract two years ago — a "prove it" deal. By all accounts, he did, scoring at a 31-goal, 67-point pace over 114 games in two shortened seasons.
Most 25-year-olds with those numbers get rewarded with some sort of long-term contract. Not Fiala, though. The Minnesota Wild didn't show him any faith in the past two seasons and instead took him to arbitration, where he signed a one-year deal. So in order for Fiala to be in St. Paul going forward, he's going to need a second breakout season. Speaking to the media last week to open training camp, he's determined to do that.
"I want to be the type of player that can be an every-situation guy, not just if we need goals," Fiala said. "So, I gotta be better defensively, more consistent. Gotta be offensive, as well. I gotta dig some pucks out in the corners, be stronger there. I gotta go to the front of the net."
Fiala's hinted that he's identified areas of his game that he needs to improve upon, and he's finally revealed his list. Those places are a great area to start. Fiala's defense at even-strength has improved in every season he's been in Minnesota, but it still rated as nearly one goal below replacement value last season. He's far from a disaster in his own end, but it still chips away at his offensive value.
It may seem funny that Fiala's critiquing his offensive performance, given that he's scored 38 goals in his last 82 games, including the playoffs. Still, he's not wrong in saying he needs to go to the front of the net to be more consistent. Here's his shot chart at 5-on-5 over the past two seasons:

Fiala goes to the net a decent amount, but as you can see, he also will shoot it from everywhere. He'll go to the net, shoot from the slot, and peppers the net from the perimeter. That shoot-first mentality is welcome, and sorely lacking on this team, but his shot selection holds him back at 5-on-5.
Fiala rips it from anywhere because he has the shooting talent to score from long range. That ability to beat goalies from the outer edge of the slot and the point is a great weapon on the power play. However, at 5-on-5, that can lead to a lot of inconsistency when his shot isn't falling. Here's where he's scored his 5-on-5 goals over the past two years:

Draw a line between the face-off dots, then connect the face-off dots to the outer edge of the crease. Seventeen of Fiala's 25 5-on-5 goals have come from inside this box. With an estimated 95 attempts in this area, that means almost one in five shots he attempts there have resulted in a goal.
Conversely, that means just eight of 186 shot attempts from outside that box have resulted in goals. That's a drop-off to about one in twenty attempts resulting in a goal. Fiala's shot can still be a weapon in the high slot, but driving the net rather than shooting from the perimeter will result in more goals.
It sounds like Fiala is determined to take his game to the next level, but he can't do it alone. It's great that the Wild's young game-breaker is taking the initiative, but Minnesota also needs to do more to get the most out of him.
If you're wondering why Fiala didn't take the leap and "only" produced at a 33-goal 82-game pace last year, his usage might be a culprit. Fiala was just sixth among Wild forwards with 12:32 minutes of 5-on-5 ice time per night, per Natural Stat Trick. Even when pointing out Fiala's defensive flaws, this makes no sense. Mats Zuccarello was second in 5-on-5 ice time, despite having a nearly identical defensive impact. Jordan Greenway graded as the second-worst forward on the team, and still averaged a minute more than Fiala per night.
It seems that Fiala's deficiencies are put more under a microscope because of his talent. His two most consistent knocks surround his defense and turnovers, which have both been said to drive coach Dean Evason crazy. If Fiala comes through on his vow to improve his defense, that helps him here. But what about those turnovers?
There's no doubt that Fiala has a propensity for giveaways — he was 10th among 317 forwards with 500-plus minutes in giveaways per hour last year. But the Wild brass may just have to learn to live with them.
That's not to say Fiala's entirely blameless when it comes to puck protection, but look at the players who join him in that "top" 10: Jack Hughes, Matthew Tkachuk, Evgeni Malkin, Johnny Gaudreau, Leon Draisaitl, Mitch Marner, Sebastian Aho, John Tavares, and Martin Necas. Expand it to the top 20 and names like Tim Stūtzle, William Nylander, Sidney Crosby, and Auston Matthews appear.
How many of those guys would Evason play for just 12:30 per night at 5-on-5? I can't imagine many, as the most turnover-prone players also happen to be some of the best in the game. It comes down to this: if you always have the puck, you're constantly at risk of turning it over. And with Fiala being a high-volume transition player, that's always going to result in an elevated rate of turnovers.
Another way Minnesota can get the most from Fiala is by improving the skill level of his linemates. His three most common linemates last season were Marcus Johansson, Ryan Hartman, and Victor Rask. All three are credible NHL players, but none are premier options as a running mate for a potential 40-goal scorer.
Minnesota now has skilled options to pair with Fiala with Marco Rossi, Matt Boldy, and Adam Beckman impressing in camp. But will Evason and Co. put them together? It's only the second week of training camp, but Fiala has skated primarily with Rask and Frederick Gaudreau so far. Rask's struggles andGaudreau'ss dismal career scoring numbers suggest this isn't a suitable partnership.
In an offseason where the Wild made few external upgrades, Fiala represents an ability to generate internal improvement. We know that Fiala can produce first-line numbers even with lower ice time and odd-fitting linemates. Minnesota is in a position where they can, and must, see what he can do under ideal circumstances.
They need to do this not merely to increase their chances of winning, but they owe it to the player. Again, Fiala produced at a 31-goal, 67-point pace for two seasons while being paid just $3 million per season. His reward for vastly out-producing his contract was a one-year commitment at a paltry $5.1 million. Fiala's primed to hold up his end of the bargain, put his head down, and improve his already dynamic game. Minnesota needs to hold up theirs, and put him in the best position to succeed this season.
All data from Evolving Hockey unless stated otherwise.