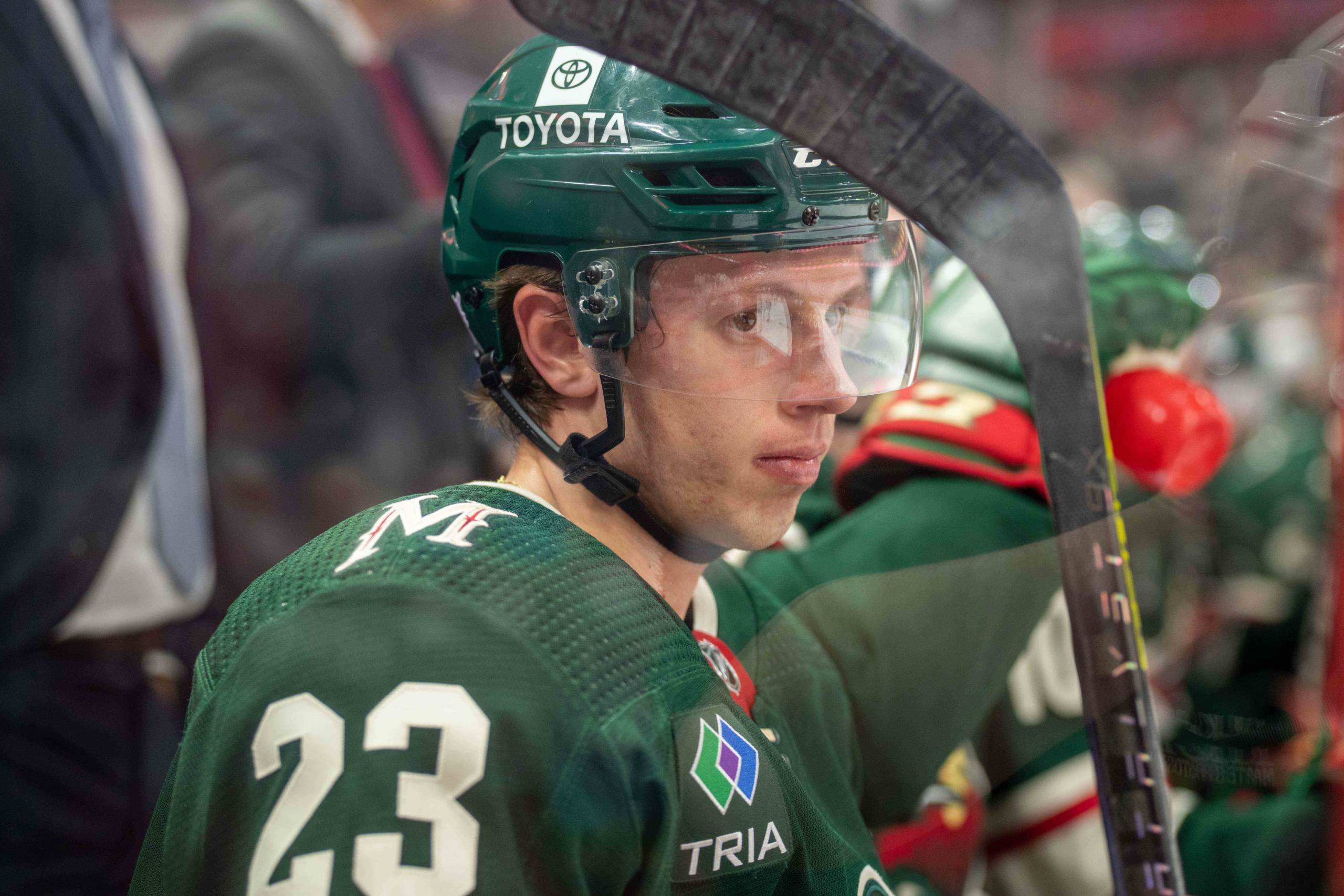 The Minnesota Wild were fortunate to get Marco Rossi with the 9th overall pick in the 2020 draft. The Wild were supposed to land around pick 12 entering the bubble postseason, but they moved up three spots after the Vancouver Canucks eliminated them. Then Rossi fell down the draft board despite putting up 120 points in 56 games for the OHL's Ottawa 67s. His 5'9" frame likely scared teams off.

 

Rossi's development has been rocky since then. He contracted COVID late in 2020 and suffered severe complications from myocarditis. He became concerned that his heart may stop beating overnight and had a lengthy recovery period to get back into hockey shape. Therefore, Rossi's path to the NHL is unique among top-10 prospects. Still, the Wild may not have kept him in the minors for all of last year for strictly player development reasons. By playing him in Iowa, they let his entry-level contract (ELC) slide, allowing them to retain him on a rookie salary for an extra year.

 

That may be a savvy strategy in Minnesota's cap-strapped environment. However, it may have hindered his development. If Rossi's NHL impact is delayed, or he ends up needing a change of scenery, it may be because the Wild put the cart before the horse. By pushing Rossi's ELC back a year, it perfectly dovetails with Minnesota's harshest cap penalties from the Zach Parise and Ryan Suter buyouts. But that doesn't matter if he doesn't become the top-line center draft pundits expected him to be.

 

The Wild have a $12.7 million cap penalty this year and will carry a $14.7 million penalty for the next two seasons. However, because Rossi didn't play ten games last season, his rookie contract won't be up until the worst of Minnesota's cap penalties are over. In a perfect world, Rossi would be centering one of the top two lines now and cash in after the Wild got dead cap relief.

 

Guerin has generally played hardball with players and benefitted from his tactics. He stared down Kaprizov in contract negotiations and signed him to a team-friendly deal. He notably had tense negotiations with Kevin Fiala on two occasions. This extends to even minor negotiations, as Guerin also traded Brennan Menell to the Toronto Maple Leafs after the Woodbury-born defenseman asked for a one-way deal. And, most recently, he dealt Cam Talbot to the Ottawa Senators when he complained about Marc-Andre Fleury's extension.

 

Financial discipline is imperative when Parise and Suter's buyouts have constricted Minnesota's cap. But in Rossi's case, that discipline doesn't matter if his development is delayed because of it. He's not going to cash in on a big-time deal if he's a tweener stuck between the AHL and the NHL. Rossi's early-season slump doesn't spell doom for his career. Players often slump at some point; it's just usually in lower-profile situations like juniors, college, or the high-minors. Rossi's happened in plain sight.

 

Kirill Kaprizov drove winning immediately. However, he debuted as a 23-year-old rookie who was an impact player in the highly-competitive AHL. Matt Boldy made an immediate impact in Minnesota, but he slumped at Boston College. Joel Eriksson Ek was the player the Wild chose over Burnsville native Brock Boeser. Then he broke out at age 24 and made himself part of the Selke conversation.

 

Player development isn't linear, and every prospect takes a unique path. Eriksson Ek may have taken longer to develop because he's a center, a more demanding position. Kaprizov probably would have joined the NHL earlier in a different geopolitical situation. But Rossi's journey is exceptional. He commuted two hours to play hockey in Switzerland, then dominated juniors in Canada's capital and turned himself into a top-10 pick despite his size. Furthermore, he battled a potentially lethal disease during a pandemic and cracked the opening-day roster this year.

 

Still, it's hard to believe he was in Iowa for all but two games last season, strictly because of player development reasons. The Wild had a cap incentive to keep him there. Rossi was likely going to spend a lot of time in Des Moines last year because he was recovering from myocarditis. He also needed to engage in physical battles and struggled with turnovers in space. However, it's hard to believe he didn't deserve more time in the NHL after scoring 53 points in 63 AHL games.

 

Rossi isn't built to be a checking forward, and the chasm between AHL All-Star and NHL top-6 player is as large as the

. But there had to be a better way to ferry Rossi across it. For example, the Wild shuffled Jason Zucker between St. Paul and Des Moines so often that his trip became known as the "I-35 shuttle." He played six NHL games as a 19-year-old rookie in 2011-12, then 20 and 21 in his next two seasons before breaking out at age 23.

 

That's probably the approach the Wild should have taken with Rossi. Ease him into the NHL game, and move him back and forth to start the year. Then they could keep him in the NHL once he's ready to play on one of the top two lines regularly. He could have contributed to a team that needed a top-line center last year, and their decision to send him down wouldn't have garnered as much negative attention this season. Instead of healthy scratching him, they could have had him play certain games in the minors and others in the NHL.

 

Hindsight is 20/20 on all this. We still don't know if or when Rossi will break out. It could be later this year; it could be two years from now. Rossi isn't doomed to have a tough season or become a bust because he's had a slow start. But his ascension into the NHL has been rocky, and it's hard not to think it couldn't have been handled better. That's a shame for a team that could use a top-line center with his ability.