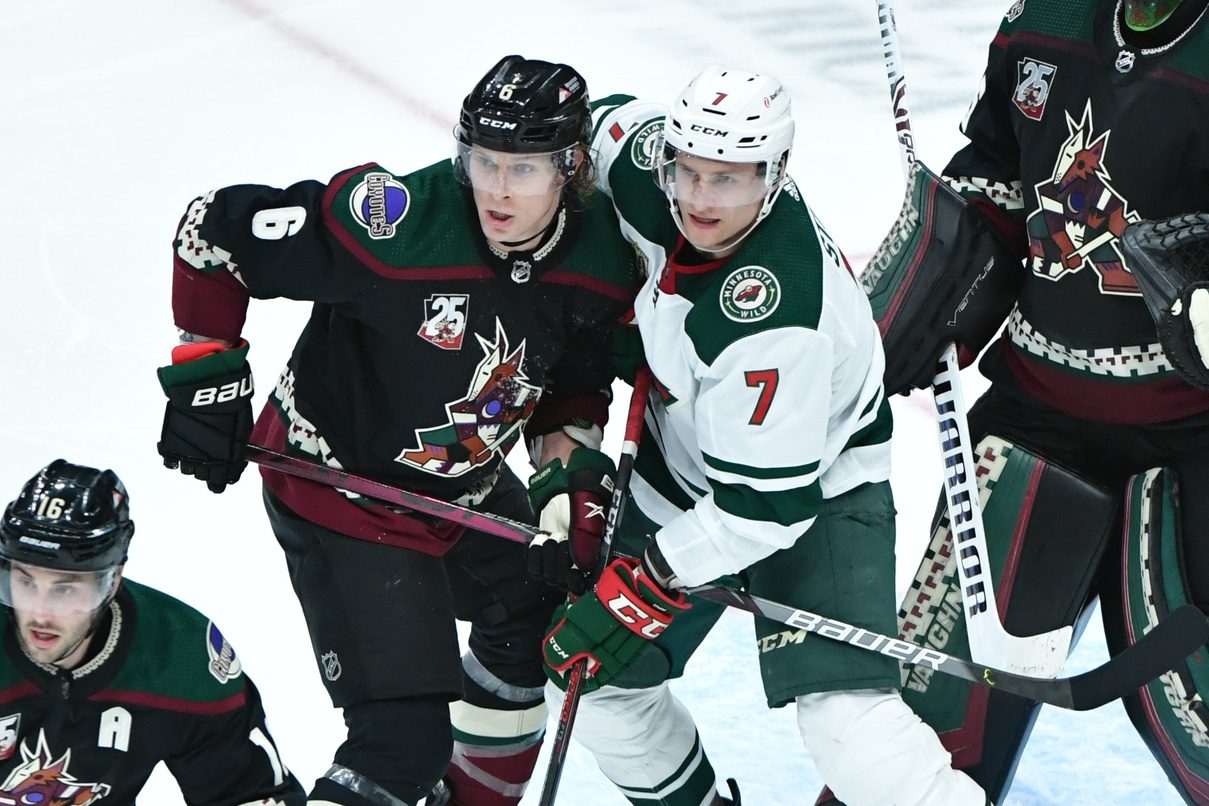 There is a common thread among the last 20 years of Stanley Cup Champions. They all have a genuine dynamic offensive threat at the top of their offensive depth chart. While Jared Spurgeon capably fills that role for the Minnesota Wild, he doesn't provide quite enough offense relative to the guys who lift the Cup above their heads in June.

 

If we look back at the last 10 years of Cup winners, we see a lot of defensemen that have put up over 60 points in a season at least once:

Cale Makar (Colorado Avalanche)

Victor Hedman (Tampa Bay Lightning)

John Carlson (Washington Capitals)

Kris Letang (Pittsburgh Penguins)

Duncan Keith (Chicago Blackhawks)

Drew Doughty (Los Angeles Kings)

This list also includes four Norris Trophy winners. There's only one exception to this bunch: The St. Louis Blues won with Alex Pietrangelo (career-high: 54 points). But everything was weird that year. Nine times out of ten, you need an elite offensive defenseman to win.

 

From 2012 to 2021, Ryan Suter was 25th among defensemen in points per game. Jared Spurgeon sits at 47th on that list of defensemen. Nine of the Top-10 defensemen on this list, with the exception of Quinn Hughes, have all taken their teams to at least the Conference Finals, if not outright won a Cup. Meanwhile, the Wild haven't made it past the opening round since the 2014-15 season.

 

So what can the Wild do to solve this problem and get a true No. 1 defenseman to help them climb the mountain and hoist the Stanley Cup in June?

 

Go get Jakob Chychrun.

 

Chychrun is Top-20 over the last three years in points per game and has racked up 23 points in 28 games this season. Over an 82-game pace, that's... 67 points, well above our threshold of 60.

 

He's played over 23 minutes a game on an Arizona Coyotes team that is bottom-five in virtually any possession metric. Still, Chychrun is first on the team in controlling the expected goals share. In other words, there aren't a lot of offense or chances to touch the puck in Arizona, so the fact that he is putting up positive offensive numbers is a great sign.

 

Spurgeon does not strike fear into the heart of opponents the way players like Erik Karlsson, Cale Makar, or Adam Fox do. And this is coming from a writer who has cherished the youth medium Spurgeon jersey they received when they were a kid. It's not about whether or not Spurgeon is great; it's just that he's not that guy.

 

Make no mistake, Spurgeon is a great defenseman. His underlying numbers are great. He defends well, clears the zone well, and is good in transition. He plays smart, chews minutes, kills penalties effectively, and his presence in the locker room can't be talked about enough.

 

But he just doesn't deliver offensively like the upper-echelon NHL defenseman.

 

Spurgeon was the Wild's offensive leader in points last year with 40. He also had 25 points in 54 games during the COVID year, outpacing Ryan Suter in Suter's final year with Minnesota. The year before that, Suter had 48 points from the blueline in 69 games. In the 2018-19 season, the two defensemen were neck and neck, finishing with 40-plus points each. However, Suter beat Spurgeon out by four points, 47 to 43, which stands as Spurgeon's career-high.

 

That was also the season Matt Dumba fought Matthew Tkachuk in that infamous donnybrook that derailed Dumba's career. That fight is where everything went wrong for the offensive future of Minnesota's blueline. A 23-year-old Dumba put up 50 points in the 2017-18 season, and the Wild gave him a shiny new contract. Dumba was going to light the world on fire as a top offensive-defenseman, and Suter and Spurgeon would also be contributing offense, and it was going to be great.

 

Until it wasn't. No Wild defenseman has put up more than 50 points since Dumba and Suter did it in that 2017-18 season. It does not look like it will happen this year, either. Power play specialist Calen Addison has an outside chance of hitting 50, but he's on pace to score about 45.

 

Spurgeon is on pace to score exactly 40 points, and his points per game dipped below 0.50 for just the second time since 2016-17. Spurgeon will play in his age-34 season next year, and historically, defenders don't put up higher point totals in their late 30s. His transition and defensive numbers probably won't drop, but don't be surprised if Spurgeon never totals 40 or more points again.

 

Calen Addison could fill the role of a go-to offensive guy, but he needs to be able to stay on the ice in situations that demand a higher level of defensive savvy than he's shown. He starts his shifts in the offensive zone almost 60% of the time. He still averages the fifth-most ice time per game among Wild defensemen in average time on ice per game.

 

Simply put, though, he will need to develop the defensive side of his game before he can be considered a more complete defenseman. Addison will not be on the ice in both zones if he keeps making gaffes defensively. Dean Evason already sat him once this year, and no one should be shocked if he does it again.

 

The Wild only have two other regular blueliners on the left side in Jake Middelton and Jonas Brodin. Neither is known for their ability to rack up points on the scoresheet. Brodin puts the defense in the defenseman, and Middelton simply puts the man.

 

Chychrun is the whole package.

 

While there has been speculation of a Chychrun trade for a while now, apparently the Wild have no interest in him. This conflicts with a report by Bruce Garroach that if the Wild trade Dumba, they will go after the Arizona defenseman. So are the Wild into it or not? Who can say for sure? Either way, he is certainly available.

 

 

Chychrun is a player under team control until after the buyout penalties are over. He'll turn 25 at the end of the season and is on a great contract ($4.6 million) relative to his value for the next two years.

 

[caption id=attachment_143026" align="alignnone" width="1024]

Courtesy of The Athletic[/caption]
The new Matt Boldy contract extension for seven more years at a $7 million cap hit complicates things a bit, but the Wild are in possession of strength with their core pieces locked down and a top-of-the-line prospect pool. Chychrun is a guy you can anchor a defensive core around for the next ten years. The price is steep, reported to be three first-round caliber assets, but the Wild have a future already in place and have the prospect capital to thrive even after such a trade.
Getting Jakob Chychrun out from the shackles of desert hockey is a bold move that would pay off big time for Bill Guerin and the Wild, not just now but in the future. It's time to bring the State of Hockey the defenseman they need.
All data and stats by NHL.com and Evolving Hockey unless otherwise noted.