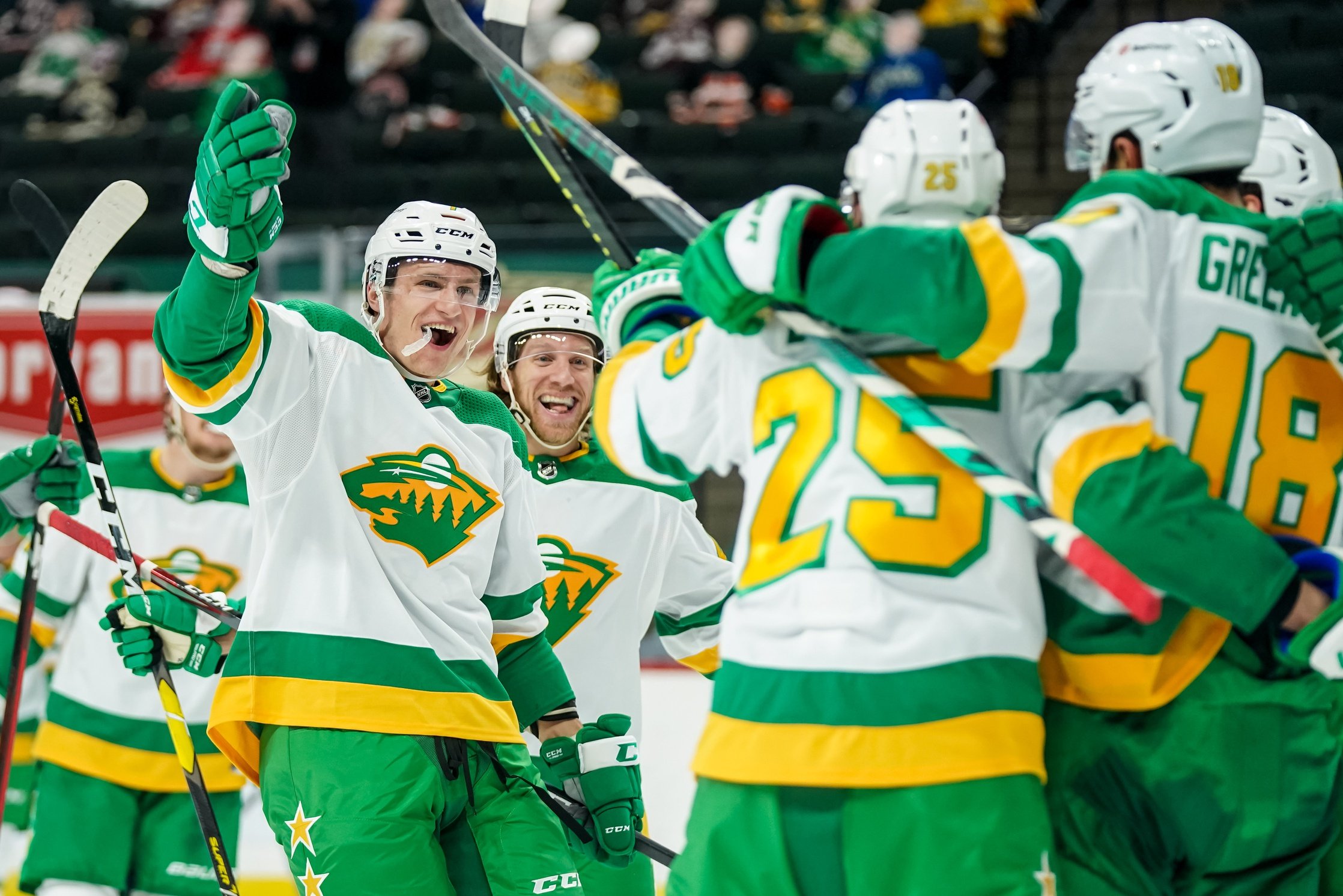 If the Minnesota Wild struggled to get wins at full-strength against their lowly California opponents this season, getting blown out 5-1 the first time they played one of the top-three teams in the league shorthanded was expected. It's something many fans may have turned away from, only to peek back hesitantly to see the decimation at full force.
The Colorado Avalanche's excellence is no secret to the Wild or the rest of the league. They have tremendous forward depth and impressive youngsters on the back end, making for a formidable test for any team. The Avs proved that hype in Saturday's drubbing of the Wild, and after seeing their depth depleted once again after that game, one might think the remaining three games against the Avalanche could only get worse.
But… they didn't.
Minnesota held on to force overtime against Colorado on Sunday, and Jonas Brodin scored the game-winner before either team had a chance to get settled. Not only did a player who rarely scores get the clutch shot, but the game also featured two goals from Victor Rask.
Mostly unexpected scoring, to say the least.
https://twitter.com/HeresYourReplay/status/1356085314973028359
The game didn't just feature unusual suspects on the scoresheet; the roster was a makeshift AHL squad because of injuries.
Still, the Wild beat the Avalanche without those players. Does that they are a better team without Fiala, Dumba, and Foligno? No, not at all. But that game revealed a significant theme for the Wild this year: they have nothing to lose.
While Luke Johnson, Kyle Rau, and Gerry Mayhew aren't surefire NHL players, they have an opportunity to prove they belong. These players are fighting for a big-league career, whether it comes long-term with the Wild or another team. They are playing to extend their careers.
Similarly, players like Nick Bjugstad, Nick Bonino, and Ryan Hartman all play this season without an NHL contract for next season or beyond. The same goes for Fiala and Johansson. These players are fighting for another contract or a raise. Not to say that money talks, but it has to be whispering in some of the ears of all these players.
Joel Eriksson Ek has shown what a team with nothing to lose can do. He's been a third- or fourth-line center for his career to this point and is playing to prove he deserves an elevated role, which means more money and term his next contract. He's been extremely productive so far this season, with nine points in 10 games.
Guys will need to step up with Marco Rossi out for the season and unable to save the team from sub-par center depth thanks to complications due to COVID-19, Marcus Foligno's positive test revealed shortly before Sunday's game, and Matt Dumba and Marcus Johansson on the injured list after Saturday's contest. And is Kevin Fiala was suspended for three games for boarding.
Johansson projects to be back sooner than Dumba: The defenseman's injury hasn't been fully diagnosed yet, but the team was optimistic that he wouldn't be out for an extended period of time.
Thankfully for Minnesota, Cam Talbot returned from injury on Sunday to take the pressure off of rookie Kaapo Kahkonen.
Also, let's not overlook that both Mats Zuccarello and Alex Stalock have been out before the season began and would help a roster that needs forward and goaltending depth.
While the Wild may not be at full strength, the unpredictable nature of a roster with a lot to play for could change the team's 2021 fortunes.