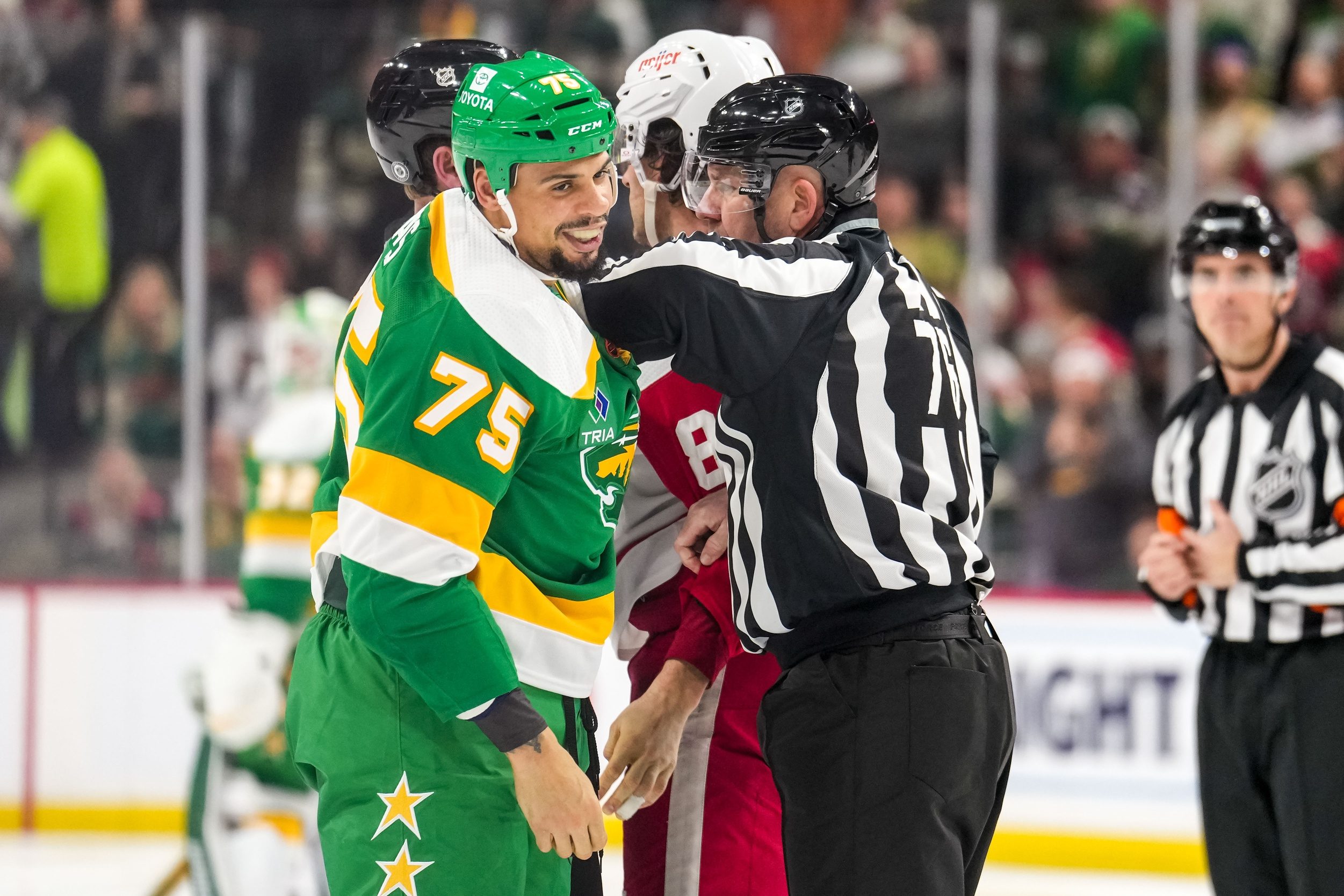 Bill Guerin pulled off his latest surprising roster move the day before Thanksgiving, trading a fifth-round pick to the New York Rangers for longtime enforcer Ryan Reaves. The move was a polarizing one, to say the least.
Fast forward a month and a half, and the Minnesota Wild find themselves on a successful stretch that's catapulted them into a more favorable playoff position. Before Thanksgiving Day, we discussed how pivotal the holiday was to NHL playoff hopes, even if the day is most ballyhooed about for football. The Wild entered Thanksgiving week, attempting to claw their way into a wild card spot. The Wild have been on fire since the Reaves trade and now find themselves five points clear of the fourth-place Colorado Avalanche in the Central Division.
While Reaves' arrival coincided perfectly with Minnesota's push up the standings, one can hardly point to his on-ice impact being an even slightly contributing factor. With just four assists in 18 games and zero ice time on either special team units, Reaves isn't exactly moving the needle. With the upcoming return of Brandon Duhaime, head coach Dean Evason has some decisions to make with his lineup.
And if Evason makes the same mistake he did last year, the Wild are in trouble.
Acquired at last year's trade deadline, tough guy Nic Deslauriers provided roughly the same sort of impact as Reaves has this year. He fought a lot, freeing up others such as Marcus Foligno and Matt Dumba to not have to spend five valuable minutes in the penalty box and not on the ice. And, of course, we all heard about how great he was in the locker room, same as Reaves.
However, last year's playoffs showed the fighter with a good personality who doesn't kill penalties role doesn't result in wins when you are chasing Lord Stanley's Cup. Fighting disappears in the NHL playoffs. It's been well documented for years, yet Evason continued to play Deslauriers in a fourth-line role above more qualified players.
By no means was Deslauriers the sole reason the Wild fell to the St. Louis Blues in six games last year. Their more skilled players failed to score much of anything. However, it was frustrating to watch the big winger consistently fall behind the play and routinely turn the puck over on the breakout.
Still, this year seems to be déjà vu all over again for the Wild, even if it's all happening much earlier in the season. We see an enforcer's value on a roster in the regular season. Over the course of 82 games, rostering a deterrent such as Reaves provides a boost to the lineup to play confidently. While you can point to his low point totals as a reason to remove him from the lineup, it's hard to argue with those who say his presence alone provides more value than any goal he could possibly pop in here and there.
However, once the playoffs begin and the threat of fighting is gone, that value disappears. Is Evason ready to acknowledge that and make an adjustment this time? Because, quite honestly, that change needs to happen soon.
Duhaime was off to a scorching start to his season, potting three goals in his first 14 games and being much more impactful with the puck on his stick than we saw in his rookie season last year. He deserves to get back into the lineup when cleared. The problem is, who do you take out to make room?
Evason and Guerin have made it clear Reaves is an everyday skater. But should he? Well, to put it bluntly, no. Connor Dewar and Mason Shaw accompany him on the fourth line, but neither deserves to be replaced in the lineup every day for Reaves. Both players have been vital to the much-improved penalty kill this season, a unit that played a key role in Minnesota's first-round exit last summer.
Not to mention their impact at 5 on 5 being vastly superior to Reaves. Neither Shaw nor Dewar score much, but they have still combined for six more goals than Reaves this year, creating chances at a far higher rate.
And yet, we find ourselves back to the intangibles Reaves brings, which undoubtedly creates a positive impact for this team. But again, and this cannot be said enough, that value goes away in the postseason. So why, with a fully healthy roster, should Reaves play every day and another player who provides more value sit when the games matter most?
Evason shouldn't wait for April to make this adjustment. It needs to start happening as soon as the roster is fully healthy.
The Wild should be identifying games on their calendar in which Reaves' physical presence is needed most. For the rest of the games, Evason should be implementing a rotation of some sort between Reaves, Duhaime, Dewar, and Shaw before electing for the latter three come playoff time.
There is no doubt Reaves provides value throughout a long, 82-game season. However, the younger players need to play. The Wild are going to need them over the veteran enforcer come April. Let's just hope the coaching staff has learned that lesson from last year.