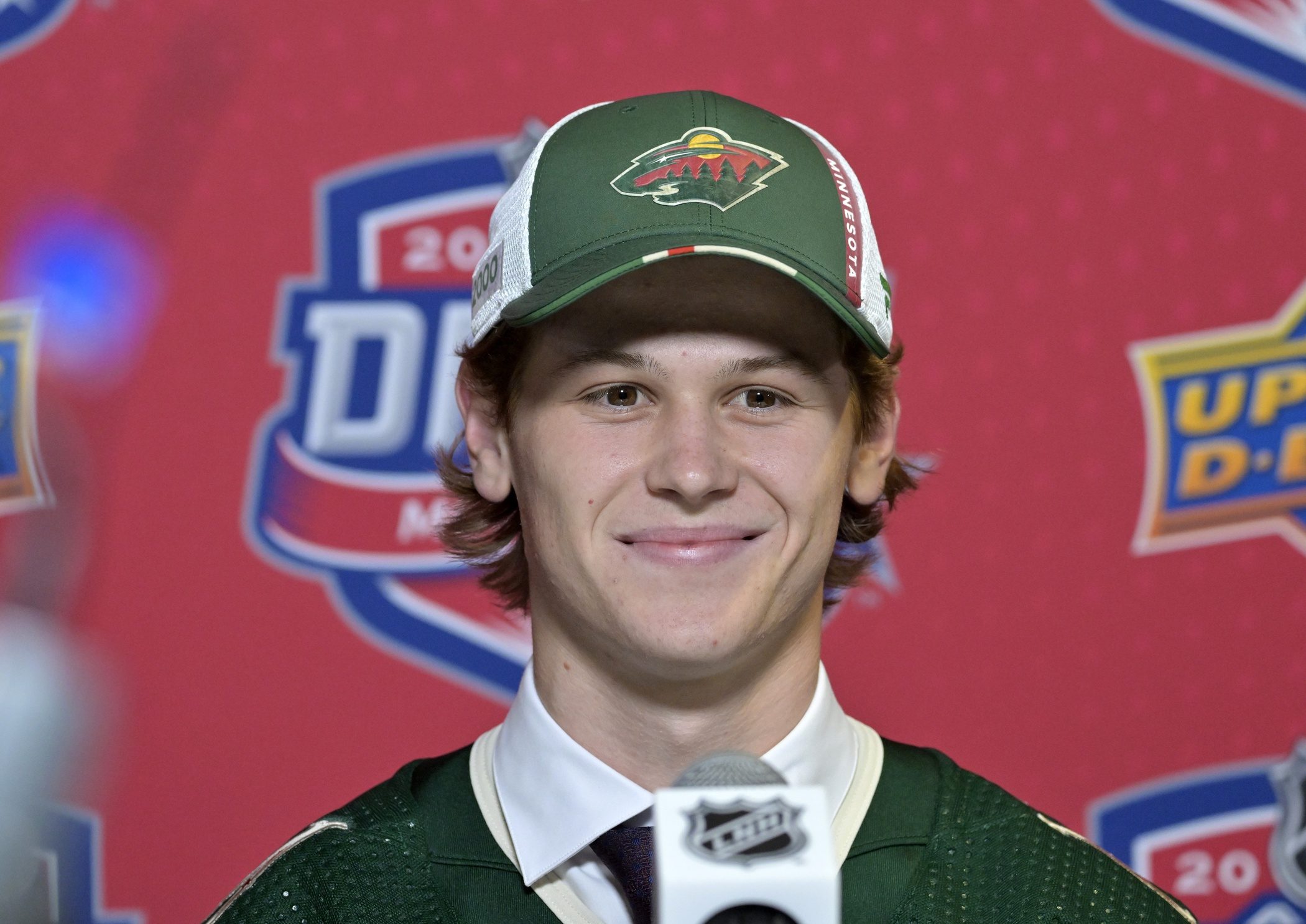 Day 1 of the 2022 NHL Draft was fun for the Minnesota Wild. They waited patiently in the weeds while the teams ahead put the board into chaos from the get-go. Meanwhile, the Wild got two big rewards for their patience. Players like Liam Öhgren and Danila Yurov – highly skilled forwards with loads of upside – landed in Judd Brackett's palms. Scott Wheeler of The Athletic praised the Wild after Round 1 stating, "The Wild just keep drafting well," after declaring Minnesota firmly among the winners Thursday night.
Brackett set forth to continue the winning on Day 2 of the draft. But the reaction to the Wild's two second round selections was more tepid. There is certainly some skill there and talent, but there are also some areas that are cause for concern.
Hunter Haight out of the OHL's Barrie Colts has a lot to like. McKeen's Hockey lauds his skating and try-hard factor. They love his puck skills and his ability, "to problem-solve out of high-pressure situations to maintain possession." FC Hockey says, "If given extra time and space, he can carve through the opposing team's defensive setup and carry the puck to the high-danger areas for a quality chance." The NHL has been moved into a direction where zone exits and entries are super important. Even more so when your team can maintain puck possession while doing exactly that. It means efficiency up and down the ice to allow the skaters to get on the offense. Haight is going to support that cause.
Having said that, it sounds like the pandemic's disruption of all sports, including the OHL, had quite an effect on Haight. Some players were able to return to their form, while others took longer to put it all together. Haight is in the latter category. Scouts note that inconsistency must be worked out of his game. It's holding back his offensive production, and there's reason to believe he can't improve upon his 22 goals and 41 points. Simply put, his growth was stunted after a whole season off. It's a guessing game whether or not he can regain his form. If he can, he's a prime candidate to take a step forward in the near future.
Brackett didn't stop adding players that have a lot of the things you can't teach. Rieger Lorenz is another scoring winger with strong two-way abilities. FC Hockey raves about his defensive acumen: "When used defensively he is as reliable as almost any other forward in this year's draft." Wheeler loves this pick for Minnesota. "Their best pick of the day, for my money, was Rieger Lorenz at No 56," Wheeler proclaimed. Brackett noted that Lorenz, at one point during the season, "was a point and a half per game in a strong league."
But that strong league was not at the Major Junior level, where a large majority of elite Canadian draft picks are chosen. Lorenz scored 38 goals and 85 points over 60 games, and was incredibly successful... at the Alberta Junior Hockey League. Not the WHL, which would nullify the college eligibility for the University of Denver-bound kid.
So the production is great, but the concern about the overall level of competition is real. It's the same argument that scouts use when gauging players in Minnesota high schools. Lorenz is going to have to show he can still excel after a sizable jump from the AJHL to NCAA Division I hockey next year. 
Each of the Wild's first rounders has an elite, rare skill that's readily apparent to all who watch them. Öhgren has a blistering shot. Yurov is an incredible playmaker that takes your breath away. As for Haight and Lorenz, all we know for sure is that they are big forwards who can skate and get to the net. They can play at both ends of the ice and be reliable partners to their defensemen.
There's nothing wrong with that. Teams need players like that. But where we can see the ceilings as being really high for Öhgren and Yurov, Haight and Lorenz might wind up being nice guys that try hard and love the game.
That second-round duo taking big steps next season will go a long way to deepening the Wild's already-full prospect pool. If there's any one person in Minnesota's front office that has the track record to credibly say, "trust the process," it's Brackett. After a successful Round 1, who could argue with his process? But taking two players in the 2nd round with a lot more variance to their growth, it'll take a little more time to see if Brackett's process is truly can't-miss.