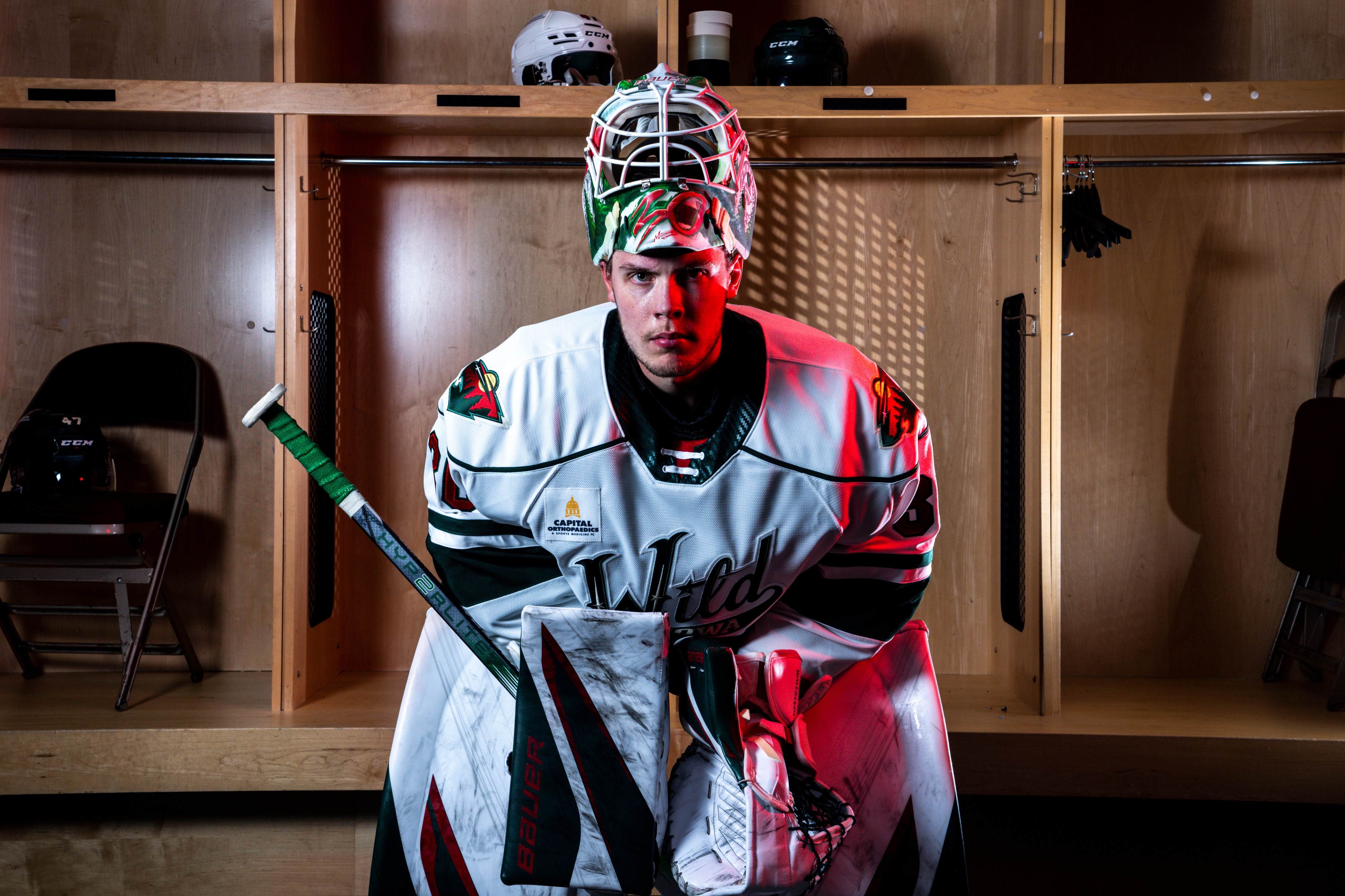 Image courtesy of Lily Smith/The Register / USA TODAY NETWORK
At least things are going all right in one Wild net.
Jesper Wallstedt had been performing as well in Des Moines as anyone could have hoped for the top goalie prospect. Despite only turning 21 on Tuesday, Wallstedt is a star workhorse netminder for the Iowa Wild. Entering Monday's action, Wallstedt has played 477 minutes and 27 seconds for Iowa, the sixth-most of any AHL goalie. No one in the AHL has played more minutes with a higher save percentage than Wallstedt's .932.
We say "had" been performing well because he's technically in the NHL this week. Wallstedt is flying with the Minnesota Wild to his native Sweden to serve as an emergency goalie. It's a well-deserved experience for a young goalie who's playing out of his mind.
His presence could easily feel tempting for the decision-makers in Minnesota. After an 8-3 shellacking on Sunday, the Wild's team save percentage fell to .875, better than only the woeful Edmonton Oilers. Marc-Andre Fleury "leads" the way with an .879 save percentage, while last year's breakout star Filip Gustavsson is at .871.
Thomas Williams brought up a case to bring Wallstedt to the NHL to stabilize the spiraling Wild, and he's not the only one thinking about it. It's true that Wallstedt has long been advanced for his age, playing in the SHL as a teenager and holding his own in the AHL last season as a 20-year-old. Does that, combined with his otherworldly start this year, mean he's ready? 
We won't say he isn't. Carey Price, Sergei Bobrovsky, and Jake Oettinger got significant playing time when they were 21. If Wallstedt is truly the caliber of goalie prospect in that peer group (and many put him at that level), maybe he is.
One thing is for sure, though: The Wild aren't ready for him. 
The immediate worry for putting Wallstedt in the NHL is that exposing him to a bad Minnesota defense might hurt his confidence. The Wild are giving up 33.0 shots per hour in all situations, which is 28th in the NHL. If Fleury and Gustavsson are struggling behind it, is it smart -- or even humane -- to let a prospect like Wallstedt face that?
The thing is, when you look at 21-year-old goalies who've played a sample size of 20 or more games, their success hasn't really been tied too closely with the number of shots they've faced. Here are the 13 goalies who fit this description since the 2007-08 season, in descending order of shots faced: 

Joonas Korpisalo and Mackenzie Blackwood did well against a ton of shots. Spencer Knight and Steve Mason faltered. Facing fewer shots didn't necessarily correlate to more success. It's very possible that Wallstedt could come up and perform decently, even well, in the NHL. That isn't why Minnesota isn't ready for him.
The Wild can't only use Wallstedt as a band-aid for their struggles. For one, they don't have the ability. Minnesota can't carry Wallstedt without taking Fleury or Gustavsson off the roster. Fleury's No-Move Clause makes it impossible to move him, not that the Wild would send him down if possible. It'd be viewed pretty poorly if Minnesota did a future Hall of Famer dirty by getting rid of him as he's chasing Patrick Roy for second all-time in wins.
So that leaves Gustavsson as the only person who could move for Wallstedt. Perhaps the Wild could pull off what the Edmonton Oilers did with Jack Campbell. That is, slipping him through waivers and putting him in the AHL for the time being. But relatedly, wouldn't a desperate Oilers team take a shot at the Gus Bus if that happened? Regardless, it feels like a drastic move after eight starts, no matter how poor. 
More importantly, time in the minors doesn't necessarily solve what's going on with Gustavsson, who still needs to work out. Remember, the Wild have him under contract for two more seasons. He's 25, and even after a brutal start, he still has a career .915 save percentage. 
There's no future for Fleury in the organization. At least, not so long as he's under a .900 save percentage. The Wild will surely part ways with him following this season. But Gustavsson is a part of their future and, more pointedly, Wallstedt's development. The depth chart past Gustavsson and Wallstedt going forward is non-existent, meaning that the only thing standing between Wallstedt and 60 starts next year is a well-maintained "Gus Bus."
More than the workload, Minnesota will want Gustavsson to push his fellow countryman for ice time. They can only do that if they get Gustavsson back on track, which needs to be their priority right now. Is that something that can be fixed by going home to Stockholm for a reset? Can he parlay his next start into the confidence that kept his game at a high level last year?
Whatever the solution is, the Wild must make it work with Gustavsson rather than going for the quick fix. Their plan must be better than throwing Jesper at the wall and hoping he sticks in the NHL.
4