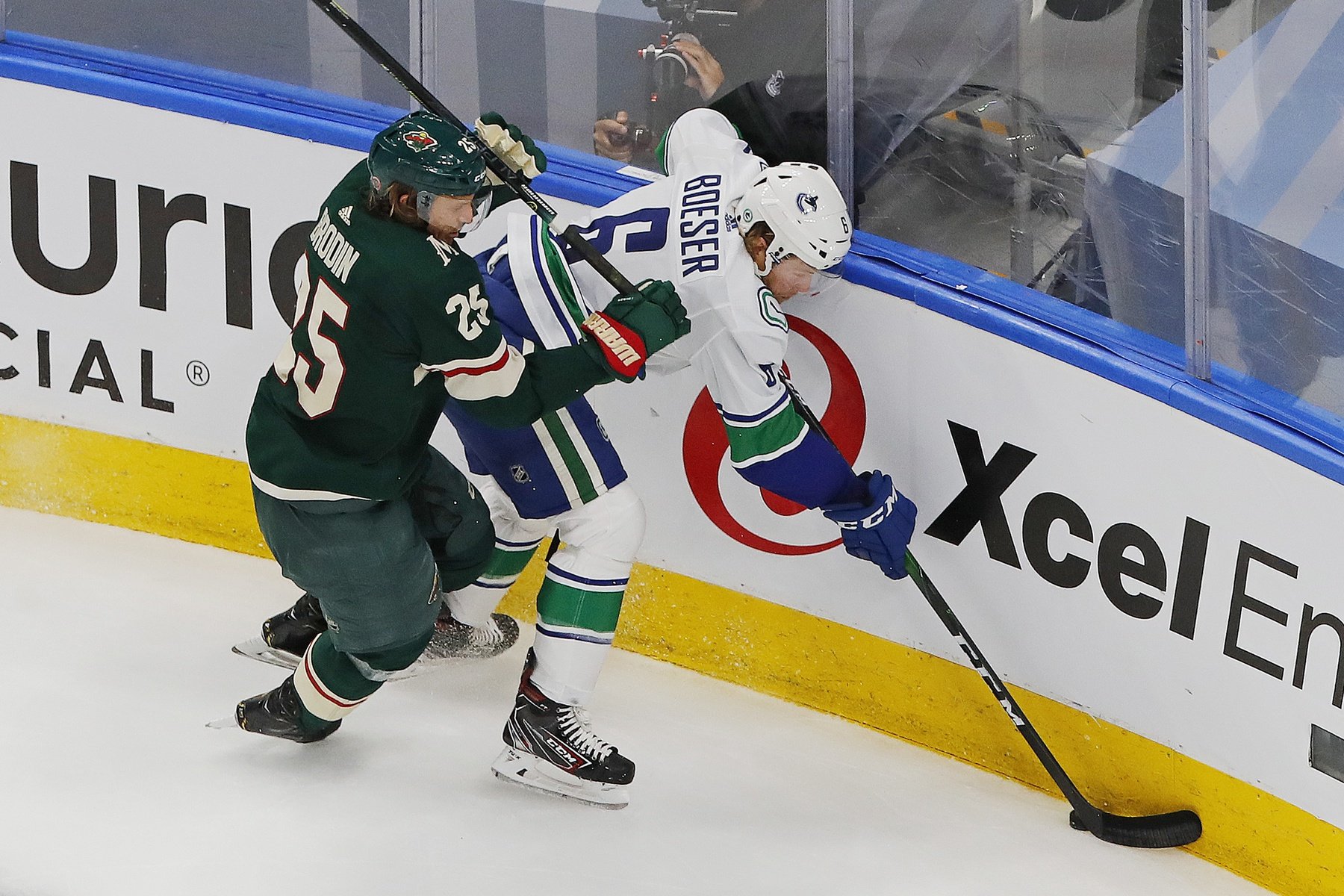 Former Wild general manager Paul Fenton said he liked to build from the net on out. The defensemen that the Nashville Predators have dressed over the last decade are evidence of that. Even before Fenton was hired, Minnesota has had a strong defensive corps for the last nine years. And it appears that current GM Bill Guerin shares the same philosophy.
Guerin announced Tuesday that the Minnesota Wild and 2011 first round pick Jonas Brodin have agreed to a seven-year, $42 million contract extension. Brodin, who turned 27 years old in mid-July, gets a sizable raise from the $4.1 million Average Annual Value and security until age 34.
It's hard to determine the market value of pure defensive defensemen. Points and offensive impact have a pretty clear valuation because there are results to offense: a pass, a shot or a goal can be measured evenly across the league. Brodin's numbers on offense are not, and have never been, eye-popping -- he had a career-high 28 points in 2019-20. Offense is not Brodin's game. His game hinges on playing elite-level defense.
Brodin has benefitted the increased value teams have put on defensive metrics. A pass broken up, a shot blocked or a scoring chance thwarted reveal the quality of work in a defensive defenseman's favor. But defense doesn't have equal valuation to offense. It's why stat analytics website Evolving-Hockey had a contract projection for Brodin hovering around five years and a $4.9 million AAV.
He has earned himself a reputation across the league as being an above-average defender. Though some might question why his contract pays him as much as Matt Dumba, an offensive defenseman, it's more likely that both parties have come to a fair deal. On the open market, he'd likely be offered the same kind of money over a shorter term. 
Since 2015, the first season that Brodin's current expiring contract kicked in, the smooth skating Swede has been worth 13.3 standing points above replacement, according to Evolving-Hockey's WAR model. That's comparable to Brent Burns, Nate Schmidt and Dougie Hamilton over that same time span.
And while the $6 million AVV mark has him ranked somewhere in the mid to late 20s for highest cap hit by a defensemen, the Wild are paying for top-five caliber defense. Brodin's even strength defense over the last five seasons is elite. In Evolving-Hockey's WAR model, Brodin trails Niklas Hjalmarsson, Colton Parayko, Justin Braun and teammate Jared Spurgeon in even strength defense. Looking at comparables, Parayko signed for $5.5 million three seasons ago. Hjalmarsson signed for $5 million two seasons ago. Factoring in the general market increase over the last couple years, the Wild are getting good value for the best pure defender on the team.
Looking toward the future, there's no reason aside from injury, why Brodin cannot continue to play defense at such a high level. His skating and footwork is natural and allows him to be in the right position. Speed decline will be a factor into his 30s, but a smart player can delay the impacts of a loss of foot speed with awareness and anticipation. Brodin has always played a mature style in terms of intelligence and reading the play. 
Part of the new deal includes a No-Move Clause for the first four seasons. He also negotiated a fifth year that starts immediately, appended to the final season of his current six-year contract. This protects him from a trade right away, and means that he must be protected from next summer's Seattle Expansion Draft. The NMC might be the only negative of the deal because it limits a general manager's flexibility. It means that some important decisions have to be made.
If signing Brodin means that Dumba becomes expendable, then Brodin will have to produce more offense. Brodin, whether he wants to or not, would have to figure into the Wild offense more often. It's a part of the job that he hasn't been forced to do during his career. 
Minnesota got to see Brodin's impacts on the game first-hand the last eight years. Three Wild coaches have raved about his abilities on the ice because they know what they are getting in the Swedish defenseman: elite-level defense.