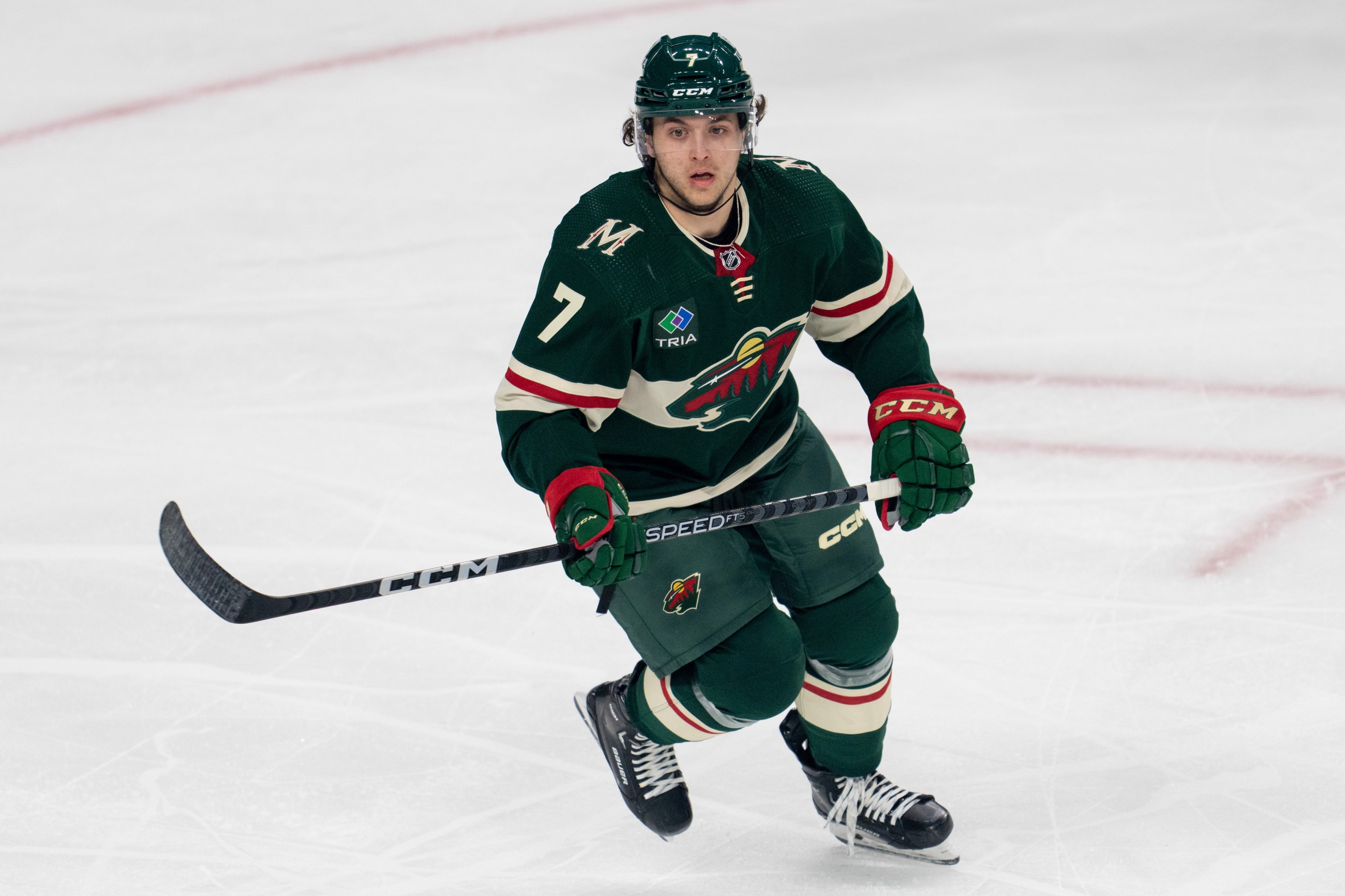 Image courtesy of Matt Blewett-USA Today Sports
Minnesota Wild fans are probably very used to referring to the organization's farm system as the No. 1 Prospect Pool in the NHL. While it's true that there's not a central authority on NHL prospects like Baseball America, the Wild have built up depth in their organization that is highly touted by pundits and analytical models alike.
Did the Wild remain the cream of the crop after a draft season that saw the Wild pick at 21st overall, with the likes of top picks like Connor Bedard, Leo Carlsson, and Adam Fantilli joining other teams' farm systems?
Probably not.Yahoo! Sports' Ian Kennedy put Minnesota's prospect pool at 8th in the NHL. Entering the draft, the Wild held the top spot at Hockey Prospecting, which ranks systems based off their analytical models. Now they're sixth after the Columbus Blue Jackets, Montreal Canadiens, Philadelphia Flyers, Anaheim Ducks, and Buffalo Sabres leap-frogged them.
So the Wild now merely have just a Top-10 farm system. And unless they find a way to bottom out in the next year or two, they'll keep falling as other organizations secure top draft picks.
Should the State of Hockey panic over this? No. In fact, it might well be good for the organization.
Make no mistake, nobody should want to see Minnesota's cupboards go completely bare. Having the Wild in the state previous general managers Doug Risebrough and Chuck Fletcher created isn't desirable. That's a hole that can take years to crawl out of. Besides, every team want their system to always be churning out cheap, solid options. 
But if the Wild end up falling out of the top-10, or even top-15 of the NHL over the next few years, it's going to (probably) mean that the team is bringing along these prospects into something even better: Actual NHL players. 
Other than Matt Boldy and Calen Addison, most of the best players in the Wild's system are several years away from making an impact in the NHL. Our faces are pressed against our computer screens like kids at toy store window as we've tracked Marco Rossi, Jesper Wallstedt, Marat Khusnutdinov, and others. This year, we'll finally get something substantial to play with.
Rossi and Brock Faber, arguably two of the Wild's top-three prospects, should become full-time NHL players this year. Seeing Wallstedt, who's Minnesota's consensus top prospect, suit up in St. Paul isn't off the table, either. The Wild were adamant about not using Wallstedt in the NHL last year, turning to Zane McIntyre for injury relief last year. But that reluctance shouldn't exist in Wallstedt's second full season in North America. The Wild might look to get their soon-to-be-20-year-old goalie wunderkind some short NHL stints.
If and when we see those three graduate, the Wild's system is going to suffer massive losses. That won't be the end of it, either. Adam Beckman or Daemon Hunt might lose their rookie eligibility as soon as this season. It's not outside the realm of possibility that Khusnutdinov gets a short stint with the Wild to close out the year, once his KHL contract expires. 
But if that happens, who really cares about the farm system? The "1" hanging in the rafters isn't for having the No. 1 prospect system. It's for the "WILD FANS" for whom getting these prospects in front of is the goal of drafting these guys to begin with. 
That's not to say that the Wild won't have a need for a stud young player to rise through the ranks. Their system isn't without weaknesses, even after hopefully shoring up their center depth. But in a world where the Wild have Boldy, Rossi, and Khusnutdinov thriving as top-six forwards, defensemen like Addison, Faber, and Hunt coming into their own, and Wallstedt anchoring the crease... You really don't need prospects so much, do you? Addison is the oldest of those players, and he won't even turn 25 until April 2025, almost two years from now.
Besides, the hope is continued development for Danila Yurov, Liam Öhgren, Charlie Stramel, Riley Heidt, Carson Lambos, David Spacek, and more are able to offset these losses. Maybe they can. But if not? We're not talking about the apocalypse, either, especially if this incoming wave is the real deal.
These things tend to be cyclical, at least in the NHL. The only teams that don't climb the rankings tend to be the Stanley Cup contenders who are always trading off picks to go for it. Your Tampa Bay Lightnings, Pittsburgh Penguins, Washington Capitals, etc. The only teams that always have a top system are the ones who aren't good at turning them into NHL players. You might want to be the former, but only while they're actually contending, and you never want to be the latter.
For everyone else, there's a rise while the system gets built up, and a drop where they start bearing real fruit. The Wild's system reached a crescendo over the last year, maximizing their prospect capital with so few of them actually impacting the NHL club. Now comes the fun part, where the EliteProspects pages and YouTube highlights give way to Hockey-Reference pages and your actual TV. Enjoy the drop.
2