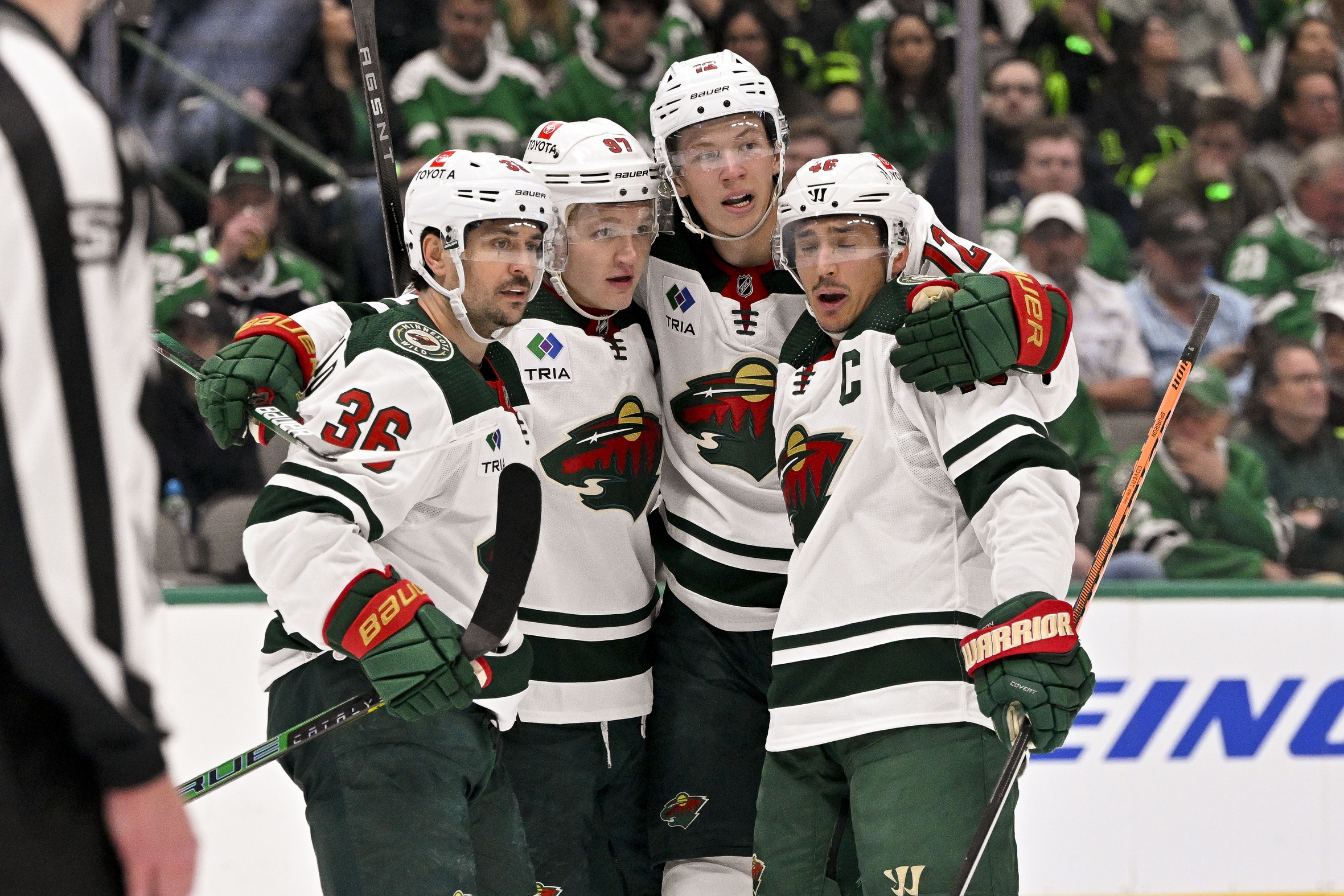 Image courtesy of © Jerome Miron - USA TODAY Sports
Recently, Hockey Reference has started listing nicknames on their player pages. These range from the mundane expected nicknames to the most outrageous names that no one seems to have heard before. 
Let's see how they did with the Minnesota Wild and who has the best assortment of nicknames.
Bland
What's there: Nothing
What's missing: Bolds
There is nothing listed for Matt Boldy. In a way, that makes sense. When he was asked about his nickname last year, he said "Matthew," which is the opposite of a nickname. But again, they're missing the very obvious nickname of Bolds.
What's there: Dewey 2
What's missing: –
Poor Dewar is never going to stop being Dewey 2. That's probably okay because if he got to be Dewey 1, Brandon Duhaime would be devastated.
What's there: Hartzy
What's missing: –
Another very obvious nickname. I always think of him as what Jake Middleton called him on a TNT interview last year. However, I'm not supposed to use the swears. It's fair game in a tweet, though.
What's there: Nothing
What's missing: ?
I'm not sure if Mermis has a nickname, but it feels like something could be done with his last name. Mermis. Mermaid. Merman. Something along those lines. We'll workshop it.
What's there: Nothing
What's missing: Middsy
Somehow, it feels like Middleton doesn't need a nickname. His mustache + missing teeth combo speaks for him. But Middsy is a known nickname for him.
What's there: Nothing
What's missing: Marco Goal-O
Has Rossi ever had a nickname? His personality is so quiet and even-keeled that it would almost feel weird to give him a nickname. However, someone did point out that Marco Goal-O could be acceptable.
Predictable
What's there: Bogo
What's missing: –
This one is obvious but also a fun nickname. No notes. 
Brandon Duhaime
What's there: Dewey 1
What's missing: Big Dew
Of course, they listed the Dewey 1 nickname. But in this year's player introduction video that plays on the big screen during warmups and the little video on social media after they score, he has been deemed "Big Dew" this year. That sounds like a nickname he came up with on his own and begged them to use. And who can say no to Duhaime when he's excited about something?
What's there: JEEK, Ekker, Mr. September
What's missing: –
This one is simple and self-explanatory. I think most people call him JEEK or Ekker because they still aren't quite sure how to pronounce Joel.
What's there: Flower, The Dude, MAF
What's missing: –
"The Dude" always makes me laugh. But he will forever and always be Flower, which also fits his happy personality.
What's there: Patty, Big Rig
What's missing: –
It's odd to hear him called Pat because Patty feels somehow more fitting for the big guy. It is fitting, however, that the Wild lost a Big Rig and gained a Big Rig. He's even played on the same line as the last Big Rig!
Outside of the Box
What's there: Spurgeon General
What's missing: Spurge
Real question: Was Spurgeon General ever really a nickname? As in something someone actually called him? Or was it more of an alias used in the media? Because those are two different things. It's also weird that Spurge, the shortened version people actually call him, is missing.
What's there: Nothing
What's missing: Jonny Vibes
If there was ever a player that consistently brings the vibes without actually doing anything, it's Merrill. Jonny Vibes just stands for the incredible vibes he exudes.
What's there: Moose
What's missing: –
He's Moose. There might be several Mooses in the league, but Foligno will forever and always be Moose in Minnesota. He's even mentioned how much he loves to hear the crowd yell "MOOOOOOOOOOOSE" every time he's introduced.
What's there: MoJo, JoJo, Mojo-Jojo, Mackan
What's missing: --
Mackan is an unknown, but the rest of the nicknames could keep going. His middle name is Lars (because of course it is.) Couldn't that come into play? MoLo. LoJo. MoLo JoJo, MoLoJo. The possibilities are endless!
What's there: Gus the Bus, Goose
What's missing: (Does Gus Bus count as different from above? If not, nothing.)
This one is so obvious that I almost didn't look at his page. However, at some point in time, he was apparently known as Goose. Minnesota already has a Goose, so he'll continue to be the Bus.
What's there: Kirill the Thrill, Dollar Bill, Kap, Kappy
What's missing: KK97
This might be another case: "Is KK97 a nickname or just something media (or me in text messages to my brother) uses?" Kappy is probably the best because it feels like he should be selling newspapers on the street corner in 1905.
Off the Wall
What's there: Chenzo, Chenny, Squirrel
What's missing: Lou
These three were completely unknown. And a quick search yielded no idea where the first two came from. But somehow, they're still great. The obvious one missing was Lou since that was what all the Wild players yelled at him after he scored his first goal with the Wild.
What's there: Slippery Jimmy, Jimmy, Slim Jimmy, Jimbo Slice, The Wizard
What's missing: Brods
Once again, there is an incredibly obvious nickname missing. And while all of the nicknames listed are pretty cool, I think most of them were largely Matt Dumba-related. Who else would call him Jimbo Slice?
What's there: Zucc, Zuccy, The Lizard King, The Hobbit, The Norwegian Hobbit Wizard, The Lizard
What's missing: –
Zuccarello is intense in all areas of life, and his nicknames showcase that. "The Norwegian Hobbit Wizard" doesn't seem like a nickname. It seems more like a title.