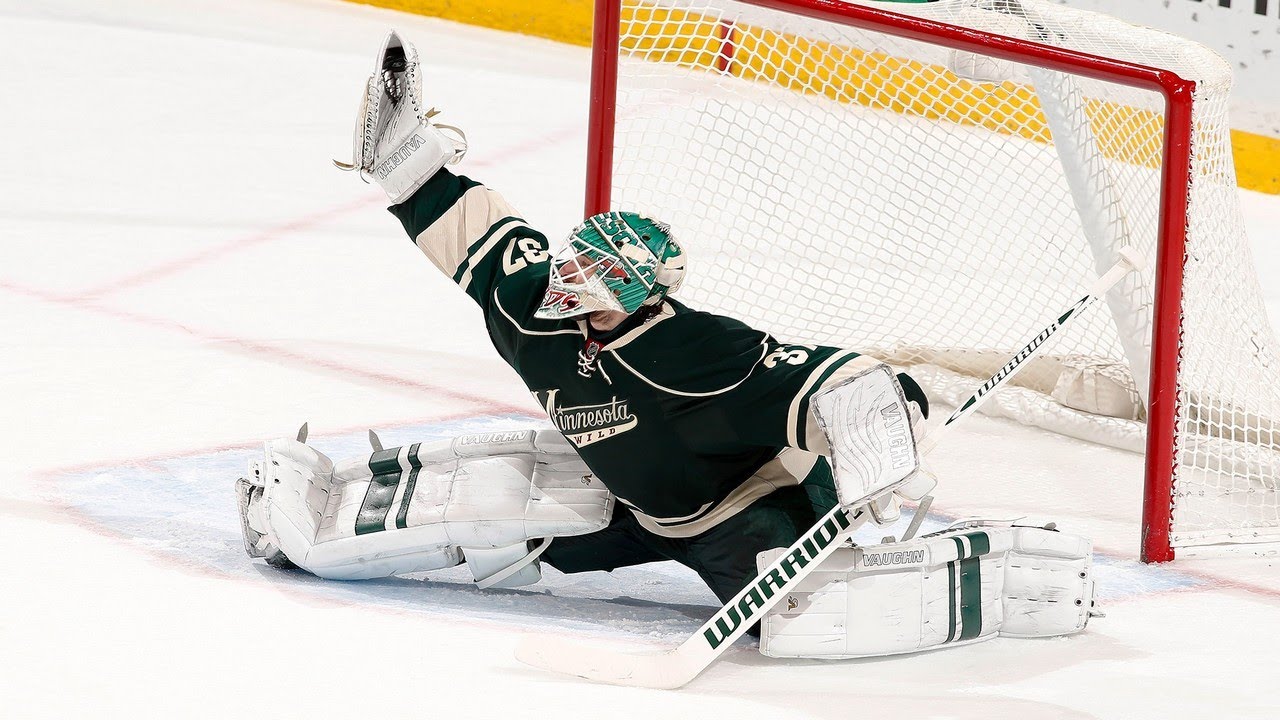 This is where it starts to get really good.
50. John Vanbiesbrouck, Philadelphia Flyers
http://www.gameusedmasks.com/masks/vanbiesbrouck_flyers_nosparkle_match_1.jpg
The Beezer was bound to make this list eventually, as he's had some outstanding masks and ranks among my favorite netminders of all time (hint, hint). This mask was probably the most bizarre of his career, but the angry, jagged 90's Flyers logo coming down each side of the mask does look pretty cool. I've heard his latter, even brighter versions likened to an acid trip, and I'd agree and prefer the solid orange background on this mask.
49. Mike Vernon, Detroit Red Wings

Mike Vernon was a forgotten part of the 90's Red Wing dynasty because he was the backup to (mask-less) Chris Osgood, but won the Conn Smythe at their starter in the '97 Playoffs. However, Vernon's mask should not be forgotten, as it was a perfect complement to the classically styled Red Wings jersey. Big wheels representing the Motor City, and wings unfurling from both sides, with the top evoking the famous Indianapolis Motor Speedway logo.
48. Mikael Tellquist, Arizona Coyotes
http://i135.photobucket.com/albums/q124/cdnuniguy/Coyotes/tellqvistwileroadrunner.jpg
Yes, Mike Smith has had some tremendous Wile E. Coyote masks during his time in Arizona. However, this Mikael Tellquist mask bests them by including the famous nemesis of Acme's most loyal customer, The Roadrunner. The indestructible coyote is donning goalie pads in this episode, with his dream meal on one side, and one of those gosh darn Acme rockets on the other. For a fortunate child who was able to see this incredibly brilliant cartoons, this is a real treat. Without a line of dialog, that cartoon spoke volumes, and this mask does the same.
47. Rogie Vachon, Los Angeles Kings
http://www.gameusedmasks.com/masks/vachon_match_1.jpg
Rogie Vachon is a Kings legend, and his mask goes a long way towards that status. While it is a beautiful mask, with the 'forum blue' and logos featured prominently, there's a detail that just can't be overlooked. That smile. While it was less obvious with his colored mask, Vachon's trademark was his smiley face mask (seen much better here). The sense of humor, which might be a trademark for many goalies, is just amazing, and anything that can make you chuckle with each sight is a special bit that needs to be honored, as it was by John Quick a few seasons ago.
46. Gilles Meloche, Cleveland Barons

While known more for his time with the North Stars, Meloche was one of a few players to make the trek from the Seals to the Barons to the North Stars. This mask for his time with the Barons is just fantastic. The Coat of Arms themed mask shows incredible detail to go along with the short-lived Barons logo, and looked just as good in action. I may be biased, having a coat of arms tattoo myself, but anything with a knight AND a unicorn deserves some recognition.
45. Tuukka Rask, Boston Bruins
http://1.bp.blogspot.com/-3uRnnenDDV0/UZWdFIeQfWI/AAAAAAAAKpI/DXNBh3-lHaw/s1600/130422163247-boston-bruins-tuukka-rask-single-image-cut.jpg
Sure, the angry bear has been done many times on a Bruins mask, but Tuukka Rask's might be the angriest of bears (there's a Tim Thomas joke in there somewhere). The glowing red eyes, the razor-sharp claws clutching the B's logo, it's all a nasty, vicious look that would have you soiling yourself in real life.
44. Dan Ellis, Dallas Stars
http://www.goaliesarchive.com/files/masks/masks/ellis.jpg
Who doesn't enjoy a little Tombstone? While the movie takes place in Arizona, Texas enjoys claiming any kind of Wild West fun as much as they enjoy claiming other towns' teams. Along with this sweet Wyatt Earp-graced mask, Ellis also had a pretty cool Alamo-themed mask during his time in Texas.
43. Eddie Lack, Carolina Hurricanes
http://storage.quebecormedia.com/v1/thn_prod/the_hockey_news/7ab69f29-77c4-4770-9ab9-138c2cd25a19/12038661_10153619605604819_6672730627299316565_o.jpg

 

Eddie Lack, native Swede, pays homage to his homeland with a good-natured chuckle by featuring the

when he was traded to the Carolina Hurricanes. A team logo on each side to go with the Chef, and this is a great mash-up of personal and team touches. Lack continued this theme the following season by featuring the Chef's favored co-star, a chicken running from his cleaver. Another tremendous touch on this mask was Lack paying homage to his bromance with former teammate Roberto Luongo on the back of his mask, as shown above.
42. Darren Pang, Chicago Blackhawks
http://3951-presscdn-28-25.pagely.netdna-cdn.com/wp-content/uploads/2012/04/pang_mask.jpg
Long before Jeff Hackett, Jocelyn Thibault, and Cristobal Huet did the headdress mask, the man known as Panger came up with the idea. It's really a great design, as the goalie looks like he's wearing a beautiful hat of feathers, even copied by those outside of hockey. Cultural Appropriation aside, it's really hard not to like this look.
41. Josh Harding, Minnesota Wild
http://2.bp.blogspot.com/-G-uLQLXK5m0/Ut1etBNW8dI/AAAAAAAAQl4/17Cf5LBWJ9o/s1600/462660093.jpg
Josh Harding had numerous awesome masks during his time in the State of Hockey (with a few exceptions). But this one I feel like is the best of the bunch. The roots of hockey are strong in Minnesota, so many Wild fans can relate to wearing a toque on top of your head while playing hockey outdoors, and after Ryan Miller wore a hockey sock over his mask in the first Winter Classic, the look took off a bit. Harding had the toque painted to his mask for all those indoor games NHL teams end up playing, and the look was fantastic, especially including the poof ball painted on the top of the mask, and its continuation to the back plate of the mask, a rather uncommon practice. Though MS essentially took Harding's hockey career away from him, we'll always have his wonderful masks to remember.
Stay tuned for The Top NHL Goalie Masks 40-31 next week!
---
Never Miss an Episode of Giles & The Goalie!