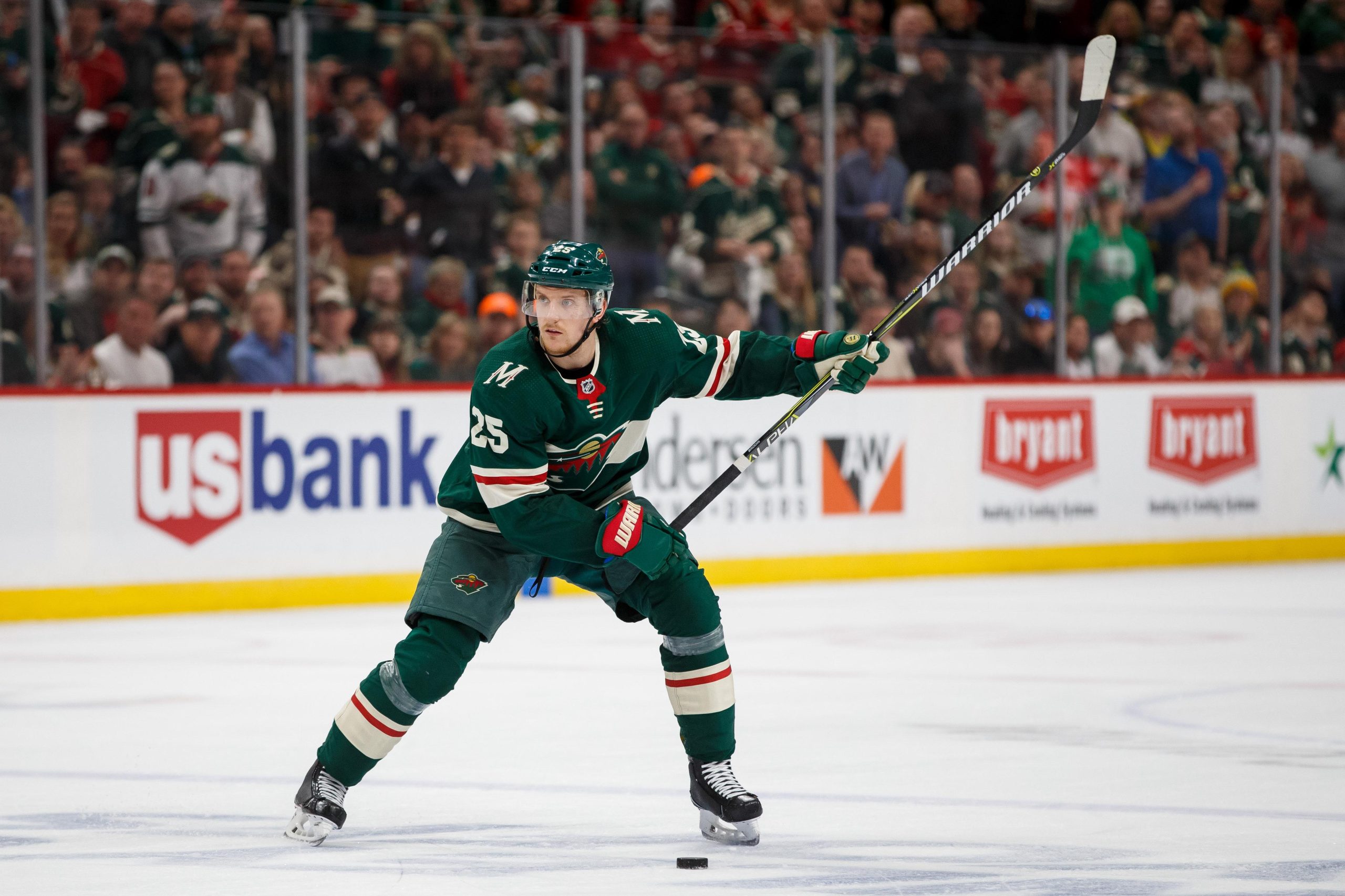 As new Minnesota Wild general manager Paul Fenton makes the rounds and tries to value all his players, surely one defenseman he hears about is Jonas Brodin.
Brodin, 24, was a popular name in trade talks last summer but then general manager Chuck Fletcher decided best to keep and protect his 2011 first-round pick.
But as the offseason gets underway, and the Wild try to tweak their roster, Brodin could be a popular name again in trade talks this summer. While others -- Charlie Coyle, Nino Niederreiter, Matt Dumba -- have popped up already, surely Brodin's name could rise to the top in the near future.
Let's take a look at both the pros and cons of moving the Swedish blueliner.
Pros
Frees up cap space.
Regardless of what you get -- it would still be a decent return -- for Brodin, just by simply trading him will clear up some much-needed cap space for Minnesota. Brodin carries a $4.16M cap hit on the Wild's books for the next three seasons, and moving him would allow the Wild a little more room to re-sign crucial RFAs Jason Zucker and Dumba.
Someone else on the left side could bring more offense.
When he was drafted, Brodin was known as a defenseman who was not going to bring offense. Now with six seasons in a Wild uniform under his belt, Brodin has pushed over the 20 point mark just twice -- the past two seasons -- and has never flashed any real kind of offensive abilities. While he is a good defensive defenseman, is he one you would really pay $4.16M per season for?
Allows opportunity for others.
Moving on from Brodin would allow for more opportunity behind Ryan Suter on the left side of the defense. Nick Seeler, who had a tremendous finish to 2017-18, would certainly get a look at that spot, as the Wild have had some previous difficulties getting some playing time for young players who show promise. The Wild could also look elsewhere to fill Brodin's slot, but given Seeler's play, it could very well go to him.
Cons
You are trading a solid defenseman, particularly in his own zone.

While his offense leaves much to be desired, Brodin is very good in his own zone. You have to be if you are paired with Dumba (

).

 

Kidding.

 

Having Brodin along with Suter, Jared Spurgeon and Dumba gives the Wild a very solid top four. Moving on from him leaves the door open for potential problems in the top four, as whoever is tabbed to replace him might not be as stable as he is.

 

Played well with Matt Dumba.

As quipped above, Brodin and Dumba turned into quite the stable pair this past season. Sure, it was a rocky two months, but the final four months saw the pair play incredibly well behind Suter and Spurgeon. Dumba has been a bit of a wild card, particularly in his own zone, with the Wild but having a solid presence next to him in Brodin as polished his game a bit.

 

Also, how can we miss the great behind the scenes Twitter photos of Brodin buying groceries?

 

What do you do if Suter's injury is long-term?

Suter's freak injury has left his status for next season and beyond a bit up in the air. So if Brodin is moved and Suter does not return to the lineup immediately, the Wild are royally screwed on the left side. That is said with all respect to Seeler.

 

Minnesota does have a little depth on the left side of the defense -- especially when you compare it to the depth on the right -- but it still would not be anywhere close to enough to overcome the loss of both Suter and Brodin. If Suter's health moving forward is a concern, perhaps it is best to hang on to Brodin just as a safeguard.
Never Miss an Episode of Giles & The Goalie!