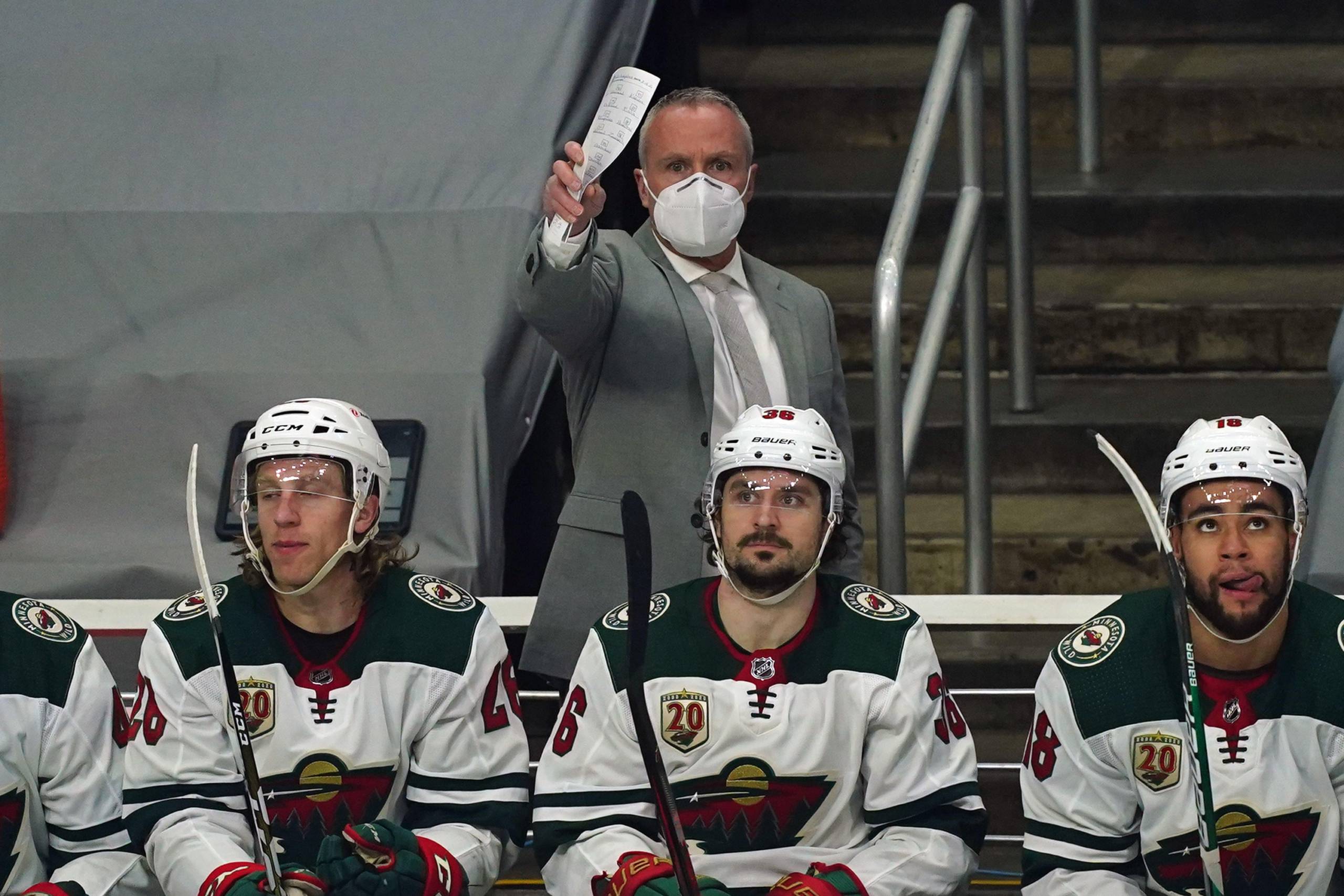 When general manager Bill Guerin named Dean Evason the Minnesota Wild's permanent coach in July 2020, it was a big surprise. Everyone knew Evason wasn't "Guerin's Guy" since he was a holdover from Paul Fenton's brief reign. So why didn't Guerin take the opportunity to get a coach he was familiar with? Ever since then, Evason's led the Wild to win after win, showing exactly why he was the right choice. Now he's in the final year of his contract, and it is time to give him what he wants before his price goes through the roof.
The Wild are 16-6-1 and sitting atop the Western Conference, and Evason is a big reason for it. He's getting production from everyone on the lineup card every night. Evason challenges players and never allows them to feel entitled to play on a particular line or in a given role. He doesn't let them think they deserve to be in the lineup solely based on their status in the league.
The Wild are 61-26-6 since Evason took over at the end of the 2019-2020 season. Evason not only boasts the best 93-game start of any head coach in Wild history, but he's having historic early success. Only four coaches won more through their first 82 career games, and Evason's Wild are 8-2-1 in Games 83 through 93. It's a tremendous impact as a first-time coach, especially in comparison to Todd Richards and Mike Yeo.
It wasn't like he was the hottest assistant in the league, either. Before joining the Wild bench, his previous gig was head coach of the Milwaukee Admirals. As the head coach of the Nashville Predators' AHL club, Evason coached Kevin Fiala and Frederick Gaudreau. The Wild banked on this history to spark Fiala's offensive potential after Fenton traded for him. Fiala led the team in scoring that year thanks to a surge under Evason.
Now, a little over a quarter of the way through his first full season with the Wild, Evason has his players buying into his philosophy. With a new leadership group in the locker room, led by captain Jared Spurgeon, Evason has instilled a team-first mentality where no one is bigger than the team. That shows itself in each game the Wild play. The foundation of Minnesota's success is that almost everyone steps up on a nightly basis.
Unlike previous coaches who tiptoed around star egos, Evason isn't afraid to mix things up by demoting players from top lines to give others a shot. After a feeble performance against the San Jose Sharks, Evason moved Kaprizov to the third line. That move sparked Kaprizov to play like Wild fans expected him to after signing a 5-year, $45 million contract in the offseason. Those types of actions make Evason the right person to coach Minnesota in the future.
Evason's off to a great start in his head coaching career, but his lack of an NHL track record could hamper his chance to maximize his earnings when signing his next contract. Minnesota is Evason's first crack at an NHL head coaching job, although he won the Stanley Cup Finals as an assistant coach of the Washington Capitals. When negotiating his next contract, Evason will need to convince Guerin that his philosophy will continue to make this team better and that it can make a deep run in the Stanley Cup Playoffs.
After everything Evason has done in his 93 games behind the bench, it shouldn't be too hard of a sell. Before the streaking Wild keep driving up the price, Guerin needs to sign Evason to a long-term contract. It seemed unlikely, given their lack of history, but Guerin and Evason appear to agree about the direction of the franchise. The coach and GM must share a vision for the team. The more success that the Wild have, the more Guerin and the Wild will have to pay Evason to stick around.
The highest-paid head coach in the NHL, Todd McLellan, makes $5 million annually. While it will be hard for Evason to sell himself as the person to make that salary annually over the next three to five years, the Wild should not hesitate to pay Evason anywhere in the $3-4 million range.
Evason is proving he's worth the risk, even with limited sample size. Minnesota would be in great hands during the hard cap crunch years ahead of them. They'll need to get the most out of their players, and Evason's consistent and effective coaching philosophy will see them Wild be a competitive team despite the coming adversity.