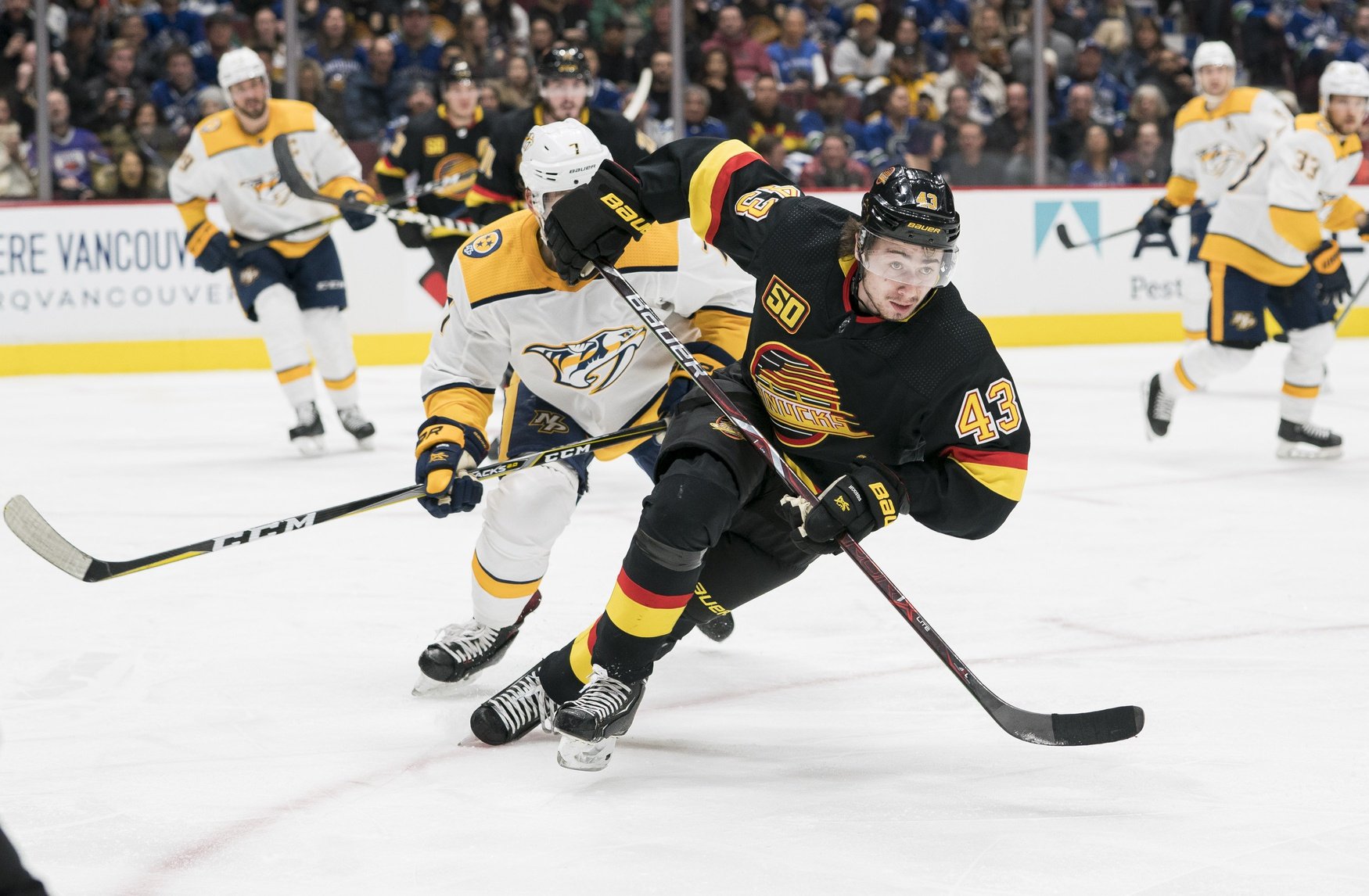 The Vancouver Canucks are full of young, exciting players, and now Minnesota Wild fans will be seeing much of that talent on full display here this summer as the NHL will finish its season once the two teams meet in the new 24-team playoff.

 

Quinn Hughes, an electric defenseman, is one of those players. He managed to score 53 points in 2019-20, good for fourth on the Canucks, the best among their defensemen.

 

Hughes, 20, is the youngest member of the Canucks, and is clearly meant to be the centerpiece to the future of the team's defensive corps. The next youngest player is Troy Stetcher at 25. It's a role Hughes has slid into well in just one full year of NHL play.

 

As the seventh overall pick in the 2018 NHL Entry Draft to Vancouver, Hughes had just concluded his freshman season at the University of Michigan. He wasted no time in showcasing his offensive abilities in Ann Arbor. He scored 29 points in 37 games as a freshman, helping the Wolverines to the 2018 NCAA Frozen Four held at the Xcel Energy Center in St. Paul.

 

[embed]

[/embed]

 

A season later, Hughes was a point-per-game player with 33 in 32 games for Michigan, but with the team's lack of success in a 13-16-7 season, Hughes opted to go pro and sign his entry level deal with the Canucks after just two years of college. He ended up playing five games and notching three assists, true to Hughes' form, at the end of a non-playoff bound season for Vancouver.

 

In 2019-20, Hughes finally had a chance to put together a full 82-game campaign to show he was NHL ready. Although that didn't end up being the case for 82 games, he still managed to flourish offensively for the Canucks for nearly 70 games, creating offense for his teammates more often than scoring goals himself.

 

[embed]

[/embed]

 

As an offensive-minded defenseman, he is certainly not relied upon as heavily as other defensemen would be late in games with the lead. This past season when Hughes was on the ice, the play was started in the offensive zone just over 63 percent of the time in all situations, and more than 58 percent at even strength.

 

That extra 5 percent, thanks to the power play, is where Hughes is a game-changing player. Nearly half of his 45 assists this season came on the power play, 22 to be exact. His playmaking in situations like the one above directly led to a primary assist, yet it's consistent zone play, like the video directly below, that doesn't show up on the score sheet, but makes a difference each night. It's no small part as to why the Canucks were fourth in the NHL this season in power play percentage, scoring just over 24 percent of the time.

 

[embed]

[/embed]

 

Hughes is exceptionally dangerous, especially with the quality of much of his offensively gifted teammates. Minnesota will have to keep an extra eye out on the penalty kill to try to break up any of Hughes' attempts while quarterbacking the power play.