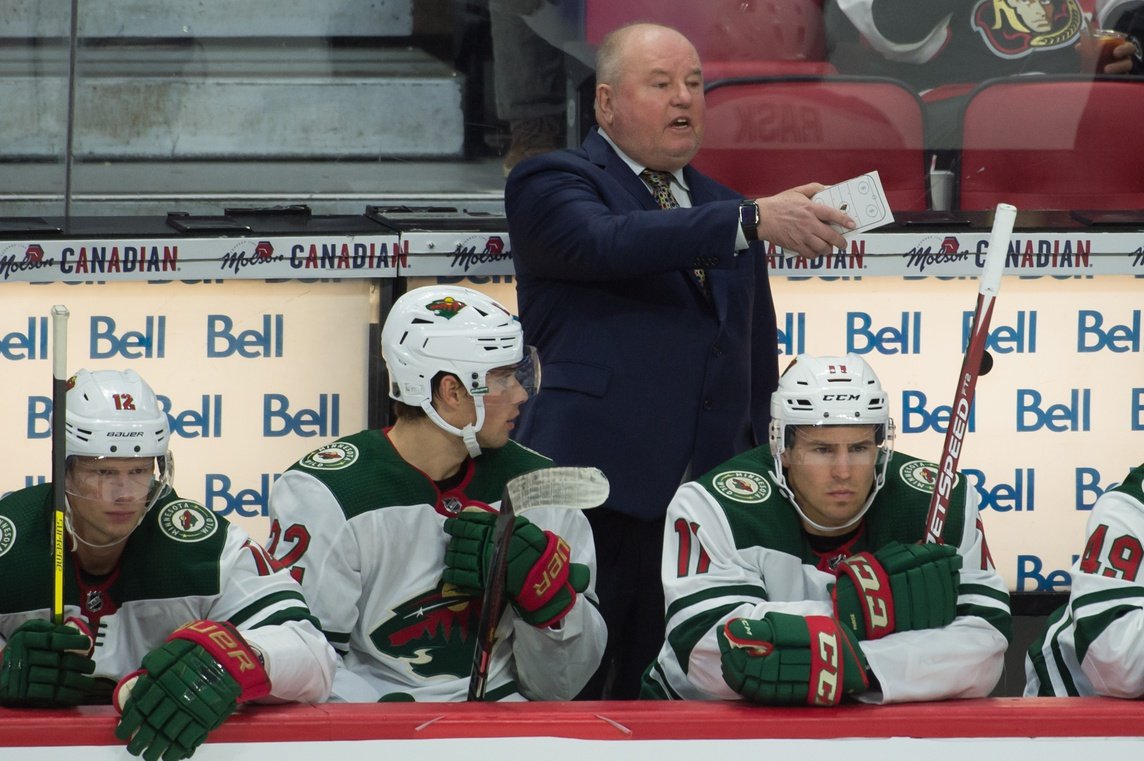 Even though the Minnesota Wild scratched and clawed their way to a win early Sunday evening over Montreal, the fact remains it has been an abysmal start to the season for a team looking to get back into the playoffs.
Sunday's win was just the Wild's second in eight tries this season. They have been marred by offensive ineptitude, poor defensive play and some of the league's worst goaltending. Add all that up and the Wild are the second-worst team in the NHL standings currently, only ahead of Ottawa, the team they beat for their first win of the season last week.
Wild fans are sending a message to the Wild front office loud and clear that this team needs a new direction with their on-ice product. Sunday's non-sellout crowd at Xcel Energy Center was the first time in 252 games that Minnesota failed to fill their home barn. With plenty of other enticing/promising sporting options in town (Vikings, Twins, Minnesota United, Timberwolves and Gophers football all come to mind), fans are letting the Wild know they will be holding out on trips to downtown St. Paul until this team resumes winning. Or at least establishes a promising direction.
Many fans want to see the Wild just start selling off parts and embrace a tank so that the team can acquire a high draft pick next June. It is a direction the front office – led by owner Craig Leipold – will not be taking because there is still a belief that this team can be a playoff squad.
But let's talk about that tank for a second. Do they really need to sell off parts to tank this season?
In large part, the Wild could theoretically keep their current squad intact, and effectively tank without even trying to do so. Many prominent players have not done much of anything for the team this season, and it has led to these two wins in eight attempts.
The Wild's top scorers as of Monday are Ryan Suter and Brad Hunt with five points each. Next on the list are Jason Zucker, Marcus Foligno, Jared Spurgeon and Mikko Koivu with four. Six players with four points or more, three of whom are defensemen.
Players that Minnesota needed to step up this season offensively – Luke Kunin, Jordan Greenway, Joel Eriksson Ek, Kevin Fiala and Ryan Donato – have not. They have combined for two goals and nine points. The latter three have only offered up one assist each. Not great for players who had severely heightened expectations on them coming into the season.
Matt Dumba has yet to fully shake off the rust from his prolonged absence after suffering a season-ending injury last December. Once he does, will his play be enough to turn this tide?
Eric Staal has had a subpar eight games to open the season and appears to be playing through an injury. If he can't figure out a way to effectively play through his injury, the Wild will be lacking even more scoring from an already depleted center position on the roster.
It has been an awful start to the season for Devan Dubnyk, and there are signs pointing towards his play becoming a season-long problem. Not many goaltenders have fared worse than Dubnyk in the first three weeks of the NHL season, and if he cannot turn it around the Wild may have to rely more heavily on backup Alex Stalock, whose career numbers indicate that is not a preferred strategy either.
Worst Goals Saved Above Average in NHL
Goalie Statistics Table
Goal
Goal
Goal
Goal
Goal
Goal
Goal
Goal
Goal
Goal
Goal
Rk
Player
Tm
GP
GS
GA
SA
SV
SV%
GAA
SO
GPS
MIN
QS
QS%
RBS
GA%-
GSAA
▲
1
Jonathan Quick
LAK
4
4
20
116
96
.828
5.06
0
-0.4
237
1
.250
2
191
-9.50
2
Devan Dubnyk
MIN
6
6
23
183
160
.874
4.18
0
0.3
330
1
.167
1
139
-6.44
3
Sergei Bobrovsky
FLA
6
6
22
172
150
.872
4.07
0
0.3
324
2
.333
2
141
-6.44
4
Laurent Brossoit
WPG
3
3
15
100
85
.850
4.86
0
-0.1
185
0
.000
1
166
-5.95
5
Braden Holtby
WSH
7
7
23
189
166
.878
3.70
0
0.4
373
3
.429
3
134
-5.90
6
Juuse Saros
NSH
3
3
14
95
81
.853
4.74
0
0.0
177
0
.000
1
163
-5.40
7
Cory Schneider
NJD
4
4
15
121
106
.876
4.08
0
0.2
220
1
.250
1
137
-4.05
8
Elvis Merzlikins
CBJ
2
2
10
73
63
.863
4.99
0
0.0
120
1
.500
1
151
-3.39
9
Jake Allen
STL
2
2
8
53
45
.849
4.17
0
0.0
115
0
.000
1
167
-3.20
10
MacKenzie Blackwood
NJD
5
4
14
123
109
.886
3.15
1
0.4
267
2
.500
1
126
-2.87
Add all this up, and you have a recipe for a long season that results in the Wild having high draft lottery odds. An outcome that can be achieved without selling off any parts, unless teams came calling with good offers prior to the trade deadline.
It has only been eight games into the season, but there are a lot of alarming trends on this Wild roster. They could easily turn it around, sure, but signs seem to point to them remaining at the bottom of the Central Division and NHL standings.
Not enough goal scoring and bad goaltending. It's tanking without actually tanking because the Wild refuse to acknowledge that word, let alone that option.
Should they land a high draft pick and a prominent player next June, their long-term outlook might not be all that bad. Certainly a big upgrade over the long-term outlook they currently have.
Never Miss an Episode of Giles & The Goalie!
http://zonecoverage.com/wp-content/uploads/2016/05/itunes.jpghttp://zonecoverage.com/wp-content/uploads/2017/05/Podcast-header-Image-City-1.jpg