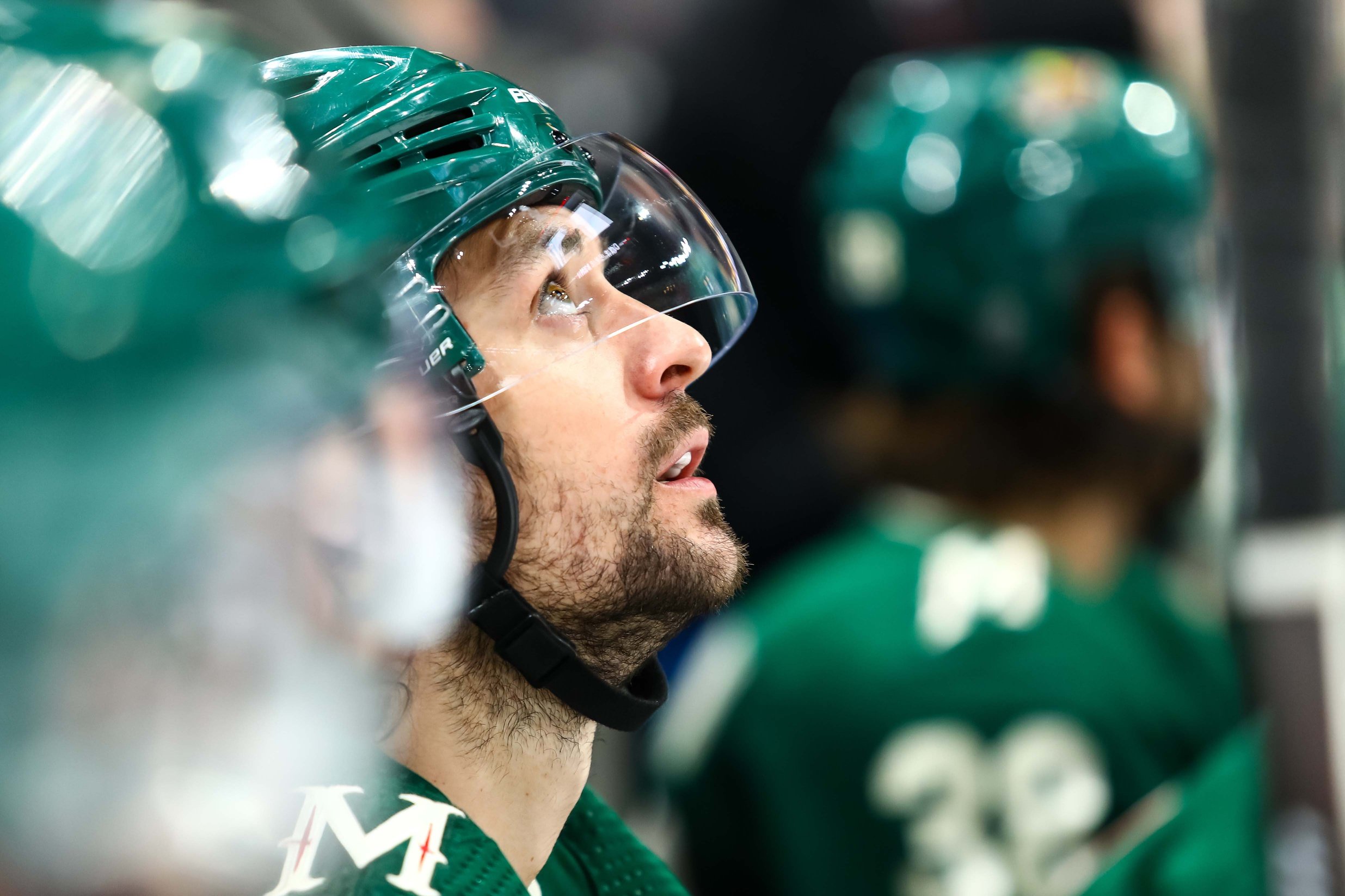 Believe it or not, there are dogs in New York named after Mats Zuccarello.
Zuccarello emerged out of obscurity as an undersized player from Norway, a country that has produced half as many NHLers as Denmark, and the New York Rangers signed him as a free agent in 2011.
It took a while for Zuccarello to find a full-time role in the Big Apple, but he eventually flourished. From 2013-19, Zuccarello led the Rangers in scoring four times, averaging 59 points per 82 games. He played all situations, and produced on the biggest stage as one of New York's leading scorers in their 2014 Stanley Cup Final appearance.
Additionally, he was a locker room and fan favorite. Take a look at how Henrik Lundqvist reacted to the 2019 trade that sent Zuccarello to Dallas.
An injury took Zuccarello out of Dallas' regular season stretch run, but he didn't miss a beat come playoff time. He scored four goals and 11 points in 13 postseason games. His production, skill and character led the Minnesota Wild to sign him to a five-year, $30 million contract.
Zuccarello was able to steal the hearts of New York, which is known for their harsh and demanding fans. But the adoration of the State of Hockey and their "Minnesota Nice" fans? That has eluded him so far. Why?
A mix of circumstance and underperformance converged into a toxic cloud that hovered over Zuccarello's first year in St. Paul. Let's look at what happened, what Zuccarello was at fault for and what needs to happen to get him back on track.
The Lizard in the Room
Zuccarello's legacy has the unfortunate burden of being tied to former general manager Paul Fenton. Fenton's reign in Minnesota lasted just 14 months, but he may be the most reviled figure in franchise history. He executed incredibly unpopular trades of fan favorites and his plan for the future was, to be kind, incoherent.
The timing of the move was odd in itself. Giving a big contract to a 32-year-old isn't the kind of move that a rebuilding team trying to get younger and faster typically makes. Adding further to the weird timing was the last big move of Fenton's tenure. He would be fired less than a month later. Suddenly, the entire length of that deal was thrust onto Bill Guerin, greatly reducing his flexibility.
And, of course, Fenton provided an infamous quote that made Zuccarello a joke in Minnesota instantly. Here it is from the team's official Twitter account, which has surprisingly not been deleted:
Tragically, when you power through the awkward phrasing, Fenton's description is pretty accurate. Zuccarello plays with a long stick -- even for someone who isn't 5'8" -- which helps him be a puck magnet. But Fenton lost all his goodwill both locally and nationally, and both the signing and quote were ridiculed.
Unfortunately, the circumstances surrounding his signing influenced the public perception of Zuccarello himself.
A Fair Look at Zuccarello's First Year
So let's drop the baggage. For a moment, let's forget the contract, his impact on the salary can and his long-term fit here. Was he really that bad?
There's some damning evidence that Zuccarello was a bad fit, in decline or both. Zuccarello went from 40 points in 48 games last season to just 37 points in 65 games this year. He also fell from 105 shots to 96.
That drop-off in performance would cost him minutes and a prime assignment. Zuccarello started the year skating with Eric Staal on the top line, averaging over 16 minutes under Bruce Boudreau. Once Dean Evason took over, Zuccarello was bumped to a secondary scoring role, losing over 90 seconds of ice time per game.
Zuccarello's awful performance in the playoffs also added to the sour taste in Wild fans' mouths. He was invisible through the qualifying round against Vancouver, with just one point and three shots. Nowhere to be found at 5-on-5 or the power play. He played just 12:23 in Game 4.
Sounds pretty bleak. Was there anything Zuccarello can build on?
The one area where he was pretty good in was his production at 5-on-5 play. Zuccarello had 2.01 points per hour, which was fourth on the team among regulars. That rate of scoring lines up pretty neatly with his career, so he hasn't shown much sign of decline there.
So why the precipitous drop-off in points? A big reason is the power play: Zuccarello was pretty terrible on the man advantage. His 3.02 points per hour ranked 91st among 100 forwards with 150-plus power play minutes. That's not what you want to see from the guy who was brought in to fill the playmaking void left by Mikael Granlund.
Going Forward
It's hard to get around the fact that Zuccarello's first season was disappointing. Minnesota thought they were getting a veteran who could be an all-situations offensive threat. Instead, they got a fine even-strength scorer who didn't offer too much otherwise.
Even with the disappointment and weird timing of his arrival, Zuccarello wasn't bad. Despite his flaws, Zuccarello was worth 2.4 points in the standings. That was the same impact that Zach Parise had on the team, despite Parise's advantage in scoring.
This isn't as easy as figuring out whether or not Zuccarello made a positive different or not. Zuccarello provided some help, but did he provide value on his contract? Evolving-Hockey pegs the worth of a standings point above replacement from a forward at $2.28 million. That makes Zuccarello fall just beneath $5.5 million of value, and teams usually depend on free agents to out-perform their contract value early on to make up for the later years.
That would be easier to swallow, if not for two things. The first is that Minnesota has a lot of depth on the wing that could fill that role more cheaply. Ryan Donato performed extremely well, particularly offensively, but couldn't find a role in the lineup. That logjam won't get easier in the future, with wing prospects like Kirill Kaprizov, Matt Boldy and Adam Beckman on the way.
And then there's the unavoidable fact that Zuccarello is in decline. His standings points above replacement has dropped in each of the last four years. Not a great sign for a player who turns 33 next month and has four years remaining on his deal.
Still, Minnesota has few options with Zuccarello. He has a no-move clause, meaning he has complete control over any trade destination. Buying him out this season gives the Wild a $5.4 million cap hit next season, then $13 million spread over the next seven seasons.
Considering that, Minnesota's best bet is probably to give Zuccarello another shot. Zuccarello never seemed to find his place on the roster this season. Maybe with some roster turnover he'll find that home next year -- perhaps he's Kaprizov's set-up man, for example. Worst-case scenario, the Wild can investigate buyout options, which will be more palatable next season.
And if he can find that niche? Then maybe the State of Hockey can find out what made Zuccarello such a fan favorite in New York. Maybe you'll even find a dog in Mankato bearing his name.
All stats are from Evolving Hockey unless otherwise stated.