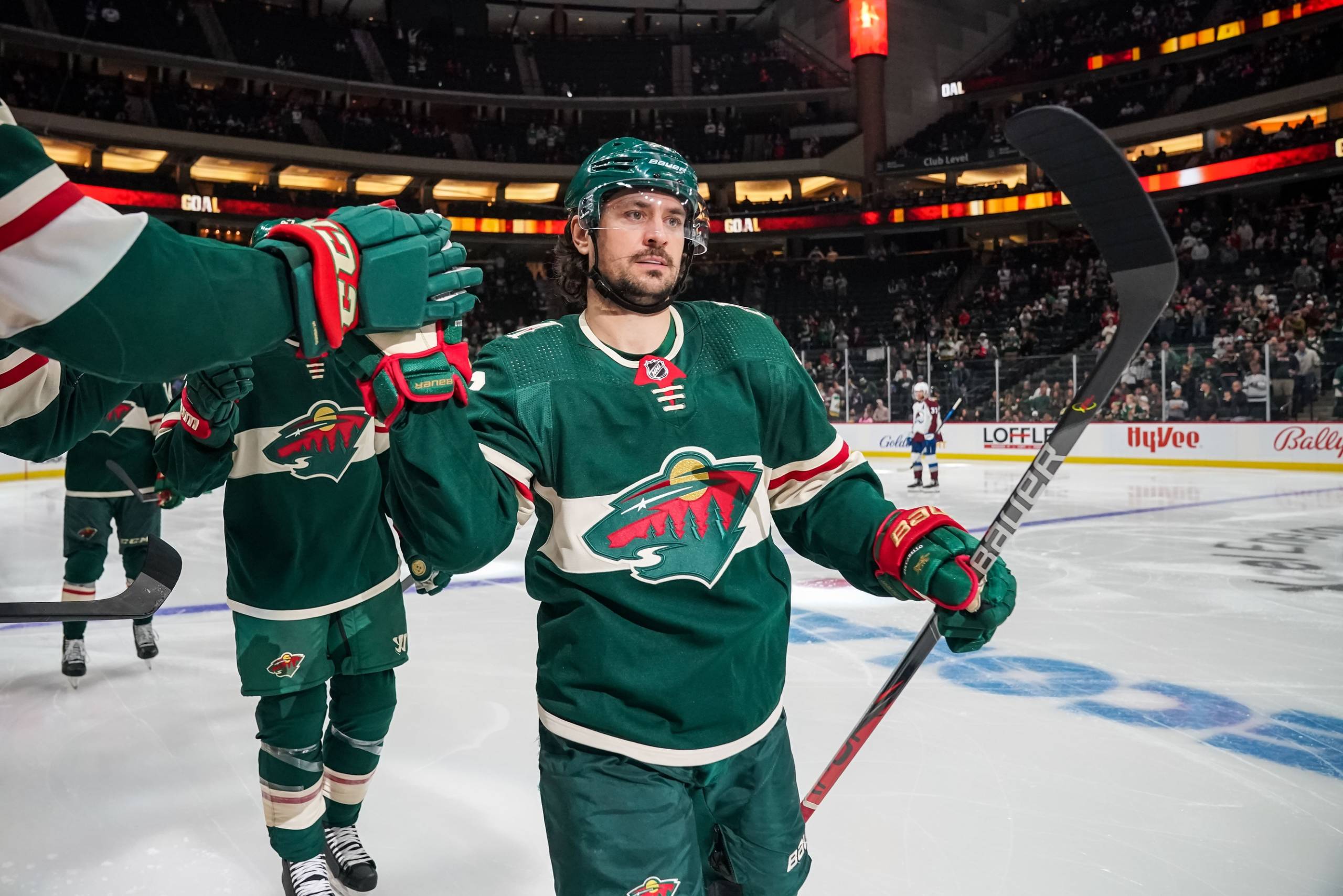 Many things worked against Mats Zuccarello having a great first impression with Minnesota Wild fans. There was the fact Minnesota was ostensibly rebuilding, that his general manager bizarrely compared him to a lizard, and that the same GM was fired a month after inking the ironclad five-year deal with Zuccarello.

 

And all that was before Zuccarello hit the ice. In the six years before Zuccarello signed in Minnesota, he averaged 59 points per 82 games. Despite getting a prime top-line spot alongside Eric Staal and Jason Zucker, Zuccarello posted 37 points in 65 games. The question quickly turned from "Was this a good deal?" to "When's the soonest Minnesota can get out of it?"

 

Things changed dramatically after his last 45 games. Zuccarello's return jump-started a stagnant Wild offense last year and took Kirill Kaprizov to the next level. That chemistry didn't go away in the offseason, as evidenced by his two-goal, four-point game Tuesday. Zuccarello now sits at 40 points over 45 games dating back to last season.

 

It's a performance so good it now has people asking, "Is this contract good, actually?"

 

There are a million ways to answer that. Should we judge this by whether Zuccarello's providing enough return on his $6 million salary? If so, we can figure it out, but

.

 

Evolving Hockey's Standings Points Above Replacement tells us that Zuccarello has been worth 3.6 standings points over 110 games. That equals about 2.7 SPAR every 82 games. Still with us?

 

Cool, because now we have to convert that SPAR into dollars. Fortunately, this is pretty easy. One SPAR equals about $2.3 million. Multiply that by 2.7 SPAR, and Zuccarello has been worth about $6.21 million per year. That's right in line with his $6 million salary.

 

What if we instead judge his performance by how well he's fulfilling the role he was signed for? The Wild brought Zuccarello in to be a point producer after the departure of Mikael Granlund, Minnesota's leading scorer. How does Zuccarello's offense stack up against the rest of the league? Does he produce at a top-line level?

 

The answer here is "Yes." Since the start of last season, Zuccarello averages 3.17 points per hour in all situations. That's just barely ahead of Kaprizov for the team lead and 20th in the NHL among the 340 forwards with 500-plus minutes. We're talking ahead of Alex Ovechkin, Patrick Kane, and Mitch Marner, to name a few.

 

Even when including his first season, his 2.58 Points/60 is still 69th of 442 forwards that hit the 500-minute cutoff. That's very comfortably first-line territory, sandwiched right in between Mathew Barzal and Tomas Hertl on that list.

 

Does a lot of that have to do with Kaprizov's talent? Sure, no one can deny that. But this should bring us to our third consideration, which is how well his skill-set fits the team. Kaprizov is excellent at maximizing the abilities of his linemates. What makes Zuccarello different from those linemates is how he maximizes Kaprizov's talents.

 

While Kaprizov is great at holding onto the puck for days, Zuccarello gives him more options to score. He can let Zuccarello have the puck while he finds a soft area of the ice to set up camp. No one in Minnesota was better than Zuccarello at finding Kaprizov in those spots. Let's look at how the Wild fared in completing high-danger passes last year, thanks to Corey Sznajder's data.

 

Zuccarello was, by this measure, about a top-15 player in the league at high-danger passes. And when those passes make it onto Kaprizov's stick? Well, now you understand why Kaprizov shot 17% last year. That skill set is irreplaceable on this team, at least based on what we saw last season. He completed almost one whole pass per hour more than the second-place finisher on the Wild.
Let's look at the facts: Zuccarello's pulled his salary cap weight, delivering a fair amount of SPAR for his contract. He's precisely the kind of point producer the Wild signed up for. His unique skills are tailor-made to not only play with Minnesota's star player but make him even better.
Why does the State of Hockey still hate this deal?
Look, nobody can be blamed for being pessimistic about Zuccarello at the start of his deal. A classic Mitch Hedberg line about pancakes sums up the NHL free-agent experience: "All exciting at first, but then by the end, you're ****in' sick of 'em." And the Wild sure loved to order pancakes last decade, getting Zach Parise, Ryan Suter, Jason Pominville, and Thomas Vanek.
When Zuccarello had a down year at age-32, it looked like another free-agent deal that'd turn sour. The possibility Zuccarello falls off in the final two years of his contract exists. Father Time is undefeated and can strike suddenly. If that happens, it'll be pretty devastating, given Minnesota's salary cap situation.
Even if that happens, though, it looked for a time that it'd be much worse -- a disaster from the start. Wild fans have bemoaned Zuccarello's contract for the last two seasons and wished for a magic wand to wave it off the books. If you gave them that wand now, how many would wave it? Some would, yes, but even then, he's performed to the point where you'd have to at least think about keeping him.
At an age where most players are in sharp decline, Zuccarello's strong production has him on the upswing, at least with his reputation in St. Paul. If his play continues, he should complete the climb to Fan Favorite status by sometime this year.
All data is from Evolving-Hockey.com unless otherwise stated.