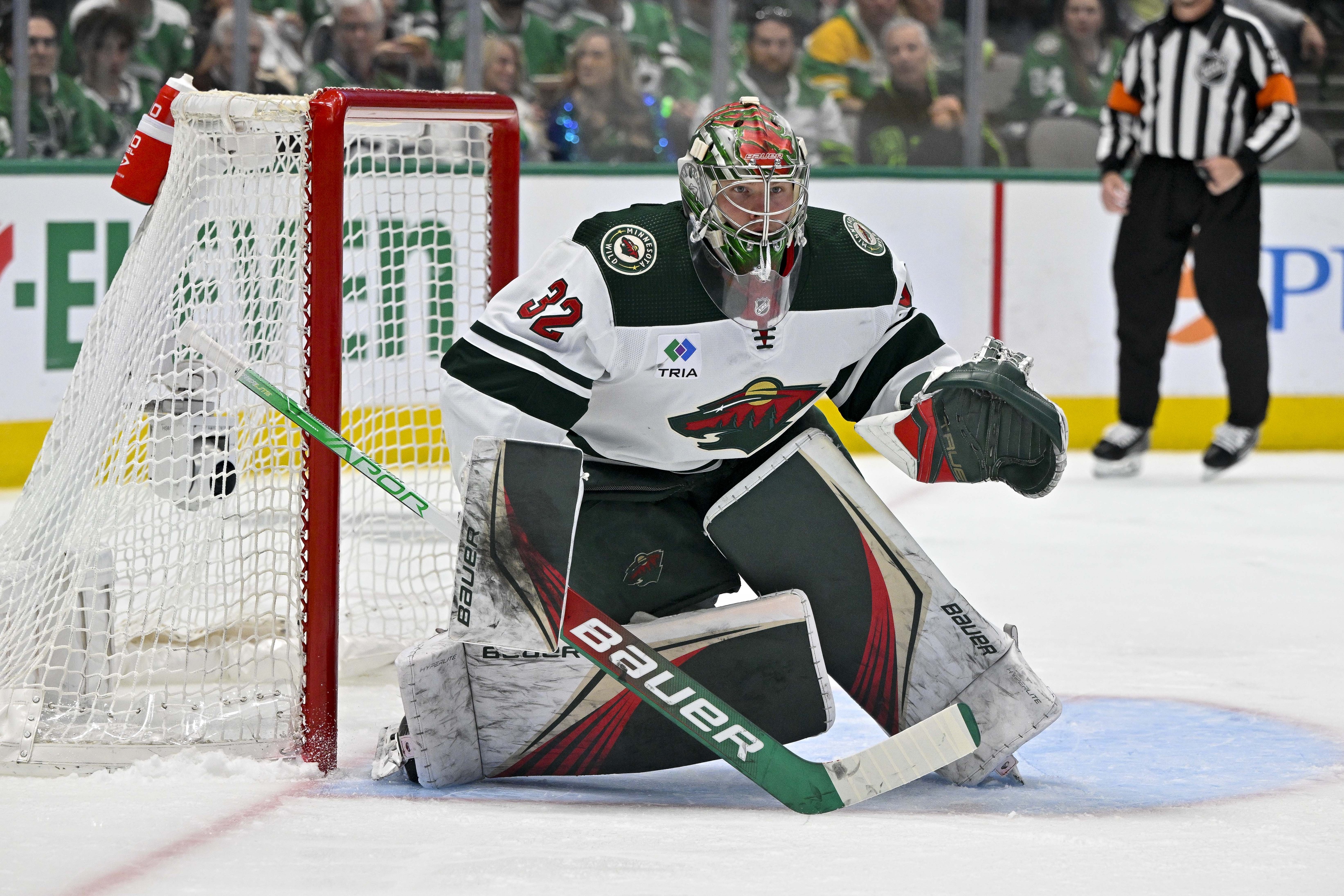 Image courtesy of Jerome Miron-USA Today Sports
For most teams, the Filip Gustavsson contract would be easy to wrap up. Despite coming off a stellar season where he finished second in the NHL with a .931 save percentage, the Swedish goalie isn't exactly in line for a Connor Hellebuyck payday. Evolving-Hockey projects him to get a two-year contract at a reasonable $3.88 million. For example, it's about as much as the Chicago Blackhawks are paying Petr Mrazek to put up a sub-.900 save percentage.
But for the Minnesota Wild, "reasonable" isn't in the budget. Even "cheap" is a stretch, at least barring moves to clear out salary. Signing Gustavsson to a $3.88 million cap hit will leave the Wild with about $3.33 million of cap space with which to sign five players. It's downright impossible to fill out a 23-man roster with that.
What if the Wild can't clear the space. Or at least, not in a way where it's palatable for the rest of the team? Minnesota's options would go down to just one: shop their goalie on the market. 
It's not a terrible idea, if you're of the belief the Wild shouldn't bother trying to tread water with $15 million in dead cap and a core that's maxed out at winning three playoff games. Evolving-Hockey estimates Gustavsson's value to the Wild as being worth 11 points in the standings. 
That's not enough to single-handedly tumble Minnesota into a prime draft lottery spot, but an 11-point drop gets the Wild around the Calgary Flames/Nashville Predators range. Maybe 50 games of a 39-year-old Marc-Andre Fleury helps the cause, too.
And that's before you get to what Gustavsson would net in return, which is... what, exactly? Gustavsson is a young goalie (turns 25 next month) with a good, but limited track record. Does that kind of player even get traded?
Weirdly enough, yes. We can find five goalies that were 27 or under when their teams traded them at the draft. How do those returns stack up against each other? 

Crudely averaging the value of those picks using The Athletic's draft value chart, we get an average package equivalent to the 56th overall pick in the draft for a goalie in Gustavsson's ballpark. That's not much more than the Wild got for Jordan Greenway, even though Gustavsson's value to Minnesota was much, much greater. Why is that?
Part of it is that the NHL doesn't really value goaltending, at least not to its outsized impact on a team. Connor McDavid scored 153 points this season and was worth 10.2 Standings Points Above Replacement (SPAR), according to Evolving-Hockey. It's not surprising, then, that he's got the second-highest cap hit in the NHL at $12.5 million.
Meanwhile, seven goalies were worth more than 10.2 SPAR last season. Andrei Vasilevskiy will make $9.5 million next season. The next-highest paid player of that bunch, currently, Hellebuyck at $6.17 million. Then it's Igor Shesterkin at $5.67 million. And these are the top goalies in the NHL, not a player with one great season.
It's hard to see Gustavsson getting much more than any of these other goalie returns. For one, the "Gus Bus" isn't the only netminder who could be on the move this offseason. The Winnipeg Jets and Predators are both in the NHL's mushy middle, and they could kickstart a rebuild with trading Hellebuyck or Juuse Saros, respectively. Those are two of the most consistent and reliable goalies. Who's calling Minnesota first if those two wind up on the block?
Besides, it wouldn't take much to put the screws to Minnesota with an offer sheet. A contract worth, say, $4.29 million, would give the Wild less than $3 million to fill out five roster spots, should they elect to match.
Where did the $4.29 million figure come from? That's the maximum compensation a restricted free agent can receive without the signing team surrendering a first-round pick. If Minnesota couldn't match that, they'd receive just a second-round pick, which is, if you recall, about what Gustavsson's expected trade value is. Since free agency isn't until after the draft, that pick wouldn't arrive until 2024, either.
Does that mean it's a bad idea to trade Gustavsson? Not necessarily. Yes, there's good reason to believe in his season not being a fluke. The only 25-and-under goalies to earn more SPAR than his 11.3 in a season (since 2007-08) are Shesterkin, John Gibson, Hellebuyck, Jonathan Quick, Henrik Lundqvist, Semyon Varlamov, Carey Price, and Jaroslav Halak. All those players went on to be good goalies for at least several years.
But if that's not getting Minnesota anywhere, and management decides it's better to be bad over the next two seasons, is keeping him hurting the cause? You can make that argument.
If they do go about trading Gustavsson, though, just make sure your expectations are in check. The "Gus Bus" might be valuable, but the market is the market. A third second-round pick in a deep draft isn't nothing, for sure. But if you're hoping for a bigger boost to the farm system than that, chances are you'll be disappointed.
1