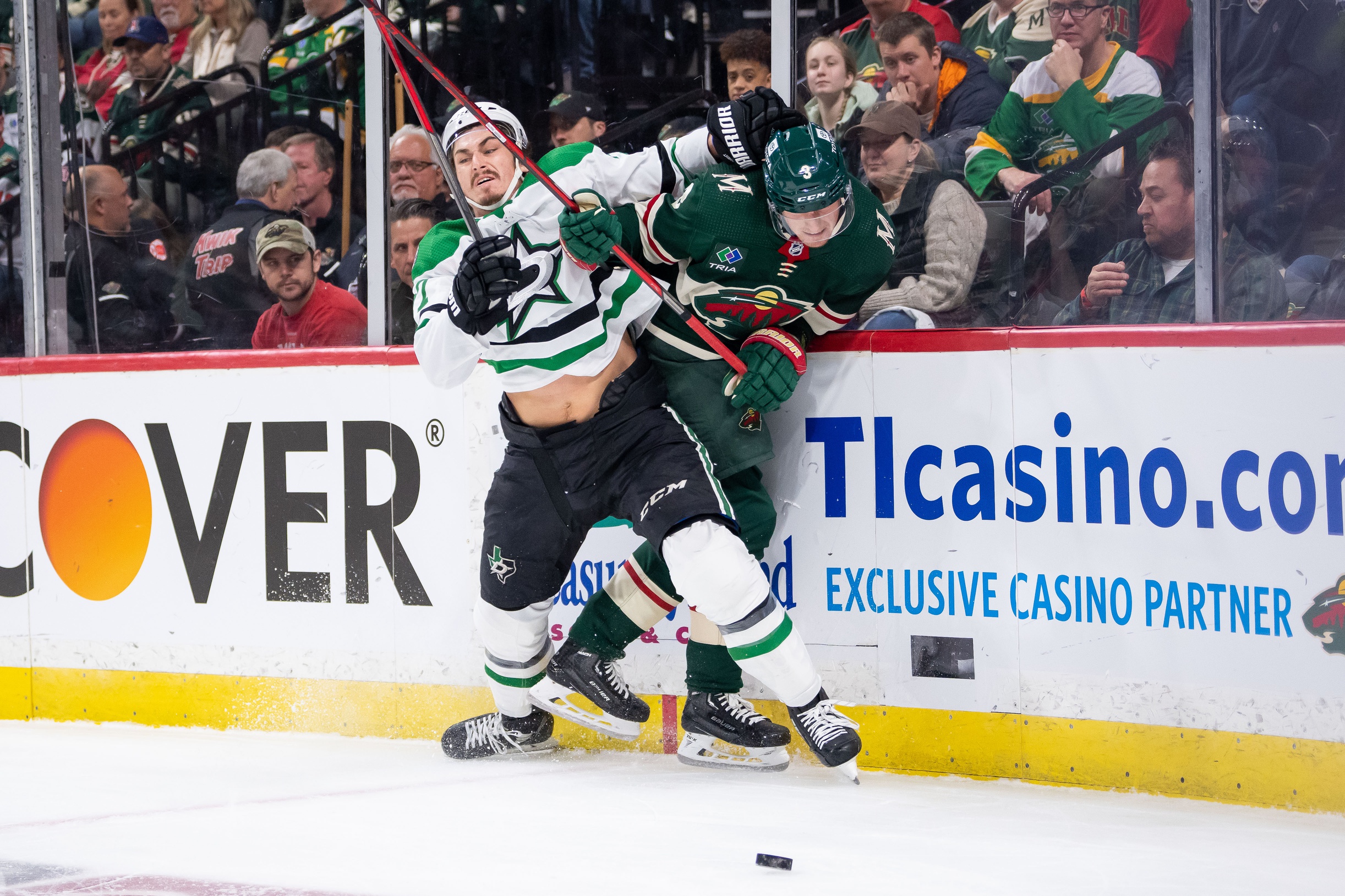 Image courtesy of Brad Rempel-USA Today Sports
Grasping at straws for a reason why the Minnesota Wild haven't made a true playoff run in two decades? Wondering why year after year, you find yourself looking like Brandon Duhaime did in the waning moments in Game 4?
We can sum it up in just one stat: 1-9.
What's that 1-9 about? It's a key run of playoff futility, as haunting to Minnesota as the Twins' playoff record vs. the New York Yankees, the Vikings' record in NFC Championship games since the '70s, and the Timberwolves' debilitating case of being the Timberwolves.
1-9 is the Wild's record in games where they started with a series lead. In all of franchise history, with a chance to bury their opponents, drive a stake into their hearts, pour it on thick, and break their will, the Wild have succeeded just one of ten times. If you're keeping score, that was the series-clinching Game 6 against the St. Louis Blues, and even that was their first success in three tries that series.
For the Wild, the best-case scenario in the postseason has been taking exactly one step forward, and exactly one step back. We'd seen it already in Game 2, when the Dallas Stars punched Minnesota in the face to knot the series. But after re-claiming the lead with their brilliant performance in Game 3, the Wild had another shot to prove that this "Grit First" version of their team was different.
And it's hard to imagine a spot Minnesota needed to do that more. Historically, teams that go up 3-1 in a seven-game series close it out 91.4% of the time, according to Hockey Reference. A win would've put the Stars on the ropes for the rest of the series. A loss turns it into a best-of-3 while handing home-ice advantage back over to The Team Formerly Known As the North Stars.
There's no room for moral victories here. Any lecturing about how Wild fans would be happy had you told them these teams would split after four games, or that all they need to do is win two games, is pure cope. Should you simply tip your caps to Jake Oettinger? Blame the referees? You can if you want to, I guess.
But ultimately, this team had chances to seize control of their destiny, and they simply did not.
You're seeing a lot more of it lately, as well. In each trip to the postseason for the Bill Guerin/Dean Evason Era, Minnesota's had and fumbled chances to capitalize on a series lead.
Maybe it's not totally fair to point to their first season. That year, Guerin took over a dysfunctional, crumbling organization and Evason took command behind the bench with 12 games left before a global pandemic put the team on a five-month hiatus. However, Minnesota took a 1-0 lead over the Vancouver Canucks in the Qualifying Round. Still, the Wild disintegrated in the second period of Game 2 and give up a power play goal to start the third to go down 4-1. Two garbage time goals from Kevin Fiala weren't enough, and the Canucks took Games 2 through 4 to eliminate Minnesota.
The next year, Joel Eriksson Ek scored the first goal of the opening game in their series against the Vegas Golden Knights in overtime, which stole the momentum of the series. The Wild looked like they could punch through in Game 2 with a goal by Matt Dumba 32 minutes into the game. Eighteen seconds later, though, Jonathan Marchessault tied it, and Alex Tuch scored two more to drop Minnesota 3-1. Instead, Vegas would deliver the killer instinct in Games 3 and 4, taking a 3-1 lead after sweeping Minnesota's home games. The Wild lost in seven.
Last year was maybe the most unfathomable of all. The Wild took a 2-1 series lead over the St. Louis Blues, who went into Game 4 reeling. St. Louis had turned the crease over to Jordan Binnington, who has the moxie of a four-year-old who needs, but refuses, to take a nap. They entered the game missing Torey Krug, Nick Leddy, and Robert Bortuzzo, three of their starting defensemen, to injury. Then minute-muncher Marco Scandella exited the game after 1:34. 
That was the perfect time to deliver the killing blow to the Blues, but instead...

The Wild blew it, and they never recovered. St. Louis scored 15 goals to the Wild's five, ending their 113-point season in six games. 
Now, last night, the Guerin/Evason Wild turned that record to 0-5 in games where they enjoyed the series lead. That's not failing to close out a series. That's not even getting into a position to close one out.
It's hard to lay it at anyone's feet in particular. We saw a bunch of smallish moments and near-misses add up into losing Game 4. Marcus Foligno had two chance to open the scoring on a breakaway, but Oettinger stopped him cold. Kirill Kaprizov missed on a breakaway of his own moments later, but again, Oettinger stole the momentum from Dallas. Failed power plays and opportunities to almost-but-not-quite sneak shots past Dallas' goalies will haunt the Wild until Game 5, and perhaps much longer.
But for all those what-if moments, the Wild didn't exactly dominate the game, despite their 34-24 shot advantage. They didn't step on Dallas' necks and take control of the puck from the jump. According to Evolving Hockey, the Stars generated 3.86 expected goals to Minnesota's 3.06 on the night. And before taking aim at the referees, you have to acknowledge that Dallas commanded the game at 5-on-5. The most charitable way to call this is "breaking even" when they had a chance to run the Stars out of their former town.

The series isn't over, it's important to not act like it is. But the Wild either didn't show up enough or weren't opportunistic enough to make things easier on themselves. Now Dallas is back in the series. Whatever happens from here on out, it's going to be a slog that risks them facing a rested Colorado Avalanche in Round 2.
Coming into the playoffs, Guerin boasted that his "Grit First" Wild would've beaten last year's team. Two nights ago, they looked like a team that would have done exactly that. But after seeing this team maintain the lack of killer instinct they showed last year, it's anyone's guess. The only thing you can be sure of is that the hypothetical Wild vs. Wild series would absolutely go to Game 7, because neither squad seems to know how to close their opponents out more quickly than that.
1