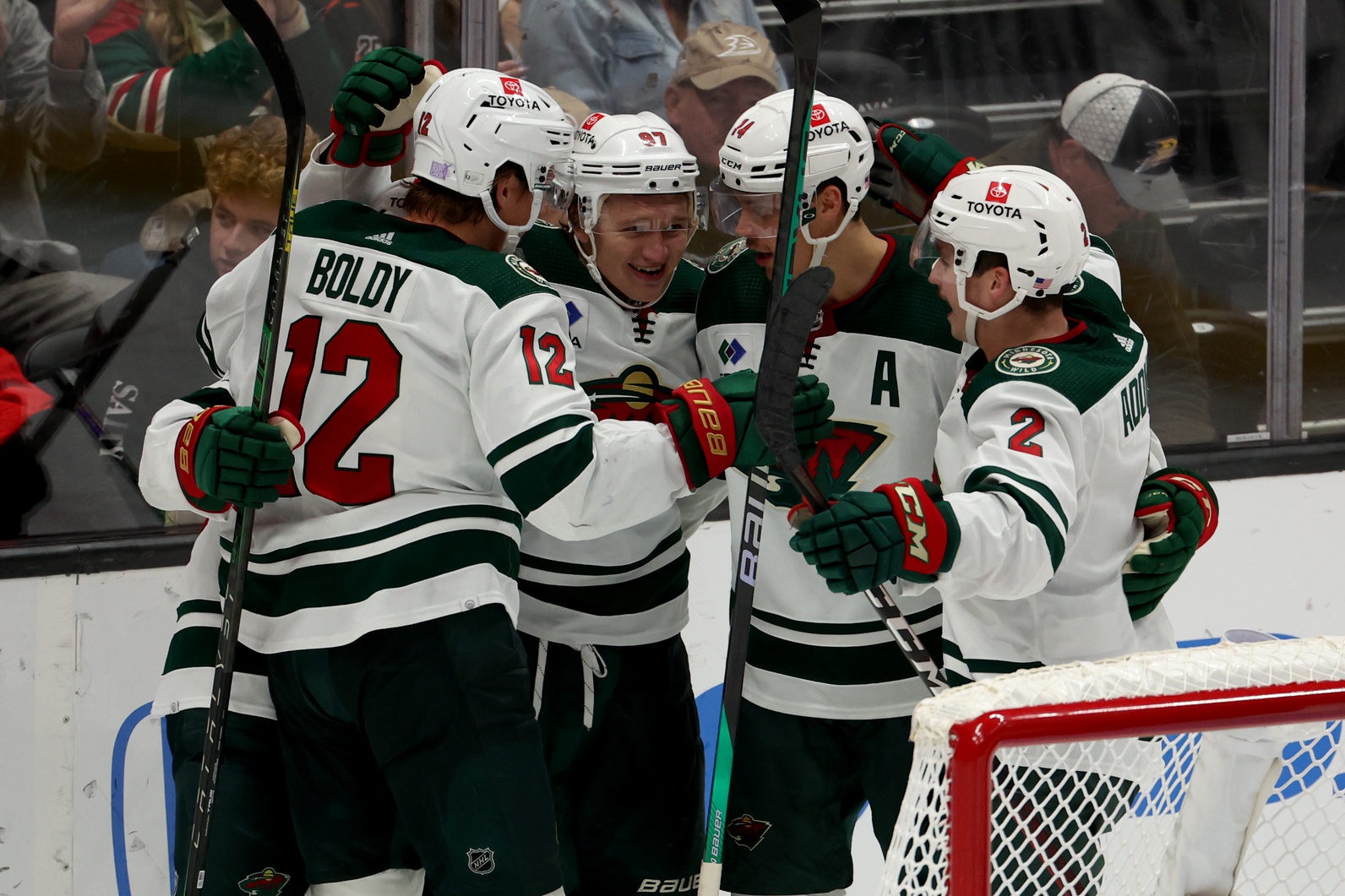 Image courtesy of Kiyoshi Mio-USA Today Sports
The Athletic did a study into the common themes that every Stanley Cup Champion has had. It's not perfect but in general, teams tend to have the following when it comes to roster makeup. 
An elite center who is among the best in the league 
An elite winger who is among the best in the league 
Two more top-line wingers to play in the top six
A top-line center to play behind your otherworldly center
Two more very good top-six players to play in the middle six
An elite two-way No. 1 defenseman 
Another No. 1 caliber defenseman to play behind your first one
Another top-pair defenseman to put with one of the other top-pairing guys
Another high-end defenseman who can be effective on the third pair
A goalie who is among the best in the league or at least among the top 10
These are more or less all the requirements for building a Stanley Cup champion. You do not need to have all of these pieces in place but the more you do have, the better. 
This is a breakdown of what the Wild have at the moment.
Forwards
Elite Center - ???
Top-Line Center - Joel Eriksson Ek
Elite Winger - Kirill Kaprizov 
Top-Line Winger - Matt Boldy
Top-Line Winger - ???
Top-Six Forward - Mats Zuccarello
Top-Six Forward - Marcus Johansson
Defensemen
Elite Defenseman -  ???
No. 1 Defenseman - Jared Spurgeon
Top-Pair Defenseman - Jonas Brodin
Top-Pair Defenseman - ???
Goalies
Elite Goalie - Filip Gustavsson
After re-signing Johansson, they can plug him in as a second top-six forward. Eriksson Ek fills the role of top-line center to play behind the TBA elite center. Kaprizov is the superstar winger, and Boldy is the top-line winger. Zuccarello can still play up to that level as long as he is with Kaprizov. We saw Father Time catch up to him a little bit at the tail end of this past season, so we can see this potentially becoming an issue. 
Spurgeon is a damn good blueliner. But is he among the best in the NHL entering his age-34 season? Probably not. Brodin can play on any team's top pair, and he's among the best in the show at shutting down opposing threats. Brodin would have no problem cracking any team's top four, and his smooth style of play should translate as he gets older. Those two pillars can be penciled in for at least the next couple of years. 
Assuming the Wild can re-sign him to a reasonable dollar amount, Gustavsson will be the starting goaltender next season. Marc-Andre Fleury spoke about how he wants to come back to Minnesota, even if he's in the backup role. For the time being, as long as Gustavsson's play wasn't a fluke this year, I'd consider him to be a top-of-the-line goaltender. Look at the stats and the charts, all of it. Filip Gustavsson was an elite puck-stopper for the Minnesota Wild this past year. 
So the Wild are still missing: 
Elite Center 
Top-Line Winger 
Elite Defenseman 
Top-Pair Defenseman 
Shocker, the Wild need a top-line center. Yes. We've heard it all before. That's not a new problem. Elite complete two-way defensemen are hard to come by, this will be a hurdle Minnesota must overcome. As for the top-line winger, top-pair defenseman and maybe even, *gasp* the elite center, the Wild are in luck. They have solutions to many of these problems. 
Marco Rossi is Minnesota's center prospect. He could play a role in the top-6 and thrive if they give him the opportunity. Put him alongside Kaprizov and watch the sparks fly. He may not be a point-per-game player right away like Boldy and Kaprizov were. But he still could get there with patience. 
The Wild have a plethora of intriguing options to fill in at the top-line winger spot. Adam Beckman, Sammy Walker, Liam Ohgren, and Danila Yurov. Pick your favorite. Not all of these guys will hit their full potential and make an impact in the NHL. But if they get legitimate shots to develop in North America, each has skills that could fulfill that top-line winger slot. 
Beckman had a great year with the Iowa Wild and looks poised to take the next step given the right opportunity. Walker is going to showcase his talents for Team USA at the IIHF World Championships and was one of Iowa's most productive forwards. He didn't look out of place in the few NHL games he played, either. 
Ohgren absolutely lit up Allsvenskan, having a monster postseason (13 points in 17 games) and playing on his team's top line. Ohgren's postseason point totals were among the best in the league. Yurov was dominant against lesser competition in Russia. When he got on the ice for his KHL team, he was highly effective. However, Yurov rarely got to play because of the KHL's pressure on young NHL prospects to not leave Russia. 
While I don't think that Brock Faber will be a truly elite defenseman, he's legit. He showed how good he was in his limited sample size with the Wild in the playoffs. He was arguably the best defenseman they had out on the ice. Faber is slated to play a top-four role this upcoming season. Assuming the Spurgeon and Middelton pair stays intact, Faber and Brodin would form one of the gnarliest shutdown pairs in the league.
So the only thing that the Wild lack and have no true plan for is the Elite, the best of the best defenseman. While prospects like Carson Lambos, Dameon Hunt, and David Spacek are all promising, it's unlikely any of them blossom into an elite defenseman. Calen Addison is too one-dimensional to really thrive in the role of an anchoring defenseman. Addison is good at what he does and should be playing for Minnesota, but he's not the one to check that box. 
The Wild may have to be aggressive and try to acquire their top defenseman from another organization. If they don't get lucky and hit a home run in the draft, their only hope is the trade or free agent route. 
Teams like the Colorado Avalanche, Ottawa Senators, and Vegas Golden Knights all went after their guys through trades or free agency. Colorado was aggressive and made a move for Devon Toews. That worked out swimmingly. Ottawa swung a trade for Jakob Chychrun, and he could be a pillar of their defense for many years. Vegas went out and signed Alex Pietrangelo to help lead their defensive effort. Their aggressive moves have helped their respective teams bolster their defense and put another piece in the Stanley Cup puzzle. 
Just one catch, though. There are not a lot of game-changing defensemen available in free agency this year, and Minnesota would not have the money even if there were. The cap-strapped Wild also have minimal options on the trade market because the most impact top defenseman costs a pretty penny. 
The Wild are in an okay spot. There are teams that have a lot less than they do. But with so many prospects, anything can happen. Just be patient with this team. They may lose some of the guys they have filling out the list now but no worries, the in-house options are there to try and check the boxes off for the Wild. 
All stats and data via Natural Stat Trick and HockeyDB.
2