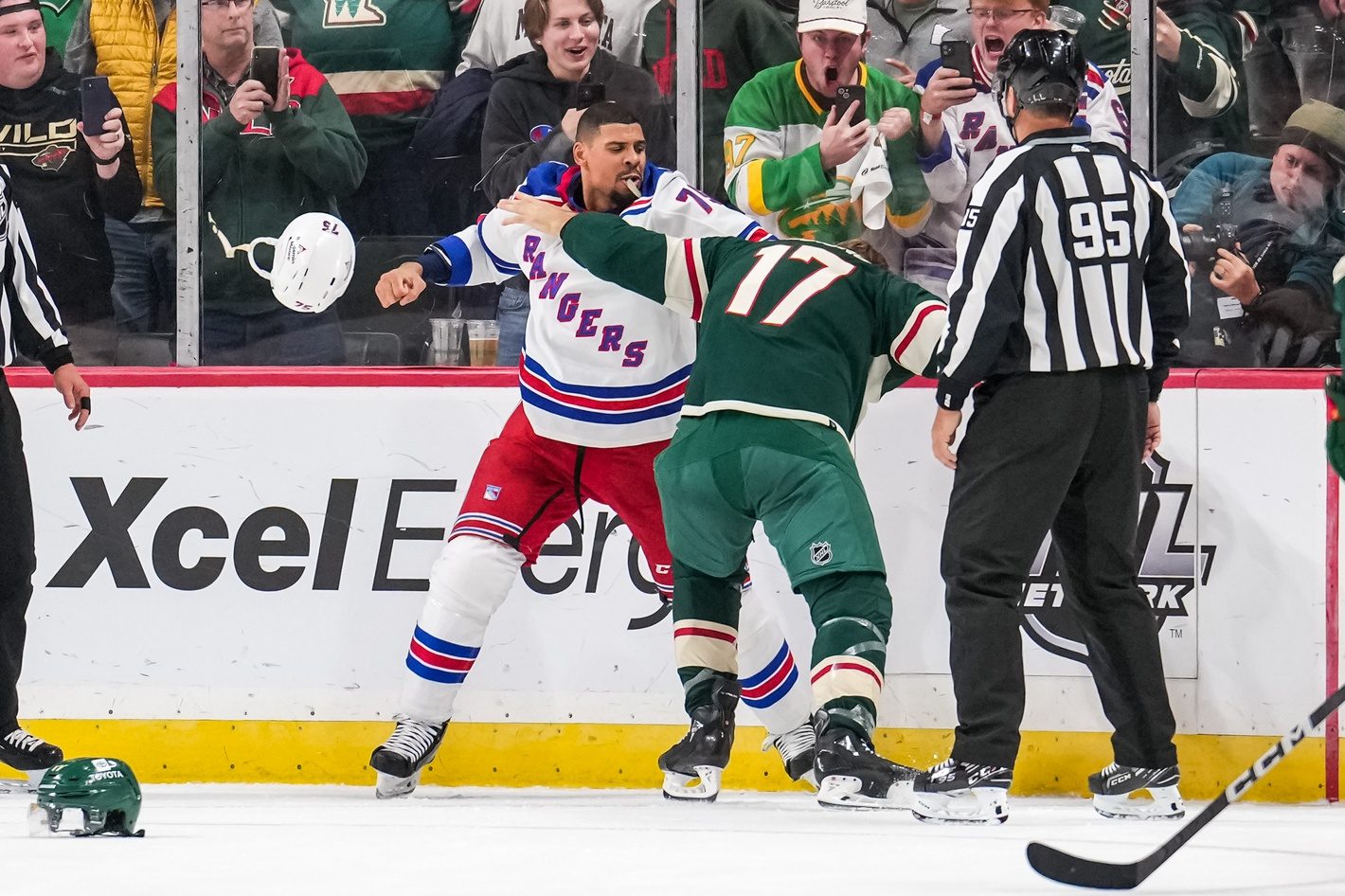 At its core, hockey is about two things: putting the puck in the net and keeping it out of your own. The Minnesota Wild aren't particularly good at either this season. So far, their scoring rate is 2.62 goals per hour in all situations, 28th in the league. Their 2.89 goals surrendered per hour is 12th in the NHL. Still, they're underwater in the big picture.
Ryan Reaves isn't helping with that.
The night before Thanksgiving, Bill Guerin laid the foundation for many a Turkey Day debate session with your old-school uncle, trading a fifth-round pick in 2025 to the New York Rangers for Reaves. If you've been banging the table for a fighter in the State of Hockey, you've got one.
Well, kind of. You see, Reaves has only dropped the gloves twice this year for the New York Rangers. Furthermore, since the start of the 2018-19 season, Reaves has fought just three times every year. It's not from a lack of willingness. Well, it is, just from his opponents. Reaves' reputation as the NHL's premier heavyweight means most reasonable players want nothing to do with him. If you can make Marcus Foligno's face go like this:
It's easy to understand why even dedicated pugilists would stay away.
Will that help the Wild, whose critics often cite their lack of size as something holding their team back? Just listen to the folks in the locker room. We're already hearing from the Wild organization how much of a lift he'll be.
Foligno takes a lot of the enforcing duties to go with his many responsibilities and certainly approves. "These are really tough games now, and you rely on a guy like that to help with that and manage a game," he said. "You're going to see some guys play a little bit bigger because of having him out there."
Guerin has watched this team flounder for a month and is tasked with getting them back on track. "He brings a physical nature to the game," Guerin said, "leadership, sticks up for his teammates."
Evason has seen physical players like Foligno, Jordan Greenway, Brandon Duhaime, and Ryan Hartman all miss time. "He's going to provide us with size and bite," said Minnesota's coach. "We're excited. Certainly a guy that we've identified now that's a pain in the butt to play against. He'll now be a Minnesota Wild pain in the butt."
Wait a sec, that's wrong. Those quotes are what the Wild said when they traded for Nic Deslauriers last season. Rest assured, though, you can copy and paste them into what's being said today, and there's probably not going to be a big difference.
And unfortunately for Minnesota, there's not going to be much of a difference between what Reaves will bring and what Deslauriers brought last season. Because the Wild tried this exact playbook last season, trading a third-round pick to rent Deslauriers for a playoff run.
It's impossible to say whether or not players like Reaves and Deslauriers bring an intangible quality to the ice that can give a team a slight, extra edge. It is very possible to look at what Deslauriers did for the Wild last year and say, yikes.
We can not measure whether Deslauriers made Kirill Kaprizov and Co. feel an inch or two taller on the ice. But we can measure whether it translated into playoff success. It didn't. Deslauriers couldn't impose his will physically on the St. Louis Blues forward group, and he certainly did nothing to wear down a depleted defense unit that, theoretically, could have been pounded into submission. Deslauriers' toughness did nothing for the Wild.
Harsh analysis from someone who never played the game? Maybe! But you don't have to take your cues from the media. You can tell how effective Evason thought Deslauriers was by how he used him in the playoffs.
Evason played Deslauriers just 8:12 per night in the playoffs, less than anyone but a struggling Duhaime. And in a do-or-die Game 6 that the Wild lost, Evason benched him altogether for Connor Dewar. The biggest game of a statement season, and Evason didn't see the value in having Deslauriers on the ice.
Maybe that won't happen this time with Reaves. We can't know that now. But we know of a playoff team that decided it was quite all right without Reaves' services as an enforcer.
If any coach is going to want to use Reaves, it's Gerard Gallant. Not only did Gallant coach him with the New York Rangers, but he brought Reaves over from the Vegas Golden Knights, where they went on a run to the Stanley Cup Final in 2017-18. This isn't a case where a new coach comes in, gets at odds with a player that's not "his guy," and sends him packing.
Yet, Gallant was A-OK with playing Reaves eight minutes a night before waiving him. The Rangers were perfectly fine letting Reaves go for a pittance. Why is a team like the Rangers, currently in a Wild Card spot in the Eastern Conference, willing to part with the league's premier heavyweight? It could be age-related, as he's turning 36 in January. It could also be that he grades out as one of the NHL's worst forwards.
[caption id=attachment_138882" align="alignnone" width="853]

Courtesy of Evolving Hockey[/caption]
Advanced stats might be unable to measure the boost the threat of unleashing Reaves brings to a team. They do a pretty good job at measuring all the other parts of his game, though. Since the start of the 2021-22 seasons, Evolving Hockey's Goals Above Replacement model has Reaves costing his team 2.6 points in the standings. The only forwards to provide more negative value to their teams are Arizona's Christian Fischer and... Deslauriers.
That's hardly a small sample, too. Reaves hasn't delivered positive value for his team since the 2018-19 season. Since then, Reaves rates as the second-worst forward in hockey, behind Jay Beagle. He doesn't rate well offensively or defensively, and he's one of the league's most frequent minor penalty-takers (that is, not for fighting). If Reaves helps in a small area of the game, does it outweigh the three more significant areas where he hurts his teams? How could it possibly be the case?
Moreover, how could Guerin decide, for the second year in a row, that trading for one of the NHL's worst players is a good idea? You can forgive a young general manager for falling for the toughness angle once. But Guerin should've learned from it with Deslauriers. Spending an asset, even a small asset, on a player who cost them 1.6 standings points last season before disappearing in the playoffs is a pretty good example of why trading for Reaves is a bad idea.
And if the last time trading for an enforcer wasn't enough to get the lesson across, what about the last time Guerin's front office traded for Reaves? What did the Pittsburgh Penguins brass have to say about it at the time? GM Jim Rutherford, who traded a first-round pick for him, said: "When you want to get the guy that's the best at doing what he does, then you have to pay a price." Coach Mike Sullivan: "Ryan is a guy that, when he's in your lineup, people take notice. One of the tactics that teams deploy against us is they try to be physical. I think Ryan can help us in that regard."
Reaves lasted 58 games with the Penguins before Rutherford traded him to Vegas mid-season. They got a fourth-round pick in exchange. Guerin served as assistant GM during this ordeal. He's seen this exact scenario play out twice, once with the team he's managing now, and a second with the very same player he saw fizzle in Pittsburgh. We may not be able to see exactly how this move will play out in the future, but we can see the past. We know that Guerin got a front-row seat to the heap of history suggesting today's trade was ill-advised. It's fair to ask: Why hasn't he learned from it?