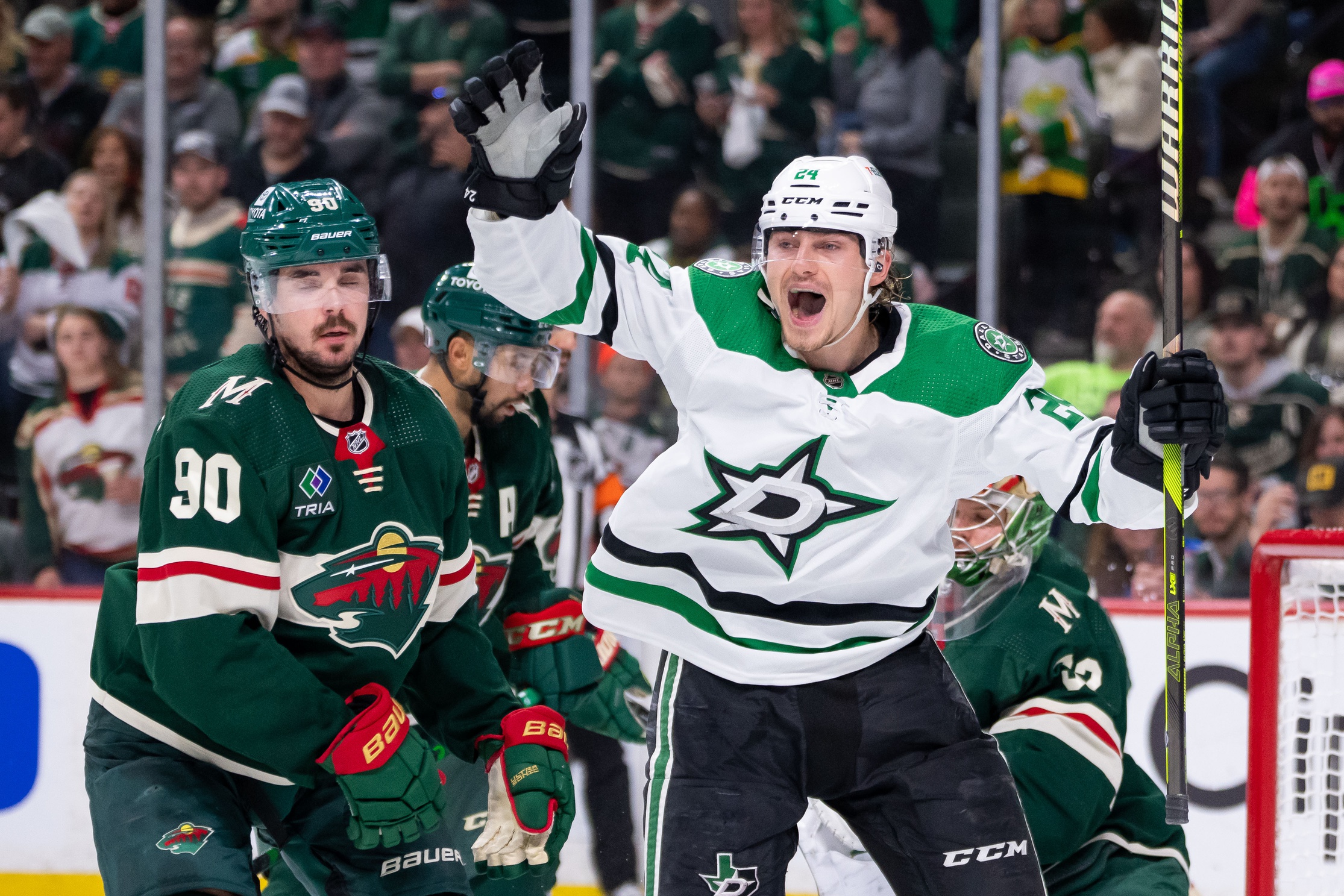 Image courtesy of Brad Rempel-USA Today Sports
If you thought the Xcel Energy Center crowd couldn't loathe anyone as much as they despised Ryan Suter, NHL officials wanted to challenge that on Sunday night.
After watching two calls go against Marcus Foligno in crucial spots in the 3-2 loss to the Dallas Stars in Game 4, the crowd's "Ref! You suck!" chants were raucous and unrelenting.
It turns out Foligno didn't much like the offending calls, either.
"Bullshit," he told the media after the game. "It's a joke. It doesn't make any sense. I got to hit a guy, he touches the puck. It's not interference. I get high-sticked in the face. It's not a tripping call when you hit a guy clean on."
Were these penalties outside the bounds of the rulebook? You decide.
Just kidding. If you're reading this, we have a pretty good idea you hated them, too. Now, as writers for Hockey Wilderness, we can't promise you we aren't susceptible to bias on this kind of issue. But we can try to be as objective as humanly possible here, and our verdict is as follows:
Come on! Look at this for like two freaking seconds!
Maybe the penalties aren't the story of the night if they didn't come at the worst possible times for Minnesota. Tyler Seguin potted his first goal of the night after Foligno's alleged interference call, breaking a scoreless tie in the second period. The tripping call came with Minnesota down 2-1 with 4:39 remaining in the game. That's prime Let them play territory, especially when there's arguably a potential offsetting call.
Instead, Dallas got another power play, where Seguin cashed in again. Minnesota got a makeup call, but it was too little, too late. Minnesota didn't have enough time to get the tying goal, and that was that.
Those penalties are going to be the lasting memory of this game for Wild fans, and who knows, maybe the wider media landscape as well. But should they be?
At first glance, probably not. Neither penalty the referees called on Foligno affected the raw odds that Minnesota would win by very much. Both Evolving Hockey and Moneypuck track win probability in real-time, using data that goes back to 2007-08 to determine what events move the needle from wins to losses.
What did Foligno's penalties mean for Minnesota's chances of winning the game?
They weren't insignificant, but the penalties weren't game-changing in themselves. Foligno's penalty in a scoreless game affected Minnesota's chances of winning only by about 3.5%, according to both sites. But the sites differ on the one after that. Evolving Hockey puts the odds of the Wild winning going down from 8.8% down to 7.6%. That difference is pretty negligible. Moneypuck puts it at about 3.5%, which is definitely bigger, seeing as Minnesota was only at about 11% odds to win before that.
So, at worst, we're talking about swinging thing Dallas' way by about 7%? It's definitely not nothing, but we're also not talking about gift-wrapping the Stars a victory, either.
That doesn't quite put an end to our calculations, though. Putting some thought into it, it's got to be the second of Foligno's penalties that was most devastating to Minnesota. Yes, Seguin converting on the first one put the Wild in a 1-0 hole, but they also had nearly 25 minutes to get that goal back.
On the other hand, the penalty with 4:39 remaining didn't just give the Stars a prime chance to widen the scoring gap. At best, it also would've all but eliminated 43% of the remaining time for Minnesota to even things up by having them play a man down for two minutes. Giving Dallas the chance to run out the clock for two minutes even if they didn't score is arguably more valuable than the opportunity to score.
Because if not for that penalty, Minnesota may have had another minute to play with a 6-on-5 advantage. They'd already scored one goal with an empty net (admittedly, against four defenders, not five), so that extra minute of 6-on-5 hockey might have made a difference.
We can go down this rabbit hole all day and game theory it out. Those calls definitely mattered, and it might have mattered a great deal more than the raw odds show. Even so, focusing on the referees in this spot is missing a much larger problem for Minnesota.
You see,  Foligno going to the penalty box accounted for just two of the three penalties the Wild committed all day.
Minnesota played a disciplined game, even if Foligno's penalties were both completely legitimate. If someone came up to Dean Evason and the Wild and offer to guarantee them only three times on the penalty kill that night, would they take it?
Maybe? Minnesota had 30 games where they took two or fewer penalties, so maybe they'd want to roll the dice and hope for a game without many calls. But they were also the fifth-most penalized team in the league, with 28 games of four or more times on the penalty kill. Taking that middle road instead of risking putting the Stars lethal power play on the ice four, five, six, or even seven times might be worth it.
Regardless of what they'd decide, though, Minnesota's penalty kill was only asked to stifle the Stars for six minutes. A tough task, perhaps, because Dallas averaged a goal about every six minutes of power play time for the regular season. Still, the Wild penalty kill group was 11th in goals allowed per hour, only allowing a goal about every nine minutes. 
Instead, the penalty kill sank Minnesota's chances, as they've threatened to do all series. Yes, a power play headlined by Jason Robertson, Roope Hintz, Miro Heiskanen, and Tyler Seguin are going to get theirs. That probably can't be helped, to some extent. But the way they've eaten the Wild alive is unacceptable. 
Their 2-for-3 night on the power play brings their total up to seven goals on 16 opportunities  — a 43.8% conversion rate. Is that an unsustainable small sample size? You bet. But it doesn't need to be sustainable. It just needs to last long enough to eliminate the Wild, which Dallas is now halfway to doing. And if Minnesota is going to continue to allow them to be this effective on the man advantage, the referees are almost irrelevant. At this rate, if they're making two penalty calls against Minnesota, the Stars are liable to get a goal.
What makes matters worse is that the Wild didn't put themselves in a position to offset it, either with their power play or a dominant 5-on-5 effort. Their power play might get some undeserved kudos for going 1-for-4, but they couldn't punch it in when the game truly hung in the balance.
As for 5-on-5 play, the Stars did enough to draw even with the even-strength opportunities to avoid letting the Wild run away with things. Add that up with the high-danger chances they garnered on their few special teams opportunities, and Dallas had the upper hand for the entire game. Moneypuck's "Deserve To Win O'Meter" runs 1000 simulations based off the scoring chances each side generates, and through several refreshes, it pegs Dallas consistently as having a 61-64% chance of winning that game.

Who am I, or anyone else to deny the fans their anger at the referees? I won't do that to you. It's the playoffs, getting mad at the referees is as time-honored an NHL tradition as growing a beard or playing with one unbroken limb. You can make your "Ref! You suck!" chants. And it's hard not to agree on those calls against Foligno.
But if you're a Wild player, there's only one place to point the finger: themselves. The team can't control when the whistles blow, and they certainly can't ensure things are being called fairly, if such a thing is even truly possible. They can control their penalty killing. Foligno can control whether he can finish on a breakaway attempt. The power play can control whether they convert on their chances. And the team as a whole can control whether they play so well at 5-on-5 that a poor call or two can't swing the game.
Those calls were tough breaks, but if any Wild player focuses their energy dwelling on those more than focusing on how to improve their execution, that's as big of a gift to the Stars as any call a referee can make.