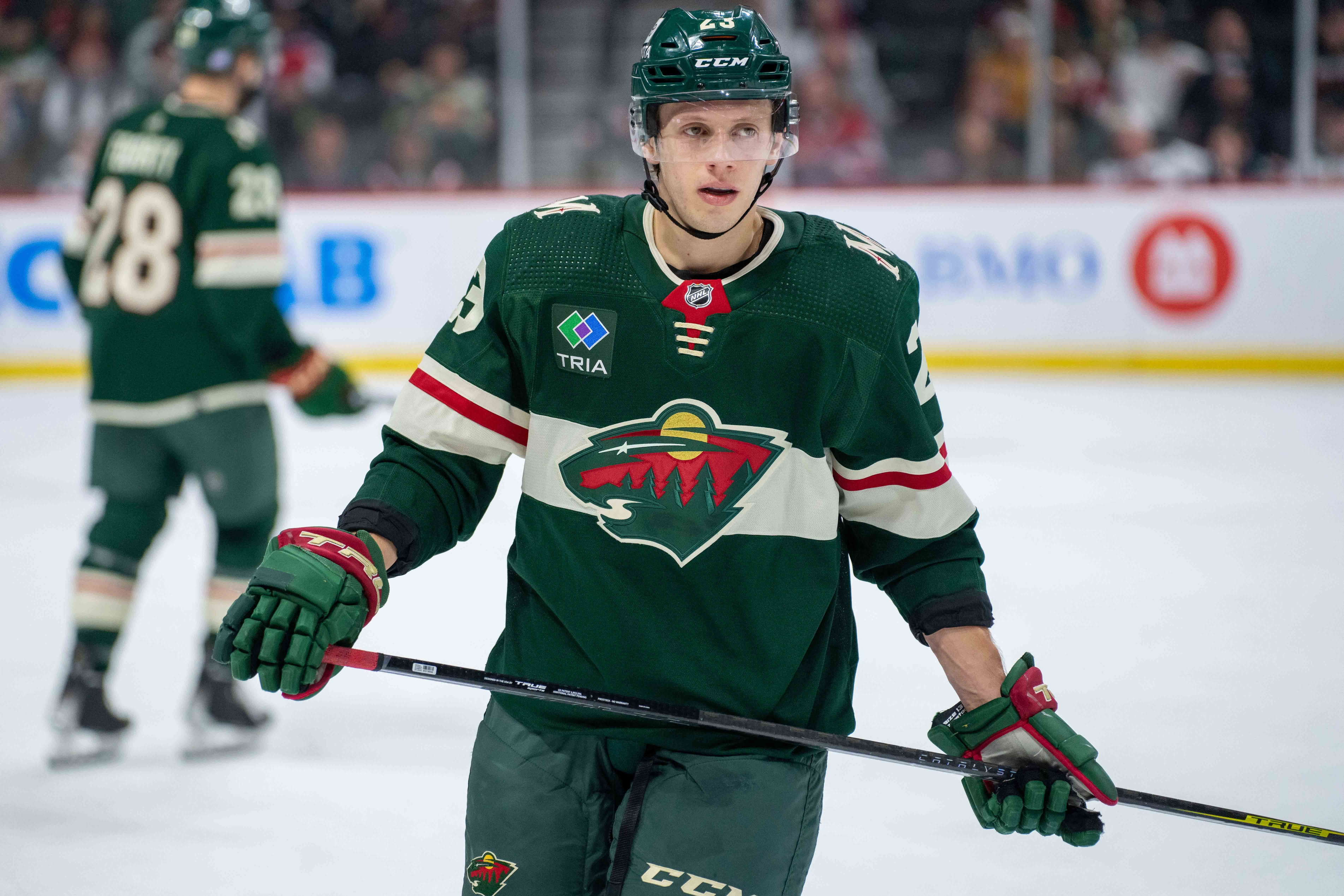 Image courtesy of © Matt Blewett - USA TODAY Sports
Minnesota Wild fans don't have to wait until training camp opens on Wednesday to figure out one of the biggest questions of the offseason. What will happen with Marco Rossi? is the unknown of the offseason, and one which their playoff hopes hinge upon. 
We got the start of that answer on Monday, when Dean Evason sat down with The Athletic's Michael Russo to discuss the state of the team entering camp. "He'll start with Marcus Foligno and Freddy Gaudreau," Evason announced, confirming that he'd begin the year outside of a top-six role. "We think that would be a very strong line."
It might read as a blow to those in the fanbase who'd like to see what the highly-touted center -- one EP Rinkside ranked as a Top-25 prospect last month -- get a true shot in the lineup. But while Evason's lineup at the start of training camp remained largely intact through opening night, Evason is gesturing towards flexibility. In response to a question about moving Rossi up, he told Russo, "Maybe there's a position where Rossi, [Marcus Johansson, and Matt Boldy] play together [on the second line]. ... There's certainly some areas for us to tinker with."
That was the first real hint that the Wild's well-documented reluctance to elevate Rossi into a position to succeed may be coming to an end. Even as such, he's starting the year once again with the task of having to prove he can score points on a lower line before moving to the top-six role Minnesota drafted him to fill.
It should be noted that Minnesota's lack of cap space made it impossible for the Wild's center situation to get any better. Arguably, it got worse. Joel Eriksson Ek and Ryan Hartman remain, but Sam Steel moved on in free agency. Steel had filled the role for two months while Hartman was demoted, then injured. On paper, it makes little sense that Hartman would get priority in that kind of rule over Rossi. One is a 29-year-old pending free agent, and the other is a top-10 pick who represents a large chunk of the franchise's long-term hopes.
Again, the path to a top-six role appears more open this year, and it isn't unusual to see teams break in their prospects on lower lines. They technically did that with Boldy as a rookie on a line that included Gaudreau. So is this a big deal?
Arguably, yes, because Rossi doesn't need to break into the NHL. He did that with Minnesota last year. Rossi played 19 games and held his own except for one problem: He couldn't score. It was a problem that the Wild created because they didn't put in the best position to score. He spent most of his minutes on the third- and fourth-lines.
Rossi is probably in a better position to succeed than last year. If Gaudreau and Foligno are healthy, they'll provide their usual steady two-way play to go with Rossi's. That didn't bear out in limited minutes last year. But after an offseason where Rossi has reportedly put on 15 pounds of muscle, it could well be the making of strong third line.
But is he in the best position to score, which is the thing the Wild want for him to earn his way into a higher role? It's hard to make that case.
Gaudreau and Foligno are both fan favorites who stepped into productive seasons in their late 20s that few saw coming from them. Foligno had a career-high 23 goals and 42 points in 2021-22, a year Gaudreau set a personal best with 44 points, then followed up with a career-high 19 goals last year. Both players make their teammates better defensively.
How much better they make their teammates offensively is a murkier question. Foligno is aggressive on the forecheck and will bang home rebounds, which theoretically helps Rossi's assist totals. But even in a year where Gaudreau scored a career-high in goals, he didn't help anyone push the pace at 5-on-5 last season. Foligno and Gaudreau rarely shoot. Foligno fired only 5.1 shots per hour at 5-on-5 and Gaudreau only 6.4 times per hour over the past two seasons. That definitely isn't good for the assist totals.
The idea might be that Rossi would have no choice but to take over offensively with those two linemates, and maybe that will work. But that sounds like a recipe for a slow start, which Rossi spoke of at length as being a drain on his confidence last year. That strategy also didn't work for Boldy last season. He was mired in a deep slump before getting top-six help in Eriksson Ek and Johansson late in the season.
Seeing Foligno and Gaudreau at their best in the recent past might assuage concerns, but the red flags are still there. If we as a fan base take away our attachment to "Moose" and "Freddy Hockey," would we be as confident in the success of this line? Imagine instead the Wild traded Foligno and Gaudreau to a time machine and got back a 30-year-old Eric Fehr and a 31-year-old Paul Byron. Chances are, fans would be much more nervous heading into the season.
Why those two names? They're the most similar skaters to Foligno and Gaudreau, respectively, per Evolving-Hockey's Skater Similarity tool. Contrast that to Boldy's "third line," which boasted an 80-point scorer in Kevin Fiala. Boldy was lower in the lineup, but in a great position to score, and he did. And again, in the first half last year, when his linemates resembled more typical third-liners, he struggled.
The hope is that Evason gives Rossi opportunities to skate higher in the lineup in the preseason. If so, Rossi needs to grab onto that chance and not let go, because the alternative puts him at much greater risk of an underwhelming season. Luckily, Rossi seems to understand the stakes. He spent this summer in Minnesota working out with the team and getting stronger. It appears he's done everything he can to make sure he seizes the moment. If that kind of determination translates to his play on the ice, all he needs is that moment to present itself.
2

1