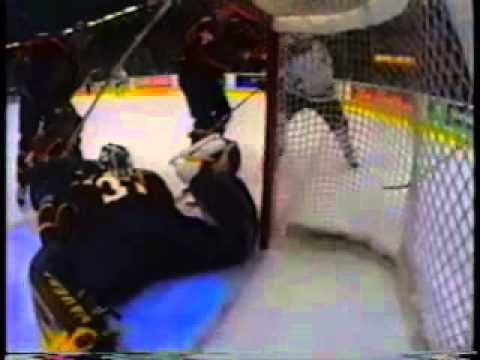 See The Top NHL Goalies Masks 100-91
90. Pasi Nurminen, Atlanta Thrashers
http://www.goaliesarchive.com/files/masks/masks/nurminen.jpg
If you didn't watch the Batman animated series growing up, you very much missed out. Perhaps one of the best all around representations of Batman to date, the animated series was a staple for us Children of the 90's, and Pasi Nurminen paid tribute to that with this mask. He also had the cartoon dark night on a mask before his time in the NHL, rounding out the theme for him. Is the rest of the mask really all that cool or fun? No, not really. But it's Batman!
89. John Garrett, Hartford Whalers
http://www.thcvintagemask.com/sitebuilder/images/zgarrett-396x480.jpg
All of the things you love about the Hartford Whalers logo, in a goalie mask. While this is definitely simple, but definitely good-looking, it also calls to attention the natural advance that old eye-holed goalie masks had over their caged counterparts, and that's much more real estate, namely in the middle of the face. The drawback was obviously visibility, but hey, some things are worth the fashion. John Garrett also had some beautiful masks during his time with the Canucks and, another long-lost great logo, the Nordiques.
88. Garth Snow, Vancouver Canucks
http://www.mainlineautographs.com/images/product_pics/PTDC0036_20120501330.gif
Garth Snow is known for one basic mask design throughout his entire career. During his stops with the Nordiques, the Flyers and Canucks, his masks were basically the exact same except the colors used and the logo on the chin. He featured a new Abominable Snow Man on his Penguins mask, and stuck with the Snow man theme but changed the design a few times during his time with Islanders. Though for the most part, the designs never really knocked my socks off, I found it very cool that he used his last name in such a way to create a monster persona that he took with him at every stop.
87. Guy Hebert, Mighty Ducks of Anaheim

Is Guy Hebert's mask the most vivid detailed helmet you'll ever see? No. Nor does it boast a truly innovative design or even something that hints at the personality of the longtime Ducks goaltender. But much like Marty Brodeur, it had staying power. Hebert's mask was iconic in the eyes of Mighty Ducks fans and hockey fans alike, and though its simplicity may bring yawns from some, it brings back nostalgia for others. So much so, that it's been emulated a few times by Ducks goaltenders since then.
86. John Gibson, Anaheim Ducks

Case in point, Ducks youngster John Gibson recently paid tribute to Hebert this past season by creating his own modernized version. Luckily for everyone, he kept the original logo (which the team still does use as a shoulder patch), and converted the color scheme. Now, as much as I love the idea and thought behind this mask, it was tough to pick, because Gibson has actually had a great run of David Gunnarsson painted masks.
85. Brian Boucher, Philadelphia Flyers
http://farm5.static.flickr.com/4011/4647532310_f7304eb0ce_o.jpg
I'm a sucker for anything even resembling World War Two fighter planes, so this was a great mask for Brian Boucher. Now, Flyers is a little ambiguous, but it's not at all a stretch to turn a goalie mask into an old school fighter plane, complete with rivets and bullet holes. There was actually two different versions of this mask design, and you can't lose either way, but I give this one props for making the plane out of the familiar orange and white.
84. Kari Lehtonen, Dallas Stars

I mean, come on. It's Chuck Norris.
83. Grant Fuhr, Edmonton Oilers
http://www.thehockeyfanatic.com/wp-content/uploads/2012/06/Grant-Fuhr-Goalie-Mask.jpg
Grant Fuhr is a legend of the game, and has had some solid masks along the way. This mask from the latter-day dominant 80's Oilers is very cool in its simplicity, but also very cool in that it's a direct translation from his previous mask with the team, which was of the old eye-holed variety. Fuhr was one a few goalies that seamlessly made that transition. Fuhr proved that switching to a caged mask didn't mean that you couldn't still look good, and in fact, the oil drop on the chin of the mask was new compared to the original, and which I think makes it an improvement.
82. Wayne Stephenson, Philadelphia Flyers
http://3.bp.blogspot.com/_ClRyWvwVy_M/THl1kFQ_VwI/AAAAAAAABSQ/4CT0ibsGLtA/s1600/Wayne+Stephenson+(SI).jpg
Innovation is the name of the game with goaltending, and when making a good mask, you definitely get brownie points for that as well. Wayne Stephenson's Flyers mask hit the mark there, as he took the iconic and simple Flyers logo and turned it into two eye holes for his mask, then finished off the rest of it with glossy Flyers orange. While the old school masks like this may have lacked in pizzazz, they made up for it in innovation and simple beauty, and I for one appreciate it.
81. Petr Mrazek, Detroit Red Wings

More often than not, overly gimmicky masks look stupid, like anything else gimmicky. But, sometimes, they hit just the right note on their gimmick and make for a fun and interesting mask that people can chuckle at rather than cringe. Apparently, it's become holiday tradition for Petr Mrazek and Jimmy Howard of the Red Wings to don Christmas masks around the holiday season, and this was the best of the bunch, with some that were jolly and some that were... well, they were. The fun detail of a fully decked out and gift stuffed Christmas tree is a bunch of fun, and again, though I typically despise portraits, Buddy the Elf is always a winner in my book.
See The Top 100 NHL Goalie Masks 80-71
---
Never Miss an Episode of Giles & The Goalie!