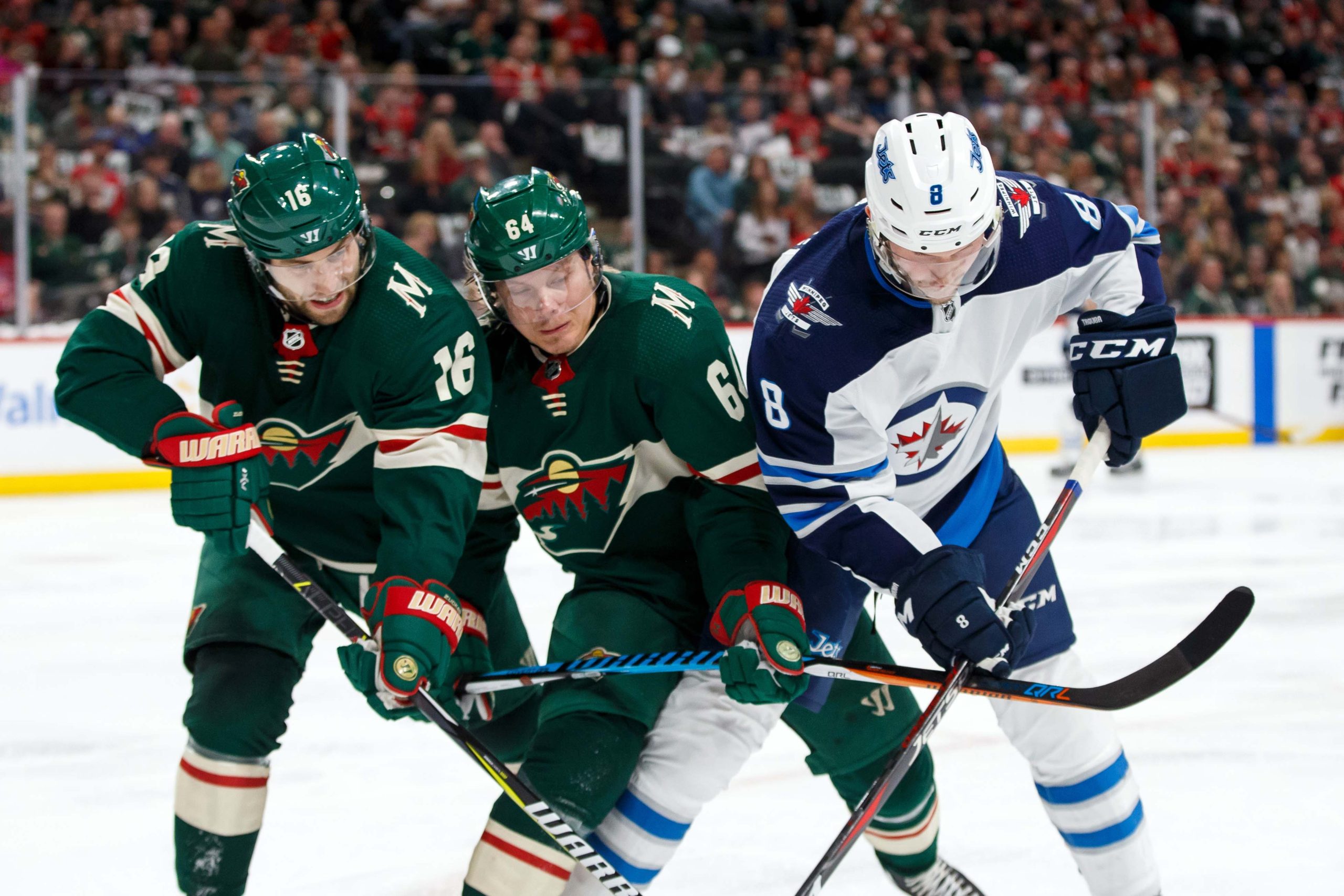 Hey folks! Even though the season is over, the mailbags aren't!
With Chuck Fletcher's ouster from the Minnesota Wild, there are more questions than ever, and that was the theme of this month's mailbag, as my friends from Hockey Wilderness bombarded me on facebook.
Fred O'Neill -- Favorite WW2 naval fighter?
This is a great question, as one of my favorite things are the airplanes that made WW2 one of the most technologically advancing conflicts in history. I'm a big P-51 Mustang fan, but as far as Navy fighter planes go, I'd have to go with the Grumman F6F Hellcat.

Powered by the legendary Pratt & Whitney 'Double Wasp' Engine, the Hellcat proved to be one of the most successful fighters in the war overall, boasting a 19:1 kill-to-loss ratio, feasting on inferior technology and later in the war, less experienced Japanese pilots.
Pete Leisen With the Wild having parted ways with GMCF, what is the biggest move the next GM can make to give the Wild a fighting a chance at being a true Stanley Cup contender?
The biggest move would be a blockbuster-type trade that would move several of the Wild's 'post-hype prospect' type players like Coyle, Niederreiter, Granlund, Zucker, Brodin, Dumba, etc.
Everyone has earmarked Coyle to be on his way out, but I'm not as positive that it happens, at least as a 'big move' that changes the complexion of the Wild. Pushing the chips in on an older player might be the course of action, but I'm not necessarily sure that's going to work out well, either.
There's plenty of opportunities to snatch up players like a Jonathan Drouin last season, or a less-heralded Josh Ho-Sang this season, who are in need of a change of scenery and have the upside to make a difference.
Pete Leisen -- Favorite GMCF memory?
Ha. I think the Fletcher era will be looked on a little more fondly than what we're thinking now, with the stings of playoff exits and underperformance so fresh in our minds. Once the next GM comes in -- and likely doesn't win a Cup either -- it'll be tough for folks to really put the blame on Chuck Fletcher rather than just understand that the core of this team was never good enough to win anything anyway.
As far as memories go, my favorite memory will probably the loathsome hatred for him, actually. I've been disappointed by the Wild as much as anyone, but I've never really thought that Fletcher was entirely to blame, as I've seen from so many. Did he make mistakes?
Absolutely, and a better GM could have brought this team further. But better GMs don't grow on trees and worse GMs than Fletcher oversee plenty of the teams in the NHL. It was absolutely time for Chuck to go, but the grass isn't always greener.
Pete Leisen -- If you had a time machine and could go back and bring any former Wild or North Stars player to play on the 2018-19 Wild team, who would it be and why?
Man, that's a fun question. It'd be easy to say Mike Modano, but his best years were in that city south of here that stole our team name. So I'm going with Dino Ciccarelli.
He is one of the most prolific goal scorers in Minnesota professional hockey history, second only to Brian Bellows in goals scored while wearing a North Stars or Wild sweater. Dino was a beast, topping out at 55 goals in the 1981-82 season.
For a Wild team seemingly always lacking scoring punch, Dino would be the guy. While his Parise-sized frame and scoring numbers wouldn't translate as well to today's game as it did back then, one can dream.
Pete Leisen -- Current favorite WWE / NXT theme?
Just try listening to this and not feeling... glorious.
Pete Leisen -- Is the Nate Prosser hate warranted considering we know exactly what to expect out of someone like Prosser?
Yes and No. While we know exactly what Prosser is at this point, and it'd be silly to expect better from him, it doesn't mean we have to like it. I think people's expectations are the lynchpin.
If you expect Prosser to be anything more than a sixth or seventh defender-quality player, your hate for him is silly and unwarranted. If someone doesn't like Prosser because, well, he's not really that good, that's probably acceptable.
Pete Leisen -- Will the next GM use this upcoming season as a trial run to see if he/she wants to keep Bruce beyond his current contract?
This is an interesting question, because whispers of Bruce Boudreau being on the hot seat surfaced during the playoffs. Bruce's contract expires at the end of the 2019-20 season, and it'd be a little surprising to see him canned before that unless the team really comes off the rails.
The new GM will be tasked with giving Bruce a team that can win, rather than deciding if Bruce is good enough, because the consensus is that the roster has been more to blame with the last two playoff exits than the coaching.
As far as coaching beyond that contract, it's very fair to not assume that he'll coach beyond that. Bruce has said this is his last coaching stop. It very well could be his last coaching contract, if he decided he wants to retire at age 65, which really wouldn't be all that surprising. If he were to re-sign in Minnesota after 2020, it'd probably be because the team is really, really good, and on the cusp of him finally getting that Cup that has eluded him for so long.
But if the team isn't very good, both parties might be fairly content in parting ways and hopefully Bruce takes a job as Mike Millbury's replacement.
Pete Leisen -- Like some alluded to on Twitter, do you feel that the inmates are "running the asylum?"
Here's the thing with that notion: Wild players aren't prisoners.
Today's top athletes aren't indentured servants anymore, and they make more and hold more power than their coaches or GMs. I'm not as concerned with Ryan Suter talking to Craig Leipold on behalf of the team about Fletcher, because ultimately, I think the right decision was made. If I can voice those opinions publicly, sitting on my couch wearing pajama pants, why can't Suter, when he has much more invested in the long-term future of the Wild?
Now, I think there's a line to be crossed there, and yes, you don't want players calling their shots on everything, as we probably saw towards the end of the Mike Yeo era.
But I'm not worried about that with Boudreau as much, and I honestly don't think that Suter or any other player is going to be constantly meddling in the new GM's affairs, like we accuse LeBron James of doing, or something.
Tony Abbott -- What's a deal that's both fair to Eric Staal and serves the Wild's long-term interests?
This is a tough one. Staal is very much due for a raise, and will be eligible to get one this summer.
But it's not that easy. He's probably a $6-7 million AAV (average annual value) guy, but signing a 34 year-old forward to a contract like that, for almost any length of time, is a little bit of what got the Wild into this position in the first place.
Also tying into the 'big offseason move' question from earlier, Staal's name will likely pop up a few times this summer in trades talks, if the new GM decides that he won't be cracking out the checkbook for Staal.
I think if you're trying to be fair to Staal and the Wild, giving him a healthy pay raise but very much limiting the term on the contract is probably the way to go. If Staal wants to stay here to finish his career, asking for a front loaded two- or three-year deal around $5-6 million AAV might be semi-palatable, but still very, very risky for the Wild in Staal's age 35, 36 and 37 seasons.
In all honesty, there probably isn't a deal that works out well for both sides. Either Staal doesn't get as big of a raise he deserves, or the Wild saddle themselves with a contract that could hinder the team from re-signing some of their younger players down the road.
Tony Abbott -- What kind of bread makes the best toast?
I'm not a big toast guy, but after spending lots of time on the west coast, I've got to say that sourdough toast is pretty great, and should be more widely used around our neck of the woods.
I think we've moved beyond the tired white or wheat options in a time where everyone is seemingly some level of foodie. Getting served a regular piece of white bread beside our breakfast should probably be beneath any self-respecting establishment.
Joe Bouley -- Is Dmitry Sokolov truly lazy or is it just his draft year where he had an injury that reduced his conditioning that caused him to bloat out and that first impression is why people think he's lazy, or has he not moved past the cheeseburger stage of his youth?
Fun fact, Sokolov is actually a distant relative of Thomas Vanek.
I'm just kidding, but that's the rap he's gotten, and it's probably as unfair as Vanek's. Sokolov was top-tier draft talent until his conditioning was questioned leading up to the 2016 draft, falling to the Wild in the seventh round. Adjusting to new life in the United States can be tough for many, and talented Russian teenagers are no exception. While some have adjusted well, getting addicted to absurdly unhealthy American is something we can all relate to.
In the end, I think Sokolov will be fine. Is he going to win a Selke Award? Probably not, but his offensive upside is so high that it shouldn't matter. Sokolov scored 50 goals this year in the OHL, and that's no small feat, considering even Connor McDavid never did that. Sokolov could be a force in the AHL next year, and perhaps even provide an offensive spark to the Wild if things go well.
Joe Bouley -- French toast, waffles or pancakes?
I've certainly had versions of all three that have been utterly fantastic in my life. But at the end of the day, I'll go with pancakes.
French Toast can get a little egg-y at times, and waffles are fairly fickle in regards to their preparation and cook time, but pancakes seem to be more consistent with delivering consistency. In the end, all three at their core are ultimately just vehicles for maple syrup delivery, and pancakes are probably the best at that as well.

 

Joe Bouley -- Wild look to be picking around 22-24 in the draft in June. Do you think they pick C, Wing, D or G? Which is the right choice if drafting for need?

 

This is interesting, because you always want the team to go with the best player available, but drafting for need only really happens in football and basketball.

 

If they're drafting for need though, you can't really argue with them going for a high-scoring forward. No NHL team has ever been in a position where they have too much scoring, so that's an easy layup.

 

However, something to consider is that the Wild don't have a natural heir-apparent to Devan Dubnyk, and the prospects they currently have in net aren't sure things by any stretch. As unpopular as it may be of a pick, if the Wild come across a goaltender that really catches their eye, they may be smart to take him.

 

Joe Bouley -- Why do people want to dump Matt Dumba, a 24-year-old RFA, RHD that just scored 50 points?

 

Because they're dumb. Next question. 

 

Barry Campbell -- What package would it take for you to trade away the following players (please answer separately) 1. Granlund 2. Zucker 3. Nino 4. Dumba 5. Dubnyk 6. Brodin

 

This is quite the demand, Barry. But I'll oblige, since you're a nice guy.

Granlund might have the best return of the group. In my wacky trade article last week, I traded Mikael Granlund for Jesse Puljujarvi, which might seem like it's a little light on the return, but also consider that Puljujarvi is only 19 and was picked fourth overall just two summers ago. Is Granlund worth a top-five pick? Maybe not, but if we're measuring his value, anything beyond the middle point in the first round would have to be disappointing, although you'd hope the Wild could snag a good young player already in the NHL instead, given their window.

In said wacky trade piece, Zucker was dealt for Alex Tuch and Oscar Dansk, and I think that's actually fair. Tuch is a former first rounder himself, and hasn't disappointed. Ultimately, if Zucker's demands become too rich for the Wild this summer as a restricted free agent, we very well could see him dealt. I think his value is slightly lower than Granlund's, but not by much. Anything past the first round would be disappointing, given his production this season.

I'm not big on dealing Nino, being a big believer of his, but it's entirely possible, and helpful that Nino does not have any kind of no-trade clause in his contract. I think Nino's real value is probably less than his trade value, and that's another reason why I'm not for trading him, as you could reasonably only expect a low first or possibly even worse for him. Trading for a comparable player would be tough to get equal value as well. I would want an almost-Granlund level return to deal Nino.

Dumba- Erik Karlsson.

Dubnyk- This is an interesting question, because as I mentioned before there really isn't a logical replacement, and no, Alex Stalock is not logical. I would almost definitely need some kind of top goaltending prospect in return, like a Carter Hart or Ilya Samsonov level prospect, given the results we've seen from Dubnyk.

Brodin- Jonas Brodin is an interesting trade piece, because it seems like he was highly touted by NHL teams last summer, and likely led to the Wild behaving questionably as they did during the expansion draft process. That in mind, I would expect to get a fair amount in return for Brodin, despite his deadly offensive allergy. However, the Wild are a tad thin on defense, so I'd like to see them get another lefthanded defender in return for Brodin, which probably doesn't make a ton of sense, so I'm not sure hot on dealing Brodin. If they were to just dealing for pick value, it'd almost have to be a first-round-type pick, right? If not, it doesn't make much sense.

 
---
Never Miss an Episode of Giles & The Goalie!