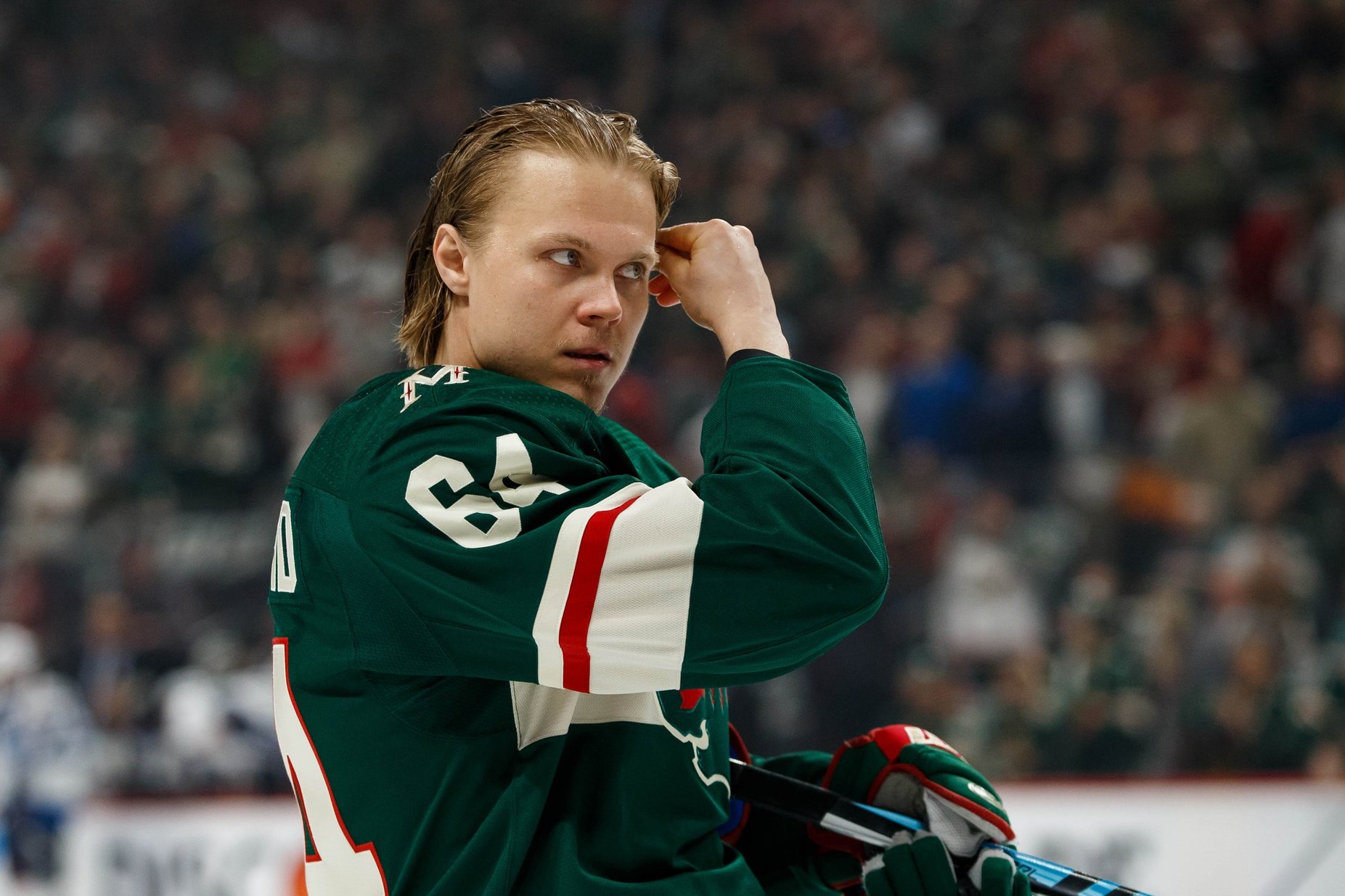 Speculation is fun. Lots of fun.
As we sit in the void that is the Minnesota Wild general manager vacancy, there are lots of things that can go through a Wild fan's head. Aside from the crippling fear that is the next hire, the changes are at least exciting enough to be distracting. Owner Craig Leipold said that major changes were not needed or wanted to make this team a cup contender, but what if they were? Lots of folks out there want to 'blow it up' and start anew.
So that's what I did.
Normally I hate articles like this, with speculations of 'Team A should trade Team B this for that because of this.' And that's exactly what this article is, except my attitude towards this is 100 percent going ballistic for entertainment purposes. Just kind of greasing the skids to get creative juices flowing among Wild fans. I talked on this week's Giles & The Goalie Podcast about how the new Wild GM is going to have to do something SO creative that it can't possibly be predicted. So that's the kind of stuff I had in mind.
The Wild have several trade chips that would be very interesting to other teams, and rightfully so. There are lots of players that had great seasons and would be an incredible addition to a team looking to win now, win again or win it all. So with taking advantage of that in mind, I went to every NHL fan's playground, capfriendly.com, and made a bunch of trades that might be ridiculous. Focusing on getting rid of most everything that wasn't bolted down, I re-tooled the Wild towards extreme youth.
Trade 1
Jason Zucker to the Vegas Golden Knights for Alex Tuch and Oscar Dansk
Before you tweet this at Carly Aplin, enraged, remember the spirit of the article. I have no ill will against Jason Zucker and would like to see the Wild re-sign the pending RFA this summer. But... if talks were to go a tad sour with the new GM, who didn't draft and develop Zucker, this deal intrigues me.
Dansk is an interesting piece, a former first-round pick who had a good showing before getting hurt as a part of Vegas' rotating injured-but-amazing goaltender carousel early in the season. He's still only 24 and could come in handy if some team were to trade Devan Dubnyk (wink). Tuch has had a great showing in his first season with Vegas, tallying 39 points as a rookie, and showcasing his size and skill on the upstart Golden Knights, the same Golden Knights who are currently chasing Lord Stanley's Cup after shocking the world with stone-cold proof that most NHL GMs are idiots.
Zucker is undoubtedly a great addition for the Knights, who likely won't win the cup but come teasingly close, and oh yeah, there's that whole thing where Zucker is the only NHLer actually from Las Vegas. Jackpot.
Trade 2
Charlie Coyle to the New York Islanders for Josh Ho-Sang
A few years back, Chuck Fletcher fleeced Garth Snow by taking on a malcontent former first-round pick for a human bowling ball, and that's gone pretty well. Fast forward a few years, and his replacement will probably be looking to do something with the disappointing Coyle, as Snow contemplates his options with yet another malcontent former first-round pick in 22-year-old Josh Ho-Sang.
While Ho-Sang makes Don Cherry and his types' blood boil, his talent is undeniable, and these kind of risky moves are the ones you have to make to convert a loser into a winner.  Also, Coyle is still well enough regarded around the league as a talented player to be enticing enough for Snow, and a change of scenery could be exactly what The Big Omelette needs. Snow doesn't have to lose every trade he makes.
Trade 3
Mikael Granlund to the Edmonton Oilers for Jesse Puljujarvi
Everything. That. Isn't. Bolted. Down. I really enjoy watching Granlund play (most of the time), but in the spirit of burning things down, Granny had to go somewhere. The Oilers would love to have a player like Granlund to compliment Connor McDavid. Quite frankly, Puljujarvi, even though he was a top-five pick who had a solid showing this season with 20 points in 65 games at age 19, might not even be enough value for him. Or perhaps vice-versa when considering Puljujarvi's talent. But this is Peter Chiarelli we're talking about here, and he may only ask for Marcus Foligno in return for Puljujarvi, who knows.
Trade 4
Eric Staal to the Montreal Canadians for Alex Galchenyuk
Choosing to burn it down makes not extending but rather trading Staal an easy decision, and even though he only has one year remaining on one of the best contracts in hockey, he'd be a very coveted piece for a short-sighted GM trying to win and/or save his job.
Hey! Look! It's Marc Bergevin!
Galchenyuk is a name that was thrown around all summer by Wild fans and is still interesting to me. The 24-year-old Milwaukee native had 51 points last season, and Montreal probably isn't all that enamored with him, given how much his name came up in trade rumors last summer. Also, they're not afraid of trading away good players, as history has shown.
http://i19.photobucket.com/albums/b154/spyboy1/TSG%20Blog/CheliosCanadiens.jpg

http://images.dailyhive.com/20160629135039/pk-subban-hospital-e1467237734111.jpg
Trade Five
Devan Dubnyk and Marcus Foligno to the Buffalo Sabres for Casey Mittelstadt
If I hadn't lost you before this, I probably did now. But this is fun! The Sabres are stuck in a perpetual rebuild, and nothing cures that like some solid goaltending. However, as the Dallas Stars will tell you, solid goaltending is very hard to find. So is getting Mittelstadt for Dubnyk and Buffalo fan favorite Foligno a stretch? Maybe, but maybe not. This team was expected to be competitive this season before Mittelstadt's arrival, and he hasn't been around long enough for anyone to really miss him anyway.
Dubnyk is a good enough goalie to carry this Jack Eichel-led team close to the playoffs, or at least out of the laughable end of the NHL spectrum, and they'll have another high draft pick this summer anyway. What's the harm in sending Mittelstadt back home where he belongs?
Those were fun, but you may have noticed I'm done and haven't really touched the defensive corps. Well, I didn't really feel the need to, for as much as Jonas Brodin's offense allergy can be frustrating, I'm not so hot for Nick Seeler that I want to see him being the next left-handed defender after Ryan 'And1 Mixtape Ankles' Suter. Dumba remains young and promising enough to justify keeping even during an extreme youth movement, no matter how much you irrationally hate him.
Also, I kept Parise, Suter and Koivu, because when I said 'everything that isn't bolted down,' that obviously doesn't include them, because they are very much bolted down. Nino Niederreiter was also spared from the fire sale, because I still feel like there's another level to him waiting to happen, and he's still only 25. And I like him, so there.
When the dust settles, and I've fired Tyler Ennis and his contract into the sun, the team looks something like this.

All of that youthful fun, and the Wild are still under the cap by a cool $15 million dollars, something unimaginable during the Chuck Fletcher regime. This team might struggle mightily at first, but you have to be intrigued by the pedigree of the young players acquired. Will any, even a shred of this happen? No, but that's not my point. The point is that the next Wild GM will have to think creatively, boldly and propose trades that no sane person should ever accept, especially to Snow, Bergevin and Chiarelli.
Buckle up, Wild fans, it could be a fun summer.
Never Miss an Episode of Giles & The Goalie!