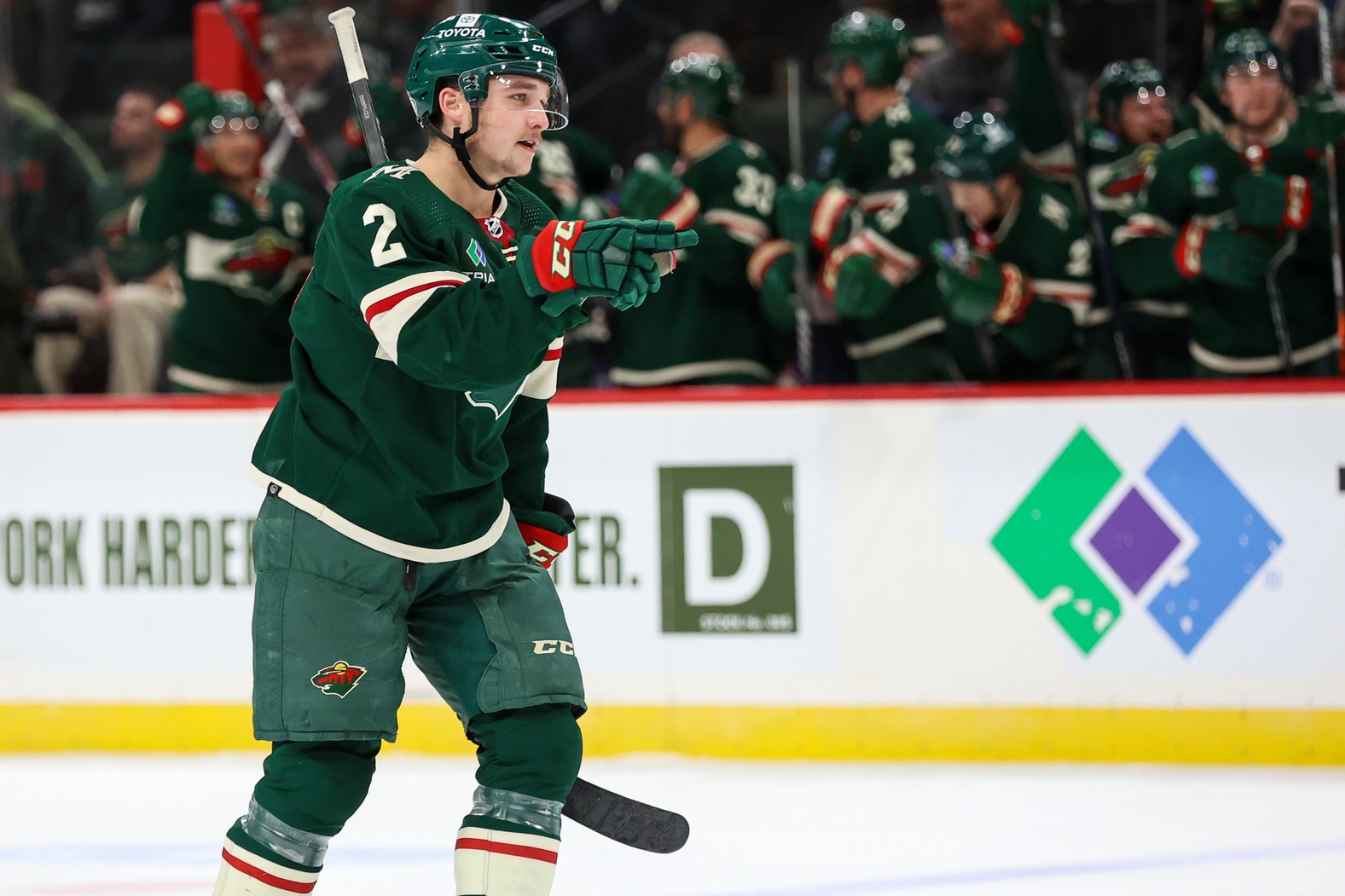 Image courtesy of © Matt Krohn - USA TODAY Sports
Calen Addison was born eight years after the movie "A Few Good Men" came out, but I'd like to believe he's seen the movie. Because who hasn't? (If you raised your hand reading that last sentence, drop everything now and go educate yourself on one of the greatest movies of the 90s.)
Let's hope the young defenseman has indeed seen it and perhaps even brought his best Colonel Nathan Jessup impersonation to his contract negotiations: "You WANT me on that power play! You NEED me on that power play!"
Now that Addison has signed his 1-year contract and resumed his spot quarterbacking Minnesota's No. 1 power-play unit, what other choice did they have? Wild fans spent much of the last half of the summer advocating for why Addison needed to be signed and why the power play needed him so badly. But when you stop and look at what their alternatives likely would have been, you start to see why Addison is so important to the Wild this season. Strangely enough, his ability to play big minutes on the man advantage is going to help Minnesota's ability to defend at even strength too.
Addison's early-season emergence last season helped in two ways. Minnesota's power play ranked in the top 10 in terms of success rate. And their captain, Jared Spurgeon, was able to spend more time impacting the game where he is best at – even strength.
In 2022-23, Spurgeon saw his ice time divided up in a way we haven't seen since his rookie season. It was the first time he did not reach 100 minutes of ice time on the power play since 2010-11. His usage dropped by nearly 100 minutes exactly from the previous season.
Removing the burden of quarterbacking the powerplay from Spurgeon's workload freed him up to spend those minutes elsewhere. Conversely, his even strength time-on-ice skyrocketed to nearly 1,300 minutes, the fourth-highest total of his illustrious career. And speaking of special teams impact, Spurgeon recorded the most minutes he has ever played in his career on the penalty kill as well, eclipsing the 200-minute mark.
In the simplest terms possible, doesn't it make the most sense for your best defender to spend as much time as possible in situations where his defensive acumen has the most impact? Makes sense to me.
And it makes sense when you also evaluate the Wild's blue line for this season. The Athletic's Harman Dayal just released his list of the NHL's blue lines from best to worst, utilizing a collection of data points, the eye test, and industry input. Minnesota's defensive core ranked 17th in the NHL – firmly planted in the middle of the pack [italics] tier. When was the last time there was this much uncertainty about Wild blue line?
At the same time the Wild landed Ryan Suter in free agency in 2012, their young core of Spurgeon, Jonas Brodin, and Matt Dumba was becoming impactful mainstays in the lineup. For nearly a decade, the Wild boasted an elite top-4 and occasionally the deepest collection of third-pair defensemen in the league. Having guys like Carson Soucy, Marco Scandella, Ian Cole, and Mike Reilly on your third pair makes for a formidable blue line.
But after buying out Suter and losing Dumba in free agency, the Wild's blue line has siphoned off half of its formidable top-4. One could argue there are more questions this year than at any point since the Suter signing. Sure, rookie Brock Faber looks to be an encouraging addition, but it's still too early to tell how the 21-year-old will hold up through a full 82 games in a Top-4 role. And their third pair has more questions than Lieutenant Daniel Kaffee during a cross-examination.
Will Addison improve at defending in his own zone? What's left in the tank of 38-year-old vet Alex Goligoski? And do we have any faith in Jon Merrill, who the team themselves decided wasn't good enough to crack the postseason lineup last April?
All this brings us back to the importance of Addison being in the lineup and quarterbacking the top power-play unit. While Addison may still have some uncertainty with his game in the defensive zone, his ability to elevate Minnesota's powerplay from average to top-10 shouldn't be ignored. If it's not going to be Addison in that spot, Spurgeon is the only logical replacement. And we just highlighted how much that takes away from his truly impactful strengths.
Because if the Wild's defensive core, on paper, seems thinner now than ever in Spurgeon's career, it's vitally important they don't minimize his usage at even strength. It's up to Dean Evason and the coaching staff to make sure they utilize Calen Addison as an everyday defenseman correctly.