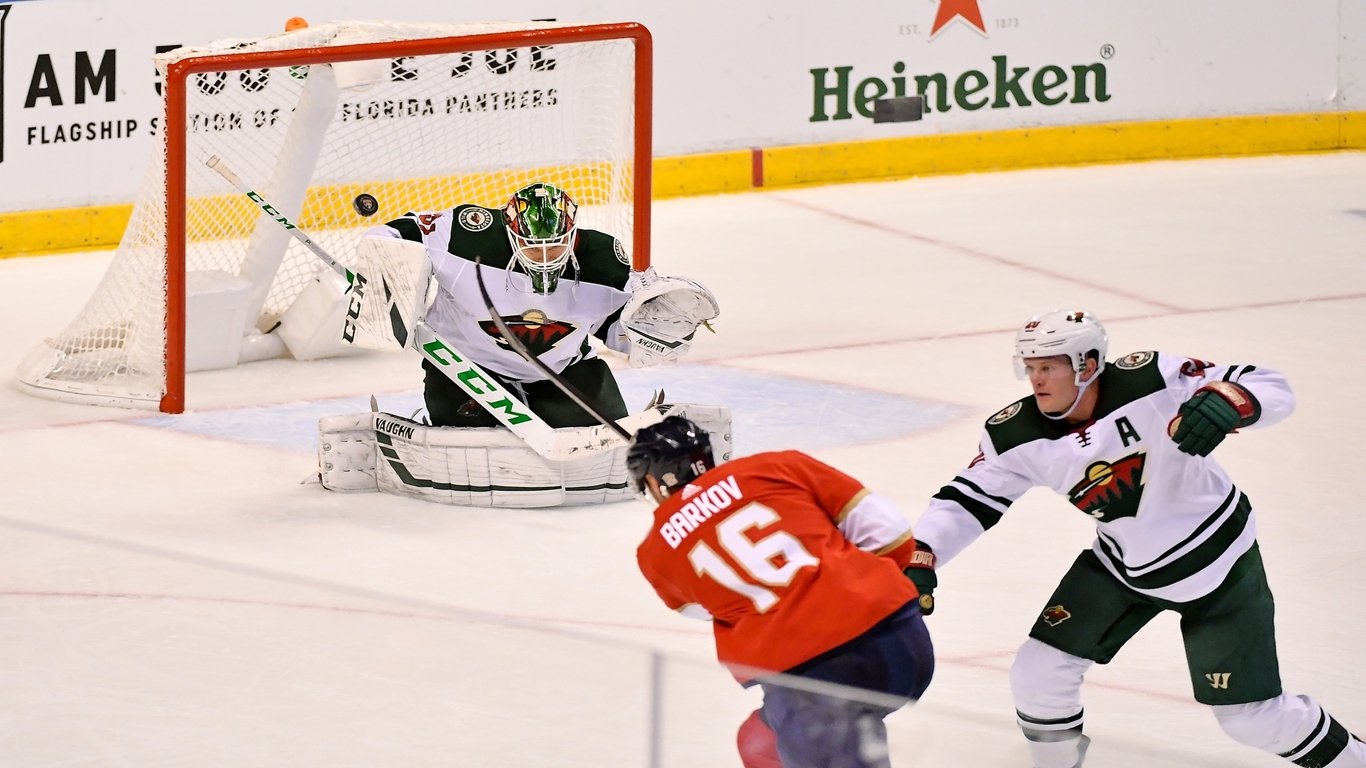 The start of the season wasn't great.
It wasn't great by any standards, let alone Minnesota Wild standards. Minnesota was in the cellar of the Central Division, the Western Conference and the entire league after 16 games. Goal scoring was hard to come by. Goaltending was even harder to come by. Defensive zone coverage was spotty at best.
It was the formula for a 5-10-1 start to the 2019-20 season.
Admittedly, the Wild aren't great even right now. However, they are showing the ability to win games on home ice, and their game has risen from a level of inept to competent. A team that was once in the worst in the league was only one point out of a playoff spot following Tuesday's game against Florida. It's been quite a turnaround.
What's tougher to pinpoint is how exactly the Wild have made this all happen.
Is it as simple as goaltending stabilizing? Are the Wild defending better? Is the team scoring more goals? The truth is that it's likely a healthy mix of goaltending, defense and offense.
Since Nov. 7, the Wild have found ways to secure 19 of a possible 24 points in the standings.
Why Nov. 7? That's the game against the San Jose Sharks in which the Wild were blitzed early and often, only to fight back and lose 6-5. Marcus Foligno was injured in that game. It precipitated Bruce Boudreau sticking with consistent lines, and the offensive rally seemed to put the Wild down a path of playing a better brand of hockey than what they had begun the season with.
the brutal start
Prior to that game, the Wild had the sixth-worst save percentage in all strengths with a brutal 88.32 percent mark. The team was also routinely on the wrong side of expected goals. PDO is a combination of 5-on-5 shooting and save percentage, and is used to measure "luck" as much as it can be measured. A PDO number close to 1.000 is considered average. The Wild through the first 16 games checked in at 0.987. It was buoyed -- if you want to call it that -- by an 8.66 shooting percentage.
[caption id=attachment_58700" align="aligncenter" width="527]

Dec 3, 2019; Sunrise, FL, USA; Minnesota Wild teammates celebrate the goal of center Mats Zuccarello (36) during the second period against the Florida Panthers at BB&T Center. Please Credit: Jasen Vinlove-USA TODAY Sports[/caption]
As for defensive zone coverage? Minnesota gave up nearly 55 shot attempts per 60 minutes -- 30 shots on goal per game -- yet remained in the top three of the league in expected goals per 60 minutes. Expected goals have become a metric alongside Corsi and Fenwick that attempt to predict goal probabilities based on the shooter, shot location and prior events, according to Evolving-Hockey. If we understand that xGA can be a proxy for how good or bad defenses are at limiting quality scoring chances. Minnesota was ranked among the best in the league -- third in the NHL -- in xGA per 60 minutes.
Even during this brutal start, the Wild were strongly defending their own zone.
Offensively, Minnesota scored 42 goals during that stretch. That number was 24th out of 31 teams. Expected Goals For per 60 suggests that they weren't nearly as effective at getting quality chances. In fact, they were ranked second to last, just behind the St. Louis Blues. Minnesota scored goals, but clearly not enough to rise above the goaltending issues. Two shutouts in that span certainly didn't help either.
slow redemption
Fast forward to the present. The Wild have a 10-game point streak and a four-game winning streak. That 79.2 point percentage is third-best in the NHL since Nov. 8. Boudreau stuck with his lines and got rewarded with strong play from Kevin Fiala and Zach Parise and has also found more consistent goaltending. Minnesota's save percentage has risen to 92.21 percent, which is seventh-best in the league -- an incredible turnaround. League-average goaltending is really all this team needs. That PDO mark to measure luck? That is 1.030, which reflects the rise in save percentage. The 5-on-5 shooting percentage was steady with a slight rise to 8.97.
It's amazing how the "luck" changes when the goaltending becomes competent once again.
Since Nov. 8, the Wild, defensively, have actually slipped. Shot attempts went up to almost 57 attempts per 60, and almost 33 shots per game. In xGA/60, they've slipped slightly to fifth in the NHL. On this run, the Wild have remained mostly the same, if not worse, yet have won more games and raked in the standings points.
What about the offense?
Surely the Wild have increased their offensive output. The Wild have scored 40 goals in 12 games, which is good for fifth in the league in that span. Expected Goals for rates have risen sharply as well, from 24th to 11th overall at 5-on-5.
The offense has improved significantly as players have been allowed to jell with consistent lines. More and more names are showing up on the scoresheet in games. Yet, based on the numbers shown here, the real reason why the Wild are a point shy of the playoff picture is clearly the performance of Alex Stalock, and a sprinkling of Devan Dubnyk and Kaapo Kahkonen. Those masked men in the cages are the reason this team has begun to string some positivity together.
Stats courtesy of NaturalStatTrick.com