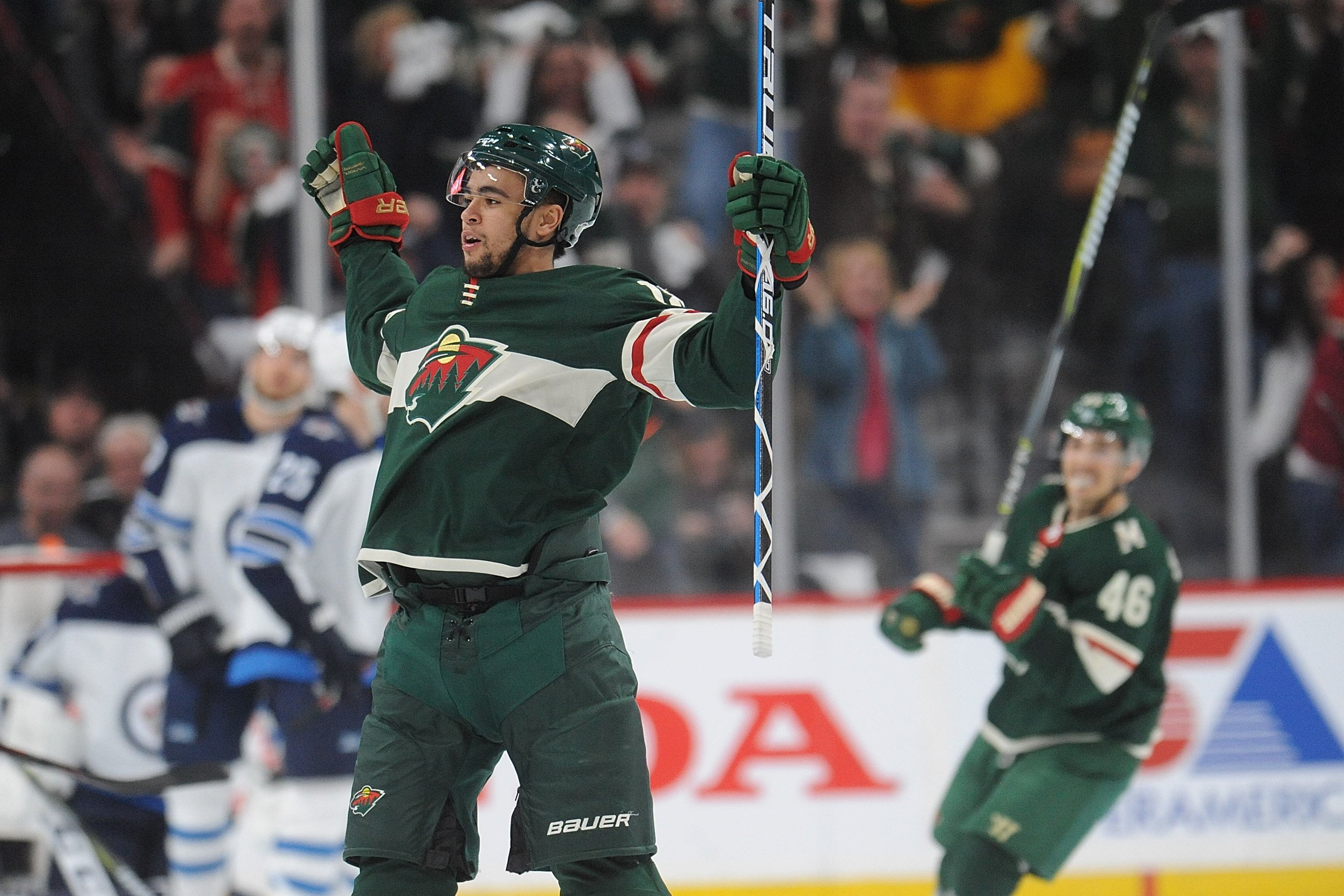 With the Stanley Cup Playoffs now concluded, general manager Paul Fenton is now under the microscope -- more so than before -- to begin his plan on making the Minnesota Wild bigger and better.
While Fenton's goals in the short term are well known -- tweaking the roster, making the Wild more competitive in the playoffs, etc. -- let us take a look at one of the long-term goals he outlined in his introductory press conference: Rebuilding the prospect pipeline.
When previous general manager Chuck Fletcher took over back in 2009, he was inheriting a team that was at the end of its window to win and had a prospect cupboard that had absolutely nothing coming in the near future. So his goal instantly was to build through the draft using top picks to build his team that would make them competitive for a significant period of time.
Mikael Granlund, Jason Zucker, Jonas Brodin and Matt Dumba were top picks in the next few years for Fletcher, and they all now play prominent roles on the Wild.
But from 2013 moving on, Fletcher put more priority on winning. Via various trades, he sent a combined five picks -- six if you count 2018 -- from either the first or second round to try and get the Wild over their playoff hump. For those counting at home, that is one half of the amount of picks Minnesota had in the top two rounds during that time.
ONE. HALF.
If you total up all the NHL games played by Minnesota's first or second round picks from 2013 through 2017, you will find the Wild to have an abysmal amount. The combined 177 NHL games played from those five draft picks is the worst in the league.
Minnesota Wild first or second-round draft picks from 2013-2017
Gustav Olofsson (2013 2nd) – 56 GP
Alex Tuch (2014 1st) – 6 GP with MIN before trade to VGK
Joel Eriksson Ek (2015 1st) – 90 GP
Jordan Greenway (2015 2nd) – 6 GP
Luke Kunin (2016 1st) – 19 GP
No doubt, Minnesota's lack of picks/games played from the first two rounds has come back to hurt them as they now have an aging roster.
So this is where we return to Fenton, and what he has planned for the long term and keeping the Wild competitive.
"The strength of every organization is the draft. The way we develop, the way we put our minor league system in place. I believe your minor league team has to be your vaulting stone to the next level. When we made the Stanley Cup Final [with Nashville], we had 17 players on the roster who had been to Milwaukee." - Fenton during his introductory press conference.
Fenton clearly outlined his goal for rebuilding the prospect pipeline here. Hold on to your top draft picks and get them developed with particular emphasis on the AHL.
Heading into the 2018 draft, Minnesota has its first-round pick but does not have a second-round pick thanks to the Martin Hanzal trade. The Wild do have three third-round picks, so it is conceivable that they could trade back into the second round if there is someone they are really enamored with.
But in 2019 moving forward, the Wild have all their top draft picks and one would bet that it would take a steal of a trade for Fenton to consider moving them. So a trade for someone like Jeff Skinner or Justin Faulk of Carolina might not come to fruition because the Canes would want future assets, not present-day talent in said trade.
Also to note, behind Minnesota's top prospects in Kunin, Greenway, Louie Belpedio and Kirill Kaprizov, there really is not much there. The Wild are hurting badly in terms of talented prospects and need the picks to help bring the prospect pool back to respectability.
The other point Fenton made at his introduction was the minor leagues. One of Fenton's main responsibilities as Nashville's assistant general manager was serving as general manager of their AHL team in Milwaukee, a position he held from 2006 until this past May. Prior to that, he served as Nashville's director of player development from the inception of the franchise (1998) through his promotion in '06.
During his time as Milwaukee's general manager, the Admirals missed the AHL playoffs just twice in 12 seasons. More importantly, just about all of the Predators roster spent time in Milwaukee before getting their call-up to Nashville.
The beneficiary of Fenton's development strategy will be the Iowa Wild, who has been deprived of top talent and competitive teams for their five seasons in Des Moines.
[caption id=attachment_36990" align="alignnone" width="1784]

Courtesy of HockeyDB.com[/caption]
While Iowa has been more competitive for the past two seasons, they have filled the roster with AHL journeymen – Cal O'Reilly, Pat Cannone, Landon Ferraro, etc. – rather than have top prospects playing the meaningful minutes that you would want to see from your AHL affiliate.
It would also be fair to assume that Kunin and Greenway would get time in Iowa next season, despite getting NHL playing time during 2017-18. Kunin more so perhaps, as he will be returning from an ACL injury and would need a bit more time to get back in the swing of things.
As the offseason gets underway this week, all eyes in Minnesota will be on Fenton and what he can do to tweak this Wild roster and get them over their playoff hump.
But one will have to keep in mind he will be keeping the long-term success of the team at heart as well, which will be considered in any trade negotiations.
Never Miss an Episode of Giles & The Goalie!