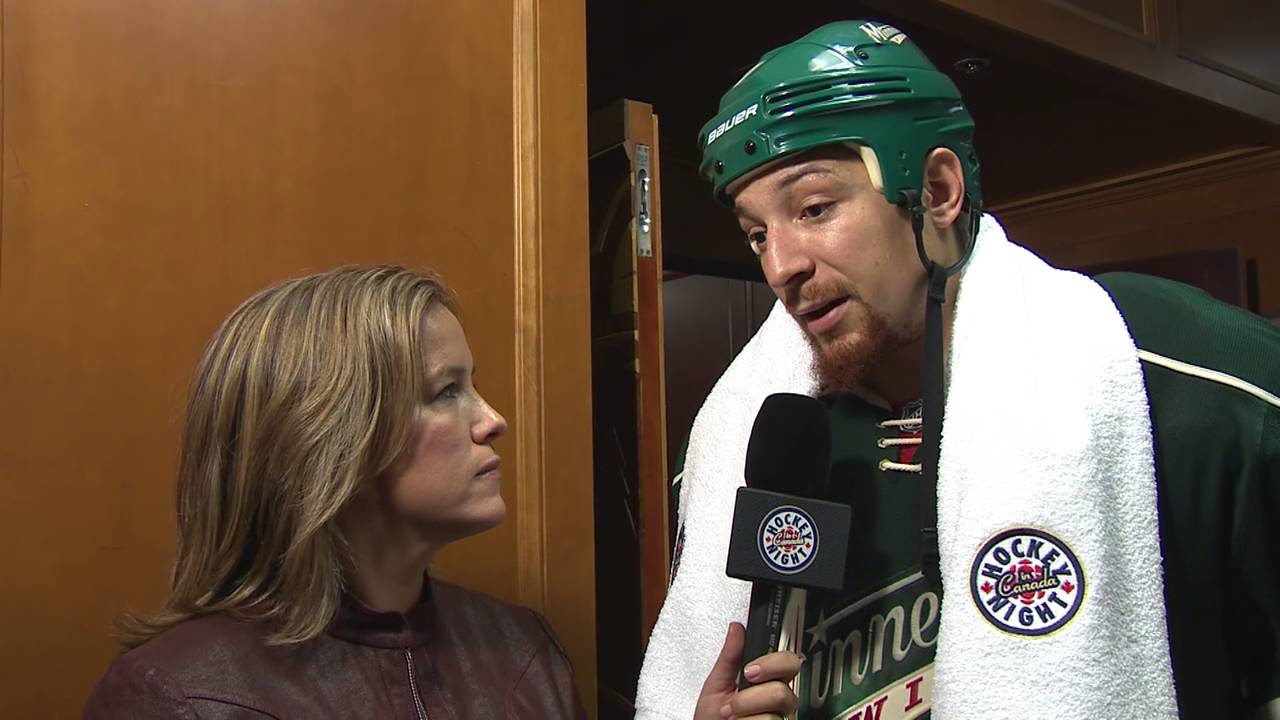 Last week, Matt Cullen decided to forego a chance at a three-peat with Pittsburgh to sign with the Wild for his potential final season in the NHL. Cullen had previously played for the Wild from 2010-13, and has since played for Nashville and Pittsburgh before deciding to return to his home state.
During his first stint in Minnesota, Cullen wore uniform No. 7 and also used that number with the Predators and Penguins. With his return for the 2017-18 season, Cullen had to get Chris Stewart to switch up numbers as Stewart had worn it last year. The day after Cullen officially signed, the Wild announced Stewart would switch numbers to allow Cullen to wear No. 7 once again.
The number switch will represent Stewart's third (!!!) number in his time with the Wild. He had used No. 44 in his first stint with Minnesota back after being acquired at the 2015 trade deadline. He has now switched to No. 10 to accommodate for Cullen's return.
With Stewart's number change, let's take a stroll down memory lane and look back at other Wild players who went through a number change.
Cam Barker (2009-11)
Uniform numbers: 45, 25
Ah yes. How could anyone forget the name Cam Barker? The Wild acquired Barker in what is perhaps the worst trade in team history. Barker was brought over at the 2010 trade deadline and wore No. 45 to close out the season. During the summer, Eric Belanger moved on from the Wild which freed up No. 25, Barker's number from Chicago. That switch to 25 was short-lived, as Barker played just one season (2010-11) before his contract was bought out by the Wild.
Charlie Coyle (2013-Present)
Uniform numbers: 63, 3
During the lockout-shortened 2012-13 season, the Wild called up Charlie Coyle and issued him his training camp number (63). He made the switch to No. 3 after the season ended, but what was weird was that number had been available for that season. It had last been used by Marek Zidlicky until his trade to New Jersey at the 2012 trade deadline. So if you have a Coyle 63 jersey, good on you.
Matt Dumba (2013-Present)
Uniform numbers: 55, 24
Everyone loved Dumba55. For his first two seasons with the Wild, Dumba donned No. 55 and it became a popular jersey in the team store. But following the 2014-15 season, Dumba opted to switch to the vacant 24 following the buyout of Matt Cooke. But before he made the switch, Dumba called Len Boogaard (Derek's father) to ask permission to wear the number, as Boogaard still remains one of the more popular players in Wild history.
Justin Falk (2009-13, 2014-15)
Uniform numbers: 41, 44
After the 2010-11 season, Falk switched from 41 to No. 44, which had not been previously used during his first two seasons with Minnesota. He was able to get No. 44 back when he returned for a season after spending 2013-14 with the Rangers.
Marian Gaborik (2000-09)
Uniform numbers: 82, 10
Everyone remembers Gaborik wearing the infamous No. 10, but before he did that, he wore the less memorable No. 82. Yes, he did indeed wear that at one point. But that appeared to be no more than a game or two in preseason before he moved to No. 10, and the rest is history. Also filed under the number 82: the number of groin pulls during Gabby's tenure here.
Josh Harding (2005-14)
Uniform numbers: 29, 37
For his first five seasons in a Wild uniform, Harding donned No. 29. But in 2008, Wes Walz suddenly retired, leaving No. 37 open. Harding waited until after the 2009-2010 season to make the switch, leaving those two as the only ones in team history to wear No. 37.
Martin Havlat (2009-11)
Uniform numbers: 14, 24
As soon as the late Boogaard departed the Wild in the summer of 2010, Havlat instantly made the switch from No. 14 to 24. It didn't really make much of a difference for Havlat, as he had a...rather forgettable tenure here.
Mikko Koivu (2005-present)
Uniform numbers: 21, 9
Hnat Domenichelli, Alexandre Daigle and Mikko Koivu. Those are the only three players in Wild history to wear No. 9. The first two are often forgotten, but Koivu did have to play his rookie season (2005-06) with No. 21. Following that 2005-06 season, Koivu switched to his now infamous No. 9, and the move also allowed new signee Mark Parrish to take the vacated No. 21.
Jed Ortmeyer (2010-12)
Uniform numbers: 29, 41
There is a weird record of Ortmeyer wearing No. 40 on Hockey-Reference, but there is no record of it in the Wild record books. But basically, Ortmeyer switched to 41 for the 2011-12 season after Justin Falk moved to No. 44.
James Sheppard (2007-10)
Uniform numbers: 15, 51
One of the infamous Doug Risebrough first-round busts! Sheppard wore No. 15 for the 2007-08 season, then switched for returning veteran Andrew Brunette prior to 2008-09. You know how the rest played out for Sheppard...
Chris Stewart (2015, 2016-Present)
Uniform numbers: 44, 7, 10
See above
Clayton Stoner (2009-14)
Uniform numbers: 7, 4
Another player in Wild history who had to switch numbers for Matt Cullen! Stoner wore No. 7 for the 2009-10 season, but switched to No. 4 once Cullen signed in the summer of 2010. Regardless of the number, Stoner had one of the more popular jerseys in Wild history because of his name ("His number should have been 420!" - someone, probably).
Greg Zanon (2009-12)
Uniform numbers: 6, 5
As soon as Kim Johnsson was traded (don't look up that trade!), Zanon made the number switch from six to five. He's one of the best shot blockers in Wild history -- that's about it.
---
Never Miss an Episode of Giles & The Goalie!