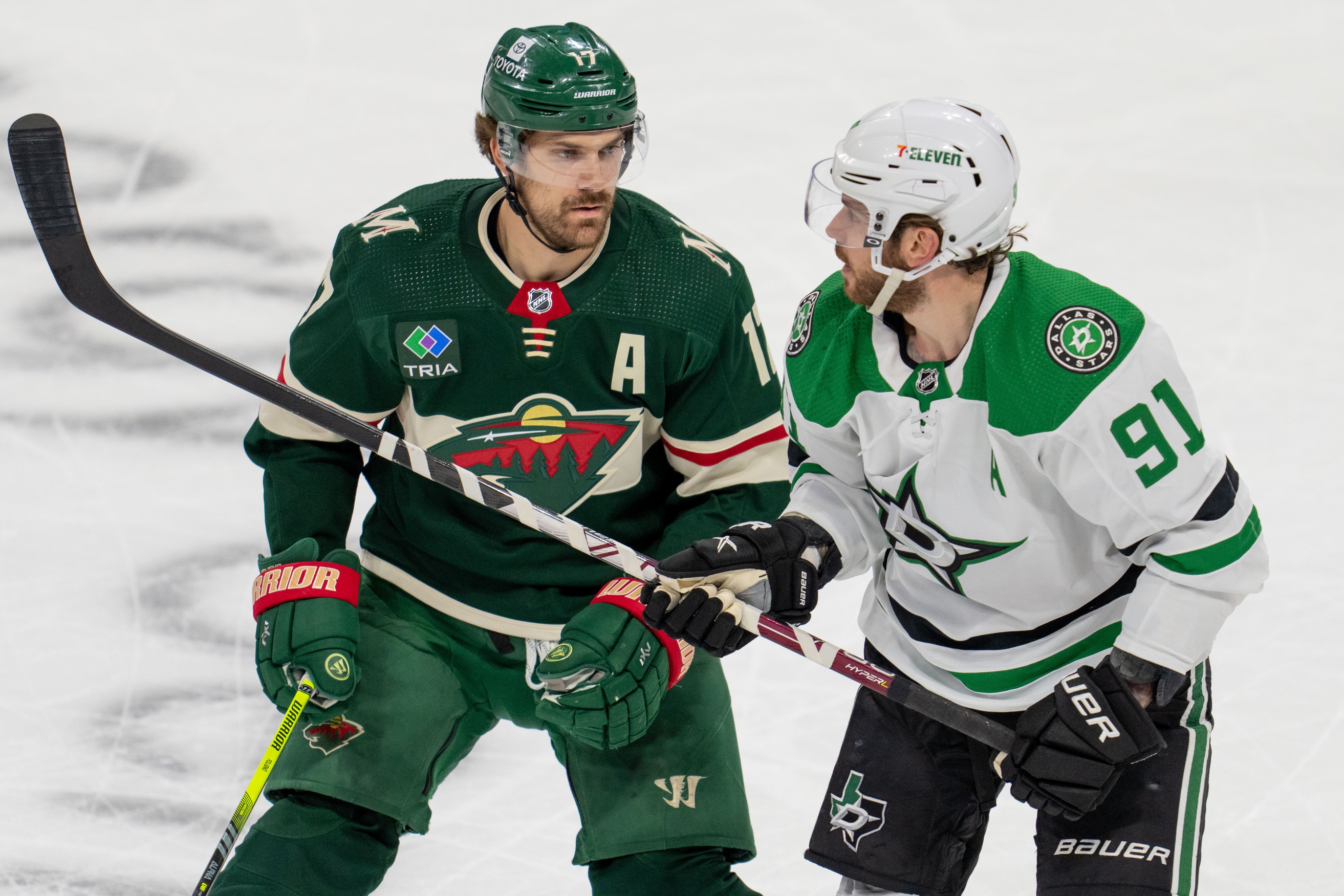 Image courtesy of Matt Blewett-USA Today Sports
Ideally in the NHL, you want to buy low and sell high. Actually doing that, however, is easier said than done. Oftentimes, buying low means taking a risk on a player that may or may not be damaged goods. There's a reason a team wants to trade a buy-low player, after all, and it's usually pretty obvious to everyone else.
A similar problem exists when players are at the peak of their value. Why on earth would you want to sell, say, Marcus Foligno coming off a season where he scored 23 goals and 42 points? Combine that with his physicality and willingness to fight, and you've got Tom Wilson-lite on your hands. Who's trading that?
One year after putting up those numbers, Foligno's gone from a sell-high candidate to a buy-low opportunity for someone else. In 65 games last season, Foligno scored just seven goals and 21 points, lower totals than each of his previous three seasons. This includes a 59-game season in 2019-20, and a 39-game campaign the following year. 
Bill Guerin and the Minnesota Wild front office surely still value his physical presence and leadership. But everything else points to a potential trade. His down year came at age-31, so you have to wonder if this was a mere down year or a red flag signaling decline. The cap-strapped Wild also will have a tough time filling out their roster, and Foligno is one of few movable deals that could net them relief. He's in the final year of his contract, and if he wants a raise above his $3.1-million cap hit, the Wild might be forced to move on.
Still, moving Foligno in the summer doesn't feel like the best timing. In addition to selling low, there's also the on-ice impact to consider. Foligno has been one of the best defensive forwards in hockey since arriving in Minnesota. He's a core part of the Wild's identity, or the one they want to have, anyway, as a big forward who can punish physically, provide some offense, and doesn't back down. Losing him would mean two alternate captains walking out the door in the same summer, along with Matt Dumba.
Is that replaceable? The Wild would hope that someone like Brandon Duhaime would be able to backfill that role, but that's a bit to ask from a guy who has just 15 goals in 131 NHL games throughout his career. Granted, he's physical and unafraid to drop the gloves, but Minnesota had better hope Duhaime can turn those flashes of skill into consistent offense if they want to replace Foligno.
But maybe you think it kind of doesn't matter whether Foligno is on the team or not. Perhaps you think they're better off not focusing on winning now, anyway, given that better versions of this team failed to get out of the first round. It still might not be a good idea to trade Foligno at the draft. 
Teams spend on different things depending on what time of year it is. The draft tends to be focused on salary dumping and/or star players. You give up some picks to clear up your cap space, or you flip guys like Alex DeBrincat. If teams want a depth forward — even a very good one — they're close to free agency, where those players are freely available.
Given Foligno's track record over, a bog-standard depth forward, could Foligno be an exception? Maybe, especially if Guerin could generate some sort of bidding war. In a draft as deep as experts believe the 2023 class is, a second-round pick could be good value... if the Wild can get it, that is. 
But the place teams really pay top-dollar for Marcus Foligno types is at the trade deadline. Teams can't easily find depth players for free, and they tend to start valuing the things Foligno brings to the table, like his physicality and size. Remember, Jordan Greenway, who was having a worse season and had a worse track record than Foligno, went for a second-round pick at the deadline last year.
We saw other overpays happening for depth players, too. Remember Nick Bjugstad? It's OK if you don't, really, it's not like he had a lot of memories in a Wild sweater. He went for a third-rounder at the deadline. Grinding center types like Lars Eller returned a second-round pick for their clubs. Multiple years of team control played a factor in this, but look at how the Tampa Bay Lightning paid a first, second, third, fourth, and fifth-round pick for Tanner Jeannot, a dollar-store version of Foligno.
Saving Foligno for the trade deadline also benefits the Wild as sellers because of his salary. $3.1 million might be a burden on the Wild's cap now, but it becomes an asset as the trade deadline approaches and only a small portion of his salary goes on another team's books. Even more so if the Wild retain salary in such a deal. Instead of offloading money, they're in a position where moving Foligno's salary is doing another contender a favor.
The pressures facing the Wild might force their hand to dump Foligno's salary this summer. Perhaps the Wild get a return that's good enough to justify the move, and go on with their offseason. But if at all possible, it sure seems like the most prudent move to do with Foligno is rehabilitate his trade value and strike at the trade deadline, where they can maximize his value.
3