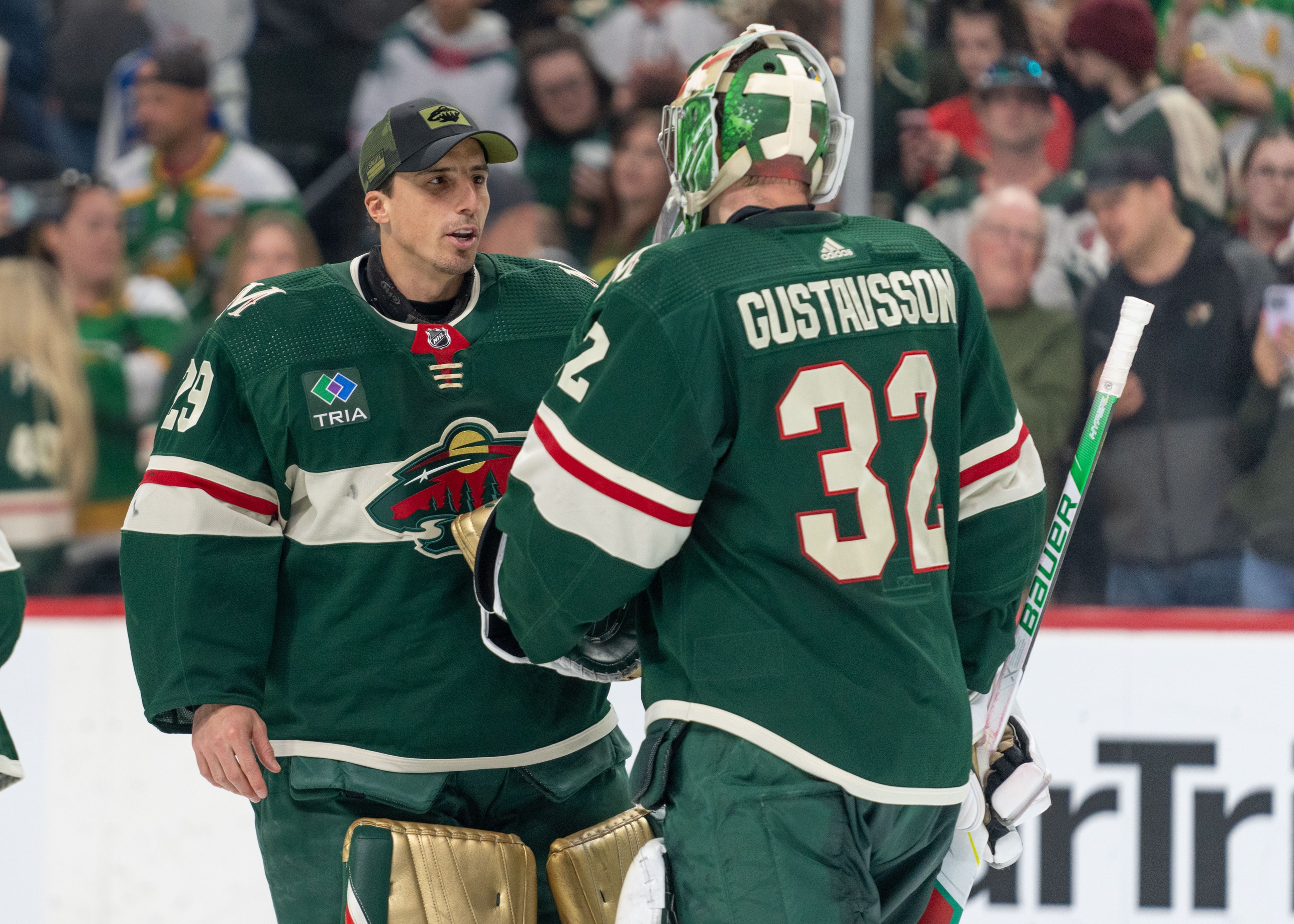 Image courtesy of Matt Blewett-USA Today Sports
Two was a crowd in net for the Minnesota Wild last postseason. That's not the case this time around.
Any NHL team that wants to make a deep run in the playoffs knows that their netminders are an important component. Last year, when Bill Guerin brought in Marc-Andre Fleury at the trade deadline, everything was coming up roses for the Minnesota Wild. Until then, Cam Talbot had been a dependable goalie who was on a tear. Adding a Hall-of-Fame goalie like Fleury to the mix seemed to solve any goalie problems the team could have before they even sprung up.
That was, until the first round of playoffs started and an unexpected problem popped up. It made sense when Dean Evason and the coaching staff decided to put Fleury between the pipes for Game 1. However, it didn't make sense to ice Talbot out of the crease altogether, parking him on the bench throughout playoffs until they threw him in Game 6 as a last-minute Hail Mary. 
Everyone knows how that story ended. However, that led to this year and their trade for Filip Gustavsson. Heading into the playoffs, many fans are too fast to highlight the issue with last year's goalie tandem and see it as foreshadowing for this year's playoffs. But anyone entertaining that thought needs to know that they're reading too far into it. The Fleury-Gustavsson tandem this year is a completely different and better beast than the Fleury-Talbot tandem of yesteryear.
The 2021-22 Wild started the season with a definite primary goalie and a backup. There was no disputing that. Talbot took the majority of the starts with Kaapo Kahkonen stepping in occasionally. It was Talbot's net. 
But when they added Fleury at the trade deadline, everyone sniffed out a potential problem. Of course, Talbot and Fleury were completely professional about the entire situation. On some level, Talbot understood that the Wild didn't bring in Fleury to be his backup. However, Talbot might not have anticipated that Fleury would take over the net in playoffs. The tension was there, and at some point, became unavoidable.
This season, the relationship between Fleury and Gustavsson started as more of a mentor/mentee relationship and has progressed into a true tandem rotation. At the beginning of the season when Fleury was the assumed primary goalie, Gustavsson was given an early chance to show off his skills, and boy did he. He's earned his way into a rotation, and he hasn't taken it for granted.
Fleury has admitted that he feels blessed to still be playing hockey. He understands that he might need more rest time now than he used to. Fleury knows that he can safely turn the crease over to Gustavsson and know it is in good hands. 
On the other hand, Gustavsson came in as a good goalie who needed some work. Who better to partner up with than Fleury, the 2021 Vezina winner? Gustavsson has been able to have a season-long, front-row seat to the goalie clinic Fleury put on for him. 
Together, they've formed a trusting goalie tandem who doesn't have to worry when the other guy is in net. That means they're able to be fully present in the game and focus instead of having to worry about anything else. 
Going into the playoffs, Fleury knows what it takes to get through a long run. He's been on the Stanley Cup-winning team three times during his career. He knows it's a grind, and he's determined to get through it and win another Cup. The more guys in the locker room who've gone on deep playoff runs, the better it is for the team. They bring a level of experience that another player just can't get anywhere else. No other sport has a grueling schedule like hockey does. 
On the other hand, Gustavsson is coming in without any playoff experience. He will have to lean on Fleury for advice and support. He has one skill that will be a huge asset in playoffs: Gustavsson is able to stay calm in the net no matter what is happening in front of him.
Where Fleury likes to put on a show, Gustavsson is more precise. Neither is a bad goaltending style. But being a calm presence also helps the guys in front of him. They always know that Gustavsson is ready to be a brick wall in net.
Another contributing factor is that both goalies are really good teammates. The wonderful personalities that Fleury and Gustavsson have will take them far during playoffs. Fleury is known as the nicest guy in the league. With his friendliness and passion for pranks, he knows how to lighten up stressful situations like the playoffs.
Gustavsson has stated that he's just glad to be on a team that believes in him. In return for that belief, he's rewarded the Wild with stellar goaltending. With the support from the team, management, and fans, Gustavsson will put the "Gus Bus" in an even higher gear come playoff time. 
With two goalies who are willing to stand on their heads to make a save, the Wild can be confident that they have a dependable goalie tandem behind them. And while no one can predict how the goalie situation is going to play out during playoffs, fans can rest assured that this goalie tandem has immaculate vibes that'll carry the team far. 
1