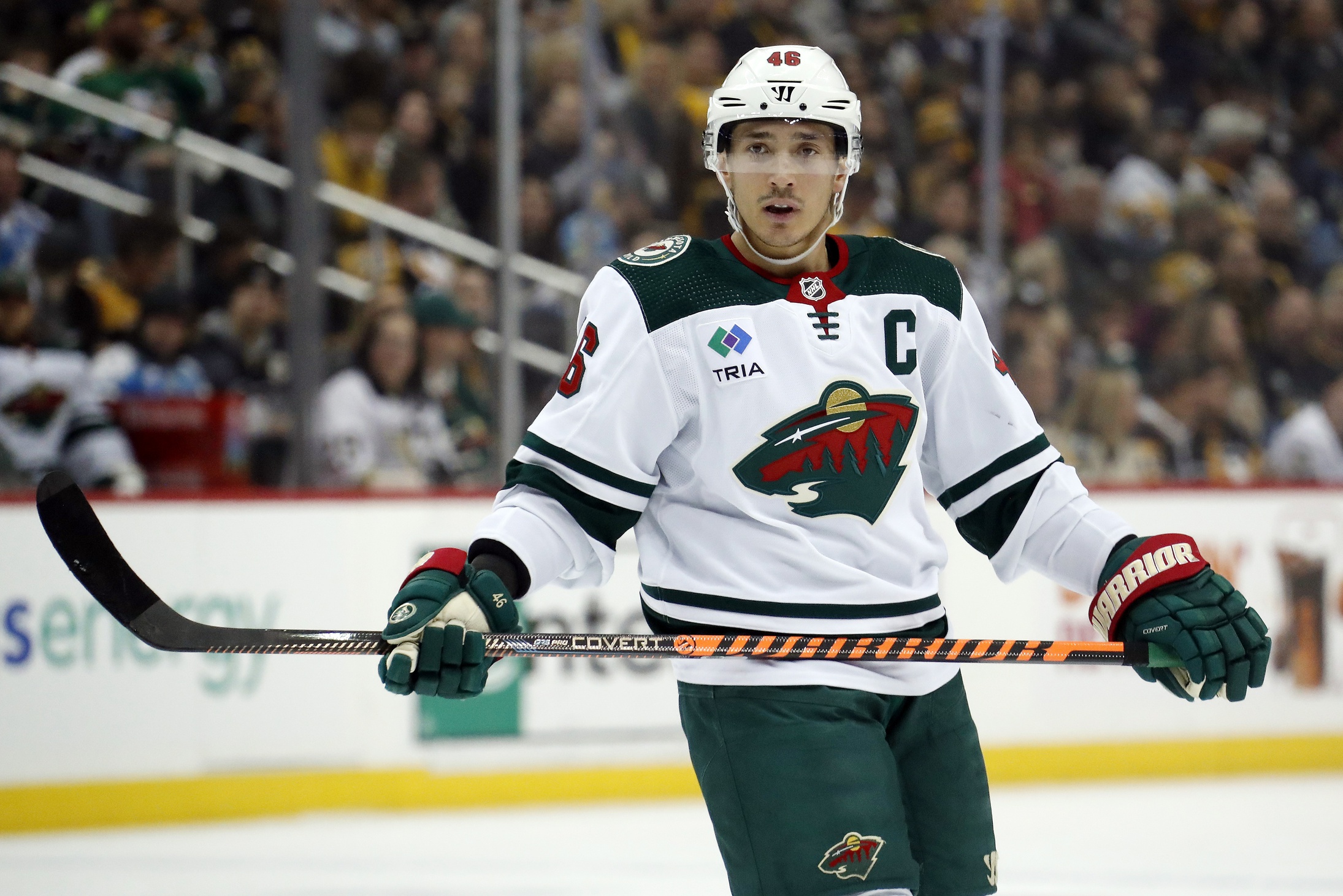 Image courtesy of Charles LeClaire-USA Today Sports
The Minnesota Wild are Jared Spurgeon's team. The captain isn't just the longest-tenured member of the Wild, making his NHL debut on November 29, 2010. He's been a foundational piece for the franchise, and they've treated him as such in the Bill Guerin Era.
When Guerin took over as general manager of the Wild, his first priority was to lock down Spurgeon, who was one year out from free agency, the franchise was seemingly adrift. Guerin inked Spurgeon to what was then the highest AAV in Wild history. Practically the second Mikko Koivu departed the organization, he named Spurgeon the second full-time captain in franchise history.
Spurgeon is now entering the fourth year of his seven-year contract, and the first three years paid off very well for the Wild. He anchored the blue line for a team that has the sixth-most standings points over the past three seasons. 
Furthermore, Spurgeon's individual success led directly to the team's success. According to Evolving-Hockey's xGoals Above Replacement (xGAR) model, he's been worth 17 standings points since his deal started. That's fourth among defensemen in the NHL, behind just Cale Makar, Adam Fox, and Devon Toews. It's an exclamation point on what is shaping up to quietly be a Hall of Fame career. 
But a constant of Spurgeon's Wild teams, and the franchise generally, is their lack of playoff success. Minnesota been past the first round only twice in Spurgeon's time with the team, most recently in 2015. As the captain and longest-tenured member of the Wild, taking slings and arrows for a run like that is part of the job. He also hasn't made it much better for himself because he tends to be less effective in the postseason. 
Anyone in the State of Hockey hoping to see Spurgeon get traded can calm down, though. It's not going to happen. Even if you'd like to see the Wild get bigger on the blueline, or an additional $7.58 million of cap space to play with, it's a no-go. Spurgeon's got an iron-clad No-Move Clause, and it's unlikely the captain would waive it to go anywhere else.
Until next year, that is.
On July 1, 2024, Spurgeon's full NMC turns into a 10-team No Trade Clause, meaning he can make a list of 10 teams the Wild can't trade him to. If you're doing the math, that means for 21 other teams, so the options open up a bit. 
Would Guerin even dare trade Spurgeon? Assuming Spurgeon remains ageless and keeps going strong at age-34, it'd be extremely hard to do. You need players to get you to the playoffs, and you're going to have a very difficult time finding someone else who does that as well as the captain does. At an age where many defensemen see their value crater, Spurgeon's continued to be irreplaceable.

What happens if the Wild fail again to find success in the playoffs?
First of all, let's ask: Are we overstating Spurgeon's playoff issues? In the past four trips to the playoffs under Guerin, Spurgeon has two goals and 12 points in 23 games. That's over a half-point per game, which is around what he's done in the regular season over that time.
His point production doesn't drop off, but his on-ice impact does. Let's look at how the current Wild defensemen have fared in generating and allowing expected goals (xG) relative to their teammates over the past four regular seasons (R) and playoffs (P). 

That's a lot of numbers to digest, so let's make it simple. In the regular season, the Wild generate 0.14 more xG per hour, and allow 0.17 fewer xG with Spurgeon on the ice than they do without him. That's great. He's the second-best offensive defenseman on the team at 5-on-5, while being easily the best defender.
In other words, for every hour of Spurgeon being on the ice, the Wild can expect to get 0.31 more xG than their opponents than they would otherwise. A third of an expected goal per hour might not seem like much, but it's a big deal in hockey. That's the fifth-greatest impact in the NHL among the 147 defensemen with 3000 or more 5-on-5 minutes over that span.
But in the playoffs, that advantage goes away completely, and then some. Spurgeon goes from giving the Wild 0.31 xG every hour to losing them 0.21. That difference is entirely on defense. Spurgeon gives up about half an expected goal more (relative to his teammates) than he does in the regular season.
Is that just the breaks over a sample that's less than 10% of his regular-season body of work? Or is it because of the playoffs taking a step in ruggedness that the 5'9" defenseman isn't as effective in? It's reasonable to argue both. If Guerin decides on the latter, he's shown he's not afraid to make a bold move to address that.
It's hard to say that a captain and 13-season mainstay of the Wild is entering a make-or-break season when there are four more years on his deal. But if Minnesota hits a rut next year where they decide they need to make a big change, Spurgeon will become one of very few moveable pieces, and probably a valuable one, at that. He may find himself having to make a case for why he should stay for the long haul.
3