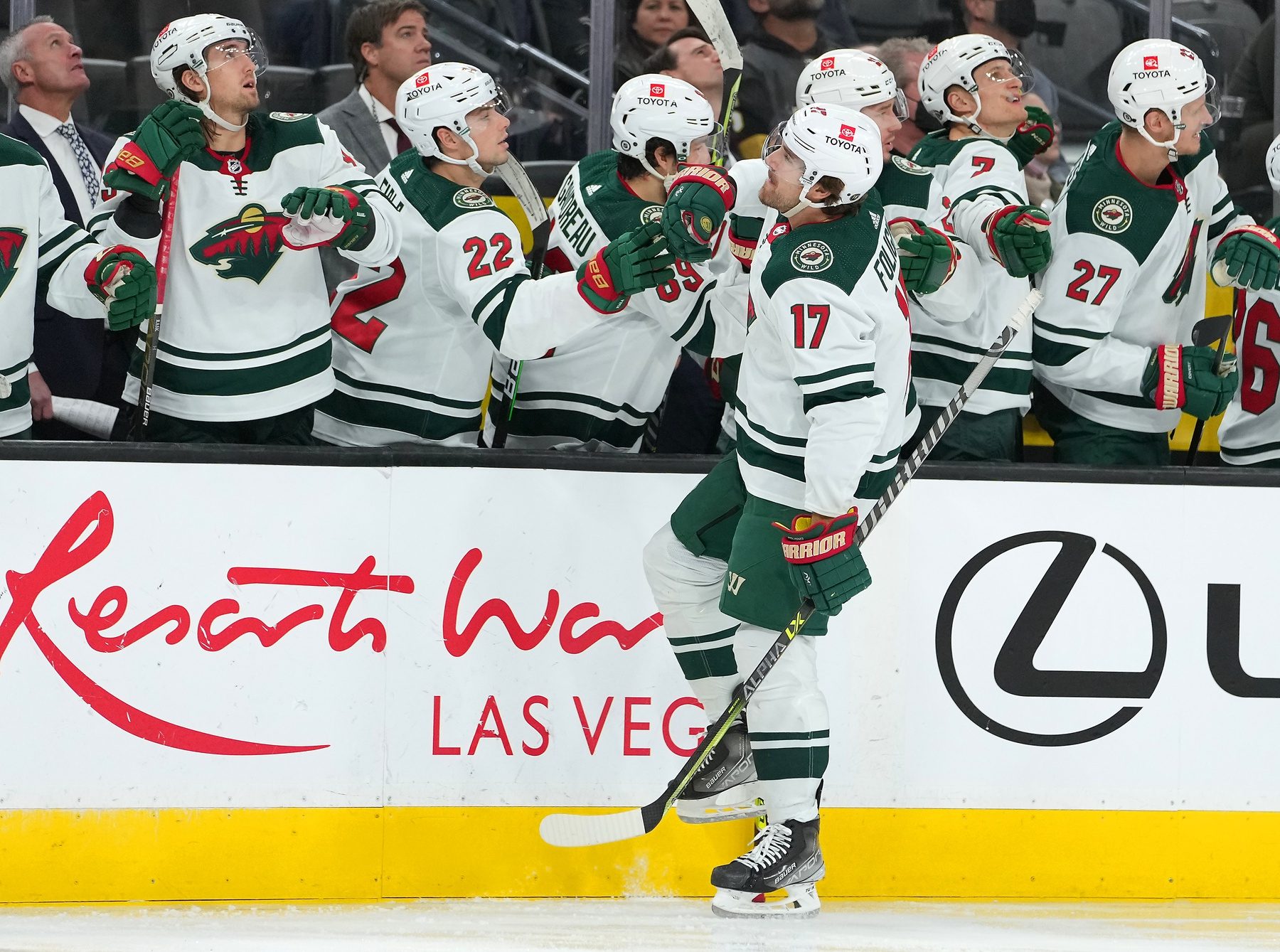 When the Minnesota Wild traded Marco Scandella and Jason Pominville for Tyler Ennis and Marcus Foligno, no one thought that Foligno would become one of the Wild's top goal scorers and be part of a dynamic leadership group a few seasons later. When playing for the Buffalo Sabres, Foligno was known as just your average gritty, tough guy. He was never one to score a ton of points or lead a team with a winning mentality. Now he's doing both, which must make these few seasons extremely fun for Foligno. He's been playing great hockey in all aspects of the game.
Affectionately known as "Moose," Foligno is currently tied for the team lead in goals, with 13. That also ties his career-best, which he set during his final season with the Sabres. He's also sitting at a career 99 goals, so his next goal is due to be a special one. At 30 years old, he's projected to score 23 goals and 45 points this season, which would shatter his previous record of 26 points, which he set last year.
If the Wild are ever down in a game, Foligno's often the one you can bet on to reignite the crowd. Earlier in the season, he lit up the NHL with his attempted jumping Superman punch and now leads the team with four fights this year. Foligno will always step up for his teammates.
Most of his fights come after one of his teammates has received a dirty hit. His mentality of You took a cheap shot on one of our best players, and you're gonna pay for it, is the kind of aggression needed in the game. When the refs miss a dirty hit, guys like Marcus Foligno will always be there to police the game in the best way they see fit. Whether he's going to the locker room or the penalty box, he always pumps up the crowd after his tussles, telling everyone to get up out of their seats. With his physicality and scoring ability, he's become one of the most exciting players to watch.
On the ice for nearly every situation, he's become crucial to the Wild's second power play unit. He is currently second on the team with four power play goals. He also is the team leader in hits with 79. Foligno only plays about 16 minutes each game, and it's amazing what he can accomplish with his ice time. He's a force on the penalty kill and is often put out at the end of a game to preserve a win. Marcus Foligno can do just about anything.
Part of Foligno's success might be because he's on one of the best shutdown lines in the NHL. He's joined Jordan Greenway and Joel Eriksson Ek to become one of the greatest trios in recent Wild history. They combine for a plus-35 rating, which is pretty good. For context, the top line of Kirill Kaprizov, Ryan Hartman, and Mats Zuccarello are a plus-41. Dean Evason is so fond of this line, he put them out to preserve a win against the Tampa Bay Lightning a few weeks ago. Not only did they stay on the ice for over two minutes, Tampa failed to register a shot on goal before Foligno iced the game with an empty netter.
Ask any Minnesota Wild fan who their favorite player on the team is, and a good handful will answer with Marcus Foligno. For good reason, too. Last summer, Foligno was given the honor of having an A added to his sweater. He was also considered as team captain, before it was given to Jared Spurgeon. As the leaders on the best team in the Western Conference, and one of the best in the league, Marcus Foligno and his leadership group have given the Wild a new identity. One that says this team can be a true contender in the playoffs. The Los Angeles Kings ended Minnesota's recent eight-game winning streak at the STAPLES Center, but the Wild were able to beat top teams like the Toronto Maple Leafs, Edmonton Oilers, and the Lightning.
Foligno is also a personable guy off the ice. Last year he went undercover as a hockey coach and joined an Eden Prairie boys high school hockey practice as they prepared for the state tournament. The kids on the team loved it, and we all got to see what a fun guy Foligno really is.
During Saturday's loss against the Kings, Brenden Lemieux scored and had a rather cocky celebration, skating to the Wild bench. Foligno wasn't having it and sprayed Lemieux with his water bottle. Fans love that kind of stuff, it shows that the players are relishing their roles as athletes and entertainers. It makes the game more fun when you see a guy coming off a suspension for biting another player, proceeding to score a game-winning goal, and also getting heckled by the opposing team. And once again, you saw Foligno standing up for his teammates.
Kaprizov is the reason that fans come to see hockey games in St. Paul, but Marcus Foligno is right behind him. Foligno is one of the best players the Wild have seen lately in terms of entertainment value, sneaky-good skill, and grit. He's being asked to perform in all situations, and he's not only doing that, but excelling. He's a crucial piece on a team that looks to make a deep run in the playoffs. On pace to crush his point totals this season, and playing a role on one of the best shut down lines in the NHL, Foligno is a force to be reckoned with.