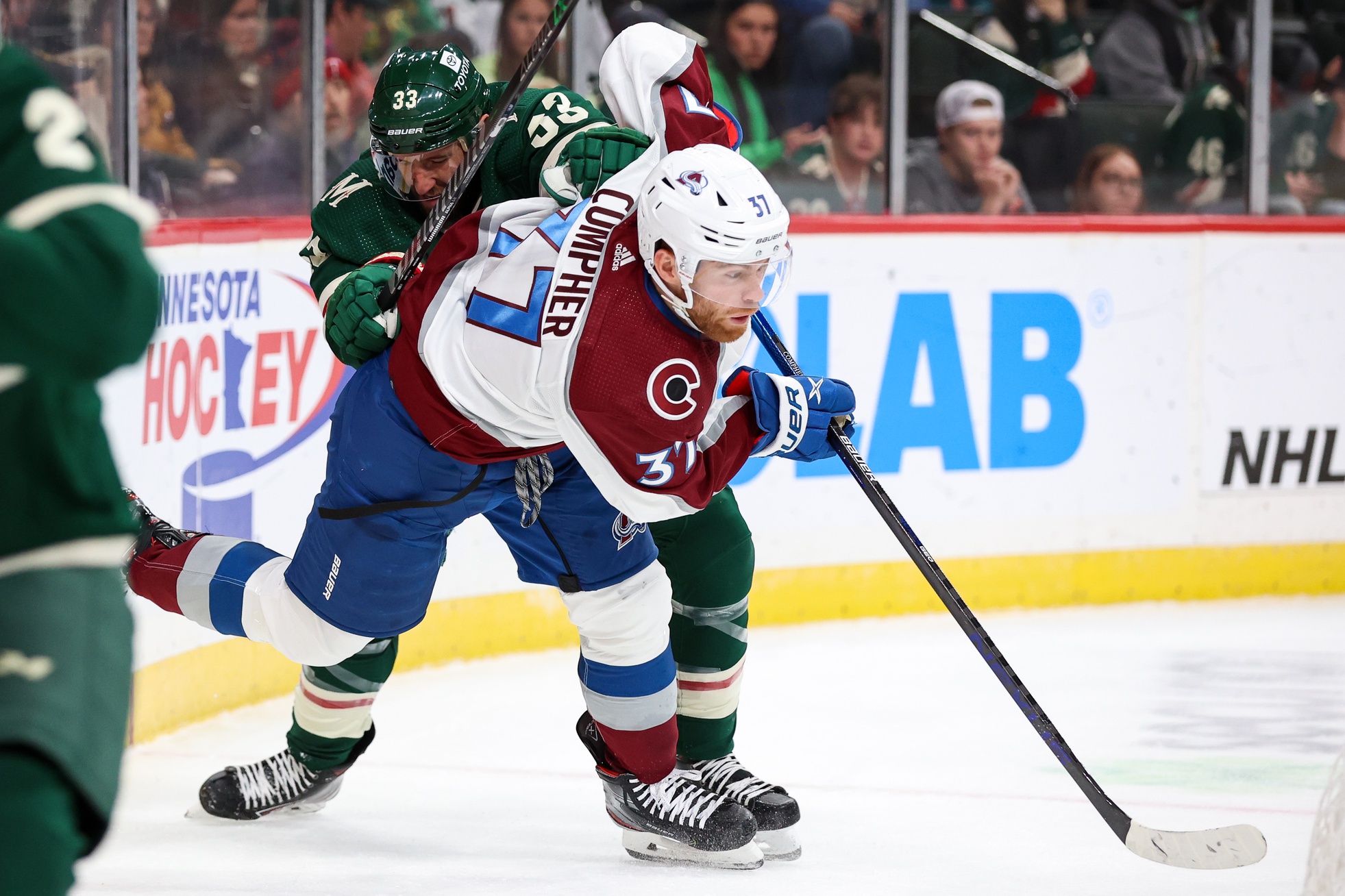 Image courtesy of © Matt Krohn-USA TODAY Sports
The State of Hockey is going to spend their offseason with their collective noses pressed against the window while the teams with money go shopping this summer. With the Zach Parise/Ryan Suter Buyout Torture Machine ratcheted up to $14.7 million, the Minnesota Wild are unable to do almost anything this season.
Still, the Wild have some holes this offseason. They have little offensive talent beyond Kirill Kaprizov, Matt Boldy, Joel Eriksson Ek, and Mats Zuccarello. They've got longtime defenseman Matt Dumba exiting the lineup and can't bring back John Klingberg, even if they wanted to. And that's assuming Minnesota will bring back Filip Gustavsson without much trouble.
The Wild aren't filling any of those spots with free agency, or at least, not without major surgery to their roster and salary structure. There will probably be a lot of fans wondering what would happen if only Minnesota had $15 million of ammunition to tackle the summer with.
Would that be that great of a thing, though?
Teams can obviously make real upgrades in the summer. The Dallas Stars reached a Stanley Cup Final and a Conference Final based on two massive runs from Joe Pavelski, who they signed as a free agent in 2019. Alex Pietrangelo is the foundation of the Vegas Golden Knights defense, and they signing him in 2020 paid off with a Cup Final appearance. 
But wow, free agency is a minefield that GMs love to run through like a sprinkler on a 100 degree day. Just look at some of the players who are just now hitting the free agent market for some cautionary examples. Milan Lucic is available for the first time in seven years, when the Edmonton Oilers gave him a seven-year, $42 million deal. 
Or, hey, we don't even have to look that far. What led Minnesota to be in this buyout situation to begin with?
Maybe it's okay for the Wild to sit this one out. We focus solely on the bad parts of Minnesota's cap crunch, and rightfully so. It's cost them Kevin Fiala's services, for example, which sure didn't help the Wild score goals this offseason. But there's a small bright side to the whole ordeal.
It has the potential to save the Wild from themselves.
How so? Let's look at another player whose contract just ran its course: Nick Foligno. Two offseasons ago, the Wild made a push to sign Marcus Foligno's brother in free agency. Like his little bro, Nick was big, tough, and even more skilled in his prime. 
He was also too expensive for the cap-strapped Wild, then dealing with only around $5 million in dead cap (which seems like the good old days by comparison). The Boston Bruins met Nick's asking price, and they signed him to a two-year deal clocking in at a $3.8 million AAV.
What did the Bruins get out of that deal? 12 goals and 39 points over two seasons, with exactly 1.0 Standings Points Above Replacement (SPAR), per Evolving-Hockey. If not for Parise and Suter's burdensome cap shackles, Nick might have landed in Minnesota. Any reasonable person will probably agree that the Wild didn't need another defense-first depth player. 
You can see how an even worse salary situation can help them out in the long-term here. Minnesota's biggest needs are arguably at center and at defense. Ryan O'Reilly and J.T. Compher are the best centers on the free agent market this summer. How good of a bet are either of those guys?
O'Reilly had a downright awful time for the St. Louis Blues last year, costing his team 0.3 SPAR and scoring 19 points in 40 games. Then he went to the Toronto Maple Leafs, where he looked like the old O'Reilly, scoring 20 points in 24 games during the regular season and playoffs. In his 13 regular season games alone, he was worth a whopping 1.9 SPAR!
Which O'Reilly is his next team going to get? Who can say? But O'Reilly is 32, and Evolving-Hockey projects him to land a contract worth $5.5 million over three years. Is he going to be worth that as he ages into his mid-30s? Maybe, but he's in his decline phase and the constant in O'Reilly's career in Colorado, Buffalo, and now St. Louis is: Whenever things go poorly, he tends to get disengaged. 
As for Compher, he's been an underrated player for a few years now, regularly putting up about 3 SPAR for the Colorado Avalanche. That finally came accompanied by a boost in his point totals, as he jumped from a previous career-high of 33 points to 52 last season. Just in time to hit the open market for a payday, and Evolving-Hockey projects he'll get a four-year deal worth around a $5.7 AAV.
The problem with him is that his point totals were boosted by Colorado's limited depth and injuries. Indeed, Compher played 20:32 per night according to Natural Stat Trick, which ranks 14th among NHL forwards last year, right up there with superstars like Elias Pettersson and Matthew Tkachuk. It was also over three minutes a night over his previous career-high (17:29) and an even bigger jump over his 2021-22 season (16:19).
Does Minnesota need that? Or Ryan O'Reilly, for that matter, who also isn't a particularly impactful scorer at 5-on-5. Both of those centers would represent a free agent splash, but neither would actually achieve an upgrade on the squad.
Here are their numbers over the past three seasons, along with Minnesota's current centers:

In both terms of points and impact on the standings, neither center would immediately become Minnesota's No. 1 option. Compher wouldn't even displace the Wild's top-two centers, and that's not even accounting for Marco Rossi waiting in the wings. There might have been pressure to upgrade that spot if Minnesota could afford it. But they don't even have that, and there's no temptation to spend big on a center who doesn't help them.
The same goes for their defense. The Wild are in a spot where they have to let Dumba walk in free agency. As Dumba's free agency drew closer, there's been a re-evaluation of his game, which was unfairly criticized for years. That's good, he was a very valuable player at his peak. But this revision of opinion came as he lost his offensive value nearly completely.

Dumba's ability to eat minutes on the blueline and important voice in the locker room is valuable enough that Minnesota won't close the door on re-signing him. But that's not a very good idea, even if the money wasn't an issue. 
Again looking at Evolving-Hockey's projections, Dumba is in line to get a six-year deal worth around $6.25 million AAV. That's a lot, but the free agent market is relatively thin, and historically has been for right-shot defensemen. If dudes like Tyler Myers and Rasmus Ristolainen can command that much, it makes sense that Dumba can, too.
Even on a shorter-term deal, in the three-to-four year range, Dumba is still in line to get more than $5 million a season. It just doesn't make sense to bring him back, given his offensive decline and the struggles Minnesota has concerning putting the puck in the net. Besides, with Jared Spurgeon well into his 30s and Jonas Brodin just entering them, the Wild are going to want to get younger, not older.
This is why bringing Klingberg, 30, back at four years with a $5.6 million AAV is also a bad idea. Same with getting other free agents like Shayne Gostisbehere (30), Erik Gustafsson (31), and even Damon Severson (28). Even the best name on the market, Dmitry Orlov (31), doesn't line up with what the Wild's goal should be: to develop prospects and turn the keys over to a young blueline.
Looking at a landscape of an extremely underwhelming free agent class, you start to think that maybe it's okay that the Wild are going to sit this one out.
4