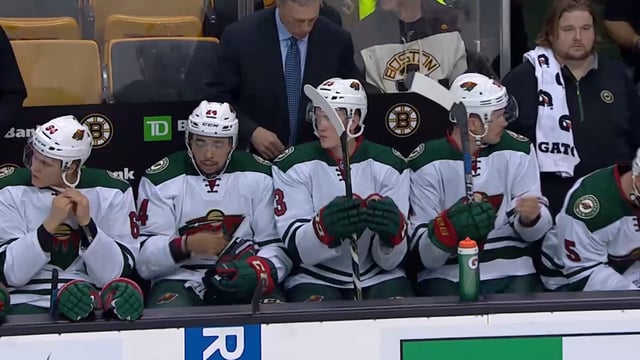 Gustav Olofsson
Defenseman
6-foot-3
195 pounds
Born: Dec. 1, 1994
2016-17 Team: Iowa Wild/Minnesota Wild
How Acquired: 2013 Draft (Second Round, 46th overall)


With Marco Scandella and Christian Folin out of the picture, there is an opening on the NHL roster to open 2017-18 for a defenseman. Between the next two days, we will meet the two defensemen battling for that spot.

This time around, we meet Swedish blueliner Gustav Olofsson.

Minnesota used its first pick of the 2013 draft -- the first-round pick went to Buffalo in the Jason Pominville trade -- on Olofsson. Olofsson was drafted and instantly drew comparisons to another defenseman on the Wild roster, Jonas Brodin. While they might not offer much offensively, they both make up for it with strong play in their own zone.

As now former Wild defenseman Nate Prosser told the St. Paul Pioneer Press last February, "That's who everyone is saying he looks like. He's a lefty. He's a smooth skater. He's got a similar stature. There are so many things about him that are like Brodin. That's a good player for him to model his game after, I guess."

An excerpt from his draft profile on Future Considerations:


"Olofsson is a solid, two-way defender with good upside. He moves well both north-south but also east-west, while pivoting and fluid transitions. He's a graceful skater who looks effortless moving around with deceptive first-step quickness. He possesses impressive decision-making and execution under duress; finds a way to make a play despite having no time or space. A crisp passer, Olofsson is assertive in his read and puts the puck onto the tape. He can get caught up in the play, and can struggle to recover because he lacks another gear in his skating. He's very sound positionally and reacts to plays instinctively, a bene t of his good hockey sense. He does not hesitate to drop to a knee to block shots or passes, plays with an active stick and will body up opponents but isn't a physical presence that puck carriers are forced to think about while on the ice."


After the draft, Olofsson played one season for Colorado College. But after the season ended, Olofsson decided to leave Colorado as the Tigers endured a horrid season. He finished out that season in Iowa and looked like he had a shot at the Minnesota roster not long down the road.

But a shoulder injury right away to open 2014-15 season derailed Olofsson's path to the NHL. He played in the opener for Iowa that year, but never was seen from again. He returned to Iowa for 2015-16, played nearly a full season and got his first glimpse into the NHL, as he appeared in two games. The next season he got more action, but in a still limited role, with Minnesota but was not yet in the plans to be on the roster full time.

Now that there is an opening on the Wild roster, and a new contract in hand, Olofsson will open training camp in two weeks with his eyes set on a permanent spot on the Wild roster. But he will have to compete with the player who checks in next on the top ten list, to earn that spot.

Check back tomorrow to see who comes in at No. 7!
Previous posts:
No. 9-Kaapo Kahkonen
No. 10-Dmitry Sokolov

Never Miss an Episode of Giles & The Goalie!